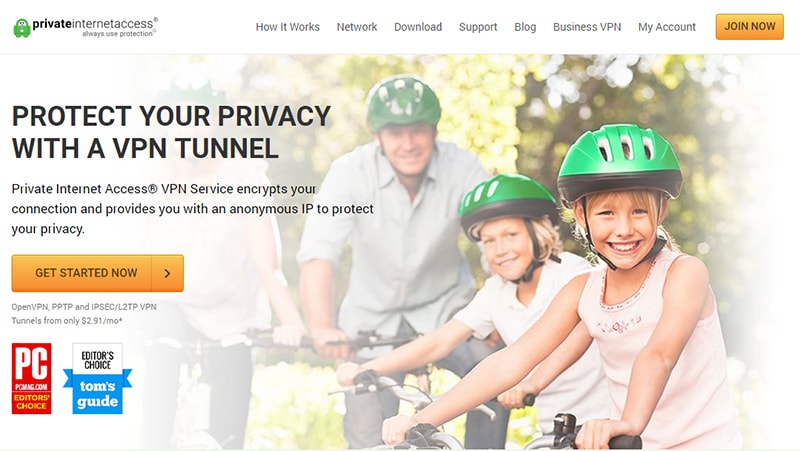 The Internet has evolved a lot since its start. Along with it, security threats are constantly evolving at an equal pace. Additionally, the world is witnessing an ever-increasing trust on the internet. Thus, it is crucial more than ever now to utilise professional security solutions. One such solution to security threats is installing a VPN, or Virtual Private Network. Security experts all around the world have been giving a positive review of Private Internet Access VPN.
These days, when accessing the internet, an anti-virus isn't enough. Your data is always at risk of falling into the hands of a criminal who use devious technologies like data funnelling and tunnelling to steal your private information, thereby compromising your privacy. With many recent cases of data infringement and people's personal data being used to influence elections, you should always be cautious about where your data is going and who is using it. Moreover, we live in an age where information is the new resource; hence the demand for data mining is more than ever.

A useful analogy, in this case, can be: a VPN on the Internet is what antivirus is to your computer. Here's a simple answer to the question of how VPN works. VPN services hide your online actions by routing your connection through a server. Additionally, it hides your IP address by assigning your device a temporary IP. This way, your original IP becomes untraceable by anyone.
Although there are many VPN software out there promising total security to their customers, few are as comprehensive as Private Internet Access. As a VPN provider, Private Internet Access is one such product that will help you access the internet without compromising your privacy.
Why is Private Internet Access so essential?
Before talking about the benefits of Private Internet Access, it's useful to talk about how a VPN works.
Private Internet Access VPN encrypts your data even before it reaches the ISP's servers. With a VPN Service, your data first goes to the VPN server, and from there it reaches its online destination. As a result, the online destination perceives that your data is coming from the VPN server and not from your location and server.
Here are some advantages of using a VPN:
VPN software tricks the destination site to see the VPN server as your data's origin; thus preventing it from tracking your location and identity. Additionally, with a hidden IP, your location cannot be traced by these sites.
Sometimes, useful websites are locked by government agencies. The internet is a free source of information and many times to retain their advantageous positions political organisations try to curb this free flow of information. However, with a VPN you can easily access blocked information on the internet.
VPN software like Private Internet Access will help you to encrypt your data at the source of its origin. So, even if someone does get access to your data all they will see is encrypted & undecipherable codes and not useful raw data.
The above points are basic functions that most VPNs provide to their customers. However, Private Internet Access stands out from the rest because of a few specific features. So, here's an in-depth Private Internet Access VPN review and explanation of its features
Features of Private Internet Access
It effectively hides your IP
Private Internet Access software will hide your system's IP address by using its IP cloak mask feature. It replaces the original IP with an anonymous IP, thereby effectively keeping websites and internet services from tracking your browsing habits, monitoring your search results and locating your geographic position.
Furthermore, It establishes a secure connection by assigning your computer a temporary IP with a US-based server; thus, websites tracking your data think that you are situated somewhere in the US. Due to its efficacy, Private Internet Access VPN review is generally positive.
Defends you from eavesdroppers
Private Internet Access uses advanced cryptographic algorithms like Blowfish CBC in conjunction with OpenVPN protocol to secure your outgoing data. Since these technologies are based on cryptographic formulas used by organisations operating in high-risk environments, with Private Internet Access, your data is always safe even in the most insecure internet hotspots.
Additionally, you get facilities like IPSEC/L2TP, PPTP, and SOCKS5 technologies.
Keep the doors closed to strangers by blocking unwanted connections with the advanced firewall capabilities of Private Internet Access. The network and server grade firewall technology in this VPN is integrated with the Netfilter project will keep all unwanted connections at bay from your computer and smartphones. Thus, the only openings to data from outside will be the ones you voluntarily create.
At times, you need to hide your identity for the sake of your safety. For instance, you may need to post anonymously in forums and places that are under vigilance by ill-intended authorities. So, the solution here is anonymous browsing that hides your data and browsing activity.
In this era, anonymity is highly important as websites can paint a clear picture of who you are by tracking your web activity. Later, they use this data to market their products to you cleverly. That is How VPN works: it provides you with anonymity by effectively hiding your data.
Gives you unrestricted access in multiple countries
With Private internet, you get unrestricted access to the internet. Are you a victim of strict censorship imposed by the ISPs or the government? Worry not! With Private Internet Access, you can bypass all filters by using a US-based IP address. Besides, unrestricted US, Romania, Switzerland, The Netherlands and France-based gateways enable you to unblock and use any P2P software or other applications, blocked by your ISP.
Wide compatibility on multiple OS
Private Internet Access is compatible with all popular operating system, like –
Windows 10, 8, 7
MacOS – 10.10 to 10.13
Ubuntu 16.04 to 18.04
Debian 9+
Mint 18+
Arch Linux
All OS associated with iPads and iPhones.
Android
Tomato OpenVPN
PfSense OpenVPN
Thus, due to its wide compatibility Private Internet Access VPN review is a positive one all around the world.
Offers convenient subscription options
With Private Internet Access, you have the convenience of choosing from multiple subscription packages as per your budget.
A Month costs $6.95 per month
A Year subscription costs $3.33/month
2 Years pack will amount to $2.91/month and offers best value
Other useful features of this software
Secures all internet access and public Wi-Fi
Offers P2P support
Protects 5 devices simultaneously
Blocks all ads, malware and trackers
Supports multiple VPN gateways
Unlimited bandwidth
Erases all traffic logs
Easy to set up and provides instant access
Private Internet Access has an overall positive review from technology experts. Reputed technological magazines praise its services, list of features, and unmatched prices. Most magazines recommend it.
So, are you in need of a secure connection, or still have doubts about how VPN works? Look no further and install Private Internet Access on your devices.