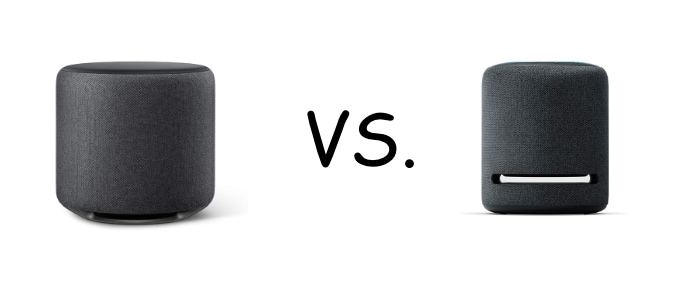 Amazon has a wide array of Echo speakers that suits various price ranges and offers numerous different features. It varies from a compact speaker to place by your bedside to a large full music experience speaker. There is something for everybody.
Amazon's new Echo speaker has an impressive design and excellent features. Echo Sub offers whole-home wireless audio. On the other hand, Echo Studio promises a smart speaker.
So, which one is better? Echo Sub or Echo Studio?
Where to Buy?
Amazon Echo Sub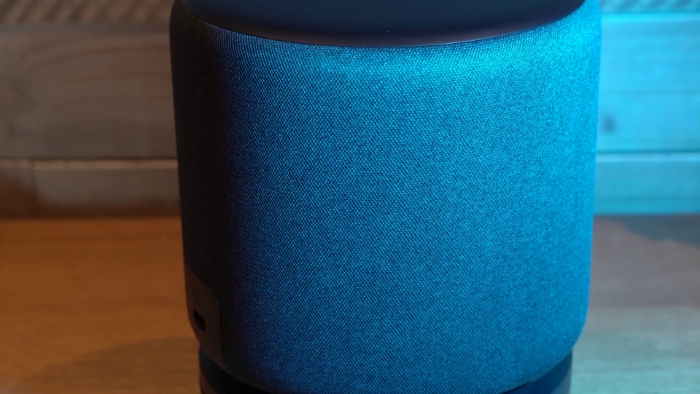 Echo Sub is a compact subwoofer that is designed specifically to pair with compatible Echo devices. It looks very similar to Echo Plus Second Gen and Echo Dot Third Gen. It is larger in terms of diameter and length.
It has a cylindrical shape with a molded plastic enclosure that can measure up to 8.3 inches in diameter and 8 inches tall. The Echo Sub is quite sturdy as well, and it weighs about 9.3 pounds.
Also, with the Echo Sub, you can add an excellent bass to your music experience. It delivers down-firing with 100 W deep bass.
Amazon Echo Studio
Echo studio also has a cylindrical shape since it follows the same design patterns of previous echo speakers. It is covered with a fabric mesh of charcoal color. It is also substantially larger than any previous echo speakers.
This version is yet shorter than Apple Home Pod or Sonos One. The beefed-up structure aids in packing 330 W of power. It drives two 5 cm midrange speakers on both left and right sides.
Echo Studio has all the typical features of other Echo devices. Also, you can set alarms, reminders, and timers. In addition to playing music, you can get trivia and check facts by asking Alexa.
Specifications
Let's take a look at the specifications of Echo Sub vs. Echo Studio before diving into comparing them.
Echo Sub
| | |
| --- | --- |
| Size | 8.0 inches height x 8.3 inches diameter (202 mm x 210 mm) |
| Weight | 9.3 lbs. (4.2 kg) |
| Low Frequency Response | 30Hz (-6dB) |
| Power supply | Auto-switching 100-240 V, 50-60 Hz AC universal input |
| Crossover Frequency | 50 Hz – 200 Hz adaptive low-pass filter |
| Alexa App | The Alexa App is compatible with Android, Fire OS, and iOS devices |
| Wi-Fi | Dual-band Wi-Fi with support for 802.11 a/b/g/n networks (2.4 and 5 GHz) |
Echo Studio
| | |
| --- | --- |
| Size | 8.1 inches height x 6.9 inches diameter |
| Weight | 7.7 lb (3.5 kgs) |
| Supported audio format | Dolby Atmos, Dolby Digital Plus, Opus, AAC, MP3, FLAC, and more |
| Supported music streaming service | Amazon Music (HD and Standard), Spotify, Apple Music, Tidal, Pandora, TuneIn |
| Bluetooth connectivity | Advanced Audio Distribution Profile (A2DP) support |
| Alexa App | The Amazon Alexa app is compatible with Android, Fire OS, and iOS devices |
| Audio input | Toslink 3.5 mm combination mini-optical |
Design, Features, and Build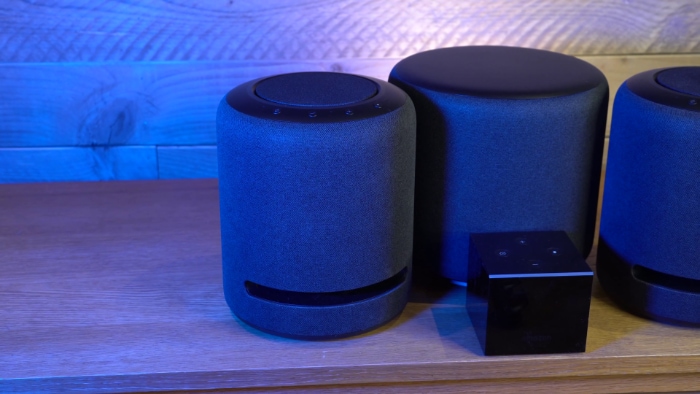 Here are some insights into the design, features, and build of these two products.
In The Box
Echo Sub
Echo Sub
Power Cable
User's manual
Echo Studio
Echo Studio
Power Cable
Quick Start Guide
Design
Echo Sub
The Echo Sub is similar in aesthetic to Echo Plus. However, it is wider and has a fabric mesh cover. You have three choices of fabric colors: heather gray, sandstone, and charcoal.
The top and the bottom, made of plastic, have a powerful 6-inch enclosure. It has a class D amplifier of 100 W and a woofer.
Also, it does not have any buttons or microphones. Moreover, it has no LED top ring as well. The bottom has a non-slip rubber pad for placing it correctly.
It has only one port for your power cable. Further, it has one button placed right above the port. Also, there is an LED light at the button's center.
Echo Studio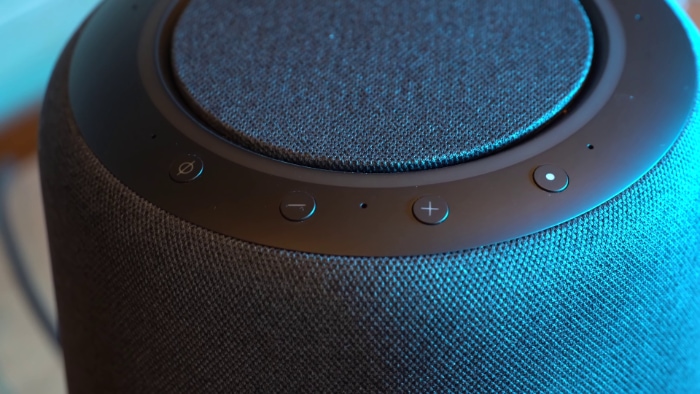 Echo Studio is 8.1 inches in height and 6.9 cm in diameter. It is quite bulky and sturdy, and its design makes it ideal for a large space like the living room or outdoor seating.
It has a built-in smart home hub and a 3.5 mm mini-optical line-in. Moreover, it has two inches upward-firing midrange speakers. Plus, 2 inches right firing midrange speakers.
It includes a mic on and off button, an action button, volume up and volume down button. Plus, it had a 5.25 downward-firing woofer and bass aperture to maximize bass output. Furthermore, it has a beautiful light ring on the top.
Audio Quality
Sound Profile
Echo Sub
Echo Sub delivers excellent power bass with a high level of clarity and articulation. You can use it to listen to various kinds of music, video, and podcasts. However, it can sometimes be too loud without perfect volume control.
The 6 inches woofers are also excellent, and you can sense the music filling the room and enjoy it very much. It delivers a down-firing deep bass.
Echo Studio
Echo Studio provides immersive audio with a directional feature. You can experience the best music with Amazon music HD. It offers an elevating lead and amazing background vocals.
The speaker sounds amazing at all sound stages, and it also offers a good deal of detail to high frequencies and percussion. Also, it produces great bass and entertaining mids and highs.
Bass Accuracy
Echo Sub
The Echo Sub has an amazing bass quality. Therefore, if you want something with great bass, this is the one for you. It also provides one of the best basses among all the Amazon Echo devices.
It can provide a 100 W deep bass sound through a 6 inches woofer. You can pair it with any echo device and enjoy the dynamic music and great bass. Although the bass accuracy is excellent, it has a relative stoutness that does stick out a little.
Echo Studio
It has a 330 W power that drives two midrange speakers. It produces bass from both the left and the right sides. It also has upward-firing midrange speakers that balance the vocals out during bass.
The downward-firing 5.25 inches bass drover fills the room with excellent bass. Hence, it can be a perfect choice for listening to music and watch movies. However, it has a slightly overcooked bass that can hamper the timing of the music sometimes.
Software
Echo Sub
Echo Sub has excellent software. However, it has several problems. You can easily set up an Echo Show 5, but other than that, it is difficult to set it up.
Although Alexa voice assistant is excellent, the Echo Sub cannot capture it so well. There should be more potential features like volume, crossover, and EQ.
You can connect to Alexa by simply opening the Alexa app, and it will automatically connect to Echo Sub. Then, all you have to do is just ask Alexa to play the music of your choice.
Echo Studio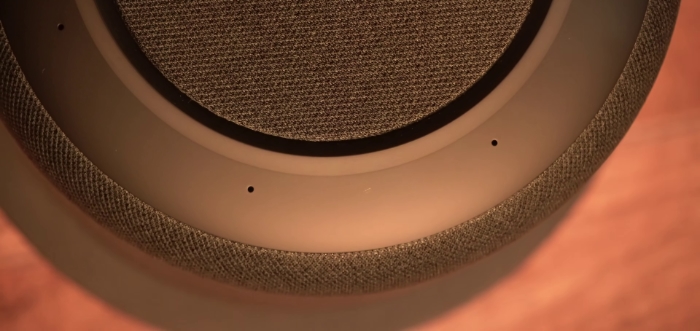 Echo Studio has amazing software. It is more upgraded than the Echo Sub. Moreover, it is more friendly and does not have as many complications as Echo Sub. Additionally, it is very to set up Echo Studio and use the benefits of the Alexa voice assistant.
Moreover, it has LED lights controlled by the software to help you understand the device better. Yellow means Alexa has a message, cyan or blue means Alexa is listening, and red indicates if the microphone is off or on.
Also, spinning cyan means that your device is starting up, and orange means it is trying to connect to the internet. Green means that you are on a call on the Echo Studio, purple means the do not disturb feature is active, and white shows volume levels.
It will also allow you to set up a smart home. You can use it to control light bulbs, a smart plug, thermostat, speaker, TV, lock, garage, and more.
Pros and Cons
Let's compare the pros and cons of these two products.
Echo Sub
Pros
Decent power
Excellent bass
Good audio quality
Impressive subwoofers
Affordable pricing
Cons
Quite thick
Not the best-defined sound
Echo Studio
Pros
Clear midrange
Precise high range
Hi-res audio support
Provides immersive audio
Automatic room adaptation
Audiophile quality
Built-in Zigbee smart home
Cons
Bass hampers are not great
Hit and miss 3D audio
Final Verdict
Echo Studio has more impressive features than Echo Sub, although the latter has better bass. Nonetheless, Echo Studio has overall better features and better software.
However, Echo Studio is more expensive than Echo Sub even though the price difference is not so high. The final choice is definitely yours. Hopefully, this Echo Sub vs. Echo Studio comparison was useful to make that final decision.
Check Price for Echo Sub on Amazon
Check Price for Echo Studio on Amazon