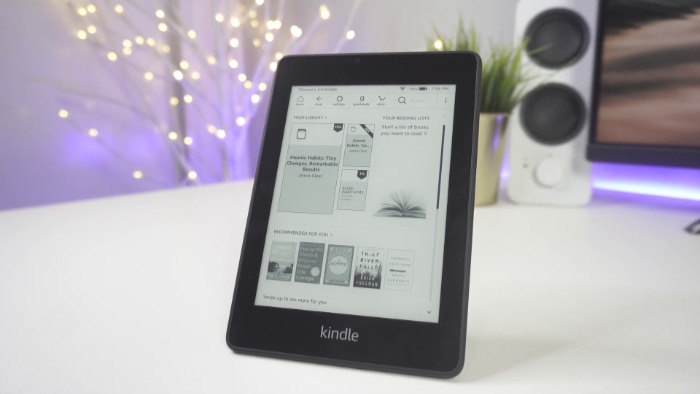 With e-books slowly becoming the norm, reading tablets have begun replacing books. In the classroom, in the house, you name it.
Amazon's latest addition to their line of Kindle book readers is the Kindle Oasis. Boasting a hefty price tag of $249.99, is it worth buying when compared to the re-released Kindle Paperwhite? That's what we're going to find out in this quick comparison of the two.
We're going to be comparing several features of the two devices, including screen size, battery life, accessibility, and other features. Hopefully, this will help you make a better decision to spend your hard-earned dollars. Happy reading!
Where to Buy?
Kindle Paperwhite
Priced at a modest $129.99 on Amazon, the Paperwhite offers a great range of features with exceptional value for money. Plus, you can get it for a steal at around $100 if it's on sale.
(At the time of writing of this article, the Paperwhite is listed at $94.99)
Kindle Oasis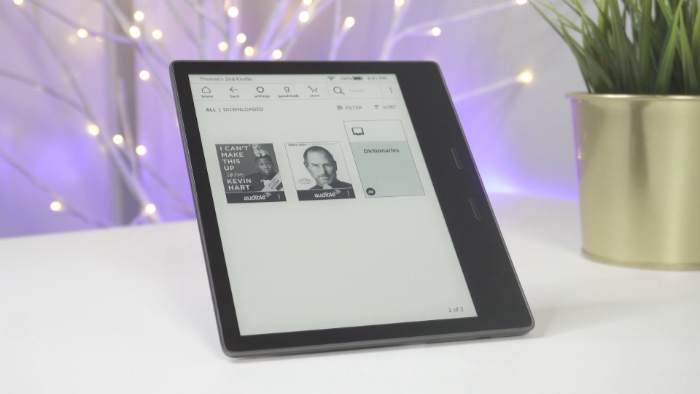 Priced at a premium of $249.99, the Oasis is titled 'The most advanced Kindle ever' on Amazon. But is it worth it?
Display
For reading, the display is the most important thing. Let's see how the two devices compare.
The Kindle Oasis has a larger 7-inch screen, compared to the Paperwhite's 6 inches. The increase in size means easier reading and more text to cover for readers.
The Oasis also allows readers to change the shade of the screen from completely white (better for reading during the day) to a more yellowish-white (which is less harsh on the eyes when you're reading at night). You can also enable automatic brightness that adjusts according to the lighting conditions around you. On the Paperwhite, you can manually adjust brightness, though that's not much of a big deal.
The Oasis is also more aesthetically pleasing, with slimmer bezels and a sleeker screen design. In comparison, the Paperwhite's screen seems a bit clunky. We know how bezels can be bothersome to users who prefer sleeker designs, and if that's the defining feature for you, then the Oasis is for you.
Both devices have the same display resolution, at 300 pixels-per-inch, meaning similar sharpness in text and reading.
The Oasis takes the round for display, with a larger screen and better lighting options.
Design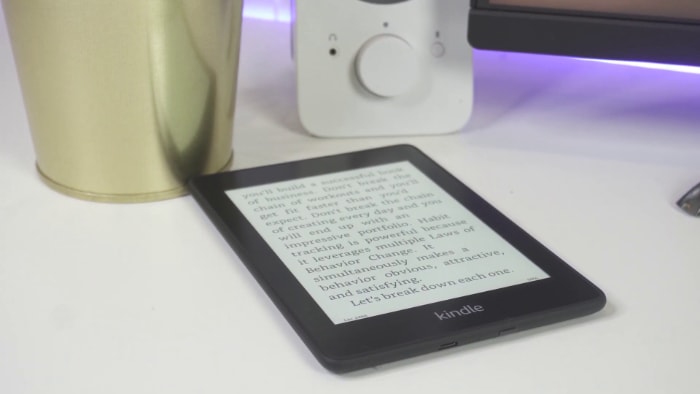 Design-wise, the Paperwhite has a more practical look, while the Oasis seems luxurious and premium. That's mainly due to the Paperwhite's complete plastic build, which gives the product a more functional look than a stylish one.
In comparison, the Oasis has a much sleeker design with an aluminum body. The Paperwhite is 0.3 inches thick, which isn't a lot, but the Oasis is almost paper-thin. Measuring in at 0.13 inches, with a 0.3-inch base, the Oasis is much more enjoyable to hold while reading.
Storage space
Both the Kindle Paperwhite and the Oasis have a base model with 8 GB of storage, which is enough for 'thousands of books' according to Amazon.
Users need to keep in mind that audiobooks are heavier in space than simple e-books. So if you prefer listening to audiobooks, try the options with more storage. Both devices have a 32 GB edition as well for around $20-$30 more.
Waterproof Rating
IP ratings matter a lot when it comes to electronic devices. A simple slip could cause hundreds of dollars worth of damage, and devices with good resistance are generally the better option.
Fret not because both the devices have an IP rating of IPX8, which means they're completely waterproof. For more accurate specification, the devices are waterproof in:
Two meters of fresh water for 60 minutes
25 meters of seawater for 3 minutes
This means that any accidents in the home can be easily taken care of. Readers can read their favorite book whether they're relaxing in the tub or by the pool.
The beach is a different matter. We'd generally suggest you don't take your device in the water.
Who doesn't love ads?
Suppose there's one thing we don't like, its ads ruining the experience. Sadly, the base models of both devices support ads, with ad-free versions for a higher price. Now, Amazon assures us that this won't interfere with the reading experience.
The ads will only show up as a screensaver when your device is in sleep mode and at the bottom of your device's home screen. That's still not that much of a nuisance, so that we won't get much into it. You can live with a few ads showing up on the screen, so why waste extra dollars?
Bluetooth & Connectivity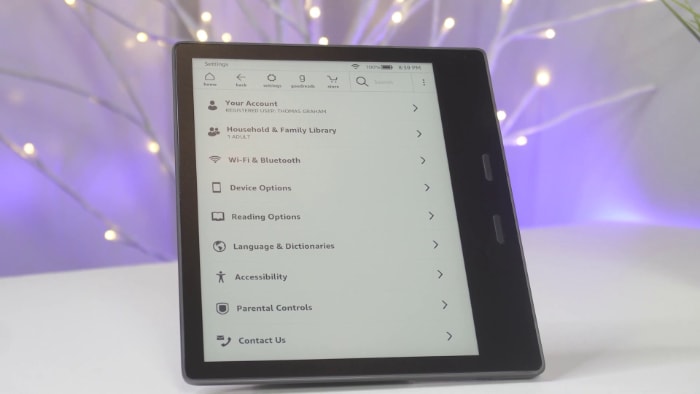 Amazon's Kindle line has this great feature where you can toggle between reading an e-book or connecting your Bluetooth devices and listening to the audiobook.
Both the Amazon Paperwhite and the Oasis have this feature, and it's really great having the audio pick up from where you stopped reading. Amazon calls this helpful feature Whispersync.
However, Kindle devices don't offer immersion reading, which allows readers to read text while listening to an audio version of it. It's not that big of a deal, but for readers who like that extra feature, avoid the disappointment now and check out other devices.
Physical page turn buttons
Yes, this is mentioned separately, even though it's a minor feature. Some readers love pressing a physical button to turn the page, much like flipping a page in a book. In the Amazon Paperwhite, you have to swipe the screen to go to the next page, while the Oasis has two buttons that you can use to navigate through your books.
Power button
Now, this might not be that annoying, but the Kindle Paperwhite's power button is placed at the bottom of the device. That gets pretty awkward when you're reading with the device on your chest and the device accidentally turned off.
Now that can be avoided by getting a cover for the Paperwhite, but it could've been done better.
Battery life
Battery life is something at which both devices are great. A single charge lasts up to six weeks, based on Amazon's product details. However, this is based on an average of 30 minutes reading with brightness set at 13.
This can vary with different lighting levels, and listening to audiobooks will reduce battery life. The Oasis is fully charged in 3 hours from a 5W power adapter or computer USB cable. In comparison, the Paperwhite is fully charged in 4 hours from a USB cable or 3 hours with a 5W cable.
Kindle Unlimited
This is a paid subscription that is optional for both the Oasis and the Paperwhite. We'd suggest getting this service for readers who like exploring new authors and want a wider variety of literature.
So which Kindle is the best for you?
Now that we've gone into detail with both products, let's list down the pros and cons of each device before we decide.
Kindle Oasis
Pros
Bigger Screen
More variations in display color
Physical buttons for page-turning
Sleeker and luxurious design
Sturdier Aluminum build
Cons
Kindle Paperwhite
Pros
Much more economical
Best if you just want to read
Has almost all the features that the Oasis has
Cons
Smaller screen
Awkward Power button placement
In summary, the Paperwhite is the best option for when you really just want to read and not spend that much on a reading device. The Paperwhite is usually on sale at Amazon, and users can get a great deal for it.
Although the design might not look at luxurious as the Oasis, the Paperwhite still has a simple look. And it gets the job done.
But if you want to splurge a little and go that extra step, the Oasis won't disappoint. The device would surely turn heads when you pull it out for a read. And the bigger screen with more variation in brightness temperatures is a bonus.
Check Price for Kindle Paperwhite on Amazon
Check Price for Kindle Oasis on Amazon