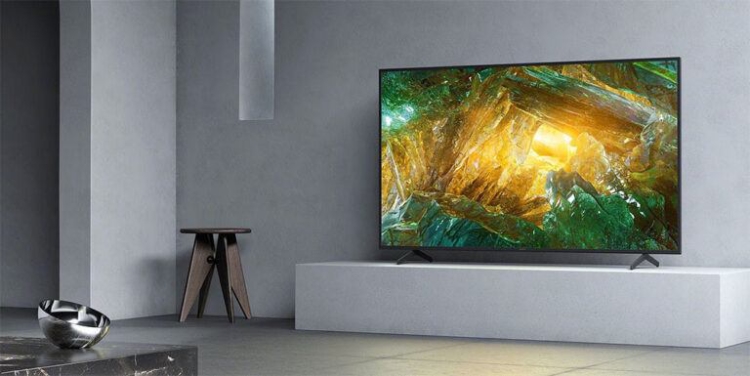 Smart TVs are not just fancy accessories for your living space, but they can also make your day a little better. With rampant innovations in technology and the markets bustling with the competition, you get innumerable options. Each new model from the best brands will offer you competitive features.
One of the market leaders today is Sony, and with their new model, X800H or X80H, they've taken it a notch higher. Apart from its fantastic display, another selling point of this smart LED TV is that it's compatible with Alexa.
Where to Buy?
What is the Sony X800H?
Sony X800H is an ultra HD Smart LED TV by Sony that was launched in 2020. It offers you stunning 4K graphics with top-of-the-line clarity, color, and contrast. Additionally, it's compatible with Alexa and can be voice-controlled by you.
You can choose one from amongst six sizes that are 43-inch, 49-inch, 55-inch, 65-inch, 75-inch, and 85-inch. Apart from this wide range of screen sizes, you can also go for an advanced model with a 2.1ch soundbar. It caters to an enhanced and life-like experience.
The luxurious design will elevate the aesthetics of your house and make the living space stand out. You get enviable clarity and picture quality that will make you forget your surroundings. In the following few sections, we have unveiled these features in detail for your understanding.
Design and Features
The Sony X800H consists of certain advanced features that justify its pricing. Since it's available in a wide range of sizes that we mentioned before, you can choose one that fits into your space.
While going through the detailed features, you must align them with your needs to decide. For reference, we'll be analyzing the 43-inch model, but all X800H models have the same features, except for the different sizes.
Triluminos Display
Triluminos display widens the color range for you and improves the picture quality to a great extent. It one of the highlights of this model, according to us. While you get excellent clarity in most smart TV nowadays, this one is a clear winner.
The X1 processors widen the color spectrum, and as a result, you get life-like quality. You'll get immersed in the world on the screen. The colors and contrast are perfectly controlled and optimized, which raises the bar above standard LED displays for you.
The reds, blues, and greens are specially enhanced, and it follows precision color mapping.
4K HDR Processor
The X800H model has put an advanced algorithm to use, and you get 4K advanced and life-like resolution. The details are boosted, and the noise is cut, which will enhance the clarity of your viewing.
The highlight for us is that even 2K resolution images will be up-scaled to 4K with the 4K X-reality PRO. The 4K HDR processor X1 enhances the detail and texture of the display of any resolution. As a result, you get a super-resolution with finer details and clarity.
Great Compatibility

This feature makes it stand out, and it may prove cost-effective and user-friendly for you. Apart from 4 HDMI connections that can even support home theatre systems, you also get Bluetooth connectivity. However, you'll have to buy the HDMI cable separately as it's not included.
There are 2 USB ports that you can use to plug-in your preferred devices like cameras or other USB devices. It comes with a voice control remote, and it's compatible with the following virtual assistants and devices.
Amazon Alexa
Alexa becomes your one-stop solution for most commands or actions with this device. You can stream just about anything from your synced or connected devices. It can even launch video apps and play your chosen music for you.
Just command it, and Alexa acts as a personal assistant. Additionally, with this model, you can control the TV settings such as volume, menu, channels, amongst other things.
Google Assistant
You can control the TV with your voice as it's a smart Android TV. It comes with voice recognition features for enhanced ease of use. That enables you to stream movies and apps, and you can also enjoy games.
The smart assistant will answer your queries in the blink of an eye, without you even touching anything. You can get automatic weather updates as well. Overall, it becomes an innovative and efficient viewing experience.
Apple Airplay
Airplay is a feature available to Apple users that allows you to integrate your devices seamlessly. This way, you can share and stream content from your iPhone, iPad, or MacBook. Another advanced feature is that, now, you can also sync your Apple music library and play music with incredible sound quality.
Apple HomeKit
Provided that your software is up to date, you can set up HomeKit on your Sony X800H smart TV using a scan code. This way, it enables you to control your TV with your phone. You can command Siri, the smart assistant, apart from streaming movies and apps.
PlayStation
You can easily enjoy multiplayer games on your smart TV with more precise picture quality. Despite being a TV, it has an enviable response time, and it makes gaming competitive. With the 4K Ultra HD picture quality, the colors and contrasts are vivid.
Dolby Vision and Dolby Atmos Surround
With Dolby Vision, the contrast deepens further. The dark colors on your screen are darker, but they can improve this feature. Even though the colors are brighter and the highlights are striking on-screen, the dark colors are too dull.
The sound system, though, is an out-and-out triumph. Any need for an external sound system from your end is eliminated. The only point lacking is that Bluetooth does not support wireless headphone plug-ins. However, if you go for a size bigger than 55-inch, you get X-balanced speakers.
Design
The Sony X800H smart TV looks very classy with its sleek design. You have the option to place it on a flat surface, on its sturdy haunches. The narrow bezel gives it a refined appeal, and it won't rattle despite its delicate appearance.
Another great option is to mount it on a wall. It will look ultra-slim, and you'll get an ultimate user-experience from any angle. The wall mount brackets are sold separately, though, and you'll have to pay extra for them.
Environment Friendly
To keep up with Sony's vision of leaving zero environmental footprints, this TV is designed with environment-friendly features. You can improve energy efficiency using the backlight control and enabling the power-saving mode.
It has a display-off mode where you can use the TV with the picture display off without putting it on full standby. That will help you conserve energy while also cutting costs.
Performance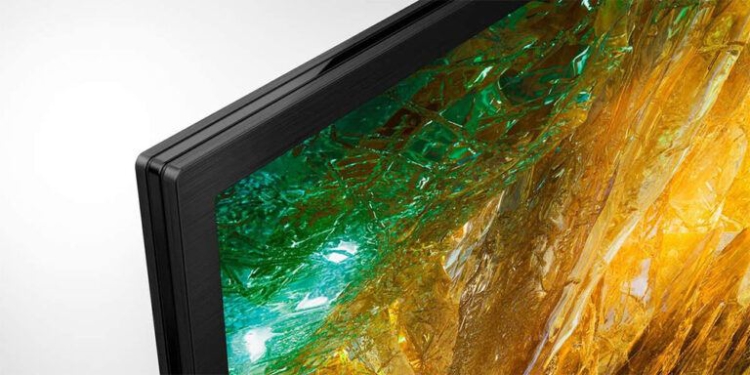 The features and design of this model by Sony are evidently up to par. Since you can use it for a diverse range of purposes, you must analyze its overall performance. To understand its usability, let's have a look at its performance from various aspects.
Viewing Performance
As mentioned before, the X800H model provides refined clarity, and you'll be mesmerized by the picture quality. The sound effects are highly advanced, and any extra noise or disturbance gets eliminated with Dolby Atmos surround. Even the fast or rapid movements on the screen, for that matter, are visible with the 4K resolution.
If you're viewing pictures from your phone or devices, the quality will get up-scaled to a 4K resolution for better contrast and clarity. The only minus point is that your experience will be below average in a dark room as the black color looks slightly gray from certain angles.
Overall, the picture quality is entirely satisfactory, and the brightness levels won't disappoint you. With the wide range of viewing angles, you can sit and watch TV from any angle in the room.
User Interface
You get an Android interface that's usable with Airplay and other devices as well. However, the google assistant and compatibility with Alexa make it a cake-walk. You don't need to rely on remote controls any longer, as they can be voice-controlled.
You can stream up to 5000 apps on your TV. At first, it can be a bit confusing. However, with a little usage and getting used to it, you'll be the master of your smart TV system. They can improve the settings to elevate this aspect.
Gaming Performance
With better motion clarity and reduced blur, your gaming experience is ultimate. It can be connected with a wide range of control systems and devices. You can employ wires or even go for Bluetooth and wireless connections with compatible devices for this purpose.
You can plug-in your PlayStation, and the advanced gaming mode won't disappoint. The Sony 4K gaming TV feature is up to par, and the response time is highly satisfactory. The game mode is smooth, and you can view the movements in high definition.
Should You Buy the Sony X800H?
The Sony X800H is an excellent and advanced smart TV with a wide array of attractive features. If you're not working with a tight budget, you can consider this for purchase. The following are the reasons why we recommend it.
Highly Compatible
This smart TV is compatible will almost all android devices and comes with 2 USB ports as well. You can use it with the help of a google assistant, and this adds to user-friendliness.
It supports Alexa, Homekit, and Airplay, and you can use your phone on the beautiful widescreen. Even apple's Airplay 2 is supported with this device. You can also connect your PlayStation and enjoy the fruits of the advanced game mode.
High-quality Display
Even though this point has been discussed before, we'd like to emphasize it. Due to the X1 4K HDR processor, you get high-end clarity. The dynamic contrast enhancer will elevate your experience as a viewer, and you'll be deeply engrossed in the display.
There is minimal to no blur on the screen, and the details are highly defined. That is due to the Motion Flow XR240 – 60HZ. The colors are vivid and expanded, and you can view them from any angle with utmost clarity.
Variety Of Screen Sizes
It is a bonus point for you as it comes in a whopping six sizes, ranging from 43-inch to 85-inch TV. You can effectively pick the one that fits your space and satisfies your requirements.
With the difference in prices due to sizes, it's relatively cost-effective for you. For making an efficient buying decision, we recommend that you choose a size that works for you, under your budget.
Pros
Amazing triluminos display
Very compatible with virtual assistants
Stunning contrast and picture quality
Great response time
Wide range of viewing angles
Energy-saving, environment friendly
Sturdy design
Cons
Light control could be better, especially glare.
Bluetooth audio plug-ins not supported
Final Verdict
The Sony X800H smart TV is an excellent option for anyone who wants an ultimate viewing experience. With its compatibility with Alexa and other smart assistants, you will have the ease of a hands-free operation.
Apart from the weak light control, there are no other problems to point out. If you want to opt for a high-end and incredible quality smart-TV, the X800H is a good one. It's ideal for a variety of purposes aside from viewing, like gaming and google assistant.
For better quality, you can also opt for more recent models like A8H and A9G series. However, this one justifies its price. Even with booming competitors in the market, it will prove to be an excellent investment for your beautiful home.