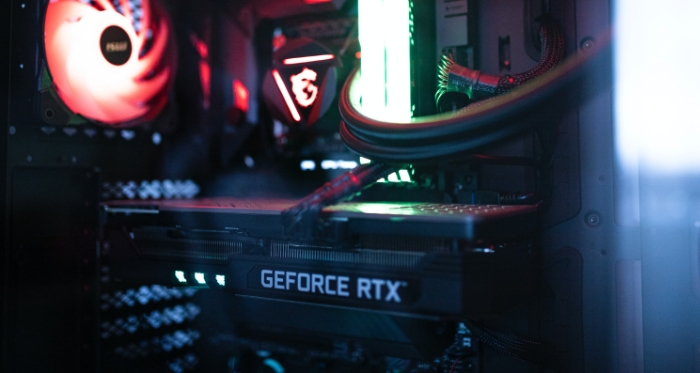 From gaming to professional content creation, graphic cards have become necessary for today's computers. But we're facing a global shortage of GPUs this year, and it has become crucial that you know what you're buying.
This article focuses on the best graphics cards with two HDMI ports.
Many of our readers prefer using dual monitor setups with two similar monitors, and it's way easier when the GPU has two separate ports for each monitor. You won't have to get a separate display adapter for your monitor/TV.
We've chosen several different GPUs based on their cost and intended use. Be sure to read the article till the end to find out which GPU is best for you!
Best Cards for Gaming – Nvidia Geforce RTX 3000 Series and AMD Series
The latest 3000 series is a literal powerhouse for gamers, designed to play AAA titles with little effort. Built with Ampere, Nvidia's 2nd gen RTX structure, the card has 10-12 GBs of GDDR6 memory.
Gamers and content creators alike can enjoy Nvidia DLSS, which makes for more FPS in games without compromising image quality.
The RTX 3080 series' main benefit is the Ray tracing feature, which simulates light according to real-life situations and makes graphics more realistic and immersive than ever before!
All in all, the 3080 RTX series are more than capable of delivering over 100 FPS even on 4K resolution, making it an elite graphic card series!
The GPUs in RTX 3000 series with two HMDI ports are:
Asus RTX 3080 V2 10GB
Asus doesn't disappoint with their latest card, which has inbuilt support for two separate HDMI monitors, so gamers can easily connect for a more immersive experience.
Asus has redesigned their initial card structure to make it more reinforced and streamlined the exhaust. This card also has addressable RGB, which makes it a colorful and beautiful addition to any good-looking PC.
Asus provides their own tweaking software, called the GPU Tweak II, which you can use to change the core clocks, memory frequency, and voltage settings.
Where to Buy?
GIGABYTE Geforce RTX 3080 GAMING OC
GIGABYTE doesn't disappoint with their edition of the 3080, which has two HDMI ports and three DP ports. The card has a whopping 12 GBs of video memory, making low FPS and bad image quality a thing of the past.
The card has a colorful RGB logo, which complements the accompanying setup.
Where to Buy?
GIGABYTE Geforce RTX 3090 AORUS XTREME
The 3090 is sort of the extreme when it comes to gaming, and only gamers for whom money is no object buy this monster of a GPU.
This card has not two but three HDMI ports! Gamers can easily connect three separate HDMI monitors without any hassle and significantly improve their playing experience!
But overall, investing in an RTX 3090 isn't worth it right now unless you're looking to play at 8K. And even 8K gaming is still a thing of the future and not common today.
Where to Buy?
ASUS TUF Geforce RTX 3080Ti OC
Moving to the 3080Ti category, we have the ASUS TUF, with 12 GBs of GDDR6X memory and two native HDMI ports for easy connectivity.
Great for 4K gaming and editing and rendering, this GPU shines as one of the most powerful cards on the market.
The only downside is that it has no addressable RGB lights and has high power requirements.
Where to Buy?
GIGABYTE – NVIDIA GeForce RTX 3080Ti AORUS XTREME

Another great card, the 3080Ti from Gigabyte, also has three HDMI ports instead of two and goes over the top with its cosmetic features.
Aside from the power its housing under its hood, this card has an LCD built into its side that displays card information and is addressable as well.
Where to Buy?
Gigabyte AORUS Radeon RX 5700 XT
The Gigabyte AORUS Radeon RX 5700 XT has two HDMI connectors and three Display Ports for connecting your monitors.
Gamers that use Radeon cards will benefit from the RX 5700. The 7nm architecture is being used in a high-volume consumer graphics card for the first time. This improves performance while also lowering costs at a time when video card prices have been slow to decrease.
The Gigabyte AORUS also has RGB lights on the top and bottom of the card that you can customize to match any other AORUS items you possess.
AMD has a manufacturing advantage over NVIDIA because it employs TSMC 7nm against NVIDIA's 16nm architecture.
However, the Radeon 5700 XT lacks the ray tracing and variable rate shading features of the GTX cards.
Where to Buy?
Gigabyte AORUS Radeon RX 6700 XT
This is the newer and more powerful edition of the RX 5700 XT. The usual memory size has been raised to 12 GB by AMD. According to the specifications, the Elite has a base clock of 2548 MHz and a boost clock of 2622 MHz.
Thanks to AMD's latest GPU boosting software, you'll probably observe frequencies greater than 2622 MHz.
Gigabyte went for a different aesthetic look, with both the shroud and backplate finished in black metal.
Gigabyte added an RGB-lit AORUS logo to the side and a ring of RGB lights around each fan housing to complete the design. The Elite's design allows it to blend with various color-themed PC configurations.
Where to Buy?
Cheap Display Graphic Cards
While some users might be focused on getting the maximum FPS and stunning image quality, other users might need a GPU to get a display on their monitors.
We've listed down some cheap GPUs that are great as display GPUs and will be more than enough for users who want to stream content and do some light non-GPU intensive work.
VisionTek Radeon 7750
This card is best for users who don't want to play AAA games and want something that gets stuff done. This GPU's low-profile design enables installation in tiny systems and form factors.
Low Profile PCs and workstations require a Short Form Factor design (short bracket mounted on card). The card may be converted to a conventional ATX design using the (supplied) tall bracket for standard chassis.
The VisionTek Radeon 7750 gives good performance for all sorts of PC work and some light entertainment. Moderate gaming, multimedia, office productivity, and workstation applications are all achievable with this GPU.
Where to Buy?
Geforce GTX 1650 OC
This card, unlike the 7750, has three video outputs. There are two HDMI ports and one Display Port. You'll get a card launched within the last few years, with double the memory and one additional video output.
The GTX 1650 is 400 percent quicker in terms of performance. It supports up to 8K resolution, but I wouldn't suggest it for anything more than light entertainment in 4K. It's a powerful card that, once again, doesn't require any more power.
It is significantly larger than the 7750, so people with smaller setups should consider if it would fit before purchasing.
Where to Buy?
Things to Know When Getting a GPU
When getting a GPU, there are several things that you need to know.
Power
You need to consider if your graphics card's power supply has adequate 8-pin or 6-pin connections. You may ensure this by investing in a power supply that is at least 80 Plus Bronze.
Bandwidth
While some may question the value of GPU memory, everyone agrees that bandwidth is critical. The amount of memory that the GPU can access at any given moment is called bandwidth.
Data is supplied to the shader cores quicker when a GPU has higher bandwidth. Consequently, games and video visuals operate smoothly and clearly.
Price
While this might not be a factor for some rich gamers, most of us need to plan out the budget of the PCs we build.
30% of your overall PC construction budget should go to a GPU. With 30% of your cash set aside, you'll be able to obtain a great GPU at a reasonable price.
Cooling
GPUs generate a significant amount of heat. This heat production is represented by the TDP value, which is important when choosing a GPU. If your TDP is more, your computer will need extra fans to transfer heat effectively.
Smaller computer towers require GPUs with low TDP, but larger computer towers provide greater flexibility.