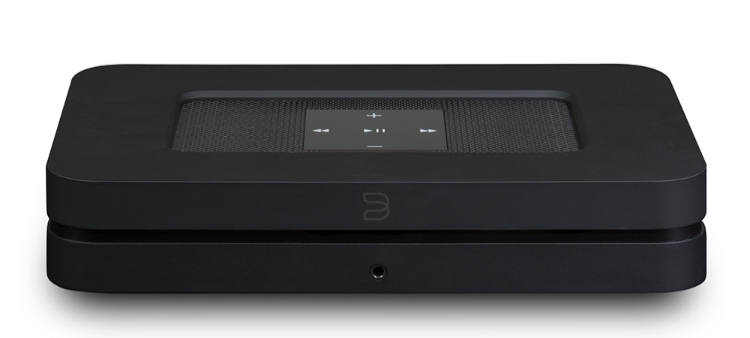 Bluesound has given the music industry outstanding products to enable users access to high-fidelity audio. Bluesound is quite popular among audiophiles. Hence, to keep up its popularity and dominance over the music industry, Bluesound launched its brand new Node 2i.
As a wireless streamer, Bluesound has brimmed Node 2i with strong features. Through Node 2i, you can stream music throughout your house with complete ease. It is affordable and eye-catching.
It connects to your powered speakers or hi-fi system to give you a splendid streaming experience.
Where to Buy?
Features
Listed below are the Node 2i's features in a nutshell
Wireless music streaming
Bluetooth 5.0 with aptX HD Support
Optical, RCA Outputs, Digital Coaxial
Combo 3.5mm/Optical Input
Ethernet connectivity
Wi-Fi and AirPlay 2 connectivity
192 kHz DAC, 32-Bit
Built-in IR sensor
Two-way Bluetooth connectivity
Bluesound provides convenience to users through Node 2i. You can control Node 2i through the BlueOS Controller app.
Hi-Fi connectivity

Node 2i can be used to connect with traditional Hi-Fi systems as well as powered speakers. This feature expands your streaming capability. You can enjoy internet radio as well, that too anytime and anywhere within your house.
Your old legacy stereos, amplifiers, and receivers regenerate and begin to work as new pieces of equipment once you connect them with Node 2i.
List of internet radio supported by Node 2i
iHeart Radio
Radio.com
TuneIn Radio
Calm Radio
LiveXLive
List of cloud service supported by Node 2i
Amazon Music HD
TIDAL
Spotify
Napster
OraStream
Deezer
Qobuz
KKBox
Bugs
List of operating systems supported by Node 2i
Microsoft Windows XP, 2000, Vista, 7 to 10
Apple Macintosh 7 to 10
Integration Partners
Control4
RTI
Crestron
URC
Push
Iport
ELAN
Lutron
Roon
Airplay 2
Wi-Fi connectivity
You receive advanced dual-band Wi-Fi connectivity in Node 2i. This ensures enhanced performance, especially when the airspace is crowded. Bluetooth in Node 2i supports 24-bit streaming on connection with your phone, Bluetooth speaker, and headset.
Node 2i comes with DAC technology that enables it to decode and stream MQA files. You will experience lossless quality and exceptional sound experience.
Access to music
The built-in AirPlay 2 in Node 2i ensures its easy integration with the Apple ecosystem. You receive flexible streaming ability with it. Through the BlueOS app, you can access a wide range of high res music services (TIDAL, Qobux, Spotify), Other popular music services, and internet radio stations.
You can listen to music through the music service of your choice and access download and content, that too, without using your computer.
Voice control feature
You can control your audio streaming in Node 2i with hands-free voice control. The voice control feature is compatible with Google Assistant, Alexa, and Apple Siri.
Hence you can change songs, play, pause or skip your music without even lifting a finger.
Supported file formats
MP3
AAC
WMA
OGG
ALAC
OPUS
WMA-L
FLAC
MQA
Hi-Res Audio Playback
WAV
AIFF
Design and hardware

Node 2i has an amazing body and design. It does not consume must space and is quite portable. It provides immense digital functionality that includes USB, Air Play2, and Alexa ( along with another voice compatibility). The unit comes in black as well as white color.
Bluesound has used rubberized paint that adds to Node 2i's elegance. A removable 2-conductor cable is provided to power the mains. You enjoy wireless as well as wired connectivity through Node 2i. As it is a network-centric device, the digital input is a combo 3.5 mm Toslink optical input.
For output, on the other hand, there are Toslink optical digital and S/PDIF coax outputs. On the front, you receive a headphone socket (3.5 mm jack). For attaching a USB, Node 2i comes with a USB-A port at its back and a Type B for servicing.
You can also enjoy external IR input using this device. The device does not have any display screen on it. You receive classic transport and volume controls on the unit.
Node 2i has a versatile and strong built. It is very durable and has long-lasting capabilities. Its ports at the back are sturdy and will never fall out. Also, if by accident your Node 2i is damaged, you can easily replace it under warranty. The warranty extends for a year.
You can control Node 2i by downloading the Bluesound app. Once you download the propriety app (BlueOs control app), it will automatically recognize and connect with the unit. You do not receive any remote with the product, which can be a drawback.
Node 2i supports all the commonly encountered streaming formats and streaming services.
The unit's dimensions are 8.7" x 1.8" x 5.7" (WxHxD), and it weighs 2.45 lbs.
Along with the device, you receive a stereo RCA cable, Ethernet Cable, 2x Ac power cords, Optical to 1/8" adapter. You also receive a 1-year limited warranty by Bluesound.
Connections
You can achieve connectivity with your Node 2i through multiple options. The connectivity ports and options are listed below.
3.5 mm input
Stereo phono analog output
Optical audio input/output
USB (Type A and B)
3.5mm headphone jack
Subwoofer output
12V trigger
Ethernet
Sound quality
Node 2i does a great job in maintaining high-level sound quality. The tonal balance is amazing, and the sound is sharp and clear. Node 2i has a dual-band (802.11ac) and comes with Bluetooth 5.0 aptX HD via Qualcomm CSR8675 CHIP.
The Bluetooth connectivity facility allows you to use Bluetooth headphones. In Node 2i, both high range and low range sound or music are well detailed and refined. AirPlay 2 in Node 2i ensures compatibility which several streaming applications.
Hence you can stream whichever music you want from the application of your choice. The bass and treble are harmonized perfectly and are played with gusto. If you want superior sound quality, you will have to use wired connectivity.
The mid-range focus by node 2i is surely an important feature too. If you are playing music through Bluetooth, the voice quality is slightly edgy.
However, overall, Node 2i gives out wholesome sound and adds finesse to the music's tone. Music enthusiasts will receive efficient results from node 2i through and through.
Wireless home theater
The acoustics delivered by Node 2i is no less than your classic home theaters. You receive a mind-blowing cinematic experience through it. It provides a Dolby-certified surround sound experience by connecting rear speakers and a sub.
Hence, Node 2i's impeccable sound quality is enough to leave your guests impressed. Its crisp and spectacular delivery will surely make your late movie nights amazing.
BlueOS App
The reason why Bluesound equipment is in great demand is due to its convenient and reliant BlueOS software. The software ensures greater compatibility to achieve a multi-room music system experience.
Users can download the BlueOS app from Google Play Store and Apple store. You can operate connections through this app and can control the device through your phone by using it. You will no longer have to log into different service apps.
Node 2i vs. Node 2
Node 2i takes a lot after its predecessor, Node 2. The body is similar. However, Bluesound has added new and upcoming features in Node 2i. The Wi-Fi chipset has certainly been improved in Node 2i. Further, you receive more compatibility with Node 2i.
The DAC is the same in both of them. However, Node 2i provides better sound dynamics as compared to Node 2. Most Node 2 users are quite satisfied with it. Node 2i is just a new add-up to Node 2's legacy. If you are a Node 2 user, Node 2i might not be any different.
The new features added in Node 2i are more beneficial for professionals than general users.
However, if you are a new buyer who wishes to try Bluesound for the first time, you must go for Node 2i. The new Node 2i is more enhanced and better.
Node 2i vs. Powernode 2i
After the launch of Node 2i, Bluesound brought Powernode 2i into the competition as well. Often, buyers feel conflicted between the two.
Node 2i shows more signal dropouts than Powernode 2i. Node 2i does not have an onboard microphone, but you can voice command it through other devices.
Both Node 2i and Powernode 2i have the same sleek design and hardware. However, unlike Powernode 2i, node 2i does not have an HDMI port. You also receive more input and output options in Powernode 2i.
On some parameters, Powernode 2i is better than Node 2i. However, there is not much difference between them. Even without Powernode 2i's added features, Node 2i is sufficiently fine. It is cheaper than Powernode 2i and gives similar sound quality.
Competition analysis
Other music streamers in competition with Node 2i are Yamaha WXC-50 and Pro-Ject Pre Box S2 Digital. In comparison, Node 2i shows better results.
Yamaha's DAC does not give the result. They might be very cheap, yet the tradeoff between quality and affordability might not be quite wise.
On the other hand, when it comes to Pro-Ject Pre Box S2 Digital, its design and durability are considered questionable. So within the same price range, Bluesound Node 2i offers better and accurate sound quality and richer build quality.
Pros and Cons
Pros
High fidelity sound quality
Bluetooth 5.0 aptX HD
Versatile build
Cons
No remote is provided
The BlueOS app can be buggy sometimes
How to configure your Bluesound Node 2i
Requirements
Your house must have a stable network connection in the form of Wi-Fi or wired connectivity.
You will have to download the BlueOs mobile app from the Apple or Android app store.
Lastly, download the Bluesound Windows/MacOS desktop system. The desktop system allows advanced controlling.
Setup
You will have to follow these easy steps to configure Node 2i:
Connect Node 2i, either through analog or digital connection, to your existing system.
Power on your Node 2i by plugging in the power cord to the right side of the device. When the LED on the front side of Node 2i turns green, this means that your Node 2i has successfully turned on.
Next, you will have to open the BlueOS app on your phone or tablet. Follow the in-app instructions as depicted by easy to comprehend images.
Hence, your setup will be complete.
Price analysis
As a compact and versatile music streamer with a built-in DAC, Bluesound Node 2i is quite affordable. Some audiophiles might even call it cheap. Often its affordable price causes suspicion among buyers over its quality. However, quality is not always equivalent to a high price.
Bluesound has sold Node 2i at $549(£499). The affordable price is one of its plus points. It even contributes to its high demand and popularity.
Hence, as compared to other music streamers in competition, Bluesound Node 2i will not lighten up your pocket. It provides a high-quality output at an immensely affordable price.
Final Verdict
Node 2i not only allows you to use your old music equipment but ensures the best musical output from them. You will have a wholesome experience using this marvelous creation. Its seamless performance and convenient accessibility make it a pro-choice among ardent audiophiles.
You receive a wide array of connectivity options along with a choice from your favorite streaming services. If you are doing laundry, cooking in the kitchen, or simply killing time in your bedroom, play your music using Node 2i and listen to it anywhere.