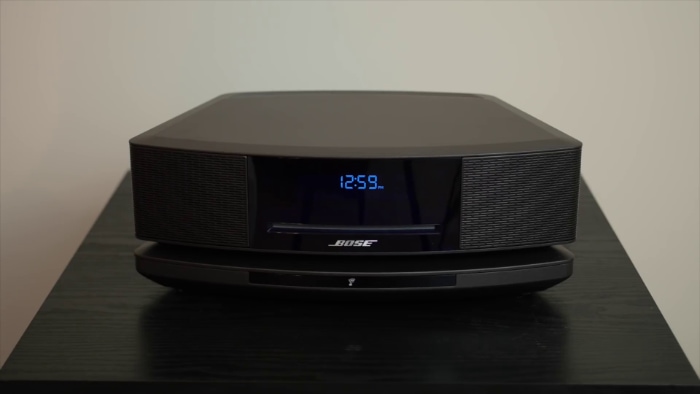 Having a home stereo system is common in every other household these days. Who doesn't love watching the game on the weekend or get immersed in a movie with a bag of popcorn? But this experience can be dulled by a boring music system that doesn't compliment the entertainment you're viewing, and that's an issue that should be fixed.
That's where Bose comes in. The very name symbolizes quality and reliability, both of which are defining qualities of the American audio giant.
The Wave Music System IV is one of their newer additions to the home stereo system, and this article will help you decide whether this system is worth installing in your home or not. So let's get into it!
We're going to be evaluating factors such as design, sound quality, price, specifications, and much more.
Where to Buy?
The Design
Let's talk about the design first. The system has a sleek body designed to fit anywhere. This wouldn't look out of place, whether it's your kitchen tabletop or your bedside table.
The front has a smartly placed screen flanked on both sides with a stylish grill, which compliments the Bose Waveguide speaker technology. The back of the unit features different accessibility ports.
The small frame allows it to be easily placed anywhere and being almost weightless (8.4 pounds); carrying it isn't a hassle at all.
The body of the stereo system measures around 4.3 inches tall, 14.5 inches wide, and 8.8 inches long. That's almost minuscule, considering that this device delivers sound that is comparable to much larger speakers.
Being around 4.5 inches tall, this can easily fit inside your television console or under a cabinet if you're placing it in storage.
The device comes in two different colors. Espresso Black and Platinum Silver.
The Sound
Based on its size, you might be worried whether this machine is incapable of delivering good quality sound. Don't worry. The Wave Music System IV utilizes Bose's advanced Waveguide speaker technology to deliver sound that reminds us why Bose is considered the best.
The lows and highs are almost on point, and the clarity is amazing. The system can get very loud without ruining the sound quality, unlike cheaper speakers that get ruined if you constantly play loud music on them.
Bose claims that this is due to their Waveguide technology. This technology uses folded transmission lines to allow small enclosures to release much larger volume, much like "how a flute can be heard throughout an orchestra."
Aside from movies, listening to music is also a great experience. No matter what genre, the Bose Wave Music System IV can deliver a crisp and clean listening experience.
Accessibility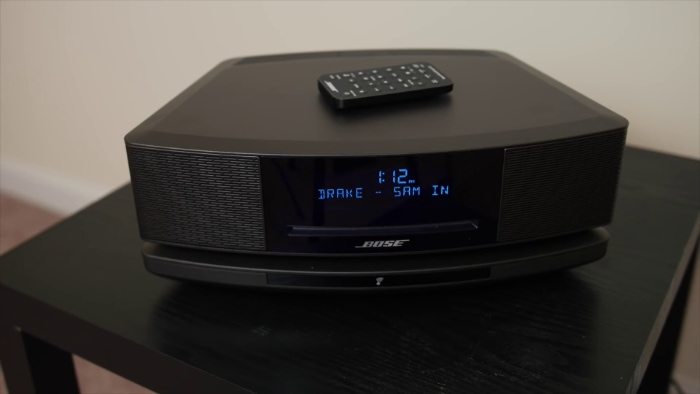 The Wave Music System IV is primarily designed to play music from CDs, which is perfect for those users who can't seem to let go of their CD music collections.
The device also plays AM/FM radio, making it a great option when you want to tune in to your favorite channel. Listening to music has never been easier, whether they're working out or busy cooking in the kitchen!
The Music System IV has a sensor on the top, allowing to turn the unit on and off with a simple tap. You can also snooze your alarm by tapping the top.
The device has a screen in front, which lets you see what's playing at the moment and what time it is. The display has adjustable brightness and an automatic dimming feature which reduces brightness at night.
The device's CD slot is located in the middle, just above the Bose logo. A simple push allows the device to take the CD and play music.
For increased connectivity, an AUX port and a headphone jack are also located on the back of the music system. This is great for when you want to connect the device to your TV, computer or want to have an isolated listening experience on your headphones.
Bose provides a handy infrared remote to control the music system. Users can navigate through radio, CDs, and any connected devices. The remote can also be used to set the dual alarms system, as well as snooze it.
You can also browse through stations you listen to the most by setting them as favorites on the device. The device allows for six FM and six AM presets.
Add-on connectivity
One feature that we thought should've been included in this model was the Wi-Fi connectivity and the ability to connect to other devices wirelessly. Instead, Bose offers a music adapter that allows you to wirelessly connect your devices to the speaker via Bluetooth, which can then stream from different apps like Spotify, Youtube, Deezer, etc.
You can also connect other Bluetooth devices like your laptop or even your computer if you have a Bluetooth adapter installed on the computer. Easy connectivity makes for a much more enhanced experience when watching a movie on your laptop or gaming on your PC.
The upgrade also allows users to use the Bose Soundtouch app to connect different Bose speakers to the system and connect devices through Wi-Fi using the Soundtouch app.
However, we'd have preferred that feature to be in the base model as well. And this add-on costs around $250-$300 more. With a cellphone in everyone's hands these days, Bose really wants you to upgrade to that feature.
Dual Alarms System
One handy feature that we noted with the Bose Wave Music System IV was the dual alarms feature.
You can set two different alarms for when you want to wake up early, and your partner sleeps late. Shutting one alarm off doesn't automatically shut the second alarm, which is really useful if you usually set the alarm for someone else after you wake up.
The alarms also have a gently-rising volume feature, which makes for less disturbance when you're waking up.
Price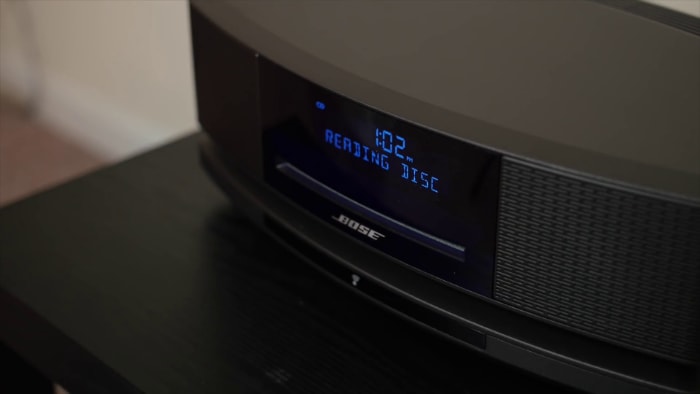 Being a Bose machine, premium features come with a premium price. The Bose Wave Music System IV is listed on Amazon for around $559.00 for the Espresso Black edition and $445.00 for the Platinum Silver edition.
The device is also listed on the Bose official website for $499.00 for both editions.
The upgraded version, which comes with Bluetooth/Wi-Fi connectivity, is priced at around $870.00.
Pros and Cons
Pros
Minimalist design
Sleek, Sturdy build
Amazing music quality
Dual Alarm system
Plays CDs, if that's your thing
Cons
Quite expensive
Doesn't come with Bluetooth or Wi-Fi out of the box
Final Verdict
Overall, the Bose Wave Music System IV is a great addition to your house if you want a small, easy-to-use machine that packs quite a punch. The only downside is the added expense of having to buy a Bluetooth/Wi-Fi adapter to connect your phone or other devices.
Functioning both as an amazing music player and a luxurious alarm clock, the Bose Wave Music System IV won't disappoint.