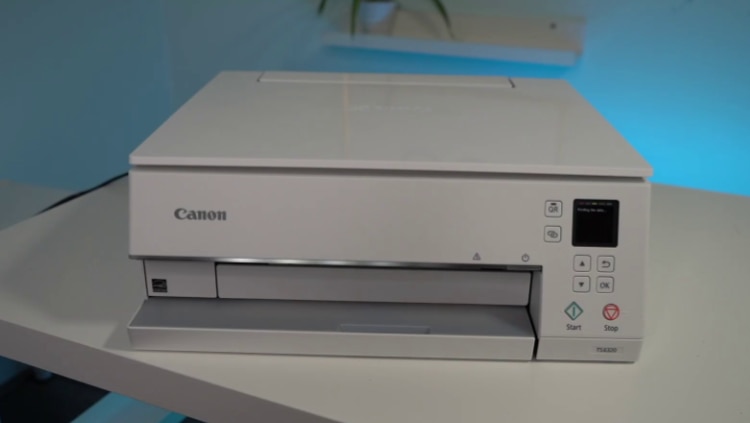 If a dependable, intuitive printer that delivers excellent output is what you're looking for, the Canon Pixma TS6320 is your answer. It is a well-designed printer with a compact structure, making it suitable for your home or personal office. With several handy features, this wireless printer could be the right choice if you are working with a moderate budget.
Where to Buy?
Overview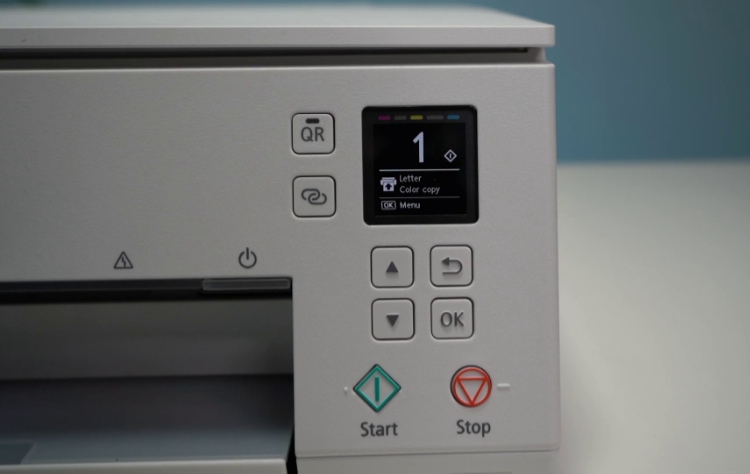 The Canon Pixma TS6320 Wireless All-In-One printer is photo-centric yet adequately capable of performing multiple other functions. With a design that focuses on home and family use, the printer can meet ordinary text and graphic printing requirements. It uses inkjet technology for printing.
Design and Hardware
The Canon Pixma TS6320 is a development over the preceding TS6220 model in the same range. You can find the TS6320 in three colors- namely, white, black, and navy blue. The overall appearance is well-balanced, with smooth edges and a sleek look.
The Pixma TS6320 comprises a 1.44 inch OLED screen in addition to an LED bar for status indication. These together make it a cakewalk to navigate and remain in stride with the functions of the printer. The right side of the printer's face consists of the control panel and associated buttons.
The measurements of the printer are 5.6 x 14.2 x 14.9 inches with a weight of 13.9 pounds. It is heavier than most printers of this range, which may sometimes put it at a slight disadvantage.
Paper Input Capacity
The Canon Pixma TS6320 has two trays for holding the paper. The total capacity is 200 pages, with the front and rear trays capable of holding 100 standard sheets. It is a helpful feature because you will not have to worry about running out of sheets too soon.
The rear tray can also hold about 20 leaves of glossy photo paper- an essential, given the printer is significantly focused on photo printing. It can intuitively detect the type of media in the tray- a smart feature several printers in this range might lack.
Ink System
The Canon Pixma TS6320 has an admirable five individual ink structure that enables printing in vivid, sharp colors. Due to this system, you do not have to replace an entire tri-color cartridge when a specific color runs out.
Standard Speed of Printing
According to Canon and its rating system, the Canon Pixma TS6320 can produce 15 monochrome pages per minute (ppm).
As a parallel, it functions at a speed of 10 color pages per minute. While this is a standard speed for most TS-series printers, it is still slower than similar models offered by notable brands like Epson.
Scanner
Part of the reason why this printer weighs more is the scanner. The Canon Pixma TS6320 consists of a single flatbed scanner. It does not give you any other option besides putting pages one-at-a-time on the glass to copy or scan.
Connectivity and Assistive Apps
It is relatively easy to operate and set-up the Canon Pixma TS6320. The standard procedure involves access to 802.11b/g/n WiFi and connecting to an individual PC through USB.
If you want to print directly from Canon cameras, you will need PictBridge wireless. The Canon Pixma TS6320 also supports Bluetooth 4.0 LE, allowing you to print from more than one mobile device at a time.
You can use the printer via other mobile app options like Google Cloud Print and Apple AirPrint. Other mobile apps by Canon, such as the Canon Print App or Pixma Cloud Print, are also available. There is a range of other supporting apps you can use for photo enhancement or messages.
Other Smart Features
Today, it is necessary for a printer to have sufficient smart features. The Canon Pixma TS6320 offers numerous such features. Smart home activation is common in most Canon inkjet printers, and the Canon Pixma TS6320 is not an exception.
The printer is compatible with Google Home Assistant and Amazon Alexa. In addition to this, it also supports standard If This Then That or IFTTT scripting. It allows you to command the printer via simple voice instructions for a few services like Microsoft's Cortana and Apple's Siri.
Quality of Print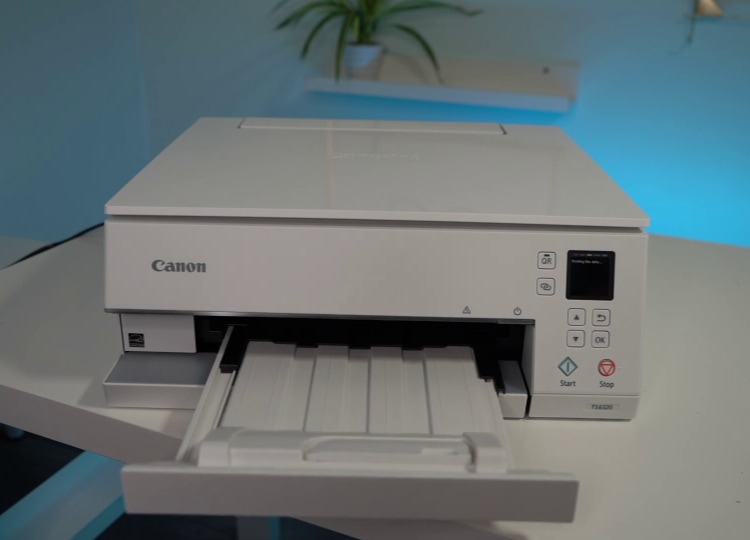 All additional features become obsolete if the quality of print of an inkjet printer is beneath excellent. With the Canon Pixma TS6320, you do not have to worry about this. The printer produces exceptional photo prints and high-grade text and graphic results as well.
The printed text that the Canon Pixma TS6320 generates is highly clear, legible, and well-shaped. The quality is competent enough to serve the needs of all homes and small businesses.
The graphics are also within this range, displaying little banding and exceptional details. The colors are all true, and the gradients come out brilliantly.
The Canon Pixma TS6320 is perhaps quite ahead of print quality printers when it comes to photos. The images are bright and exceptionally detailed. It is a vast advantage over four-ink photo printers that focus on business requirements.
Pros and Cons
Pros
Here are some advantages that come with the use of the Canon Pixma TS6320:
Exceptional photo print quality
Excellent text and graphic printing
The Five-ink system produces rich, smooth blacks and a wide range of colors
Individual cartridges prevent wastage of ink
Voice activation allows hands-free operations
Compact and sleek design
200-page capacity
Supports smart features
Cons
As is the case with the most useful products, the Canon Pixma TS6320 also has its disadvantages. Here are some of them:
It does not support a memory card
Lacks an automatic feeder for documents
Relatively heavier than similar models
Each page is expensive; printing costs are high
Who should buy the Canon Pixma TS6320?
The Canon Pixma TS6320 has a specific design developed with photo printing and family usage in mind. It can also produce copies or prints of documents if necessary on occasion. If that is your goal, then this printer is an appropriate choice.
The high cost of running this printer renders it capable of performing duties that deal with low volumes. If you have a home office or small business, you will benefit more from a heavy-duty printer offering lower expenses.
Final Verdict
The Canon Pixma TS6320 is a versatile, good-quality printer for family requirements. Its usage falls on a more expensive side, so you may want to weigh all your options. The connectivity of this intuitive printer is excellent, and it offers smart features as well. However, it is not the most suitable if you are looking for a printer as a professional.