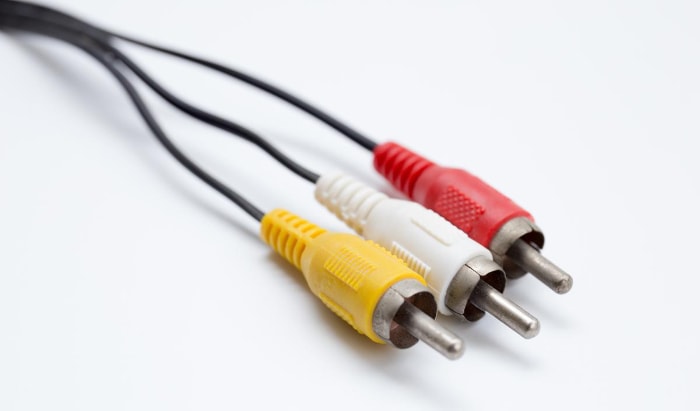 Navigating the realm of audio and video cables can often feel like deciphering a foreign language. Yet, understanding these cables is crucial to harnessing the best performance from our entertainment systems.
Among the vast array of choices, two cable types frequently pop up for discussion: component and composite cables. This post aims to shed light on the differences between these two, detailing their designs, functions, and the quality of audio and video transmission they offer.
By the end, readers will be equipped to make informed decisions about their audio and video setups, ensuring optimal experiences for both casual viewing and professional applications.
Basics of Each Cable
Understanding the fundamental characteristics of both component and composite cables is crucial in making informed decisions for your audio-video setup. Let's dig deeper into each type, analyzing their construction, functions, and individual strengths and weaknesses.
Composite Cables
Composite cables, typically recognized by their yellow video connector, have long been a staple in AV setups, especially in older equipment. Accompanying the video cable, there are often red and white audio connectors.
How It Works
These cables work by combining video data into one singular signal. All the visual information, such as luminance (brightness) and chrominance (color), gets transmitted through that one yellow cable.
Pros
Simplicity in connection ensures that even those unfamiliar with technology can set it up.
Broad compatibility makes it suitable for a wide range of older equipment.

Cons
Since the video signal is merged, the quality often takes a hit.
These cables aren't designed to handle high-definition signals, which can be limiting for modern media.

Component Cables
Distinguished by three separate cables for video – red, green, and blue – component cables take a different approach than their composite counterparts. To ensure a holistic audio experience, they are often paired with an additional two cables, red and white, for audio.
How It Works
Each of the three video cables carries a distinct portion of the video signal. The green cable (Y) carries the luminance, whereas the blue (Pb) and red (Pr) ones carry the difference between blue and luminance and the difference between red and luminance respectively.

Pros
By separating the video signals, component cables generally provide a much crisper and clearer image.
They are equipped to handle video signals up to 1080p, making them suitable for many HD sources.
Cons
More cables mean potential clutter and more connections to manage.
As technology evolves, some newer equipment might not support component inputs, leading to compatibility concerns.
Comparing Quality and Performance
When selecting cables for your audio-video setup, quality and performance are often at the forefront of considerations. Both component and composite cables offer distinct advantages and disadvantages in this arena.
To better understand which cable type might suit your needs, let's examine their quality and performance metrics in greater detail.
Image Clarity, Color Accuracy, and Sharpness
Composite Cables
Composite cables, by their design, send video data as a single merged signal. This often leads to some loss in sharpness, potential color bleeding, and reduced overall image clarity.
Component Cables
On the other hand, the separated signals of component cables ensure that there's minimal interference between the data. This separation facilitates better color accuracy, clearer image distinction, and overall improved sharpness.
Signal Interference and Degradation
Composite Cables
Since all the video data is transmitted through a single channel, there's a higher likelihood of signal interference, especially when used over long distances. This can sometimes result in a less consistent video output.
Component Cables
The design of component cables reduces the chances of interference. Each cable's distinct role ensures that the signals remain more isolated. As a result, even over longer distances, component cables tend to maintain signal integrity better than their composite counterparts.
Potential for Artifacts or Visual Disturbances
Composite Cables
Given the merged nature of the signal, composite cables are more susceptible to video artifacts. These disturbances might manifest as ghosting, streaking, or other unexpected visual discrepancies.
Component Cables
With their ability to transmit signals separately, component cables greatly reduce the potential for these kinds of artifacts. The resulting output tends to be more consistent and free from unwanted disturbances.
Practical Applications: Which Cable Should You Use?
In the world of audio-video setups, one size doesn't fit all. The best cable for your situation often depends on the specific application.
Whether it's for retro gaming or a state-of-the-art home theater, the choice between composite and component cables plays a crucial role.
Let's explore various scenarios and the preferred cable choices for each.
Retro Gaming and Vintage Devices
Composite Cables
These cables are a common fixture for older game consoles and vintage audio-video equipment. If you're looking to connect devices like the Nintendo NES or a VCR, composite is typically the way to go.
Its universal compatibility with older tech makes it a favorite for nostalgia enthusiasts.
Component Cables
While component cables offer superior quality, they might not be the first choice for older devices. This is primarily due to compatibility issues, as many vintage devices don't have component outputs.
Home Theaters and Modern Entertainment Systems
Composite Cables
Modern entertainment systems, especially those built for high-definition experiences, often push the limits of what composite cables can handle. While they might work for a basic setup, you might be sacrificing quality, particularly if your media sources and display support higher resolutions.
Component Cables
For those who want to experience movies, sports, and shows in higher quality, component cables are a more fitting choice. They can handle up to 1080p signals, making them suitable for Blu-ray players, modern gaming consoles, and HD satellite or cable boxes.
The improved clarity and color accuracy can elevate your home theater experience.
Professional Setups and Broadcast
Composite Cables
In professional settings where clarity and consistent quality are paramount, composite cables might fall short. They are seldom used in modern professional setups due to their limitations in handling high-quality signals.
Component Cables
For studios, broadcasting setups, or other professional applications, component cables often take center stage. Their ability to transmit high-definition signals without much interference ensures the audience receives a top-tier viewing experience.
Conclusion
Understanding the distinct characteristics, benefits, and limitations of both composite and component cables is essential for anyone seeking the best audio-video experience. While composite cables offer simplicity and broad compatibility, especially with older equipment, component cables excel in delivering high-definition clarity and quality, catering to modern entertainment needs and professional setups. 
Your choice should align with your specific requirements and the equipment you use. By making informed decisions, you can optimize your setup for the most immersive and enjoyable audio-video moments.