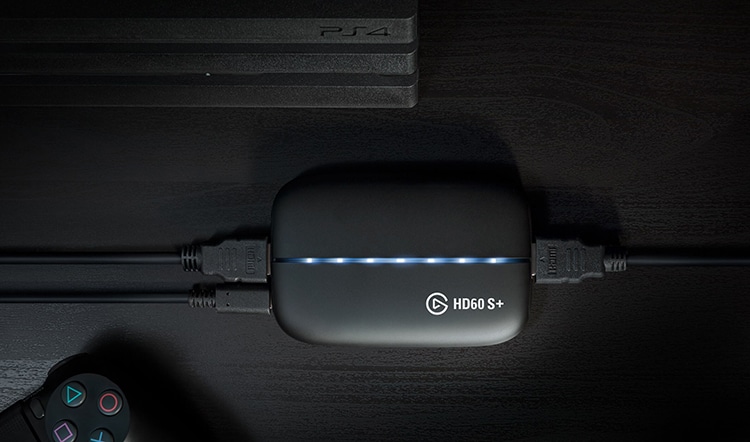 With the onset of virtually a gaming revolution, anyone can share their experiences with an audience. Popular platforms that enable the live-streaming of gaming sessions, such as Twitch, catalyze this.
Elgato has an admirable range of video capture cards that strive to deliver optimum quality and accessibility in this field.
If you are a new streamer, you may be on the hunt for a suitable video capture card. The Elgato HD60 S+ is an excellent option offering hassle-free recording as well as streaming via HDMI. It is a compact, efficient unit that is a breeze to connect and transport.
You can connect it to your PC as well as your gaming console.
Where to Buy?
Unboxing The Elgato HD60 S+
The packaging of a device is the first factor that reflects its overall quality. The Elgato HD60 S+ comes in an attractive box with a contemporary look that serves its purpose well. There is plenty of reinforcement, so you do not have to worry about the device's security inside.
When you open the box, you will find the HD60 S+ neatly placed with a USB 3.0 and HDMI 2.0 cable. There is a quick guide with graphical assistance on the right-hand-side flap to get you started.
A significant complaint that users had was the box lacks a user or instruction manual that goes into further detail.
If your box does not contain any of the critical components mentioned above, contact customer support.
Warranty
Since Elgato is a Corsair partner, its products follow the warranty procedures of the latter. For new devices, there is a 2-year warranty period. You can contact the Elgato team for queries.
Hardware and Appearance
The Elgato HD60 S+ maintains the compact and portable design that other Elgato capture cards comprise. It is rectangular with rounded edges and flaunts a sleek matte finish.
It measures approximately 112 mm x 75 mm x 19 mm and stands at a weight of around 115 g or 4.06 oz. The middle section of the device is slightly raised or convex in shape. Due to this, it offers less grip than would be preferable on any surface.
The HDMI 2.0 cable is 1 m long, and the USB 3.0 Type-C cable measures 2 m in length. While these are decent lengths, several gamers believe it would have been more functional to have slightly longer cables.
The Elgato HD60 S+ features input ports for the HDMI cable and the USB 3.0 Type-C cable on one side. With these, there is also an input for Analog Audio. The narrow LED bar running through the center of the device lights up when you connect it to your PC or console.
Setting Up The Elgato HD60 S+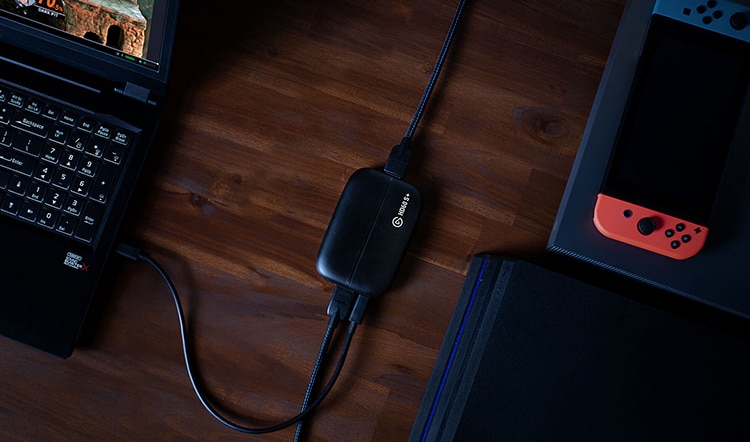 It is reasonably simple to get the Elgato HD60 S+ up and running. The absence of a user manual may present slight challenges with the nuances, but it is easy to figure them out. You can find plenty of information on the official website or watch a few instructional videos.
Here is the necessary procedure you need to follow:
Connect your PC or console to the Elgato HD60 S+ via the HDMI "In" port
Plug into your monitor or TV using the HDMI "Out" port
Use the USB Type-C cable to connect to a USB 3.0 port on the device from which you are streaming
There is perhaps no other device that offers such efficiency and quality; all you need to do is "plug and play."
Remember that you may not receive any images if even a single port in the chain is not a USB 3.0 port. Ensure the incoming signal is not encrypted- you may need to configure your console's HDCP settings. It is critical if you use a PS4.
You need to have the Elgato capture app to gain access to advanced configurations of the unit, like enabling the HDR recording. Several gamers have highlighted this as an inconvenience, as opposed to being able to change settings via the capture software.
The Elgato HD60 S+ is compatible with almost all of the preferable streaming software available today. These include XSplit, OBS Studio, Streamlabs OBS, and other software that you may use. If these seem daunting, you can use the more straightforward 4K Capture and Game Capture programs by Elgato.
Prerequisites For Set-Up
With the improved technology in the Elgato HD60 S+, you need to meet specific fundamental requirements to use the capture card.
Windows
Below are the minimum requirements for Windows:
Operating System: Windows 10 (64-bit)
RAM: 4 GB RAM and a built-in USB 3.0 port
CPU: 6th generation quad-core Intel Core i5 CPU (i5-6xxx or comparable)
GPU: NVIDIA GeForce GTX 10xx – Since the Elgato HD60 S+ does not feature an in-built hardware encoder
Mac
If you use a Mac, here are the minimum requirements your computer will have to meet:
Operating System: macOS Sierra
RAM: 4 GB RAM
CPU: Intel i5-4xxx quad-core
GPU: NVIDIA or AMD
Remarkable Features And Specifications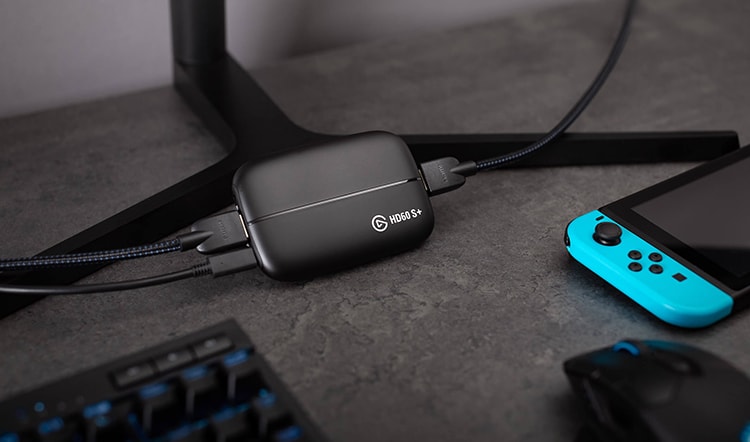 The Elgato HD60 S+ is an impressive video capture card, offering various helpful features and aspects.
Proficient Capture
The Elgato HD60 S+ allows you to go live on almost any platform, quite possibly within the shortest period. It streams at an impressive 1080p resolution at a smooth 60 fps.
True Passthrough
The Elgato HD60 S+ enables you to play high-fidelity games on your console- be it an Xbox or a PlayStation. You can stream to Twitch or record for YouTube in a remarkable 4K60 HDR10 quality, with almost non-existent to zero latency. The passthrough resolutions are up to 2160p60 HDR, allowing superior streams and endless creativity.
Flashback Recording
The Elgato HD60 S+ boasts of the Flashback Recording feature that you can use to save footage retroactively.
Pros and Cons
Pros
Affordable and cost-effective
Compact and portable
Seamless and incredibly clear streaming
Hassle-free set up
Capture is lag-free
Instant gameview
Limitless capture
Allows live commentary
Cons
Incapable of supporting high frame rates
Design does not provide proper grip on flat surfaces
Final Verdict
The Elgato HD60 S+ is a blessing for professional gamers and novices alike. It is an efficient device that provides full value for its price and range. The device is easy to use and offers high-quality performance.
The attractive design of the device complements its functions. It is compact and does not disrupt gameplay. While it is a decent investment overall, you should turn towards more advanced capture cards if you need nuanced features.