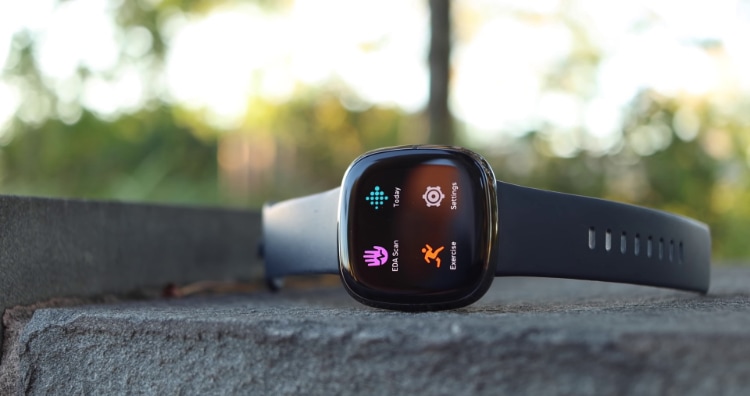 Modern Smartwatches don't just tell time but come with a lot of health-focused features as well. They can monitor heart rate, track activity, and even provide you reminders throughout the day.
With hundreds of smartwatches available in the market, you might get confused selecting the best one. Fitbit Sense Advanced Smartwatch is the product you should be looking for if you need a watch with excellent performance and high durability.
Where to Buy?
What is Fitbit Sense?
Fitbit Sense is a top-tier smartwatch and an upgrade to its predecessor Fitbit Versa 2. This well-built watch is made from high-quality stainless steel and aluminum material.
With Apple and Samsung watches in the competition, Fitbit has proved its worth by adding extraordinary features to its smartwatch.
The Fitbit Sense smartwatch has an EDA sensor that tells you how stressed you are based on your heart rate, sleep, and activity. It has a 1.58-inch AMOLED panel with a nice-looking screen.
This Fitbit smartwatch is the third watch to receive approval for its ECG app by the FDA. It allows the users to see their heartbeat and check if there are any signs of atrial fibrillation.
Moreover, Sense features a skin temperature monitor that allows you to check whether you are ill or not. You may have to wear it for three consecutive nights while you are sleeping so that it can give you an accurate skin temperature reading.
The Fitbit Sense smartwatch also has a SpO2 sensor, also known as a blood oxygen monitor, that tells you your blood oxygen levels.
This watch not only keeps your health in check but is also meant for fitness purposes. It comes with a GPS that only takes a minute or less to catch a signal. Its heart rate monitor gives you fast and accurate results that are easy to read even when you are running.
Design and Features
Fitbit Sense is a premium quality smartwatch with great features you may not find on many modern watches. You can comfortably wear it anywhere, go for a run in the morning, and even while sleeping at night to let the temperature monitor work.
Design
The Fitbit Sense has a stainless steel case and is compact and light, allowing you to wear it comfortably throughout the day. It is a square-shaped watch with rounded sides that give the watch a unique look.
You can find a small touch-sensitive solid-state button that causes the watch to vibrate when pressed on the right side. The left side features an inductive button that acts as the home button.
Unlike other watches, this smartwatch comes with an infinity strap that feels soft on the wrist and does not collect dust quickly. Also, if you do not like the strap, you can replace it with another one.
Display
One of the best features of Fitbit Sense is its AMOLED display. It is a high-resolution display that allows easy reading whether you are moving or not. The screen gives you three different brightness settings to adjust as per your requirements.
The dark and inky display is reflective, allowing you to read the time in direct sunlight. It s screen is energy efficient and can last up to 6 days when charged fully. If you turn on the Always-on feature, the battery life might reduce by at least two days.
EDA Sensor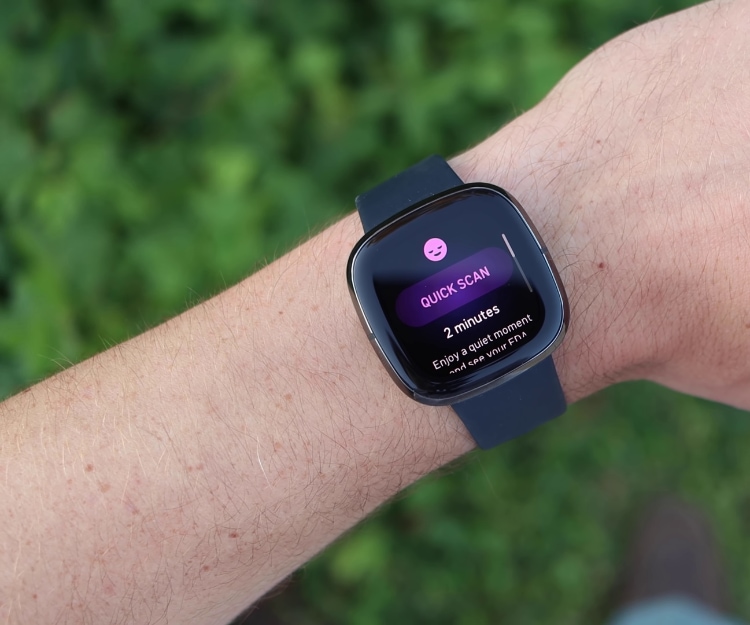 The Fitbit Sense smartwatch features an EDA sensor that measures your stress level. It applies unnoticeable electrical charges to your skin to check your emotional state.
You can check your EDA recordings simply using your EDA scan app on the watch. Just put your hand on the display and wait for two minutes while it records.
After analyzing how you feel, the scanner also gives you various options for mindful practices to calm down and relieve your stress.
ECG Sensor
After Apple and Samsung, Fitbit was third in line to launch a premium smartwatch with an FDA-approved ECG sensor. The sensor detects potential heart problems and shows you signs of atrial fibrillation.
You can easily record your ECG using the ECG app on your Fitbit Sense. It asks you to go through a few disclaimers in the Fitbit app and then redirects you to the ECG application. Then, all you have to do is put your index finger and thumb on the bezel and sit still for about 30 seconds.
However, you will not be able to see the actual results on the ECG app. For this, you have to go to the discover tab in the Fitbit app.
Skin temperature Monitor
The skin temperature monitor on this smartwatch detects whether you are ill or not. It shows you the early signs of illness by recording your skin temperature. The monitor compares the recorded temperature with its baseline to give you accurate results.
This sensor works while you are sleeping, allowing you to check if you were burning up in the night.
SpO2 Sensor
SpO2 sensor tracks your blood oxygen levels and creates a graph showing your oxygen variations while you were sleeping. If you see high variations, it might be an alert to see a doctor before the health issue gets serious.
At the time of launch, only premium members of Fitbit could use this feature, but now the company allows non-premium members as well.
Sleep Tracking
Sense keeps a record of your sleep logs and allows you to edit them too. It gives you an overall sleep score ranging from 1 to 100 and also checks your heart rate. Moreover, the Fitbit app shows you the time spent in light, deep, and REM sleep during the night.
Performance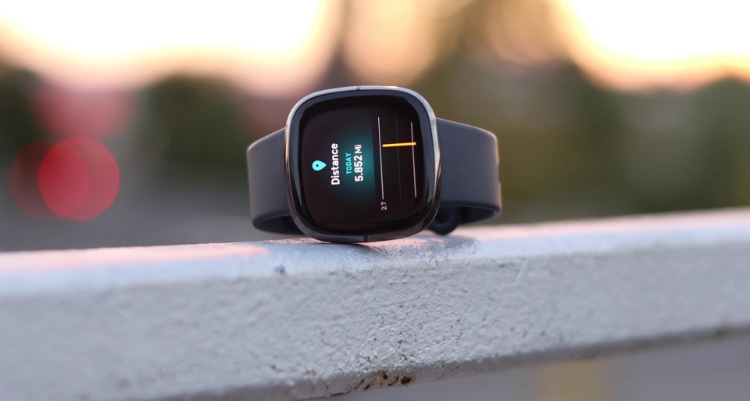 When it comes to performance, you cannot find a better smartwatch than the Fitbit Sense. Sense watch won't disappoint you in any manner, be it the health features or fitness features. With many features to offer, this smart wearable is one of the best watches available in the market.
Should you buy the Fitbit Sense Advanced Smartwatch?
The Fitbit Sense Advanced Smartwatch is an excellent option if you are looking for a high-end smart wearable. It comes with health and fitness features and shows you accurate results – whether it is sleep tracking or skin temperatures.
So, is it worth your money? Have a look at these factors to help you decide better:
Compatibility
The Fitbit Sense Advanced smartwatch is compatible with most smartphones and tablets – be it iOS or Android. However, the watch requires you to install the following operating systems on your devices:
Apple iOS 12 or higher
Android OS 7.0 or higher
Moreover, even if your device works on these operating systems, you may not be able to use the watch properly if you have:
Huawei P8 Lite
Huawei P20 Lite
Huawei P9 Lite
Xiaomi Mi 6
Battery Life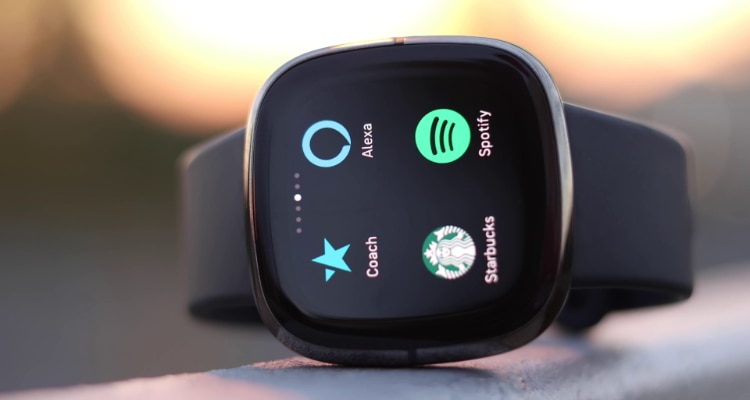 The Fitbit Sense offers you a 6-day battery life which is way better than its alternatives. The watch comes with a magnetic USB charger you can attach to the back of your watch. Not only does it have a long battery life, but it only takes about an hour to charge from 0 to 100.
However, if you keep the display Always-on mode, the battery life falls down to four days. Also, using GPS for a long time will drain the battery quickly.
Premium
Fitbit premium is available in two different packages – $9.99 a month and $79.99 a year. With its premium, you will get additional features that enhance your experience.
The health metrics dashboard on the Fitbit app shows you the weekly and monthly reports of your heart rate, blood oxygen levels, skin temperatures, and breathing rate.
The premium gives the users access to hundreds of workout videos to watch through the Fitbit mobile app. Moreover, you will also get 16 guided programs that help you sleep, eat and exercise better.
Pros and Cons
Pros
Premium design
Improved infinity strap
Accurate heart rate monitor and GPS tracker
Provides a detailed record of your sleep
It can last up to 6 days on a full charge
Cons
EDA and ECG sensors need improvement
Requires Fitbit premium for maximum performance
Final Verdict
The Fitbit Sense is an energy-efficient smartwatch with great features that are not available with many smartwatches. It is not far behind Apple watches and is even better in some aspects, such as skin temperature and SpO2 sensors.
The ECG and EDA results might be inaccurate at times, but the overall performance of this smart wearable is unmatchable.
So, if you need a smartwatch that looks out for your health and fitness, the Fitbit Sense is the best option you can get.