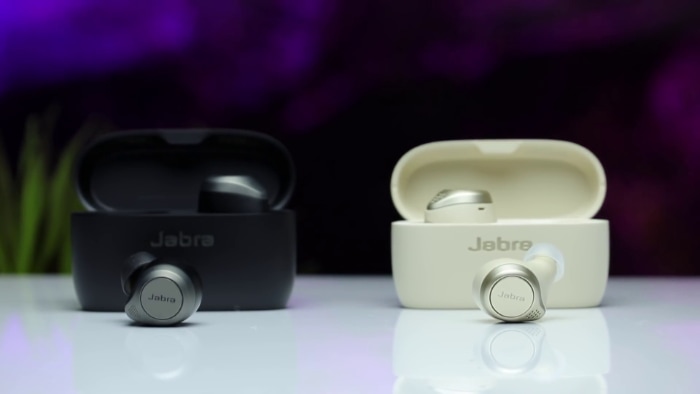 Since their entry into the headphones industry, the Danish audio giant Jabra has been churning out noteworthy audio devices whose stellar performance can be compared to Bose, Sennheiser, Bang & Olufsen, and the like.
With their latest releases being the Jabra Elite 75t and the Jabra Elite 85t, we're going to be comparing these two models and decide which one is the best for you. We're going to go into the details of each of these products, scrutinizing factors like base driver size (and why it matters), Noise cancellation and its importance, battery life, etc.
Where to Buy?
The Design and Color
First off is the design. For first impressions, the two devices seem relatively similar, with a mainly plastic build. The Elite 85t is also a bit larger (about 10-15%), with a more oval shape, along with a slightly bulkier case.
Both devices are built with a relatively similar, minimalistic design. The range of colors on the Jabra website are the same for both devices. These colors are completely black, Gold Beige, and black with grey overtones.
The Jabra 85t weighs in at 6.9 grams per earbud, while the 75t comes in at 5.5 grams each. This is mainly due to the 85t's larger build to accommodate for bigger 12mm drivers and a dedicated ANC (Active Noise Cancellation) chip.
This means that the 85t might fit more snugly inside your ear, since these types of earbuds mainly rely on your ear tips not to fall out. However, the ergonomic fit might come hand in hand with some discomfort for users who prefer having the earbuds fit comfortably in their ears and wish to listen to music for 4-5 hours at a time.
Bluetooth and Connectivity
Next up is Bluetooth capability. Both devices offer a 33 feet wireless distance. The Jabra 75t sports 5.0, while the 85t takes a small leap to Bluetooth 5.1. While this may not seem that big of a difference, it still has a slight importance to it. And here's why.
Bluetooth 5.1 devices use a feature called "randomized advertising channel indexing." By running on a specific channel, your device won't get interrupted by other Bluetooth devices.
Bluetooth 5.1 devices also have a faster pairing process and use less power, which is why the Jabra Elite 85t has a slightly higher battery life when compared to the Jabra Elite 75t.
While this is an improvement, the $229.99 price tag should've been appropriate for a completely new Bluetooth generation. The hike in price just doesn't seem that worth it for such a small upgrade.
Both devices also have a special feature that allows them to be connected to 2 devices at a time. However, playback must be paused on one in order to listen to music/video on the other.
However, users that prefer using only one earpiece at a time might face some issues, as both the Elite 75t and the Elite 85t require the right earpiece to be working all the time. Users can use the right earpiece independently, but not the other way around. This might get tiring or uncomfortable for users that don't want to strain one ear or like to alternate between their left and right ears.
Active Noise Cancellation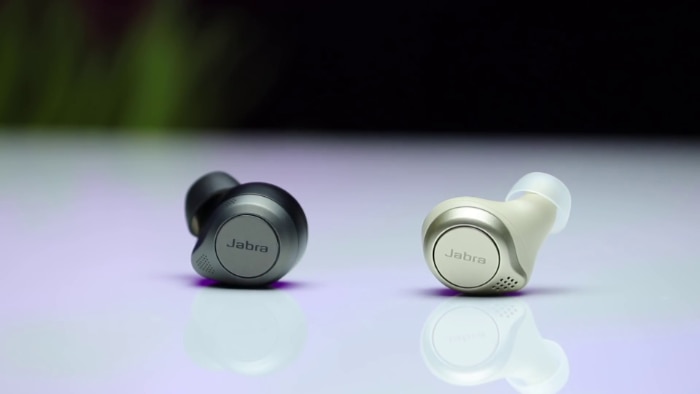 Noise Cancellation involves blocking out any external noise in order to provide a clearer audio experience. Earbuds usually utilize passive or active noise cancellation.
Passive Noise cancellation is achieved by using ear cups that completely seal the ear canal in order to block out all external audio. This doesn't require any sort of software or signals.
Active Noise Cancellation, on the other hand, involves creating an equal sound that cancels out external low frequency sounds. This is done via the earbuds inbuilt microphones and speakers.
Now here's where it gets a little tough to decide. Both the Jabra Elite 75t and the 85t possess Active Noise Cancellation capabilities, with Jabra rolling out an update for the 75t's software, making it more capable for Noise Cancellation.
The earbuds also come with a HearThrough mode, which is designed to purposefully let in external audio in order to keep the user more aware of environmental sound. This means more awareness when listening to music if you're driving, riding a bike, or taking a walk. Plus, you won't have to take out your earbuds in order to have an audible conversation with someone.
However, the main advantage that the Jabra Elite 85t has over its older counterpart is that it has adjustable levels for both Active Noise Cancellation and the HearThrough feature. The Jabra Elite 75t also has four internal mics, compared to the 85t's six, making it slightly less capable of Noise Cancellation and the HearThrough feature.
Dust and Water Resistance
Every device has an IP rating, which tells us the device's degree of protection against water, dust, accidents, and the like. For example, an IP rating of IP56 means a device has high resistance against water and dust.
Now let's compare the IP ratings of the two products. The IP rating for the 85t is IPX4, meaning it is fairly resistant to water splashing on them, but that's about it. The X in the IPX4 rating means that the Jabra Elite 85t were not tested against dust resistance. This might leave them vulnerable to dust, solid objects, dirt, etc.
In contrast, the Jabra Elite 75t has an IP rating of IP55. This means that it has good protection against dust (but not fully dust-tight), water splashes from any direction, and solid objects.
This means that in terms of protection, the Jabra Elite 75t is actually more protected against dust and water than the Elite 85t. This makes it more ideal for when you want to use them outdoors—for example, being worn while bike riding or jogging in the rain wouldn't be an issue for the Jabra Elite 75t.
This doesn't mean that the Elite 85t are any less. The Elite 85t would be more appropriate for use indoors or in less dusty environments. However, neither of the devices are fully waterproof, so care must be taken when using these near water sources.
Battery Life and Charging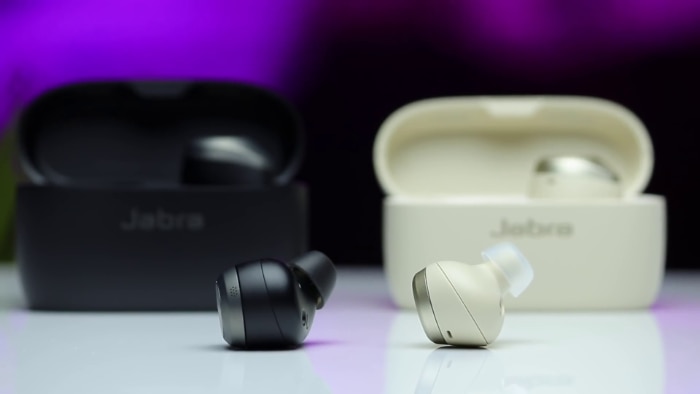 This part is important for people who are annoyed with the constant need to recharge their earbuds and always carry a separate cable for earbuds case charging.
Both the devices offer great battery life. The Jabra official website states 7 hours of music/calls for the Elite 85t and 7.5 hours for the Elite 75t (on a single charge). However, our test is more towards a similar battery life of 5.5 hours for both the Elite 85t and the Elite 75t (with Active Noise Cancellation turned on).
The charging times are different, with the 85t taking up to 210 mins for a full charge and the 75t taking up to 140 mins. Both devices come with fast charging, and In terms of total battery, The Elite 85t barely wins against the Elite 75t, with the 85t giving 25 hours compared to 24 hours from the 75t.
The only difference worth noting is that the Elite 85t offers wireless charging, while the 75t comes with standard USB-C charging. This means easy and convenient charging for the 85t, and no need to keep a separate cable with your case all the time.
The Jabra Sound+ App
The 75t and 85t both make extensive use of the Jabra Sound app, which is required to use the earbuds. The Jabra Sound+ app offers customization of sound delivery, with several presets to boost the bass, treble, etc. The app also offers great customization features like MySound, MyControls, and MyFit.
MySound allows you to calibrate your earbuds to create a unique user profile according to your tastes. MyControls allows you to customize what the buttons on your earbuds can do. MyFit plays audio to check for sound leakage and suggests whether you should adjust your earbuds or try one of the three ear tip sizes that come with the product.
You can also adjust the Active Noise Cancellation, HearThrough modes or turn both of them off through the Sound+ app.
Sound
Let's talk about the most important feature, the sound. The Elite 85t has much better sound capability, with more neutral sound to make room for mids. In comparison, the 75t comes with bass boosted sound, with less detailed highs. Users can however, tweak and change the settings from the Jabra Sound+ app.
The 85t has eliminated the white noise that the 75t hasn't yet been able to. The 75t has the same amount of audio hiss at 10% volume and full volume, so this factor favors the 85t. In terms of sound, the 85t with their bigger 12mm drivers take the round.
Final Verdict
Let's list down the pros of each of the earbuds before we make a final decision.
Jabra Elite 85t
Better sound, with no audio hiss
Slightly better battery
Adjustable ANC and HearThrough
Wireless Charging
Jabra Elite 75t
Much more value for money
More compact size and less bulkier case
Good sound
Better Dust and Water Resistance
It's a tough decision, with both earbuds being equally competitive in one way or the other. However, it is clear that the Elite 75t is the best option for users on a budget. The combination of good price and the features make it much more preferable than the 85t, which can't justify its price tag with those features.
The 85t is the better choice for users who can afford that extra $80 and want earbuds that are on a premium level. The better drivers, dedicated Active Noise Cancellation, and wireless charging are all great features, but only if you want to spend that extra money.
Check Price for Jabra Elite 85t on Amazon
Check Price for Jabra Elite 75t on Amazon