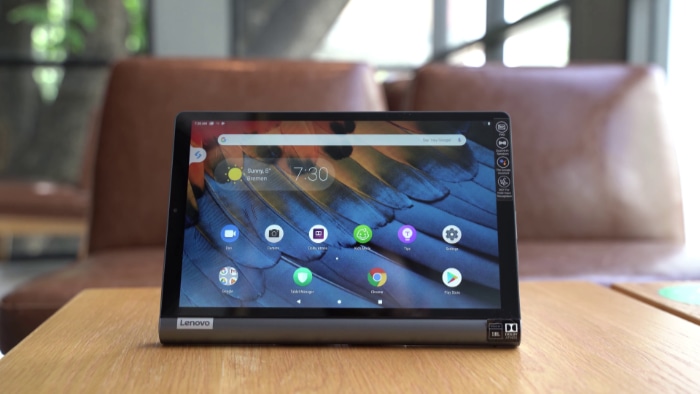 In this age of technology, many devices are coming up in the market frequently. Some of them are laptops, tabs, notes, and cell phones. As new technology is coming up, these new devices incorporate the latest technology in their smart devices.
The Lenovo Yoga Smart Tab is a smart tab with Google assistant and Android incorporated into it in a wholesome way. It is much more versatile when you compare it to a traditional or conventional tablet.
When you look at it for the first time, it might look like a traditional 10-inch tablet. However, there are some specific designs incorporated into this tab that make it very different.
Where to Buy?
What Is The Lenovo Yoga Smart Tab?
The Lenovo Yoga smart tab came into the market back in 2019. It measures 10.1 inches and contains mid-range hardware. The price it is offered at is $300, and it looks pretty amazing. It is powered by Android 9 Pie and includes a display measuring 10 inches. It has a resolution of 1920 x 1200 pixels.
The Lenovo Yoga Smart tab works on the Qualcomm Snapdragon Octa-core processor. It is supported by RAM of 4GB and 64GB storage.
It has a 7,000 mAh battery that lets you browse the web for around 11 hours and lets you enjoy about 10 hours of 1080p video playback.
Design, Features, and Build
There are many unique features for the Lenovo Yoga smart tab that you might not have seen in other tabs before.
Design and Features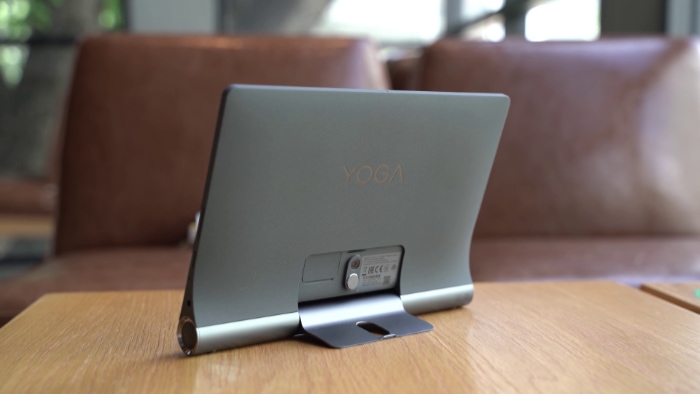 Many aspects make the Lenovo yoga smart tab unique. The way that this tab houses hardware is very different. When you look at the other side of the device by flipping it over, you will find that it is not the traditional tab.
The Yoga smart tab houses an in-built kickstand that lets the user use it in four various ways. The user can choose to hold it in their hand, sit it, use it at a 45-degree angle, make it stand over its side, and even decide to hang it on the wall.
The orientation for this product especially makes it look very different. You can play around with the speaker placement and audio experience optimized by Dolby Atmos on the thick side of the smart tab.
The Lenovo yoga smart tab has one rear 5-megapixel shooter with a fixed focus and one 8-megapixel camera with an autofocus feature on the front side when it comes to the camera. In other specifications, there is the USB C type charging present, an expansion card slot for a microSD to 256 GB, and the Bluetooth feature is Bluetooth 4.2. There is also the headphone/ microphone combination that is present.
Build
Imagine you are reading a magazine and you wish to hold it with only one of your hands. What would you do? You would fold it and keep it on the thick part of the magazine for more stability and support, right?
In short, this is what the Lenovo Yoga smart tab design looks like. In the beginning, the tab may look a little awkward to you. But as you use the hook/hinge as time goes by, you will start appreciating it.
This is definitely not the first time that Lenovo uses a hinge/hook/kickstand in their devices. But it is the first time they are using it in a device with a smart feature like Google Assistant.
The Lenovo yoga smart tab has been designed, considering many aspects and with a lot of attention. The moving parts seem to be built strongly, and there are no signs of weakening or slipping.
However, in other aspects, it does resemble a regular tablet. The buttons on the smart tab are easy to locate and where they are meant to be. The buttons are also pretty responsive.
The speakers of this tab look pretty huge when you look at them initially, but they are not as loud as you would expect them to be. However, the sound quality is clear, and the audio experience is even. But if you want to play music for the room, you will want to get yourself a portable speaker and connect it to the tab.
Short clips and YouTube videos will sound good, but it might be enjoyed better using headphones when it comes to a full-fledged movie.
The placement of the C-type USB port was a little bit of discomfort. The placement is over the side, which means hanging the tab is a little wonky.
Performance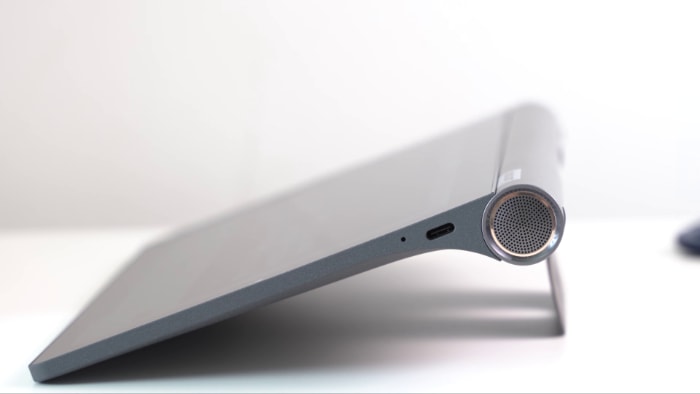 Because of how the Lenovo Yoga smart tab is made, this tab wants to be held, seen, and worked on at all times. The ambient mode of this smart tab puts up slideshows of photos asking you to use the tab. You can make use of the hinge and make it stand over on a counter or table.
You may go on for many days in a stretch when you don't want to make use of the smart tab. It is in times like this when we can hang it on the wall. This is similar to having a picture frame hung in your house, maybe near the sofa or bed.
But the problem arises when you plug the charger into the c type input on the smart tab. The weight of the cable of the charger gives rise to the tablet hanging in a crooked manner. The fact that it will turn in this manner is reason enough to avoid using it like this.
Also, setting up the tablet could have been guided to users better than Lenovo currently does.
When speaking about the hardware prowess, the Lenovo Yoga smart tab was not made, keeping the performance and benchmarks in mind.
If you are currently using a tablet to play games, the Lenovo Yoga smart tab will work equally.
Tablets are mainly used to read your favorite books, school papers, emails, and browsing long-form sites. Since this smart tablet is designed in a particular way, you can hold it without fatigue for a more extended period. You can even prop it up in a way that is comfortable for you to watch Netflix shows.
Should You Buy The Lenovo Yoga Smart Tab?
You can quickly get cheaper tablets in the market, but you will have to be satisfied with their features. You will have to be happy with the standard tablet experience for this.
The Lenovo Yoga smart tab's unique feature is the Google assistant that is beautifully paired with a unique design. One more factor that makes this tab particularly stand out is that they offer the user a complete suite of Google Apps and the Play store.
Having access to all things Google is a feather to the cap.
The last question is whether it is worth the price you will be paying for it?
Well, there is no competitor in the market with all the features this tablet provides you. But considering the Lenovo yoga smart tab and considering the usage, we will recommend this tab to you for buying.
Pros and Cons
Pros
Huge speakers that provide better audio quality compared to most tabs
Rounded edges that help to hold the tablet easier
A kickstand that you can use to hang the tablet
Attractive design
Bright display
Cons
The quality of the webcam is average
Final Verdict
The Lenovo Yoga smart tablet, along with the feature of Google Assistant, is made to function as a smart display. The users get to experience an ergonomic design with rounded edges and a kickstand. The stereo speakers that are built-in offer users sound quality that is far better than traditional tablets.
However, with the price, you may be expecting more. This tablet may struggle with freezing often when combined with push notifications. Users are usually happy and satisfied with this tablet, just with the smart display.
The Lenovo smart tablet is unique in many ways and also ordinary in other ways.