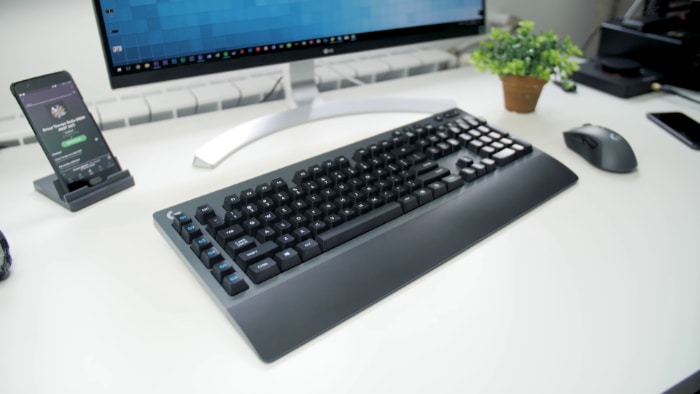 The jump from using a normal keyboard to a gaming keyboard is always tricky but never regretted. Being able to utilize different keys for different actions in-game, experiencing that unique mechanical key experience, and getting a stylish addition to your gaming setup are all benefits of owning a gaming keyboard.
Logitech is one of the prominent brands in making top-quality peripherals and has been doing so for a while now. Their gaming keyboards offer the right balance between price, quality, and style.
Where to Buy?
Mechanical Key Guide
To understand more about the keys used in these keyboards, first, you need to understand what mechanical keys are.
Normal keyboards use membrane keys, which have rubber underneath them, giving off a "rubbery" type feel whenever you press a key.
These types of keyboards almost always have a key rollover, which means that when you press several keys simultaneously, some might not register. This is extremely bad when it comes to fast-paced gaming or even intense typing sessions.
And that's where mechanical keys come in. Mechanical keyboards have spring-loaded switches under every key, acting upon force and giving an audible sound to signify a key being pressed.
These keyboards are much louder than normal membrane keyboards, and each key can be felt when you're pressing them in rapid succession. This makes gaming and typing an altogether different experience on mechanical keyboards.
Logitech uses its own brand of mechanical switches, which they've developed in collaboration with Omron, and deliver more or less the same types as the Cherry MX red, brown, and blue switches.
Logitech G613
Build and Design
Being a wireless keyboard, the Logitech G613 measures 18.8″ x 8.5″ x 1.3″, which is partly due to the wrist rest being part of the keyboard itself.
The keyboard is quite heavy, weighing around 3.10 lbs, but light enough that carrying it around won't be that hard for you.
The build quality is premium, and the keyboard looks sturdy enough, with a stylish finish to it.    
The Keys
The keys on the G613 are Logitech's own Romer-G key switches and are very similar to Cherry MX Brown switches.
They have an audible clicking sound, with a distinct tactile bump on every key you press, which is very satisfying to type and game on. They're relatively quieter than Cherry MX Red keys and have a 1.5mm actuation point with an actuation force of 45g.
The keyboard hits a sweet spot between keyboards made for typing and those made for gaming. It practically caters to both markets since gaming on this keyboard gives a great response, extremely fast registration of keystrokes (even though the keyboard is wireless).
But users who want the fastest keys might prefer going for a keyboard with Cherry MX Red keys or their equivalent since they're the fastest.
Logitech also provides a set of 6 different macro keys on the left side of the keyboard, which can be programmed for specific actions using Logitech's G-Hub gaming software. However, it lacks any onboard profiling options, meaning you can't change what they do with the hit of a button.
This feature is usually found in keyboards that are much more expensive so that we can live with it. And if you typically play games with different combos and preset actions, you probably won't be changing them mid-game.
A convenient set of media keys is also located at the top right corner of the keyboard, which lets you control play/pause, stop, fast forward, skip, and volume. This is convenient when you watch movies while on the couch and want to change the media without getting up.
Connectivity
Connectivity-wise, the keyboard has a bit of something for everyone. The keyboard has in-built Bluetooth, making it extremely easy to connect to different types of laptops and tablets and any PC with a Bluetooth-capable motherboard.
This keyboard's main attraction is the Lightspeed connectivity feature. You'll need to dedicate a USB 3.0 port for the Lightspeed dongle that the keyboard comes with, and it gives you a much faster, latency-free gaming experience.
There aren't any USB or audio pass-throughs on the keyboard. This means that if you're sitting at a distance from the PC, then you'd better have a wireless mouse as well as a wireless headset (or one with really long wires).
Lighting
If you're looking for a keyboard with fancy lighting options and something that lights up your room, then sadly, you're in for a bit of disappointment. Logitech decided to keep costs low with this one, meaning it doesn't have any LED backlighting or RGB under glow, meaning you'd need to have some lighting on in your room when you're using this.
Gaming in the dark will also be a challenge unless you have a light on. And considering that several users prefer gaming in the dark, this might be a bit disappointing.
Logitech G915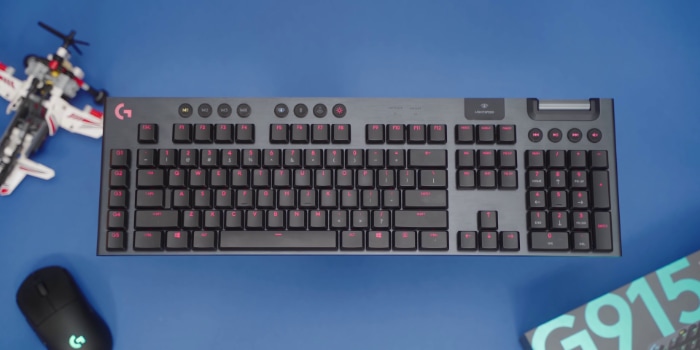 Build and Design
The Logitech G915 is designed to be a low-profile keyboard with all the bells and whistles. The design is minimalistic, sleek, and gets the job done beautifully. And compared to more expensive keyboards, the value for money this keyboard gives is pretty great.
The keyboard has a skeletal design, measuring just 22mm tall. That's extremely slim. The body has a curved top plate made from an aluminum and magnesium alloy, with the rest of the body being plastic. But the plastic feels premium to the touch and doesn't give the impression of the keyboard being shoddy or cheap at all.
The keyboard doesn't have a huge wrist-rest like the Logitech G613, which might be off-putting for some users.
The Keys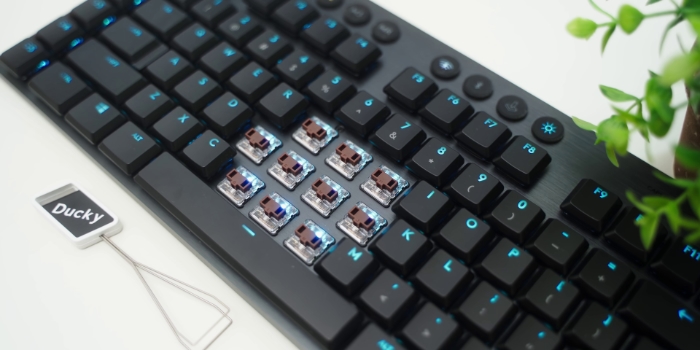 The Logitech G915 has three different variations from their Logitech GL mechanical key line. These have been developed in collaboration with Kalih, which makes mechanical keys for top brands like Razer.
The GL keys are extremely low profile and come in three variations: Tactile, Linear, and Clicky.
GL Tactile
It has a noticeable bump when pressing the key. The actuation distance is 1.5mm, and the actuation force is 60g. This is ideal for competitive gaming and when the user requires instant feedback.
GL Linear
It has a more fluid keystroke motion, with no tactile bump, instead, delivering a smoother response for when you need to double-tap and make repetitive keystrokes. This is great for MMOs. The actuation force is 50g.
GL Clicky
It features an audible click along with tactile feedback. This is great for users who prefer to hear that familiar "clicky" sound and want a more traditional keyboard feel. The actuation force is 60g and is great for typists.
However, the keys are relatively louder than other brands of mechanical keys. It won't be an issue if you're using this in your room, or you usually use it when you're alone. But using this in a shared space like an office might be irritating for your co-workers.
The Logitech G915 has a set of 5 programmable macro keys on the left as well, for when you want to bind actions for a better gaming experience. The media keys are better on the Logitech G915, with a dedicated volume wheel.
Connectivity
The connectivity on the Logitech G915 is great when compared to the Logitech G613. The Bluetooth and Lightspeed let you connect to two devices and switch between them, and there are brightness buttons that toggle lighting and "Game Mode" (which locks some keys during your gaming sessions).
The G Hub software gives you great customization for the lighting as well as for keyboard action binding.
Lighting
The Logitech G915 has fully programmable RGB lighting, and the keys really compliment the lighting and let the keyboard shine.
Final Verdict
Both keyboards are wireless, and the Logitech G613 is better for budget-conscious user who doesn't mind using their keyboard in light. The wrist rest is great, but the media keys are something that doesn't impress.
The Logitech G915 is ideal for the gamer who wants something sleek and stylish, and functional. The RGB lighting is exceptional, the media keys are great, and the only thing missing is a wrist rest.