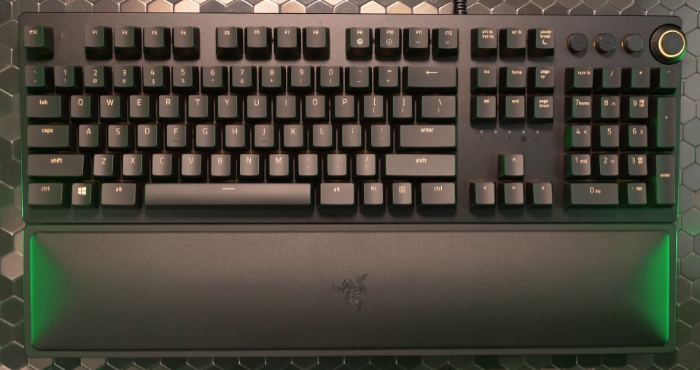 Mechanical keyboards are something that is just a must-have at this point. It doesn't matter whether you're a gamer or someone who just uses the computer for doing assignments and browsing the net.
I know it might seem as if getting a mechanical keyboard is something that requires a lot of thought, and I'm here to tell you that it's the exact opposite. I remember getting my first mechanical keyboard around three years ago, and the experience is just amazing.
The clickety-clack sound and the satisfying response the keys give, make even typing an experience. After that, I never looked back and still use the same keyboard to this day.
Which brings us to our current review, a comparison between the Razer Huntsman elite vs. BlackWidow Elite. Razer has been one of the best gaming tech companies out there, churning out some great keyboards over the years, and these two are no exceptions.
Although Razer is a bit more on the premium side, the features and luxury they offer aren't found anywhere else. And with that, let's start the review.
Where to Buy?
What Are Mechanical Keys?
Mechanical keys are the next upgrade over the previous key type, which were membrane keys. Rubber membrane keys are present in generally all older keyboards. The main difference is that mechanical keys have a switch under each key, giving proper feedback on each keystroke, making typing or gaming much more precise and satisfying.
Razer's Keys
Just a general bit of information, Razer uses its own different types of mechanical keys compared to other brands, which usually have the Cherry MX options. Although most have the same functionality, some keys (which will be mentioned in the article) are unique and different.
Razer Huntsman Elite
First off is the latest addition to Razer's keyboard range, the Huntsman Elite.
Build and Design
Razer never fails with premium-looking keyboard design, and the Huntsman is no exception. The keyboard is exceptionally sturdy, with an aluminum matte finish on the top plate, while the rest of the keyboard has a sleek black finish. The keyboard weighs around 3.8 pounds, making it extremely lightweight and easy to carry around.
Keys
The Huntsman Elite has two different key options: the Razer Clicky Optical Switch and the Razer Linear Optical Switch. Let's talk about them and what makes them so different.
Razer Clicky Optical Switch
The Razer Clicky Optical Switch is a custom mechanical switch that has a 1.5 mm actuation distance. This is around 30% percent shorter than other mechanical switches, making for improved response time when you're gaming or typing.
You will hear an audible click sound, which means the key has been pressed.
The Razer Clicky Optical Switch requires only 45g of force to activate it and uses a light signal instead of the traditional mechanical key system, allowing for even faster registering of the button being pressed.
Razer Linear Optical Switch
The optical switch option is best known for its quiet and smooth pressing and has no tactile bump registering. These are the quietest buttons in the key range and are perfect for gamers who want a lightning-fast response and don't care for the tactile feel of a key registering.
The linear switch has a 1 mm actuation distance and requires only 40g of force to register a keystroke.
Razer advertises a 100 million keystroke lifespan for its keys, so you won't see this keyboard breaking down anytime soon.
Another feature we'd like to point out is that these keyboards virtually eliminate ghosting. Ghosting occurs when you press several keys at a time, which results in some keys not registering. This is incredibly irritating in multiplayer games when you need quick results, and you end up messing with your combo because some keys didn't register.
This won't be an issue with a Razer keyboard, as it has a 10-key rollover feature, which can register up to 10 keys pressed simultaneously.
Accessibility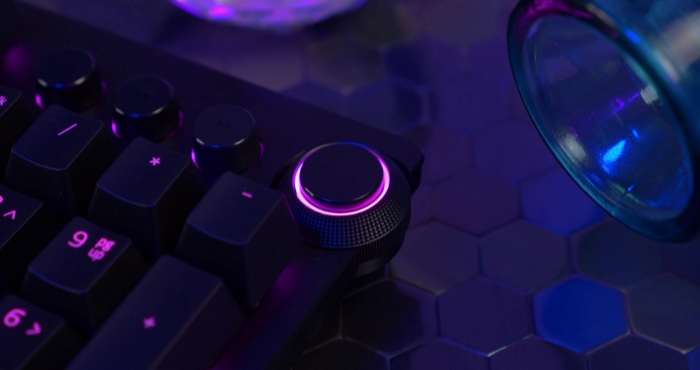 Razer's newer keyboards have a beautifully inserted set of media keys, with a premium-looking digital dial used to control different features, which pokes out slightly from the keyboard.
And nothing says premium like having an extra feature like a volume wheel or digital dial on your keyboard. The Huntsman's digital takes it a step further by allowing you to customize the digital dial as well, meaning you can set it for different things, like volume (recommended) or brightness, or other things.
Razer also has a "Hypershift" feature which allows you to toggle between presets you've set for your keys for on-the-go key customization.
Comfort
The Huntsman has a magnetic wrist rest that comes with the keyboard and is exceptionally soft. You won't have to deal with issues faced with regular keyboards, like repetitive strain injuries caused by using keyboards regularly.
Wrist strain will also become a thing of the past since the wrist rest is infused with cooling gel to transfer heat build-up and special plush leatherette, which will set according to your wrists.
RGB Customization
The Huntsman Elite has individual key RGB, meaning you can set individual colors for every key. The keyboard also has an underglow feature, which is enabled by an RGB strip that surrounds the keyboard and the wrist rest that comes with the keyboard.
Truly, the keyboard's aesthetics are admirable and rivaled by only a few other keyboards on the market.
Razer BlackWidow Elite
Next up is Razer's classic keyboard and long-time tournament companion, the Razer BlackWidow Elite.
Build and Design
The BlackWidow has a beautiful black color and is exceptionally well-built. It weighs almost the same as the Huntsman, around 3.75 pounds, and is easy to carry around if you want to take it to tournaments or connect it to your console.
Keys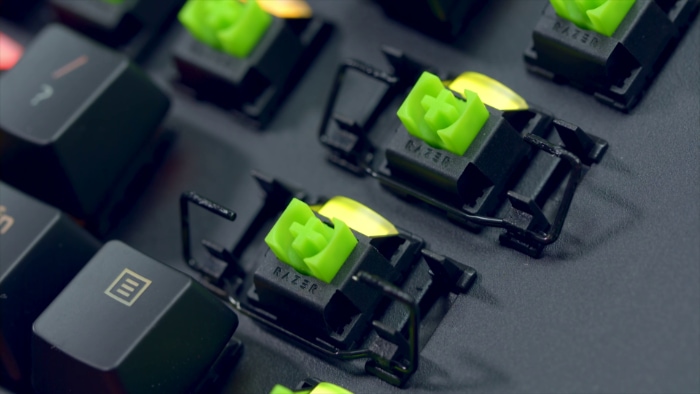 The Razer BlackWidow Elite has options from three different types of mechanical keys: green, orange, and yellow.
If you're confused, don't be. These are Razer's own take on the Cherry MX keys and have similar features to the globally known red, blue, and brown variants of the Chery MX keyboards.
The features of each key type are as follows:
Green – Tactile and Clicky
Users will hear an audible click and feel a tactile bump with every keystroke.
The actuation force is 50g, and the actuation point is 1.9mm
Yellow – Linear and Silent
Users will not hear the clicky sound or feel a tactile bump, as these are designed to be fast and quiet.
The actuation force is 45g, and the actuation point is 1.2mm
Orange – Tactile and Silent
Users will feel a tactile bump but no clicky sound. These are designed for users who prefer feeling a keystroke but not the sound.
The actuation force is 45g, and the actuation point is 1.9mm
These keys have a durability lifespan of 80 million keystrokes, so don't worry about overusing the keyboard and breaking it in this lifetime.
Accessibility
The BlackWidow Elite has the same media keys as the Huntsman Elite. It has the same "Hypershift" feature, which allows you to double the number of customizable buttons by saving a preset and changing to it via a single button press.
The BlackWidow Elite has a separate USB and audio passthrough. This is especially useful when you don't want to crowd your table and prefer plugging your peripherals directly into your keyboard. You can also use a USB to transfer data to the PC via the keyboard.
Comfort
Gaming and typing on the BlackWidow Elite are great since you get the same plush leatherette wrist rest with a magnetic attachment, and it comes with the keyboard. The only difference is that it doesn't have the RGB feature that the Huntsman Elite's wrist rest has.
RGB Customization
The BlackWidow Elite has individual RGB, with different color options for each of its keys, and you can set the colors and patterns you want with Razer Synapse 3, which is Razer's software for handling their devices.
The only downside to this keyboard is that it doesn't have the underglow that is present on the Huntsman Elite.
Final Verdict
Now that we've talked in detail about the two keyboards, let's make a list of the main features of both of them so we can make a better decision.
Razer BlackWidow Elite
Mechanical Switches – orange, yellow, green
No underglow
Cheaper
USB and audio passthrough
Razer Huntsman Elite
Opto-Mechanical Switches
Underglow with wrist rest RGB as well
More expensive
It all comes down to switches and aesthetics. If you're a fan of the traditional mechanical keys, then go for the Razer BlackWidow Elite. The keyboard is excellent, has almost the same features, and you can do without the underglow RGB.
But, if you want that extra dazzling underglow, and want to try out the new optomechanical switches, then the Huntsman Elite is your best option.