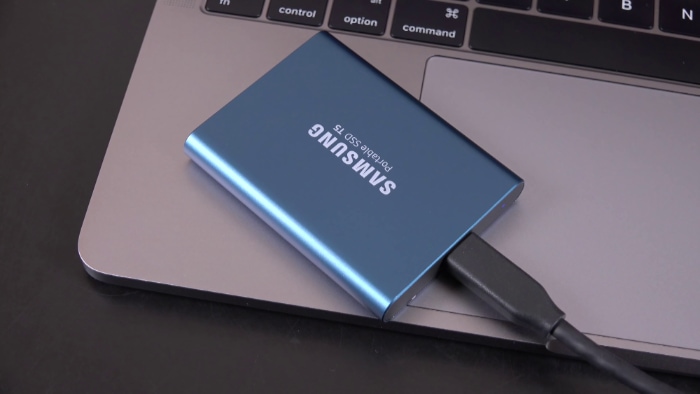 When it comes to portable SSDs, there are many features that you have to look for. You need to figure out the read and write speeds of the drive, whether it has Gen 3 or higher capability, and whether it can hold large amounts of data.
For all the content creators, gamers, and tech enthusiasts out there, Samsung gave us a great combination of all of those things with the T5 Portable SSD. But now, an even newer version, the T7 Touch, has been released, and we need to see how the latest addition holds against the respectable T5.
For this review, we will be comparing factors like read/write speeds, what kind of interface they have, and which SSD is the best for you. So give this article a read and find out!
Where to Buy?
Release Dates and Storage Capacity
The Samsung T5 was released in August of 2017 in two different colors (Deep Black & Alluring Blue) and four different storage capacity options (2 TB, 1 TB, 500 GB, 250 GB).
The T7 touch is much more recent, being released in 2020 in two different colors (Black & Silver). The storage options for this device are 50 GB, 1TB, and 2TB.
You can check both of their prices on Amazon, and while the T5 is relatively cheaper than the T7, we need to see whether the upgrade in specs is worth the extra money.
SSD Performance
The T5 has a powerful read and write speed, with up to 550 MB/s. However, Samsung announced that the T7 has increased read and write speeds, with up to 1050 MB/s reads and up to 1000 MB/s writes. That's double the performance of the T5, but there's a slight catch.
The double speed is actually in effect when moving large files. So when it comes to shifting smaller files, both the T5 and the T7 are almost the same in performance.
The T7 also uses a USB Gen 2 3.2 interface, which is present in only the very latest PC motherboards and laptops. Most interfaces today are Gen 2, Gen 3, or Gen 3.1. This means that when paired with older interfaces, you will experience a bottleneck in transfer speeds.
However, if you're lucky enough to have a Gen 3.2 Gen 2 interface, then there's nothing to worry about. Shifting files, playing games, and streaming content will be a walk in the park for you.
Protection Rating
One of the worst things that can happen to an external SSD is a slip of the hand. Mishaps happened, and Samsung made sure that both of the devices were built to withstand tough handling and any accidental drops.
Both the T7 and the T5 can handle drops of up to 2 meters, as well as an inbuilt thermal guard, which prevents them from overheating.
The T7's Touch Feature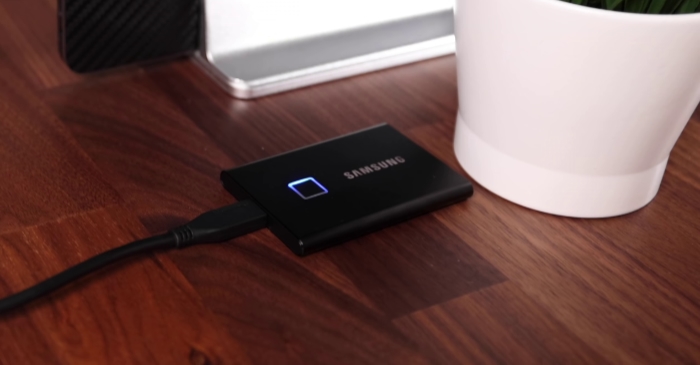 This is something that we haven't seen in other external SSD so far. The Samsung T7 has two models, and one comes with a unique feature, which is a fingerprint scanner built into the external SSD. The T7 variation with the finger reader is a bit more expensive than the base T7, but the added feature is something great and somewhat of a novelty feature.
You can show this feature off to your friends, and we're sure it's going to turn some heads at the office as well.
To use this feature, simply plug the device into your machine and download the Samsung software. After this, you can set up your password and fingerprint. Samsung also offers updates on the Samsung app.
The fingerprint reader lights up when the device is connected to a system and also has a light-up feature that circles around the button when you're reading or writing files—a really great feature from Samsung.
The only downside to this feature is that you'll have to download the software onto every machine you use to transfer files to and from it to your external SSD.
But aside from this, there aren't any downsides to the device, and you'll likely be more than satisfied with the T7.
Size
The T5 measures 2.9 inches in breadth, 2.3 inches in height, and 0.4 inches thick. The T7, in contrast, is 3.4 inches in breadth, 2.2 inches tall, and 0.3 inches thick.
Weight
The T7 has two variants, both of which weigh 57 grams. The T5 weighs 51 grams, which is slightly less. In effect, both devices are extremely easy to carry and store.
Do I Need a Samsung Portable SSD?
The best part about a Samsung portable SSD is that they're one of the best in the market. Samsung SSDs are globally known for being ultra-reliable, extremely fast, and very durable.
Getting one of these shouldn't be a second thought if you want to increase storage on your console or play games from an external drive if your internal drives are full of other data.
Content creators and students also get a lot of robust data transferring capabilities with the Samsung T5 and T7. Both the devices are incredibly light, and you can easily store this in a laptop bag or even a small carry case.
So Which Samsung SSD Is Best for Me?
Let's make a little list of both the pros and cons of the two devices.
Samsung T5
Pros
Extremely light
Still powerful enough by today's standards
More color and storage variation
Cheaper
Cons
Not as powerful as the T7
It doesn't have a fingerprint reader variation
Samsung T7
Pros
Faster
Extremely light
Fingerprint reader variation available
Future-proofed with Gen 3 3.2
Cons
More expensive
Will suffer bottleneck when paired with older interfaces
Final Verdict
If you're happier with saving some cash and still getting a powerful device, go with the T5. There's a huge chance you're still running a system with Gen 3.2 or less, resulting in the same speed whether you're using a T7 or a T5.
However, if you can afford to go the extra mile, the T7 Touch won't disappoint at all, with great power, great speed, and a futuristic fingerprint reader to complete the package.