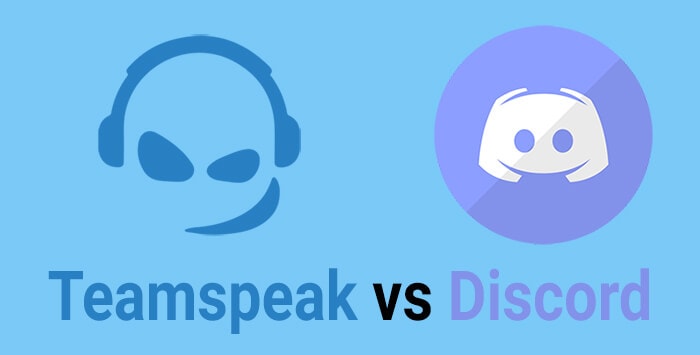 For the past year, we all have faced difficulty communicating, which was when different communication software popped up. However, the most popular ones remained the same- Discord and TeamSpeak.
Discord and TeamSpeak are two very famous software apps used by gamers and anyone who want to connect with others via the internet. The main reason behind their popularity is that they are free to use. Hence anybody can use them for communication.
Moreover, these software use Voice over Internet Protocol (VoIP) to establish communication, but they are quite different.
Uses of TeamSpeak and Discord
TeamSpeak and Discord are both communication software. Although they have varied uses, they inarguably remain gamer's favorite. We have listed a few uses of both of the software applications:
You can use the software for instant messaging
Both are fit for voice calls
You can make video calls
You can use both of them for conference calls
You can use it for binge-watching with your friends by presenting screens
You can use them to connect with your gamer friends
You can use them as communication software for your organization
Working of TeamSpeak and Discord
As mentioned earlier, both software applications use Voice over Internet Protocol for communication. This protocol enables these software to make calling considerably inexpensive.
As gamers mainly use these software, there is a high probability of millions of users being online simultaneously. The apps can handle such large numbers of users because they use client-server networking architecture instead of peer-to-peer networking. Using the client-server architecture is less expensive than peer-to-peer networking, especially as the number of users increases.
Hence, both TeamSpeak and Discord are highly scalable VoIP applications that enable multiple users to establish communications simultaneously.
About TeamSpeak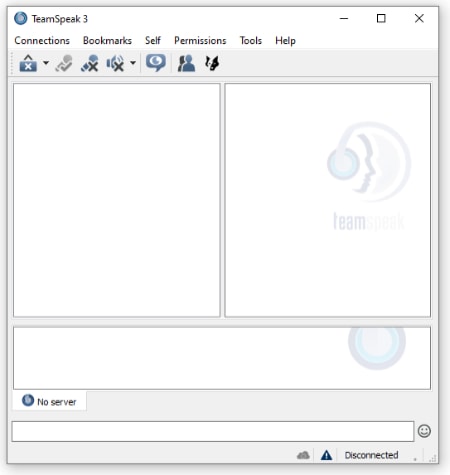 TeamSpeak is a VoIP software, and it was launched on August 26, 2002. It's a great way to interact as it prioritizes audio conversation above other modes of communication.
It is the most popular and widely used VoIP, and it was essentially created with gamers in mind. It's typically used by people who are all playing the same multiplayer video game simultaneously. Users can keep their hands on their gaming controls because they converse via voice chat. However, text chat is also available.
TeamSpeak is mostly utilized for in-game discussion and proffers excellent voice quality. Hence, it's ideal for a large group of individuals who speak simultaneously while playing a game or in a meeting. You should be able to do so with ease using TeamSpeak.
Furthermore, TeamSpeak has a very adaptable and versatile interface that can be confusing for new users. However, if you give some time to it and explore it a bit, you will surely get the hang of it.
Although it is free software, you will need the necessary hardware to set up your private server. It is not free to utilize a server. Thus you must purchase one from a host.
TeamSpeak's Privacy
TeamSpeak is a very versatile software and has a huge user base on the market. It has, however, never disclosed the specific details about its privacy measure. There is one privacy concern – the IP addresses of all the participants are visible to the server's admin.
TeamSpeak's Services
This software has been on the market for almost two decades now, and over this period of time, it gained a huge customer base. However, this user base usually comprises gamers. The company periodically releases new versions, and the updated version includes additional features.
It offers inexplicable performance to the user because it doesn't use many resources and thus does not puts a lot of pressure on the user's connection.
TeamSpeak lacks a user-friendly interface, automatic connection to the server, and automatic bookmarking despite all the good features.
Pros
1. Consumes Less Bandwidth
TeamSpeak has a better bandwidth as compared to Discord
Bandwidth is an important aspect of comparison. It is important because there might be people with limited bandwidth packages; hence, they might face a quite irritating lag. Also, an increased bandwidth can raise the ping exponentially. As a gamer, no one would want that.
2. High-Quality Voice
TeamSpeak has an admirable voice quality as it supports various codecs like Opus, CELT, Speex. Codecs are audio compression algorithms that help in the transmission of audio data.
It is a crucial factor because if you are playing or meeting in large groups, there is a chance of many people speaking at the same time. Higher voice quality will ensure that you can hear everyone.
3. In-Game Overlay
As mentioned earlier, the target customer base of TeamSpeak is gamers, and this feature is very beneficial for them.
TeamSpeak has an overlay that you can access while playing your game. It comes in handy when you want to connect with your team while you're in the game.
4. Unlimited File Transfer
You can transfer as many files as you want without having to worry about space. This feature is beneficial as you can have all your data stored in one place.
5. Accessory Support
TeamSpeak supports the gamepad and joystick hotkey. Hence you can enjoy your games in whatever way you want and connect with your team simultaneously.
This feature is not present on Discord.
Cons
1. Lacks Various Text Features
Unlike Discord, TeamSpeak has very limited text features available. You will be able to do just basic message exchange here.
2. Paid Servers
As mentioned earlier, users have to pay bandwidth fees for hosting servers if they want to have more slots.
About Discord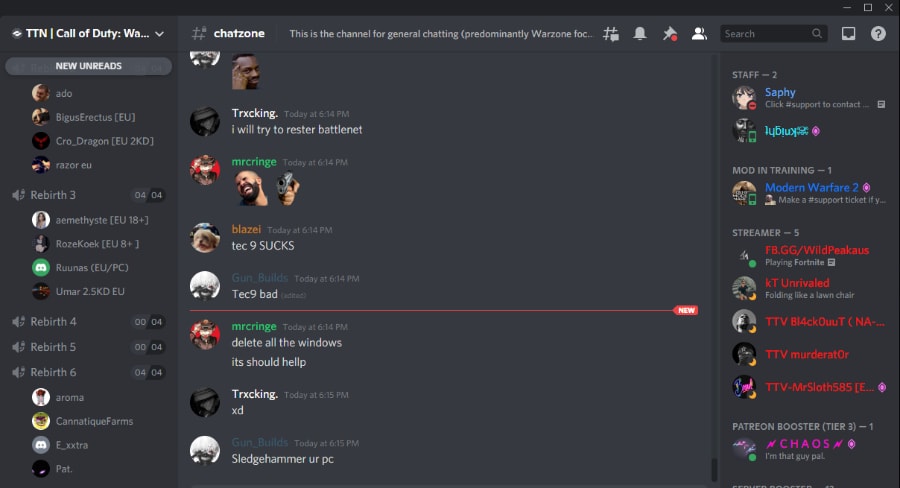 Discord is quite new in comparison to TeamSpeak, and it was released on May 23, 2015. Discord has created a huge customer base despite being a fairly new VoIP software because of its amazing features.
Though it began as primarily a gaming-based community, its popularity has grown to the point that it is now used for holding meetings as well. It resembles a social networking network far more than TeamSpeak.
It focuses not only on the audio conversation but also on video chat and text communications, unlike TeamSpeak. It is also free software. However, there are certain limitations in the free version – 8 MB of free file uploads, limited emojis, lower video & audio quality, and no access to custom emojis.
Discord's Privacy
The privacy practices of Discord are quite disturbing.
Discord servers collect information on user behavior while also retaining more sensitive information like device ID, IP address, and what other services you use aside from Discord.
Discord's Services
Discord is better than TeamSpeak in many ways. It has a user-friendly interface, unlike TeamSpeak, and is fit for new users as well.
Furthermore, it provides the users with a quick launch option to access the games directly.
Pros
1. Easy to Use Interface
As mentioned earlier, the user interface of Discord is very attractive. You can easily join other people's servers and invite them to your direct invites or create membership links.
Discord also offers a 'Friends' system for maintaining contacts, communicating, and making private audio and video conversations.
2. Text Features
You can send photos, gifs, emojis, attach files, etc., on this platform. These are the additional features that come besides voice & video calls.
3. Incorporates Different Communities
Unlike TeamSpeak, which has a gamers community, you can find various servers on Discord on which you can discuss almost any topic you desire.
Hence, you can explore multiple communities on Discord but not on TeamSpeak.
4. Free Servers
The software as well as hosting servers is free.
There is an upgrade called Discord Nitro that you could pay for if you want. However, you won't need it unless you want to enjoy the features like custom emojis.
Cons
1. Disturbing Privacy Features
Discord collects a lot of user data, including text chats, images, email, and voice chats. It makes us doubt that the user's privacy might be at high risk. However, Discord claims that they do not sell this data to any third party.
Final Verdict
After considering all the aspects and features, Discord came out as a better communication software than TeamSpeak.
It is better because there is no restriction to a particular community, and it has unique features that make it a versatile choice. You don't need to pay for anything, and you can add more spice to your conversations using the additional chat features.
Now you know the best VoIP software available on the market.
However, both the apps are different and have different usages; we suggest you give both a try once.