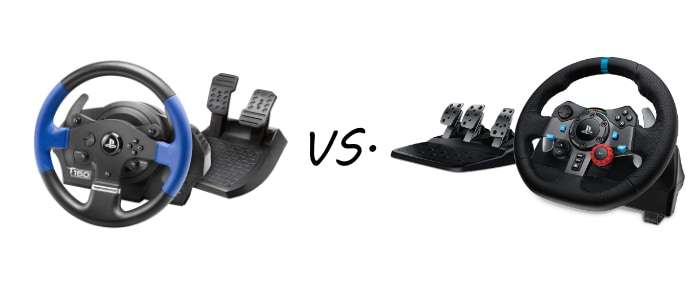 When it comes to choosing the right steering wheel for our car games, Thrustmaster T150 and Logitech G29 are the two options that come to everyone's mind. Being the hottest option in the market today, they grant you amazing perks.
However, if you have to choose between these two great options, which one would you choose? As various features are common to both, making a choice is difficult. Therefore, we bring you their minor and major features to help you judge better.
Where to Buy?
Thrustmaster T150 vs. Logitech G29: Similarities
Feedback for Force
Force feedback is another category that you should consider while choosing a driving wheel, especially for a car race. When it comes to Thrustmaster T150 vs. Logitech G29, Force Feedback is almost the same for both options.
Logitech does not have very impressive Force feedback and gives users a hard time while changing gears. The gears have to be changed quite accurately and may take one or two seconds more sometimes. This comes as a major discomfort for the users as convenience is their top priority in a gear-driven car race.
To your disappointment, Thrustmaster T150 also suffers from this problem. When driving a Thrustmaster T150, the driver can feel a lot of friction even on smooth roads in the game. This can become a major distraction and hamper the game big time.
Although, there are various ways through which the wheels and their working can be made smoother. Customization is a popular way that could help the situation.
Noise
If you expect Thrustmaster T150 or Logitech G29 to be silent throughout your drive, you might be wrong. Both the brands have put less effort into eradicating noise issues from the wheels. Although, when compared with their competitions, they are relatively quieter.
A Logitech G29 user may notice some knocking noise coming out of the wheel in the middle of a silent drive. There is no particular solution to this issue. However, it can become a distraction for you and hamper your drive.
When it comes to Thrustmaster T150, the wheel gives out a sort of cogging sound that could be a bit irritating during your play. Depending on the kind of racing games you usually play, you can make your choice. In case you prefer playing racing games such as F1, Logitech or T150 should not create problems.
There could be very few instances when the wheel would create a lot of noise but will be manageable. As racing involves moving your wheel from one side to another quite frequently, stopping the noise can get very difficult.
Thrustmaster T150 vs. Logitech G29: Differences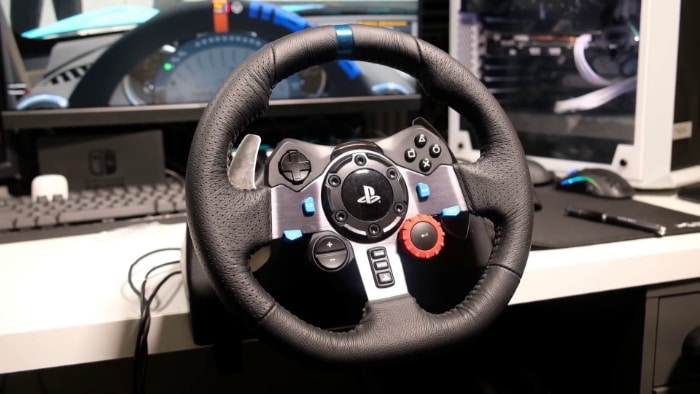 Build Quality
The best way to determine the quality of your gaming wheel is to check its build quality. Although, when it comes to Thrustmaster T150 and Logitech G29, both the options are known for their great build quality. This is what drives customers towards them.
Logitech G29 gives off a cool and professional appearance. As it is covered with leather from top to bottom, you get to see your wheel shine throughout the day. When comparing a leather steering wheel made out of hard plastic, you should always go for the leather one. It is easy to maintain and is more durable.
On the other side, Thrustmaster T150 has a body made out of plastic and the grips made out of rubber. A good thing about T150 is that the quality of plastic and rubber used is very good. Moreover, the wheel feels quite comfortable against your hand. It does not let your hands get sweaty, and you can easily play for hours with this wheel.
Design
As the build quality of Logitech G29 is better than Thrustmaster T150, it also comes as a good choice in the design department. It uses high-quality leather to provide the wheel with a finish that most wheels do not possess.
Moreover, the appearance of the leather used is appreciable. It fits perfectly on the wheel with no scope of loose ends. To make the design even better, the brand uses bright colors such as red or blue to give the wheel a more fashionable appeal.
The design of the wheel has also been done by keeping the ergonomics of the wheel in mind. The girth of the wheel and space given for other controls work well for the player. The punchers added in between the wheel make the wheel more appealing and comfortable to use.
The controls on the wheel have been positioned while adhering to principles of symmetry and emphasis. Due to this, the driver can focus on the screen while using controls without getting distracted. Logitech has achieved such perfection in design due to practice and experience from years of customer service.
Thrustmaster, on the other hand, fails to appeal to the users when it comes to design. Although, the physical appearance of the wheel is not that bad. However, the design could be considered too simple for a professional race car.
Although there are many cool cars out there with a somewhat same design as Thrustmaster T150, it fails to compete with Logitech G29. Many users even consider Thrustmaster does not have a professional appeal which is important when choosing a race car game.
Pedals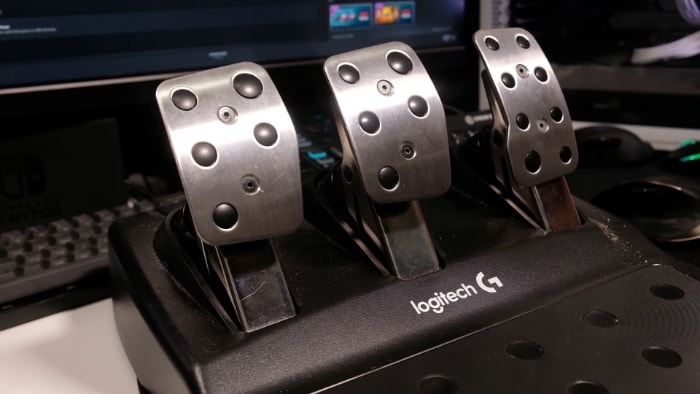 Logitech can be considered the best when it comes to pedals. The wheel uses 256 positions that are registerable and is 8 bit. This gives the wheel several advantages over its competitors. Using pedals which Logitech G29 is very smooth and easy. Even if you are an amateur, using this wheel will make you feel like a professional racer.
One thing to take care of while using Logitech is that the pedals are a bit sturdy for you to use in the initial stages. This is done to provide you with more control while you get comfortable with the entire functioning of the wheel. For making the best use of this wheel, you will have to use your foot's grip properly.
On the other hand, Thrustmaster T150 does not have very durable or reliable pedals. They are weaker than Logitech and do not offer a lot many positions for the pedals. The brand does not provide transparent information about them being 8 bit or 16 bit either. Due to this lack of information, making a purchase becomes difficult for the users.
When it comes to the appearance and design of the pedals, they might not impress you a lot. They look cheap and do not feel durable. However, they don't cost you that much and bring down the overall price by a considerable margin. Although, buyers should keep the quality of the pedals in check while making the purchase.
Range of Rotation
Thrustmaster T150 has a rotation range of 1080 degrees. On the other hand, Logitech has a rotation range of 900 degrees which is too little for a professional race game.
Driving System
The driving system of the Thrustmaster T150 is a mixed belt with a gear drive, while Logitech G29 uses a gear system only.
Features to consider while buying a gaming racing wheel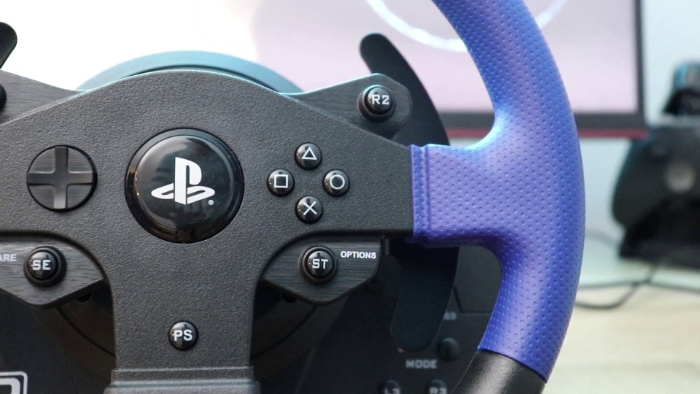 Built Quality
The most important feature for any product should be its built quality. Build quality considers the type of materials used in the wheel. The process of manufacturing can also be another factor to consider under this feature.
Built quality also provides you information as to how durable the product will be. Since a gaming wheel is not a cheap investment, prioritizing reliability and durability is important.
Wheel Rotation
When choosing a racing game, wheel rotation should be considered an important feature. The rotation of the wheel determines how comfortably you can move it while playing. The greater the degree of rotation, the more will it be convenient for the player.
Pedals
The working of the pedals is also important when choosing the right gaming wheel for you. Make sure to choose the one with the smoothest working. However, they should not be too weak as you would be using them quite frequently.
Final Verdict
Now that you have all the information you needed to choose the right gaming wheel, making a decision would get easier. Although, when considering all the factors mentioned above, we can come up with a final choice for the general public.
According to both the products' perks and drawbacks, Thrustmaster T150 can be considered the best among these two. As the price of T150 comes under budget for most users, it gets the upper hand over Logitech G29. Moreover, this wheel also provides good force feedback and also provides high range of rotation.
Additionally, the belt and gear driving system also makes using this wheel easier when compared with Logitech G29. Therefore, Thrustmaster T150 can be a good choice for professional car race gamers.
Check Price for Thrustmaster T150 on Amazon
Check Price for Logitech G29 on Amazon