If you are fond of gaming, it is essential to invest in a great device with optimum performance. Having one that perfectly fit your needs will give you an exceptional experience. To get started, we've rounded up the best gaming 144hz monitors available nowadays that will surely fill your playtime with fun and excitement. Check out these details while finding the best!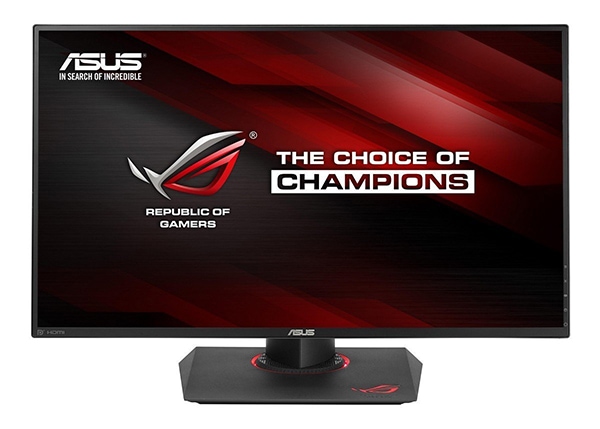 1. Asus ROG Swift PG279Q G-SYNC Eye Care Gaming Monitor with DP and HDMI Ports
Screen size: 27"
Resolution: 2560 x 1440
Panel type: IPS
Refresh rate: 165Hz overclocks (144 Hz)
Response time: 4ms
It is essential for gamers to have a device with a faster refresh rate, and the Asus ROG Swift PG279Q will not fail you. Its IPS panel provides vibrant colors with excellent viewing angles. The 2560 x 1440 resolution will give you your expectation if you are looking for crisp images with more pixels.
This device is equipped with G-SYNC technology for seamless refresh rates. Now, say goodbye to stutter while playing and enjoy the non-stop action. With its Eye Care technology, you'll have a flicker-free screen that prevents eye strain despite prolonged use. It is also comfortable to use because you can adjust its stand or mount it on the wall.
The only drawback we have seen on the Asus ROG Swift PG279Q is its price. However, if you are looking for a feature-rich and fully functional addition to your gaming experience, you won't regret having this monitor.
2. Acer Predator X27 4K UHD with NVIDIA G-SYNC HDR
Screen size: 27"
Resolution: 3840 x 2160
Panel type: IPS
Refresh rate: 144Hz
Acer Predator X27 is equipped with the newest G-SYNC technology for a better refresh rate and gaming experience. This ergonomically designed device looks stunning, and its versatility is what makes it great due to having different types of ports if you want to hook other devices for an upgraded feature. It also features 10-bit Color with Quantum Dot technology which provides clear and colorful images for better viewing.
When it comes to resolution, this Acer Predator X27 will never be left behind. Its screen provides an immersive effect that incorporates with its high-quality display. You will surely be amazed at its design and faster performance. Both qualities go together, giving you an undeniably complete package.
Its 27-inch display provides a striking metal ace with a better angle. It utilizes an excellent backlighting system equipped with hundreds of LEDs. We are not surprised upon knowing that this device is a bit pricey. But anyway, you'll get what you'll pay for because it provides useful features plus a head-turner design.
3. Viewsonic XG2401
Screen size: 24"
Resolution: 3840 x 2160
Panel type: IPS
Refresh rate: 144Hz
Response time: 1ms
The Viewsonic XG2401 is jam-packed with essential features that gamers must find in a device. Its super fast 144Hz refresh rate won't get you into a compromising situation to ensure that you have an exceptional gaming performance. It has adjustable stand making it comfortable to use. There is also a built-in FreeSync technology which can use together with AMD graphics card. This feature provides a flicker-free and smooth frame display.
If we were asked what to improve, we wish that it could have been better if it has an ergonomic design. It looks like the regular monitors with very simple feature. You have to experience how to use it before you can appreciate its quality.
4. Samsung C27HG70 27-Inch HDR QLED Curved Gaming Monitor
Screen size: 27"
Ratio: 3000:1
Panel type: IPS
Refresh rate: 144Hz
Response time: 1ms
For hardcore eSports gamers, this Samsung C27HG70 is an excellent choice. It is a solution for your fancy needs due to its stylish design with HDR feature. You can notice that this device, although set to maximum brightness, is not like those typical monitors that provide eye strain. Therefore, you can use it longer without worries. We can say that it just deserves to be expensive because of its faster refresh rate which 144Hz plus its high-quality display.
It is equipped with 1 billion color support to give you crisp images more than a 4K HD resolution can provide. Thanks to its adjustable stand because you can enjoy your gaming while feeling comfortable. It has massive contrast that makes it competitive when it comes to image quality.
You should expect that the Samsung C27HG70 is quite expensive compared to other devices and it is not surprising because it offers many features and stunning design.
5. LG 24GM77 LED-Lit Monitor
Screen size: 24"
Resolution: 1920 x 1080
Panel type: Twisted Nematic (TN)
Refresh rate: 144Hz
Response time: 1ms
Aspect ratio: 16:9
The LG 24GM77 is a stylish monitor with anti-glare panel framed in a 0.6" bezel. It has an adjustable plastic base for comfortable use. You can tilt up the panel to 25 degrees or pivot at 90 degrees if you want to opt to portrait from a landscape. You can even mount it in the wall if you want to position it in an eye-level. Of course, its 144Hz refresh rate is undeniably what makes it a complete package.
It is equipped with Motion 250 blur-reduction to give the images a bright and eye strain-free look. It makes color shifting seamless to do. It is complete with customizable settings such as color temp, gamma, sharpness, contrast, and brightness. By enabling the DAS connection, you can achieve a responsive device.
The LG 24GM77 is an excellent choice for gamers because it is jam-packed with smooth performance, brightness, and refresh rate. It also stands out when it comes to colors, making every image deep and rich.
We can say that it is lacking with viewing angle which is just the drawback that we have noticed. It is noticeable when you opt to portrait mode, but thankfully, this mode is not frequently used.
So. there you go! Have you chosen one that best suits your gaming needs? May it be refresh rate, display, design, or screen performance, it is always essential to evaluate each aspect to make sure that the device you select makes a good investment and value for your money.