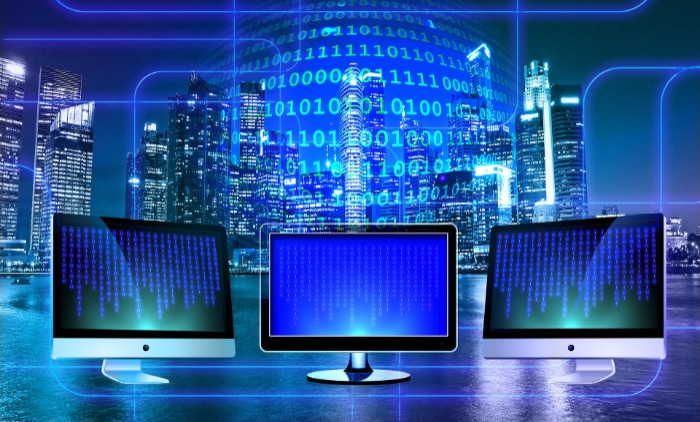 Over the last couple of years, gaming has become one of the most popular mediums of entertainment in the entire world.
Billions of people play video games around the world, and they aren't just playing Call of Duty or hardcore RPGs. They're playing farming simulations, they're playing horror games, and so many different types of games now.
In 2022, there are a number of platforms to play on, from video game systems to cell phones, but the PC might rule them all.
The PC Gaming platform has over 3 billion players engaging in a number of ways. To some, PCs have been ahead of the curve for a long time, and some will even say console gaming is just now kind of catching up and only in some factors.
PCs usually have more power, and desktops and laptops can be upgraded as the industry evolves, which is constant. PCs also allow for extreme productivity and versatility with a number of accessories like dual screens.
Most FPS games like Overwatch 2 and Halo Infinite can benefit from dual-screen setups as they allow users to see more of the environment around them for quick reactions.
Less obvious examples are RPGs like Blizzard's Diablo series that give the player so many advantages when they switch to dual screen as it allows for easier item management while in combat and planning out builds.
Yet another genre of game that sees benefits from a dual-screen setup are card games like Slay the Spire, Hearthstone, and even more common games like poker.
Online poker is becoming more popular globally, with big names such as the World Series of Poker moving much of their qualifying online. Indeed, one of the key aspects of becoming a professional poker player is practice, especially if you aspire to make the WSOP finals in Las Vegas. Many top players practice online by playing several hands at once. This is called multi-tabling and is best performed using dual monitors.
These setups may look complex and intimidating, but in reality, they're easy for any gamer to set up to start enjoying the benefits. For the best results, it's best we go all-in and consider the elite dual monitors on the market.
The Dell U2723QE
This Dell screen is ranked the best of the best for dual monitor gaming in some circles. For one, it comes in strong with a 4K resolution and high pixel density.
This means when you're playing first-person shooters like the newly released Call of Duty: Modern Warfare II, you will be getting well over 120 frames per second, allowing for some of the smoothest gameplay the human eye can see.
On top of this, the screen has a USB hub allowing you to charge your tech and, of course, plug in your second monitor. It's also easy to connect your mouse and keyboard, so the accessories can be used on both monitors.
The ASUS ProArt Display PA278CV
Asus has always been known to provide high quality for those looking to save some money, and the ProArt Display continues that tradition. Now it may have a slightly lower resolution in 1440p, but that is still better than the majority of gaming consoles that existed in the last generation.
It still comes with a USB hub, and the 45-degree swivel makes it easy and simple to maneuver during your multiple gaming sessions or manipulate those poker hands you're trying to win, as well as angling alongside another monitor for the dual screen setup.
ASUS also comes with Extreme Low Motion Blur to cut choppiness down in those high-stakes moments. ASUS includes a 1.4 HDMI and a headphone jack, perfect for content creators looking to upload their work.
The Dell S2721QS
This Dell monitor is a good grab for anyone on a budget but still trying to have graphical fidelity and a high-end experience; we'll have to make some cutbacks, though. For example, you may have a 4K display with this Dell monitor, but unfortunately, it comes without a USB hub.
Like all the screens on this list, the display does a fantastic job of preventing screen glare. To top this screen off, the Dell comes with decent speakers making it easy to set the soundscape for the poker night that's about to ensue.
If you can sacrifice a bit of utility, the Dell S2721QS is a prime screen with jaw-dropping graphical fidelity and perfect for dual screening as you can more likely afford the pair, given the budget price.