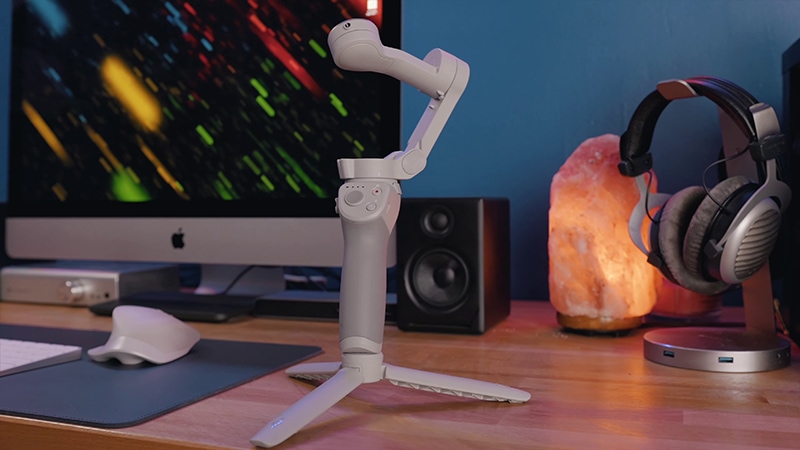 A good foldable smartphone stabilizer is essential for capturing extraordinary moments of life. It ensures to record every moment in the form of a smooth video.
Different types of handheld smartphone stabilizers are available in the market. All of them are great in some of the aspects, but a perfect product is one that can fulfill all the desires. The DJI OM 4 Handheld 3-Axis Smartphone Stabilizer is an excellent choice in this product category.
The DJI OM 4 Smartphone Stabilizer is perfect for filming on the go. It is an incredible gimbal stabilizer due to its sleek design and magnetic phone clamp.
Where to Buy?
What is the DJI OM 4 Handheld Smartphone Stabilizer?
The DJI OM 4 Handheld Smartphone Stabilizer is next-generation equipment suitable for effortless capturing and making steady videos. It is designed for those who want to capture a perfect video with minimal effort.
This modern-day handheld stabilizer offers several features to the users, from foldable and stylish design to gesture controls. The presence of these numerous traits makes it a pioneer for future versions of smartphone stabilizers.
In case you are looking for a smartphone stabilizer that can deliver a Hollywood feel with every video, then the DJI OM 4 is the best option for you, having the ability to provide such exciting results.
It offers an Active Track 3.0 feature that can recognize adults, children, and pets with high accuracy. This specification even allows you to modify your image composition with the help of a joystick.
When you are not capturing anything, then you can keep this stabilizer inside your storage bag. The small and convenient size allows the tool to fit inside any bag or storage space.
It is an outstanding product because it takes into consideration the requirements of customers. It is easy to use and light in weight. Moreover, its powerful 3-axis motor helps to keep your smartphone steady and fit for video shooting.
The DJI OM 4 Smartphone Stabilizer can provide every advantage to its user with its unique design and amazing features.
Design, Features, and Modes
The DJI OM 4 Smartphone Gimbal Stabilizer is the ultimate world for making high-quality videos. It is a magnetic and ultra-compact product that comes with a large number of easy-to-use features.
The design, build quality, and other features make this product a suitable choice for everyone.
Dynamic Design
The design of this smartphone stabilizer is a big advantage that the user can avail of after purchasing it. It offers a sleek, stylish, and foldable design that can be taken anywhere.
It can be adjusted easily into a small carry bag and hence, allows you to take it to your traveling destination. It weighs just 0.93 lbs. (with a phone clamp), which is very less than another smartphone gimbal. It has a portable, lightweight, and incredibly convenient design.
Its design is also very remarkable. The robust body, along with the magnetic phone clamp, improves its overall looks. This magnetic quick-release design is a major plus point that makes it ready for any time recording.
You can hold the smartphone gimbal from the bottom part. You can make use of the 3-axis stabilization to eliminate the risk of recording a shaky video. They are strong enough to keep the smartphone steady at its place and enables you to capture clear videos.
Easy to Control
Clicking a clear and convincing group photo is not an easy task. For solving this issue, the DJI OM 4 Smartphone Gimbal Stabilizer has provided the feature of gesture control with its product. It has made the clicking photo or recording video task much convenient.
It is possible to control the product with a gesture remotely. It allows you to take selfies and group photos with your hands-free, and you can simply click them using gestures.
It also makes use of the DJI Mimo App. You need to download it to achieve the ultimate benefits of this gimbal. The reason is that it works with a camera app as well as the controller for the gimbal itself. This app includes everything, which is a negative part of this app.
The app includes gimbal settings, user settings, and camera and editing settings. This creates some confusion among the user and may not use it properly. However, it has gone better with time, and it is possible to operate it easily.
Story Mode
The story mode is available with the DJI Mimo App. It is one of the best things about this app and gimbal. Due to this, the company has made several upgrades to it to improve the user's experience.
Story Mode is an interesting feature. It allows you to rapidly make professional-looking edits on the fly that can be completed with a good soundtrack. You just need to follow the app's instructions for creating every part of the clip. The rest of the work will be done by the app only.
There is no problem to say that the story mode feature gives a new life to this gimbal. Now, it is possible to remove the DJI watermark and to end card from stories. You can also permanently eliminate them from your stories.
This story mode can create templates in one tap. With a single click, you can develop creative templates to stay in the moment while capturing amazing footage. This eliminates the need to edit a video.
Dynamic Zoom & ActiveTracker 3.0
Dynamic Zoom and ActiveTracker 3.0 are two other features that a user can enjoy while using this smartphone gimbal. The Dynamic Zoom is capable of giving the feel that it is not possible to obtain through normal techniques of capturing moments.
It provides an amazing "Hitchcock effect." It is a creative zoom shot that is capable of delivering a specialized look into an ordinary video and that too, with minimal effort. You don't have to spend long hours developing a single clear video.
ActiveTracker 3.0 is capable of making certain subjects make a walk in the park. In other words, if your subject is present at a lesser distance or moving at a normal pace, then it is able to follow it and record the video. It is available with the Mimo app.
This version can recognize the movements of human beings and pets with higher accuracy. You can even fine-tune the image composition with the joystick. However, there are chances that it will not work correctly when the subject is moving faster.
Magnetic Phone Clamps & Ring Holder
The magnetic phone clamps of this gimbal, along with the magnetic ring holder, enables you to capture effortlessly whenever inspiration strikes. You can feel the pull while using this product.
You have just to attach the gimbal stabilizer to your smartphone to begin filming on the go. It is perfect for this purpose. You will get two magnetic clamps with DJI OM 4, of which one is attached to the edges of the phone and the other to the magnetic arm of the gimbal stabilizer.
A magnetic ring holder makes it a more effective product. This ring is stick to the smartphone, where it can remain for a permanent time. It makes it easy for you to directly put your phone onto the gimbal whenever you feel the need.
Performance
When it comes to a smartphone gimbal's superior performance, it is not unreal if DJI OM4 comes first to mind. The unique ability to fold up is accompanied by the main attraction, which is a magnetic mount on the gimbal arm.
The clamp of the mount is slim that allows the smartphone to be held tightly and work perfectly. The metal clamp stood out because it refrains from making continuous adjustments every time the phone is placed. This allows saving a lot of time and effort, making it effective and efficient to be used as a gimbal for smartphones.
The magnetic clamp is quite heavy-duty, but it doesn't have the potential to hold much in the way of thickness. Due to this reason, you have to keep your phone naked or in a very slim case for the clamp to work appropriately.
The performance of the Mimo app has improved over time and has shown some exciting outputs. But still, many users found that it is messy and creates confusion while choosing a specific mode from the app.
It provides protective stickers, cleansing wipes, and instructions manual to help you attach the ring to your phone.
Should you buy the DJI OM 4 Smartphone Gimbal?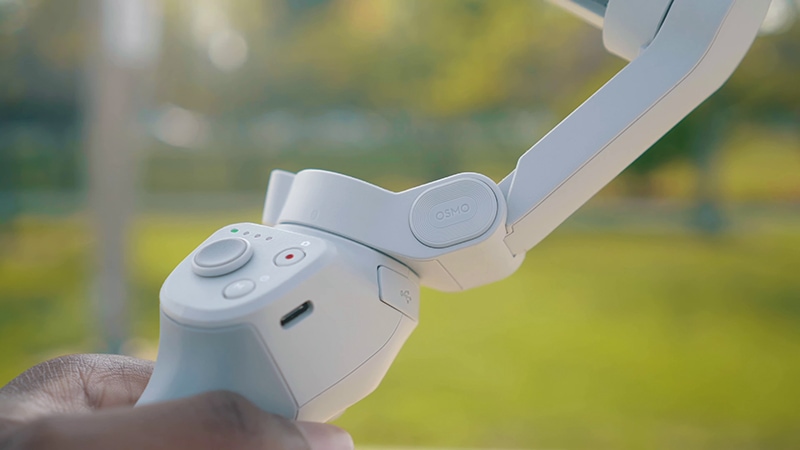 After knowing all the features and performance details, it can be said that the DJI OM 4 Gimbal is an excellent choice for recording high-quality videos. It is, however, on the higher price side in comparison to other smartphone gimbal stabilizers.
Dyna Zoom
Dyna Zoom mode makes use of the background objects to provide a dynamic zoom video experience. The camera moves in and out, but the person in the frame doesn't change the position.
It seems that the background is changing, and the person is at the center of the frame. In proper conditions, this feature works well, and you can achieve some professional results.
Compatibility with various smartphones
The DJI OM 4 Smartphone Gimbal is compatible with several smartphones. In other words, the Mimo app supports several devices.
It requires a 7.0 version or above for Android phones, while for iPhones, it is compatible with iOS 10.0 or above. Further, it is compatible with many other smartphones of Samsung, Apple, Google, Realme, and more.
Timelapse and CloneMe Pano
Both these features are new in this smartphone gimbal industry. Timelapse allows you to record captivating and compact videos. It can condense a road trip of hours into a few seconds.
On the other hand, the CloneMe Pano feature creates a single epic panorama from different photos. Then, it pauses so you can get to the second frame and strike a good pose.
3-Axis Stabilization
This feature eliminates the possibility of posting a shaky and poor quality video. DJI OM 4 has a substantial 3-axis motor that keeps your smartphone constant and your video smooth throughout the recording time.
The stabilization is necessary to achieve good recording results and ensure that the gimbal remains at a fixed place.
Pros and Cons
Pros
Gesture control
3-Axis Stabilization
Dynamic Zoom
Compatible with most smartphones
Foldable and lightweight design
Time-lapse and CloneMe features
Cons
Very expensive
Clamp can't handle heavyweight objects
Final Verdict
The DJI OM 4 Smartphone Gimbal Stabilizer is a highly efficient gimbal. It is a modern tool that makes your photo clicking and video recording experience smoother. The well-built magnetic design adds to the minimalistic aesthetic.
This effective smartphone gimbal also not disappoints the user when it comes to different modes available with the Mimo app. Its unique and impressive traits, like gestures control, make it stand out from the rest while enhancing the user experience.
You can opt to buy this DJI OM 4 Gimbal if you think it can fulfill all your expectations of recording a quality video. However, it is a costly investment as compared to most gimbals available in the market. You can think of it because it offers some interesting features that can provide remarkable outcomes.