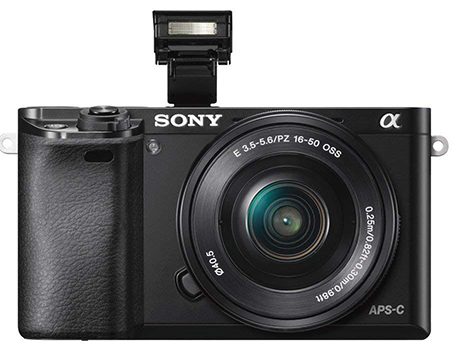 The launch of Lumix G1 in the year 2008, let to the dawn of the Mirrorless Camera, also known as CSC or Compact System Cameras. The days of the bulky DLSR camera are now overshadowed by a smaller, lighter and mechanically simpler product. In just ten years companies have developed so many versions of CSCs, flooding the market, and leaving you too many options. In such a scenario Sony has been able to prove its worth developing its NEX series and then moving on to the 'Alpha' series of mirrorless camera. In its Alpha series, the Sony a6000 has been in the limelight for quite some time. With some excellent reviews and arguably the best choice in its price range, it comes with notable perks.
The Sony a6000 retains the unique shape and design of the NEX series. It is small, compact, fast, versatile and comes at a very affordable price. Though the model may be similar to its predecessor (NEX series), the integration and mechanism of a6000 have seen considerable change; Sony has included some of the best technology it could offer The Sony a6000 is a fantastic little tool which packs a lot of power providing superb image quality with every click. There are so many unique and impressive features in the camera that would hopefully impress you.
Features
Its lightweight camera body, a comfortable grip, and small size make it very portable.
It packs a 24.3-megapixel sensor resolution. Clubbed with the 179 phase-detect focus points, it offers a broader coverage of the focus points. With this, you are not only able to acquire a faster focus but also accurately track moving subjects.
The a6000 now comes with a more advanced and upgraded Bionz X processor. This allows for quality pictures, even when shooting at DLA, reducing blurry details and capturing textures. These advantages are not only limited to still images but equally, apply to videos.
It comes with OLED Tru-Finder™ EVF is an impressive tool which offers rich real-time data so that you can plan and preview your shots. Exposure Control helps you adjust your settings according to the availability of light around you. You can also Focus Zoom accurately on one particular detail.
The Sony a6000 maybe almost similar in design and shape to the NEX-6, but there are a few significant changes that were made to make it more efficient to handle. It comes with dual dial–camera mode / PASM dial and a secondary function dial for changing the settings. This subtle change in design makes it easier to handle and operate, as the top dial is left for you to make use of it for different purposes based on different modes.
Issues like vignetting, chromatic aberration and distortion are no longer a problem as the built-in settings would easily correct these slight inaccuracies.
It comes with a whopping 179 phase-detection points which help track subjects in motion. It is one feature that is unique for a mirrorless camera under its price range. We don't expect much when it comes to capturing objects in motion; however, due to this unique feature, it can be used quite effectively for capturing moving subjects in daylight.
You don't have to worry about dim light or indoors as the extremely high ISO range allows you to capture natural, nuanced photos without flash.
With the Sony a6000, you can record videos up to 1080p @ 60 fps. It also offers full control of exposure during video recording.
You can adjust exposure parameters such as aperture, shutter speed, and ISO while the recording is in progress. You can also simultaneously apply for exposure compensation and even lock exposure. The camera LCD will purview all the changes, and you exactly get to see what you have captured.
With built-in features like Wi-Fi® with NFC (Near Field Communication) connectivity, sharing data is simple and straightforward. No complicated setup is required, and with just a few simple steps images, clips or movies can be shared easily with Android smartphones or tablets that are NFC-compatible.
The Smart Remote Control makes it easy to get those perfect selfies, group shots or tackle unusual angles. You can perform all this by controlling the camera with your smartphone.
Stay updated with Sony's apps that can make your camera smarter. Upgrade your camera and add new capabilities, expanding your ability and exploring new things.
Product Specifications
24.3 Megapixel with powerful BIONZ X™ engine
Fast Hybrid Auto Focus System
E-mount interchangeable lens system
Full HD video recording
Battery: 1020 mAh
OLED viewfinder, 1.0 cm (0.39-type) electronic viewfinder (colour)
Peaking AF display for accurate manual focusing
Storage- SD/ SDHC/SDXC, Memory Stick Pro Duo/ Pro-HG Duo
Data sharing with Wi-Fi® and NFC One-touch
Pros
As compared to the price range you get an excellent deal, with solid specs and quality performance.
Excellent ISO performance
Rapid autofocus
Easy Data sharing (Wifi with NFC)
Quality video recording
Very high resolution of 24 megapixels
Cons
LCD is not touch supported.
No standard microphone jack
Limited video recording, particularly in 60p, due to thermal overheat
Conclusion
Here is a treat. Ever since its launch, Sony has lined up its production process with other Interchangeable Lens Mirrorless Camera in its Alpha line including the Alpha A6300, Alpha A6500 and so on. The latest being Sony α7R III. What this means is that there has been a considerable fall in the price of a6000. It is an excellent buy for those who are looking for a feature-packed mirrorless camera at a decent amount.