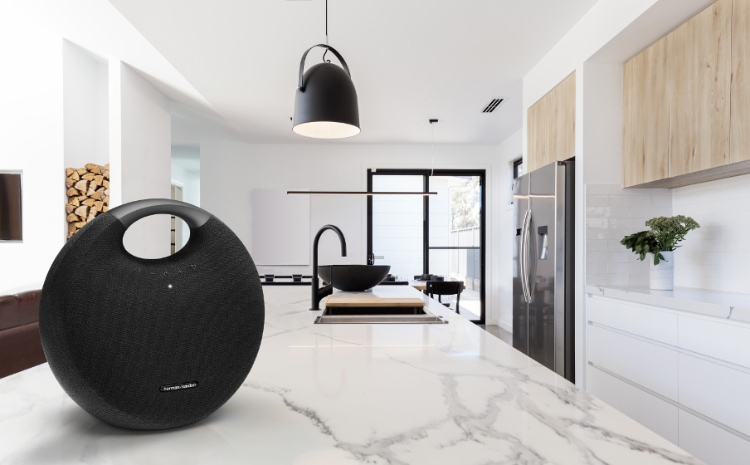 Harman Kardon always tops the list of being the best brand when it comes to choosing the right Bluetooth speaker for your music experience. Harman Kardon offers a wide variety of speakers and Bluetooth, meeting the needs of their listeners. No matter for what purpose they buy.
Harman Kardon Onyx is the latest Bluetooth audio speaker from the Onyx Studio series. At first sight, it appears just like its predecessor – the same height, the same appearance, and the same style. Even the driver arrangement is exact, as well as its control mechanism. All these aspects look quite similar to their predecessor.
The fascinating feature of this product is the waterproof fabric that has been used to make the product wholly waterproof. Another feature that adds to the list is the cost difference.
Where to Buy?
What is Kardon Onyx Studio 6?
As mentioned, Kardon Onyx Studio 6 is similar to its previous version, Kardon Onyx Studio 5. In terms of its design and various features. Talking about its design, it has an attractive and stylish suitcase-type handle which gives it a unique look.
The control and input scheme is also quite similar to the previous series of onyx lines. The rubber cover at the back of the input panel makes the speaker handier. The color of the aluminum handle is also changed for some versions of the speaker.
Even after quite a lot of similarities with the previous version, it doesn't feel the same because the fabric grille covering most speakers gives it a much unique look than the previous version.
Keeping many waterproof speakers into consideration, the grille used in Kardon onyx feels more like a fabric. The reason why it stands out in comparison with many other speakers in the market.
Thanks to the rubber flap and grille, which makes the speaker completely waterproof.
Design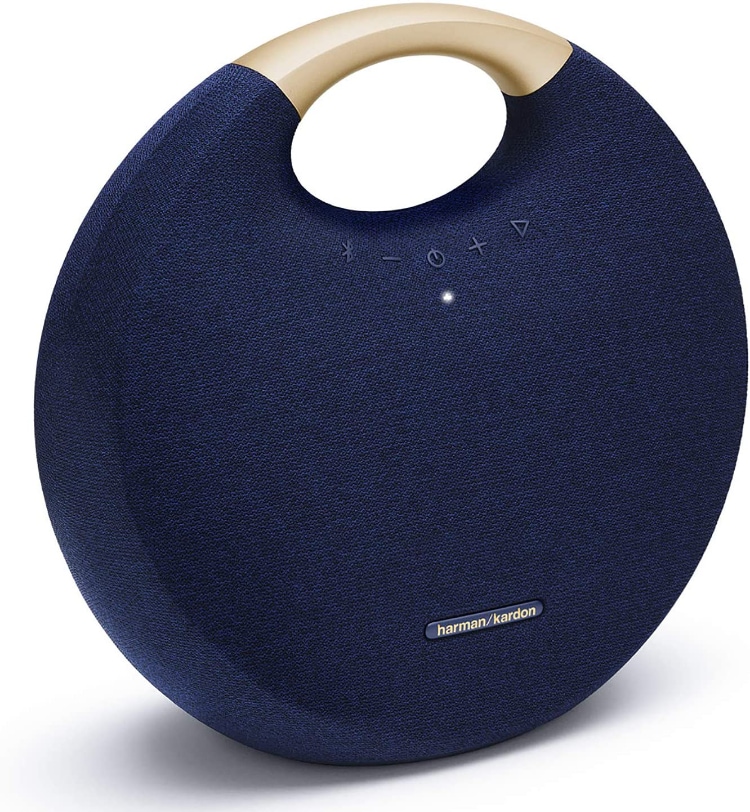 There's not much more diversity in terms of design. It looks quite similar compared to its previous version of Onyx Studio 5. It comes with an aluminum handle at the top, which comfortably fits in your hand. It comes with a broad base at the bottom, and it's circular.
The material used in making this speaker is plastic. It is covered with a waterproof fabric which makes the product more user-friendly.
Onyx Studio 6 comes in three color variants. Steel-blue with a gold-plated handle, gray space with a gold-plated handle, and Charcoal Black with a black handle. Choose the color according to your requirement.
Bluetooth, power, volume plus/minus buttons are made of rubberized material. These buttons are situated at the back of the cloth grille, which gives it a quite sleek look.
Playback control gives an option to skip the track when it's pressed twice. But, it doesn't give an option to navigate backward when the button is pressed thrice.
It's not too big that you can make it bulkier. But it's large enough to act as an art piece in your study table, or your living room wardrobe, or whichever place you want to place it. With about 2.5 kg of weight, it's not a thing to carry and roam with it more often.
The IPX7 rating of this brand ensures that it's safe in water up to 1m for a minimum of thirty minutes. That means you easily carry this speaker to the pool party without worrying about it.
The Harman logo is situated at the speaker's front with a set of physical buttons used to control volume, play, and rewind or stop any track. Below this button, the LED light indicates the pairing and charging of the design.
The product's base is made of rubber, which is why the product's a good grip. It's easy to hold without any fear of it slipping from your hand.
In case you want to use a wired connection, there's charging, servicing, and an aux port for convenience at the back of the device. For protection from the dust and other stuff, it's covered with a flap.
Features
We all are very well aware of the quality one can expect when the product is designed and manufactured by Harman. Harman tops the list when it comes to delivering the best audio devices.
One of their product's great features is their build quality and attractive design. However, Onyx Studio 6 has raised the Harman brand's standard by introducing the waterproof feature that we rarely see them making.
All because of the new fabric material they used to make an IPX7 certified product that you can carry any wear without the fear of damaging it. It looks strong with increased durability.
Onyx Studio 6 comes with simple control buttons that. It can use to control volume, play or stop the tracks. These control systems are very responsive. It will respond quickly as soon as you press them.
There's a small LED light situated below this control that flashes through the grille and the set of strong drivers that includes a single woofer and a single tweeter. Both blends give a power capacity of 50 watts and a frequency ranging from 50 Hz to 20 kHz.
The speaker also comes with a passive bass radiator. All these speakers and woofers are placed in the front panel of the speaker.
It comes with a 4.2 Bluetooth version. It only supports the SBC and AAC CODEC. Bluetooth pairing is in the device is relatively easy and takes a few seconds to connect.
You need to turn on the Bluetooth option in your phone and the speaker to connect it. The range of connection may vary from 40-50ft when you're outdoor and indoor. It may go up to 25-33ft depending upon your house furniture, room, wall, and other stuff arrangements.
Many people reasonably expect NFC pairing in this kind of price range of product. Well, that's not the case over here. This device does not have an NFC pairing feature. If you're searching for a device that holds such a feature, this is indeed not of it.
The speaker will recognize your device once it's paired successfully, which means it will save you from the hassle of connecting again and again. This device comes with a multi-host pairing that means two or more people can connect to this device simultaneously and play the music of their choices one at a time.
You can wirelessly connect two Onyx Studio 6 Bluetooth speakers to form a duo stereo for a more intriguing music experience. This device also gives an option to connect with the previous version onyx series, such as the Onyx Studio 5.
You can easily connect these two devices by merely pressing and holding the Bluetooth button for about 5 seconds on both the speakers to work. This feature is only compatible with studio onyx 5. Version older than it is not compatible with this feature.
This feature is called wireless dual sound by Harman Kardon.
Suppose you want to connect a device that doesn't have a Bluetooth option, for instance, an mp3 player. For Such devices, an Auxiliary port has been introduced in the device. All you need is an aux cable of size 3.5 mm that will connect to the speaker as well as the source device, and then you're good to go.
Remember, the Bluetooth feature will always be on top priority for this product. That means both the auxiliary port and Bluetooth won't work simultaneously. For an aux to work, you would have to switch off the Bluetooth option and disconnect the device connected through that feature.
The speaker doesn't come up with a built-in mic. If you like to use the hands-free feature, this is certainly not the product to buy. Also, there's no app related to this product that helps you play with the EQ settings.
Performance and Sound Quality
There are no significant cons about this product when it comes to performance and sound quality. The Bluetooth feature is super flexible, easy to use and operate. You would rarely find any difficulties in terms of its Bluetooth range. That makes it more reliable and user-friendly.
The build of this product is made to withstand heavy use and survive few accidental drops. And the waterproof feature that acts as a cherry on the cake.
Harman Kardon has added an LED indicator that's situated below the power to make it more user-friendly. The purpose of it is to indicate Battery and Bluetooth Status. It will blink red if the battery is low.
There's no actual battery status provided on the panel, which shows the exact amount of battery left on the device. So, there's always be uncertainty regarding the battery that's remaining.
The difference between Onyx Studio 5 and Studio 6 is hardly visible when it comes to their sound Performance. The reason behind this is that both of the versions come with a similar driver setup and drivers.
So, don't consider it a big deal if you find this device sounding identical.
The grille fabric that is used to make this speaker has a slight effect on bass performance. But, the speaker still sounds excellent, and the bass is high and robust. That is a treat to your ears.
Comparing with the earlier onyx version, such as Onyx Studio 4, Onyx Studio six reasonably has a better user interface and sound quality. The bass is powerful compared to the Onyx Studio 4. it is certainly not affected by the Mids. They're pretty well controlled and balanced.
The vocal quality of this speaker is clear and accurate. The highs are very consistent though they're slightly elevated that rarely makes any difference in your music experience—the treble is on-point, nor too fatiguing, neither too bright.
One thing that you cannot expect from this device is stereo separation. Though it can use two devices at once, it would play in the mono mode. The reason behind this is their driver arrangements.
Another thing to keep in mind is the volume. There will be a slight difference in volume when the device works on battery. It would give a much better volume when plugged in.
Battery Performance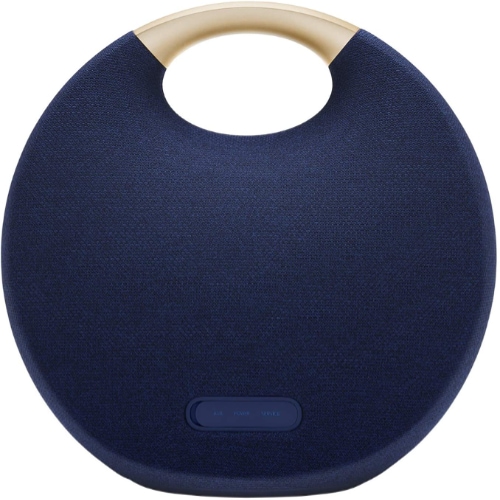 As we went through various features similar in Studio onyx six and Studio onyx 5, Battery performance also adds to the list. Studio onyx 6 comes with a re-chargeable lion battery. However, many people expected Harman Kardon to upgrade the battery, which certainly didn't happen, which disappointed many customers.
You can expect about eight hours of music experience when switched to moderate volume. And if you like to hear music at a high volume, the battery may drain out in about three hours.
It may take additional 5 hours for the speaker to get fully charged. Eight h battery backup is not a minor deal, but you can certainly expect more from this kind of price range.
Harman Kardon should consider installing the battery that has a large backup in the next onyx installment. It's a feature many individuals expect from each brand.
Pros and Cons
Pros
Intense bass and accurate highs
Attractive look and Waterproof
Rubber Base for improved grip
Can connect one or More devices through Bluetooth
Wireless dual sound
Cons
Final Verdict
From a purely good performance point, the Onyx Studio 6 delivers a great bass and better sound quality than many of its competitors. Compared with other portable and outdoor-friendly devices of a similar genre, it gives a lot more competition to Onyx Studio 6. The speakers like JBL boombox and Sony SRS are also waterproof, and some of them even contain Attractive LED lights which function when the music plays.
Observing the Harman Kardon brand's point of view, the device's main focus is kept on the bass. So if you're a bass lover, you can certainly buy this product without much thinking about it.