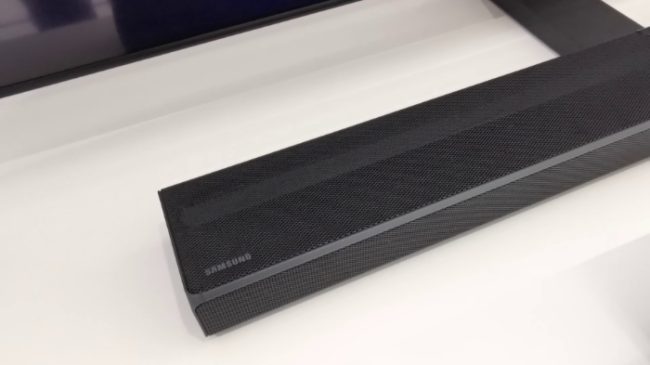 Imagine you've gotten a new TV for your room or lounge, and you're getting ready to watch a movie, and you're ready with popcorn and chips.
And as soon as you hit play, you're met with mediocre audio, cheap bass, and an underwhelming audio experience. That isn't good.
And this problem occurs with almost every other TV nowadays. While a TV might be more focused on delivering great visuals and stunning resolution, they almost always fail to give a great audio experience with the inbuilt speakers.
That's why many people always get a dedicated soundbar with their TV, because a good visual experience needs good audio to deliver a proper immersive experience.
Samsung has been at the forefront of providing us with a selection of different soundbars and speaker technology. The Samsung HW-Q60T is one of their more recent additions to the soundbar collection from the 2020 soundbar lineup.
Where to Buy?
Build and Design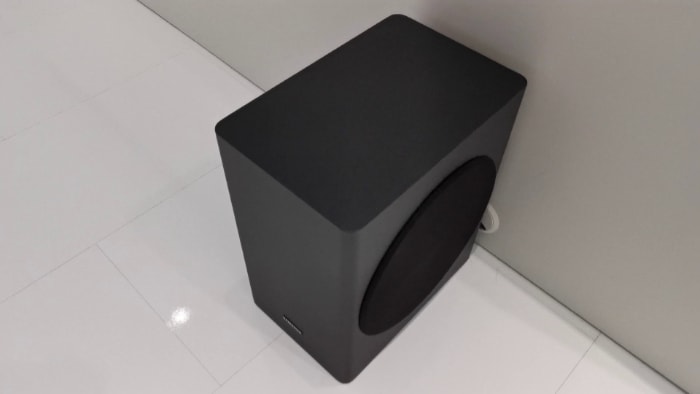 Samsung has always made sure to give its products a premium feel by using solid and sturdy materials, and the Samsung HW-Q60T is no exception. The soundbar has great build quality and is made with tough plastic and metal, and the accompanying subwoofer has great build quality.
A metal grille surrounds the front and top of the bar and compliments the soundbar's sleek and stylish finish.
The soundbar measures 38.7″ x 4.2″ x 2.3″ (width x depth x height) and will fit on larger TV but might not fit between the legs of a 55″ TV. It's better to place this under a wall-mounted TV or on a lower part of the TV.
The subwoofer measures 7.9″ x 13.9″ x 11.9″ (Width x height x depth) and is built like an average-sized desktop subwoofer. You can place it wherever you want since it connects to the soundbar wirelessly.
However, you must take care of the subwoofer's fabric cover on the side since it catches a lot of dust and can easily rip from sharp objects.
The soundbar also has mounting capabilities, and you can easily mount it using the universal holes provided on the soundbar, which are conveniently hidden under the soundbar.
Overall, the device scores great in terms of build and design and won't look out of place next to a futuristic-looking TV since it gives off a great minimalistic vibe as well.
Sound Performance
The Samsung HW-Q60T performs incredibly well when it comes to sound performance in this price range. The nine speakers are spread out between a dedicated center channel and full-range front speakers.
Top firing speakers add to the immersion when you're trying to simulate surround sound, and the absence of rear speakers is barely notable.
The bass response of the soundbar is also impressive, and the mids and highs are clear and not too extreme.
On the technical side, we tested the stereo frequency response, and the soundbar has a low-frequency extension of 42.4 Hz and a high-frequency extension of 19.9 kHz. Though the speaker might be missing that extra thumpy low bass, you can shuffle through different presets to get the sound you need. But for highly bass-heavy content, the Samsung HW-Q60T might be a little disappointing.
The soundstage is also pretty decent, and sounds are focused and are pinpointed according to the source they are coming from, compared to a more general area of sound dispersion. The stereo dynamics also make this speaker more than enough for larger rooms or parties.
The Surround Sound system is average, though. The soundbar uses Samsung's Acoustic Beam technology, by using sound ports on the top of the speaker to track individual sounds and direct them in accordance with the content being viewed on the screen. It is immersive but isn't the most accurate as other soundbars.
There is also no support for Dolby Atmos, which might be a losing factor for this soundbar.
But overall, this speaker delivers really well, and even if it is not the same as a dedicated surround sound system, it does the job pretty well.
Connectivity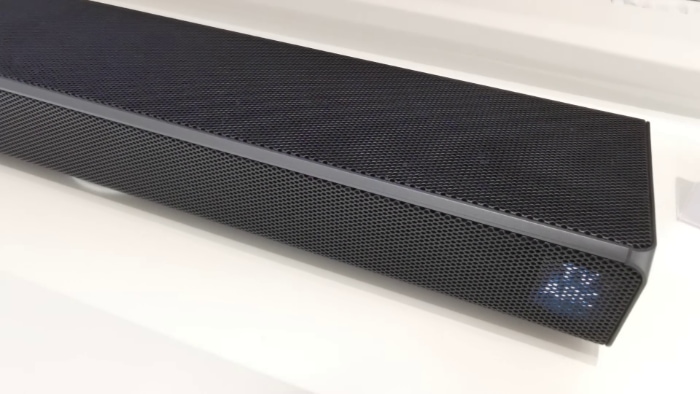 The Samsung HW-Q60T has a decent selection of inputs, with an optical Audio on, an HDMI ARC, and a Full HDMI in port. Unfortunately, there's no auxiliary port, so you can't connect your phone to stream music or watch videos while using the soundbar.
However, there is a USB port on the soundbar to connect and stream media from an external drive or a USB.
The Samsung HW-Q60T does have Bluetooth connectivity, and you can connect your TV to it via Bluetooth and not use a cable at all. Of course, you can connect your mobile phones via Bluetooth as well, but not while the TV is connected.
Up to two mobile devices can be connected to the soundbar, but only if the TV is connected to your soundbar via a cable connection.
The passthrough is available for 4K formats at 60 Hz, meaning this device can handle higher bandwidth signals as well. If you have it connected to your PC, text, and content will look crisp and clear on your TV.
There is no wifi-enabled feature on the Samsung HW-Q60T, and it isn't enabled for Alexa as well, so that may be disappointing for users who want the most accessibility with their soundbar.
Extra Features
The Samsung HW-Q60T soundbar has different modes that you can set according to the content you are viewing to get the best results.
There is an adaptive Sound mode, which analyses each scene for audio signals, and makes the dialogue easier to hear. This is great for dialogue-heavy content where each conversation is essential.
Another mode, the Game Pro sound mode, helps make gaming more immersive by projecting directional sounds to match the game space. This is great in multiplayer games like Call of Duty Warzone or CSGO, where directional sounds can help pinpoint enemy locations and give the appropriate callouts to your teammates.
Q Symphony Feature
We noted a great thing with the Samsung HW-Q60T that it has the Q symphony feature. Since Samsung designed it, it can pair with Samsung QLED TVs, and the audio of the soundbar will be synced with the TV audio, which creates a richer and much more immersive experience. This will work well for both gaming and movies and other types of content as well.
The Remote
The remote provided with the Samsung HW-Q60T is designed with the same build quality as the soundbar and subwoofer and has a premium feel. It feels great in your hand, and you can control all the soundbar's features and functions with it.
However, it cannot be used as a universal remote, so you can't use it to browse different channels on the TV or flip through other sources.
Samsung advertises the soundbar to be compatible with Samsung OneRemote, which allows you to control the soundbar by using any remote from a compatible Samsung TV.
Pros and Cons
Pros
Good Audio
Decent simulated surround sound
Lots of customization with presets
Bluetooth connectivity
Q Symphony feature
Cons
Not the best for highly bassy content
No wifi connectivity
No support for Dolby Atmos
Final Verdict
So, the Samsung HW-Q60T is a great mid-range soundbar intended to be a singular solution for all your audio needs. Getting the most out of this device would be great when you have a compatible Samsung QLED TV, which will use the onboard Q Symphony feature to give you an even better audio experience.
The included subwoofer will give a punch to your bass experience, but you'd get a lot out of them if you got some accompanying speakers as well.
Like the realistic EQ and presets, the sound improvement components are a nice touch and work in favor of the Samsung HW-Q60T. This customization isn't available in many other soundbars from competitors at this price range.
In conclusion, we would recommend the Samsung HW-Q60T if you're not worried about a few issues, compared to all the benefits you're getting with this device. The Samsung HW-Q60T is great for even larger rooms; even though the bass might get a little poor at extremely high volumes, the accompanying sound customization, directional speakers, and connectivity more than makes up for it.