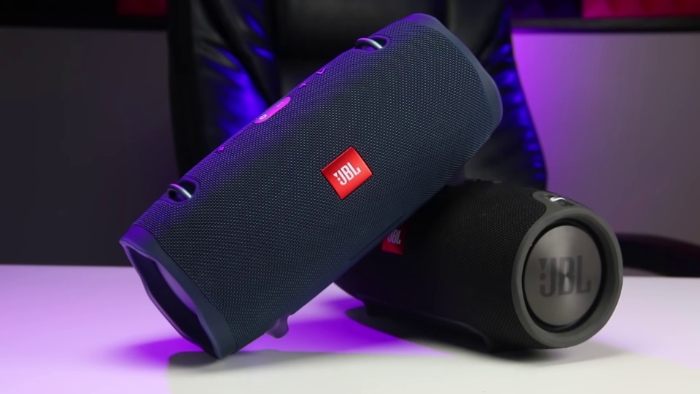 From having to carry around huge stereo speakers on your shoulders when you want to listen to music, to having the same powerful sound small enough to fit in your pocket, portable speakers sure have come a long way.
But when it comes to buying something for yourself, you usually spend a lot of time on different features of speakers. That's because you're trying to get something that lasts for a long while and gives a quality performance.
Well, one of the innovators behind great portable speakers is JBL. The company has been consistent with making a selection of different portable speakers and headphones that deliver in both quality and reliability.
And for this review, we've put the JBL Xtreme against the JBL Xtreme 2 and compared the two devices to see which one gives more value for money and which will be the better choice for you in the long term.
Where to Buy?
Features We'll Be Comparing
For the two portable speakers, we'll be comparing several different factors, such as build quality and design, sound performance, connectivity, level of protection against accidents, battery life, weight, and price.
Every user has different criteria, as some may prefer one feature over the other. For example, some might prioritize louder sound over battery life, and some may choose a speaker purely for the aesthetic design.
Sound Performance
In our opinion, sound is the most critical factor in a speaker. So let's deal with that first.
To deliver louder sound, a speaker needs larger drivers. The bigger the drivers, the louder the sound delivered. The JBL Xtreme has drivers of size 63mm, while the JBL Xtreme 2 has drivers of size 69.9mm. This results in a slightly louder sound from the JBL Xtreme 2, but the difference is only somewhat notable.
The next important feature in sound performance is the frequency range. A frequency range shows how low and how high the speaker can produce sound waves. The lower bracket of the frequency range deals with bass, and the higher bracket deals with clarity and treble.
The JBL Xtreme has a frequency range between 70 Hz to 20 kHz, whereas the JBL Xtreme 2 has 55 Hz to 20 kHz. The JBL Xtreme 2's lower frequency helps it produce slightly more precise bass.
Turning both speakers to maximum volume shows that both speakers sound almost the same in terms of loudness and quality, but the JBL Xtreme 2 is slightly better.
The JBL Xtreme does a pretty good job, and the JBL Xtreme 2 does it just a little better.
Connectivity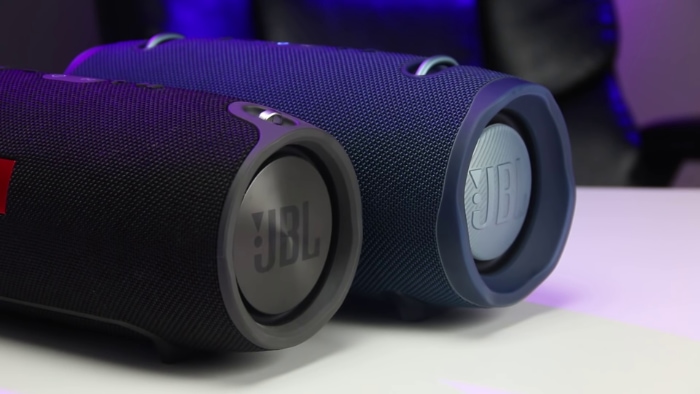 With portable speakers comes the need to connect, and you need to connect your phone if you're going to play your favorite playlist.
Both speakers offer good connectivity features but have a slightly different collection of ports in terms of connectivity.
The JBL Xtreme has two USB ports with which you can connect and charge devices. You can also connect other speakers to the JBL Xtreme via a mini stereo input port.
The JBL Xtreme 2 has a mini-stereo input port but only one more powerful USB port for charging devices.
For Bluetooth, the JBL Xtreme has the older Bluetooth 4.1, while the JBL Xtreme 2 has a slightly upgraded Bluetooth 4.2. This reduces the time taken to connect a device via Bluetooth, but by a very slight margin.
Overall, the JBL Xtreme has 2 USB ports and Bluetooth 4.1, whereas the JBL Xtreme 2 has one faster USB port and Bluetooth 4.3.
This feature weighs in favor of the JBL Xtreme 2.
Battery Run Time and Charging
If you're going to be blasting a speaker at full volume, you need to make sure the device runs long after till you're done enjoying. Nobody wants a speaker dead before the party even starts, right? That's why battery life is essential, and we'll be comparing both devices in terms of battery life and charge time.
The JBL Xtreme and the JBL Xtreme 2 are both almost the same in this regard. In addition, both speakers have a massive battery of 10,000 mAh, advertised to run around 15 hours on a full charge, which is good enough even for parties that get a little stretched.
In terms of charge time, both speakers take around the same time to get fully charged. They both take about 3.5 hours to get fully charged. However, there aren't any fast charging options on either device, as per our knowledge.
Since both devices have the same battery life and charge time, we can assume this is a tie.
Waterproof Protection
One of the many sights that a portable speaker goes to is the beach or the pool. And it isn't rare that you take your speaker to that BBQ pool party or that Sunday at the beach.
And that's one place where your speaker can get ruined because of accidentally being dropped into water. Other places can be a slip in the bathroom, the kitchen, or even outside on rainy days.
This is why the IP rating of a product matters when dealing with external matters or accidents. The IP rating lets you know how much the product is built to withstand water, dust, accidental drops, and the like.
And in this feature, the JBL Xtreme 2 is a clear winner. The JBL Xtreme 2 has an IPX7 rating, which means it's completely waterproof and can even remain submerged in water for up to half an hour. This means no worries if you accidentally drop it in the water at the beach or in the pool. Just take it out, wipe it off, and it's good as new!
In comparison, the JBL Xtreme has a rating of IPX4, which means it's resistant to water splashes from any direction. While this feature is helpful against smaller accidents, it certainly won't save your speaker if you accidentally submerge it in water.
The JBL Xtreme 2 takes this round in terms of protection since it has an IPX7 waterproof rating.
Accessories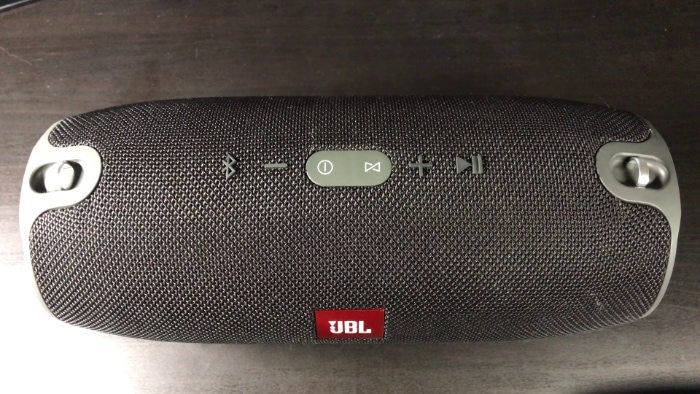 Now that we've covered the most critical factors of the two speakers, let's talk about some smaller factors. Now, these are less effective in terms of the overall product, but may be crucial for some users.
The JBL Xtreme 2 comes with a handy strap to carry it, and the strap has a built-in bottle opener. This is a fun little feature for when you need a handy bottle opener at parties and can't find one.
The JBL Xtreme has a shoulder strap as well, just without the bottle opener.
Color and Customization
Color options are vital since you might want the speaker to match your room's color or have something unique that is more noticeable.
The JBL Xtreme is available in four different color options:
Black
Blue
Camouflage
Red
The JBL Xtreme 2 has the following color variations:
Black
Blue
Camouflage
Green
Red
Size and Weight
In terms of size and weight, both devices are relatively similar, with only slight differences.
The JBL Xtreme weighs 75 Oz and measures 5 inches in height, 4.8 inches in depth, and 11.2 inches in length.
In comparison, the JBL Xtreme 2 weighs around 85 oz and measures 5.3 inches in height, 5.2 inches in depth, and 11.3 inches in length.
Both devices are relatively more significant than portable speakers from other brands, but they are light and easy to carry. You definitely won't get tired from carrying this all day and can easily place it here and there with a single hand.
Design
Design-wise, both devices look more or less the same. They both have a cylinder shape with rounded edges. A mesh covers the speakers, and there are buttons to control the speaker on the top.
There are also two hooks on the top of the speaker for the shoulder strap, which you can easily install to carry around.
Final Verdict
So, what do you think? We've rounded up all the defining features of the two speakers, and now it's time to make a decision.
And we think that it depends on what you're going to be using the speaker for. If you're an avid fan of pool parties and the beach, then the JBL Xtreme 2 is the best option for you. Plus, the speaker is slightly better in terms of sound performance, connectivity and has a bottle strap!
But, if you'd rather use your speaker indoors most of the time, and don't want to spend the extra cash, then the JBL Xtreme is a great option. The price difference between the two doesn't justify the higher price of the JBL Xtreme 2, and you can easily make do with the JBL Xtreme.
In other words, if you love water, get the JBL Xtreme 2. Otherwise, the JBL Xtreme is almost just as good and cheaper.