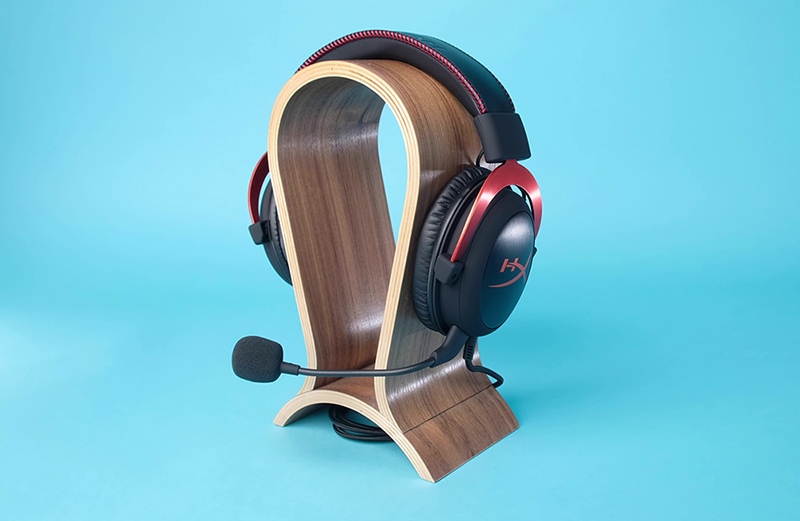 Good gaming headsets are hard to find. They are either beautifully constructed as well as being expensive. Or they are inexpensive and low in quality. As you will see in this HyperX Cloud II review, this gaming headset is trying to be both.
In this HyperX Cloud II, we will look at this entry into the game headset design. Does it live up its promise of balancing quality at an affordable price? The answer may surprise you in terms of what exactly this headset can do.
Features
Individual Volume Controls: For microphone and headset
3.5mm Port for Headset
USB Sound Card
Boom Mic
Microphone Mute Sliding Switch
7.1 Button to Activate Simulated Surround Sound
Shirt Clip
There is also a nylon carrying bag for the headset. And the second pair of earpads that are crafted from a velour that is more breathable compared to the leather used for the original pair. This provides you with a choice of what to use when wearing your headphones.
The 3.5mm headset makes it compatible with any device that offers a 3.5mm output. However, it is recommended that for the best sound with PCs, you should use the USB sound card adaptor. This way, all the audio processing is handled by the digital to analog converter along with the surround sound card instead of the on-board audio for a superior result.
What is notable in this HyperX Cloud II is that this gaming headset runs counter to the current trend of bright, flashy colors and designs. Instead, this is a modest, low-key approach that is more like standard music headsets as opposed to those designed for gaming. Whether this is an important feature is up to the individual, but it is a different approach compared to most other models offered at a similar price.
Pros
There are considerable advantages to this gaming headset. In this HyperX Cloud II review, we will look at the advantages that this gaming headset offers compared to the competition at a similar price point.
Overall Build Quality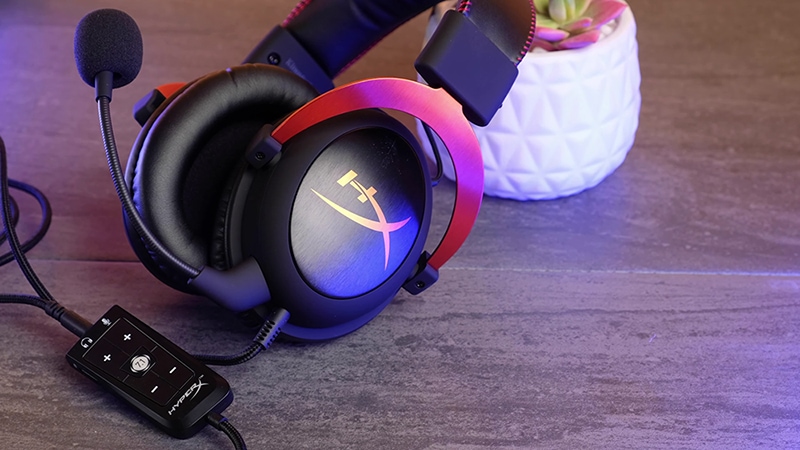 For the price, this is a remarkably well-built unit. The overall construction is quite solid and feels nice when you are wearing it. You can see the reinforcements in the stitching that holds the covers to the pads. Plus, the solid components, even when made of plastic, are quite durable under normal use conditions.
This also means that it can take modest impacts well, such as accidentally dropping it on the floor. But it is not indestructible, so care should be taken when using this headset.
Functionality
This gaming headset works well with most PCs, along with many mobile devices and gaming systems. Chances are, it should work for your system as well. Of course, you will need to check first before making your purchase to see if the HyperX Cloud II is compatible with your device or system.
Attractive Design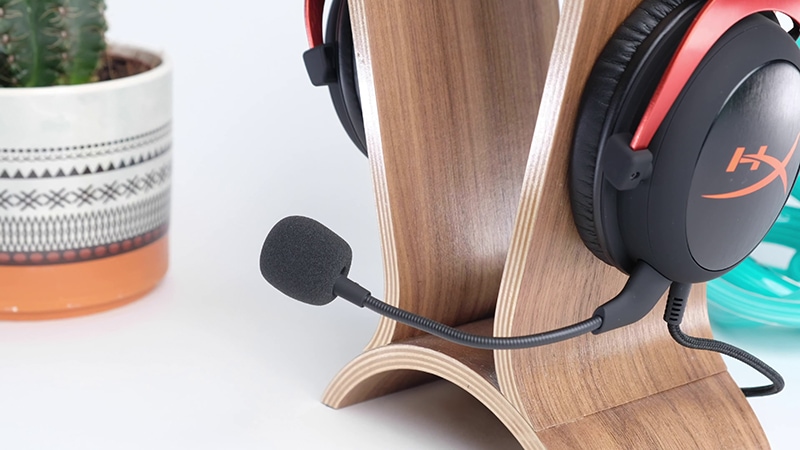 While the design of a gaming headset is for most people not high on the list of considerations, it is essential to note the overall attractiveness it exudes. In fact, the design itself, as noted earlier, is more like a high-quality audio-only headset for music that happens to have a microphone attached, rather than a gaming headset with a microphone that happens to have a good set of speakers.
This looks like a professional gaming headset and feels a lot like one as well, all for a relatively low price considering its overall performance. The headset itself is not too tight but is tight enough to allow for a more immersive sound experience. The earcups are especially well designed with metal joints that are solid and click into place. However, they do not swivel or fold like on some other headset designs.
Cons
While it is true that the HyperX Cloud II is quite good, there are a couple of issues that may be of concern with some gamers.
Non-Detachable Cable
This is a bit more annoying than an actual issue with the gaming headset. The professional appearance makes you almost suspect that the cable would be detachable for easier storage. Plus, if something went wrong with the cable itself, then that could be replaced without having to purchase a new headset.
Poor Surround Sound
The box claims that it offers 7.1 Virtual Surround Sound, but none of the tests reveal that it delivers on this promise. While it is true that most gaming headsets fail in this regard mostly due to the nature of the headset itself, it is curious that the HyperX Cloud II would make such a claim in the first place.
It is simply the overall design of any gaming headset that makes a surround sound effect difficult.
Final Verdict
The HyperX Cloud II is a solid, dependable gaming headset that is undoubtedly worth the price. The solid construction, excellent features, and comfortable fit make it a good purchase.
However, it may not be the best purchase depending on your needs. There are other high-quality headsets that do not have microphones that cost a fraction of the HyperX Cloud II and still deliver exceptional sound. So, if you do not need a gaming mic, then go with the cheaper models. Or if you are looking for more professional features such as a detachable cable, then you might want to spend more to get one.
For what it is at a price being offered, the HyperX Cloud II is a good deal. It is safe to say that you will get your money's worth when purchasing this product. It may not be the best or the least expensive, but it does offer a good compromise for those who want a solid pair of gaming headphones with a microphone.