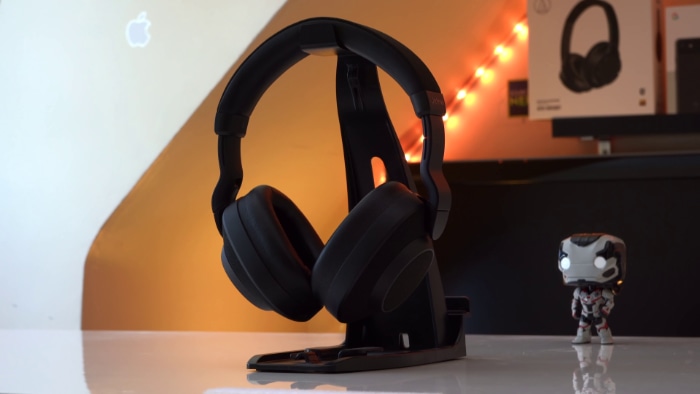 Life in cities and small towns is slowly becoming a high decibel environment. You cannot travel anywhere in a peaceful and calm state of mind. You need some mellifluous music to travel to work or anywhere.
Your city life is incomplete without proper noise-canceling headphones to give you peace of mind in your endeavors to be successful. Headphones with noise-canceling features are crucial to cut off any background noise that interferes with your music or podcast.
Jabra Elite 85h comes highly recommended by music and headphone fans. It is a superior and revolutionary design with several smart features that make the headphones your best friend.
Where to Buy?
What Is Jabra Elite 85h?
Jabra Elite 85h is a noise-canceling Bluetooth headphone. A revolutionary smart headphone with auto-detect features and superior AI features. Designed in titanium black color, this headphone has a sleek look and is extremely comfortable to wear on the head for long hours.
You will experience one of the very well-engineered systems with your Jabra Elite 85h. It is a headphone for enhancing your musical experience and calling features. This headphone enables you to personalize your sound settings depending on the ambient sounds in the background.
There is extreme ease of connectivity to the Bluetooth headphone for both Android and IOS devices. Also, there is Jabra Sound Plus App that you can pair your headphone too, for remarkable control. The app helps in personalizing and customizing your sound and music settings according to your environment.
Design, Features, and Build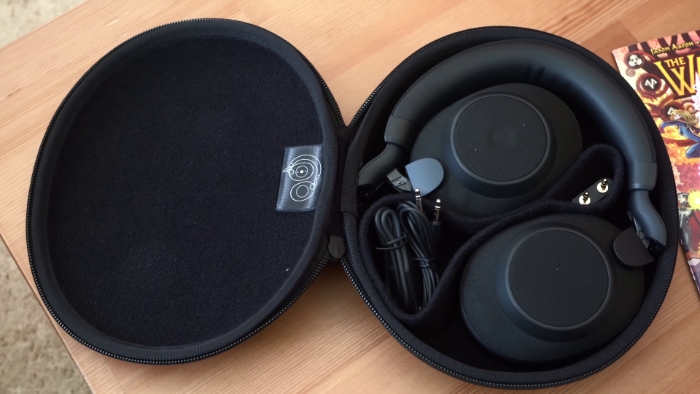 The Jabra Elite 85h is an over-the-ear Bluetooth-enabled headphone. With a great built-in microphone for calling features and water-resistant capabilities, this headphone has a long battery life of almost 36 hours after one charge.
You can take your calls hands-free and listen to music with these beautifully designed and engineered headphones.
Sleek Design
The Jabra Elite 85h has a sleek design and looks cool. You can fancy yourself a DJ Master with the design of these headphones. The headphone has been designed with softly padded earcups and is large enough to encapsulate your whole ear.
The ear cups have a soft-feeling fabric on the outside that enhances the design. Overall headphone frame is made in plastic that gives a shiny and sleek finish.
A notable design element of the Jabra Elite 85h is the lack of a power button. A smart headphone that it is, it has sensors on the earcups that automatically power off your music when you remove your headphone. All you need to do is fold the ear cups inward to power off.
Exceptional Features
Jabra Elite 85h, as we mentioned above, has superior features that make your musical or call experience blissful. Some key features are listed below.
Smart Auto Noise Cancelling – A main feature of the Jabra Elite 85h, the Smart ANC activates automatically depending on the ambient noises in your environment.
Smart Sound Audio– Depending on your personalized settings, surrounding sounds, and audio quality, the headphones activate ANC or Hear Through with the help of its Smart Sound Audio technology.
Long Battery Life– The Jabra Elite 85h charges in 5 hours 5 minutes and lasts for at least 36 hours. Enabling you to listen to music with ANC or Hear Through switched on for a whole day without shutting off due to lack of charge.
Amazing Call Quality– With high technology and features, the Jabra Elite 85h uses 8 in-built microphones. 6 of them get activated to give you crystal clear communication while on a call. You won't need to worry about any outside noise disturbing your hearing.
Water-Resistant– These headphones have a Nano-coating for the internal components and have been proved to be rain and water-resistant. This will give you the confidence to continue listening to music and taking calls even when it rains.
Other than these key features, the Jabra Elite 85h is also compatible with the Jabra Sound Plus application. This application enables you to personalize your audio and music settings. You can also activate any voice assistant like Siri or Alexa for your headphone using this application.
Build
The Jabra Elite 85h is built like a typical Bluetooth headphone. It is lightweight in comparison to other headphones as its frame is made of plastic. Weighs about 0.91 lbs.
The headphones are built for pure comfort and optimum musical and calling experience. Designed to look sleek, cool, and functional, the build of this headphone is sturdy and flexible. Sturdy with proper materials used to build it, and comes with a 2-year warranty. Flexible to be foldable and portable.
These headphones come with a USB charging cable and an audio cable. If you don't want to go wireless, you can simply connect the audio cable and enjoy the amazing features of the Jabra Elite 85h. Like any electronic device, the headphone is prone to heating up with prolonged use. This heats up from 5 to 45 degrees, so be careful.
Performance
These headphones with Smart Audio capabilities have peak performance capability. When you hear a piece of well-composed music, you want to hear every sing beat, instrument, lyrics, and nuance of the music. The Jabra Elite 85h enables you to hear the softest percussion in a piece of music.
The Jabra Elite 85h headphones may not have the aptX technology. A technology compresses and decompresses the sound while transmitting from a phone or external device to the Bluetooth headphone without damaging sound quality. But, this has not stopped the headphone from giving optimum sound quality to enjoy your music.
The headphone's calling feature performs exceptionally well. It lets you talk to anyone even when you are on the go and have too much ambient noise. The ANC feature while talking on the phone is surprisingly a beneficial feature to communicate seamlessly. The six in-built microphones give you crystal-clear communication while on calls.
The performance of the Smart Audio, ANC, Hear Through, and the Jabra Sound Plus application has proven to be remarkable and makes the Jabra Elite 85h a worthy Bluetooth-enabled headphone.
Should You Buy The Jabra Elite 85h?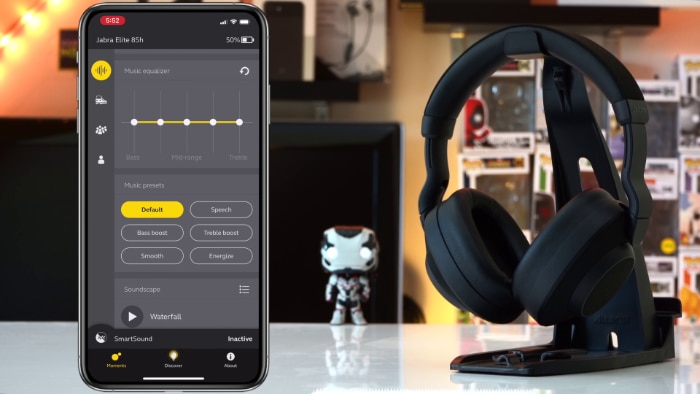 If you are a music aficionado and value a great sound quality in your earphones, it is absolutely worth buying the Jabra Elite 85h. Coming at an attractive price range of $200 onwards, this headphone has an amazing global rating of 4.4/5 on Amazon.
If that doesn't convince you, the access to the Jabra Sound Plus app with utmost control for the best music experience should definitely convince you. The app enables you to configure your music equalizer settings to give you the best sound quality. It also allows you to change through modes of ANC, Hear Through, or Off seamlessly with a touch of a button.
You don't need to worry about compatibility, as the Jabra Elite 85h pairs easily with Android and iOS devices. All you need to do is follow the instructions given in the user manual. What's more, is that your headphone comes with a specially crafted carry case to protect it from dust and other natural elements.
Pros and Cons
Pros
Smart Audio that adapts to your environment
ANC that activates automatically by detecting your surrounding
Comfortable, lightweight, and portable headphone
2-year warranty
Water-resistant with Nano coated internal components
Long battery life with fast charging
Access to the Jabra Sound Plus application for the ultimate sound experience
Cons
It cannot be used with high-intensity workouts
Final Verdict
Finally, the Jabra Elite 85h is a superior quality product. When you purchase and experience this Bluetooth-enabled noise-cancellation headphone, you might find your older headphones paling in comparison. A flexible and sturdy piece of a sensor-enabled headphone to power off on its own, the Jabra Elite 85h is an exciting piece of equipment for the ultimate sound experience.
Quality assurance and passion of the GN group Jabra company guarantees you a high-level sound experience. The company guarantees you that you will hear what you want to hear with this headphone. No external sound or nature can disturb you from having the time of your life!