With wireless earbuds becoming the norm, companies are rolling out various models of these devices. JBL, a leader among these firms, makes numerous of them. Most importantly, they never fail to include impressive features into every one of their models.
JBL Tune 120TWS is one of their most popular wireless earbuds. It is a no-nonsense option that produces high-quality, crisp audio.
If you are a bass lover, this can offer you excellent bass as well. This device is also highly affordable for the high power it provides. It also received the Red Dot Award in 2019.
With all these advantages, it may seem like you found your perfect earbuds. However, it is not free from drawbacks.
Where to Buy?
Design and Features
The best way to judge any device is by analyzing its design and features. While the design of truly wireless earbuds can show how they will fit, the features will tell you if they can fit your needs.
Altogether, these earbuds offer various features and have a practical design.
Design
JBL Tune 120TWS has a sleek and chic design that offers a comfortable fit. You can find six pairs of ear tips in the package, with each one offering an ergonomic fit for users with different ear sizes.
The earbuds also feature a 5.8 mm driver that powers the JBL Pure Bass. So, if you are looking for robust bass, which is not so common in wireless earbuds, you are in for a treat.
On the downside, there is no published IP rating for these earbuds. So, it is not the best choice for gymming or running. Nonetheless, it sits securely in the ears after a little twist.
The Charging Case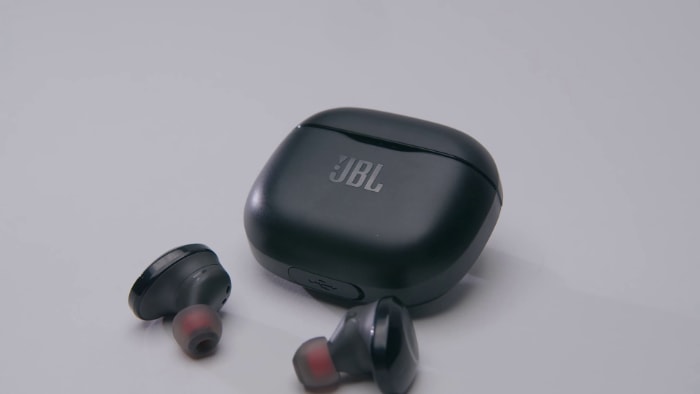 The exterior surface of the earbuds has a glossy finish that surrounds the JBL control panel. On the control panel, you can find the body-embedded logo.
The case has a matt finish with a flip-top lid. It has LED lights that mark the status on the outer panel. You can also find a covered port for the micro USB charging cable.
The earbuds snap into the cradles of the case magnetically. The snapping and the flipping of the lid are smooth. Further, the earbuds and the charging case seem very lightweight.
If you like to have many choices, Tune 120TWS has that too. You can pick among any of the various vibrant colors. The color choices include black, blue, green-black, white-pink, and white.
Features
These Bluetooth earbuds offer various impressive features, from voice assistants to tactile buttons.
Build Quality
JBL Tune 120TWS has a good build quality. The glossy finish and the plastic feeling can come off as cheap. Nonetheless, it can survive many drops and still maintain its performance.
Although it does not have the best build quality in the market, it does offer endurance. The joints and the case seem fairly durable. However, if you want to use it for travel or sports, it may not last very long.
Stability
These Bluetooth devices are fairly stable as long as you find the right silicone ear tips. If your size is not available, the earbuds will likely fall out when you move your head.
The earbuds may require frequent adjustments, especially if you can not find the right fit. However, twisting can make it sit firmly in your ears.
Portability
You can easily fit these earbuds in your pockets, purses, or bags. You can use the magnet on the buds to keep them together. Nonetheless, the magnetic force is not very strong, causing it to separate at times.
The case offers good protection to the earbuds. So, you do not have to worry about scratches or any damages while transporting it. The lightweight construction makes it easier to carry around anywhere you like.
Battery
This JBL device has an average battery performance. It has a continuous battery life of up to 4 to 4.5 hours, a standard number for truly wireless earbuds. Plus, the case provides three additional charges.
The charging time for this model is about 1.5 hours. Furthermore, it does not offer any audio while charging or power-saving features.
Controls
This device offers a pretty impressive control scheme. However, it does not offer volume check control, which can frustrate you at times. Like many other truly wireless earbuds, this also divides the tasks between left and right earpieces.
A single tap on the right earpiece will allow you to pause or play in addition to taking calls. Double-tap on this earpiece will summon your phone's voice assistant. Plus, you can mute and unmute by holding it down for three seconds.
On the left earpiece, you can skip forward with one tap. With two taps, you can skip the tracks backward.
Sound Quality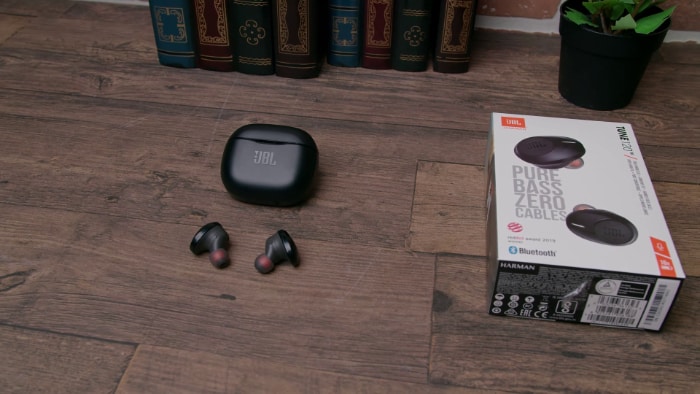 The JBL Tune 120TWS offers a well-balanced audio range. The sound profile is fairly neutral with excellent bass. However, the driver misses a low bass.
Once you seal the earpieces properly in your ears using a suitable fit, you can experience consistent treble and bass responses.
Bass Accuracy
With a good amount of rumble and thump, the bass is accurate without too much boom. This JBL model includes the JBL Pure Bass Sound, as mentioned earlier.
The driver powers a punchy sound with a good thump. Moreover, it beautifully reproduces lead instruments and vocals as well.
To point out a disadvantage, you may notice a mismatch between both drivers. As a result, you can hear more thumps and rumbles in the left ear than in the right ear. Nonetheless, this inconsistency in the bass range is not very distinct.
Pros and Cons
Pros
Excellent audio quality with powerful bass
Ergonomic design offers a secure in-ear fit
Simple and easy-to-use controls
Available in multiple color choices
Pricing is in the affordable range
Cons
No published IP or waterproof rating
Battery life is not impressive
Selling Points
Now that you are pretty familiar with the product, let's understand what makes them sell. Below are some features that make this product a best-seller.
Performance
This JBL device offers high-level performance at a highly affordable price. The internal 5.8 mm dynamic drivers deliver a broad frequency scale ranging from 20 Hz to 20K Hz.
The device does not have an app associated, so you get the signature sound. Plus, you can enjoy high intense bass content even at low-frequency responses.
Easy Operation
JBL Tune 120TWS is very handy and easy to operate. It offers an impressive tap feature that can provide you with various required controls. Plus, this device is lightweight, sleek, and small, so it offers excellent portability, as discussed earlier.
Final Verdict
Now that you know everything you need to know about JBL Tune 120TWS, it's time to choose!
Before you decide anything, it is vital to remember that this is an affordable device, albeit with various exciting features. So, you can not expect the same quality as high-end earbuds.
On the other hand, it offers audio that is on par with expensive earbuds. Therefore, if your budget brings you to this device, you can go for it confidently.