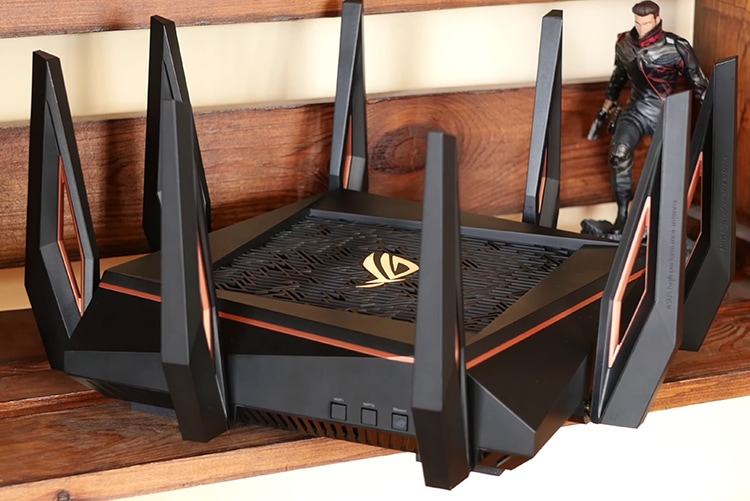 The gaming revolution has taken the world by storm. With a projected addition of half a billion people to the gaming community by 2023, it is clear that the revolution is here to stay. This has undoubtedly led to an explosion in the market for gaming equipment and a parallel rise in gear innovation and production.
Online stores are flooded with a puzzling variety of everything from gaming consoles, headphones, devices, and displays, to specialized gaming routers. The latter is a relatively recent innovation in the field, but one which has completely changed its pace.
Specially adapted to the needs of fast-paced, real-time gaming, these routers add a whole new dimension to the experience. It can, however, get confusing to choose from the plethora of such routers available out there.
Therefore, we bring you the review of one of, if not the best, gaming router in the market right now. A product pro-gamers swear by, this advanced gaming router is sure to transform the world of gaming for you.
Where to Buy?
What is the ASUS AX11000?
The power-packed router kit you need to improve your gaming experience is the advanced, wireless ASUS RoG Rapture GT-AX11000 gaming router. Among the fastest WiFi-6, the routers of tri-band type capturing the competitive market today, it comes with a hard-to-miss, distinctive design.
The 11000 in the router's name stands to denote the highest data transfer speed it offers – an impressive 11,000mbps. It achieves this noteworthy performance by transmitting four streams on each of the frequency bands, one of 2.5 GHz and two of 5GHz each.
This markedly enhances its ability to accommodate multiple clients without compromising on efficiency or speed. You don't need to worry about the new WiFi-6 being incompatible with your current home network; it works just fine with older variants like WiFi-5 and WiFi-4 standards.
Added to the increased efficiency and reduced latency, it provides improved range and wider coverage owing to the smaller subchannels. This makes it the perfect choice for larger homes and spacious settings and those with multiple devices.
The Target Wait Time (TWT) feature allows you to schedule transmission, which lets the devices sleep for longer periods, delivering up to 7 times better battery life. Additionally, the router comes with rock-solid stability as well as state-of-the-art security.
Its powerful interface offers point-and-click control over all its remarkable features. The combination of these exceptional features does come at a steep price, at $449.99. However, this price falls within the same range as other tri-band routers based on the up-and-coming Wi-Fi 6 standard.
This high-end Asus router has so much more to offer, all of which we will thoroughly explore in this review.
Design and Build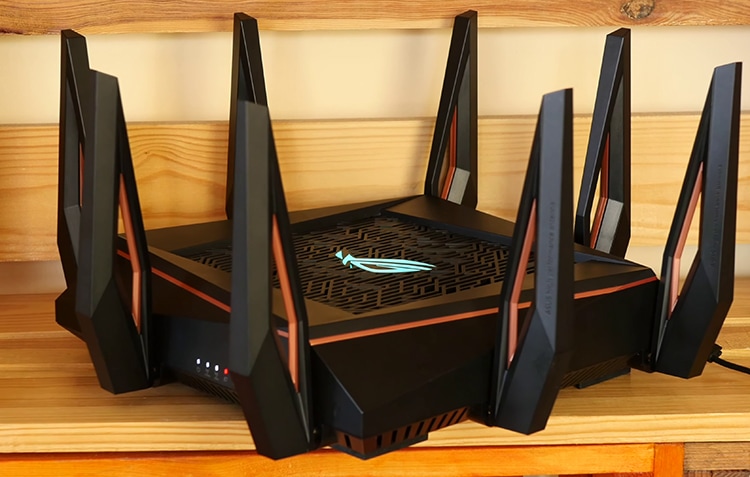 The first thing you would notice about the router is undoubtedly its exceptionally unique design. Not to forget, its appearance has been designed keeping in mind gamers. With this hard-to-overlook, easily distinguishable exterior, it effortlessly stands out among its competitors.
Even without the eight, alien-like antenna, the bulky main unit's sharp, sleek edges and the LED-lit logo make it look like a gadget straight out of a sci-fi show. At 11.3 x 4.74 x 14.86 inches, it sure is enormous compared to most others and needs plenty of space to be properly set up. However, it is huge for a reason; its processing power is sufficient to rival a storage server.
The router doesn't come with a modem, but it provides a separate Gigabit Ethernet port to link it to the modem or broadband router you currently use. Besides that, it has four other Gigabit Ethernet ports to enable it to be connected to other gadgets like your gaming laptops, a smart-TV, or a console. 
It also boasts of a 'Multi-Gig' Ethernet port that can enable speeds of as much as 2.5 Gigabits for high-speed Internet, even allowing you to configure a personal gaming LAN for yourself. This feature makes it an attractive choice for hard-core gamers.
Also included are two USB 3.0 ports that can be used to connect a USB storage drive or printer on your local network.
Features and Specifications
The router allows you to do everything from basics, such as configuring the network's name and encryption, to advanced ones, such as restricting bandwidth for some users, blacklisting others, and port forwarding.
Its User Interface is one of the responsive out of the Asus routers and fairly organized. This makes it considerably easy to set up and manage. The router operation is not tough to understand, but it requires a knowledge of the fundamentals of working a home network to utilize its features to their potential.
Among all that the GT-AX11000 offers are a network map, dynamic DNS, port forwarding, hassle-free IP reservation, guest networks, IPv6, and a traffic analyzer.
There is plenty of customization for the WiFi networks, including the option called Smart Connect, in which you may club all the bands to use as a singular network.
Other than the above, the router brings several useful features to the table that make it as special for home users as for gamers.
AiMesh
Asus takes Wi-Fi to the next level. The Rapture GT-AX11000 acts as both a primary router and an AiMesh node. This technology enables multiple ASUS routers to come together to create a mesh network.
This provides you with time-saving central control and smooth roaming capacity. Initially buggy in the AiMesh configuration, the recent firmware updates have ironed out the complications.
AiProtection
This feature, driven by TrendMicro, helps keep the device safe from viruses and malware. It also prevents infected clients who are present on the network from connecting to a malicious server.
AiProtection Pro protects your network from threats and intrusions even if your PC's security program is not turned on.
Parental Control
The ROG Rapture GT-AX110000 is considered to have the most flexible as well as robust parental control features. The network controls provided for the Rapture router include the option of joining the guest network, together with parental controls that allow you to regulate the use of the internet by children.
USB applications
The Rapture router can also function as a powerful NAS server with plenty of storage features while hosting a storage drive. That's not all; the USB port can also be used to link a dongle for a backup Internet connection or to connect a printer.
VPN
In addition to operating like a VPN server (which supports VPN protocols for PPTP, IPsec, and OpenVPN), the RoG Rapture also provides VPN Fusion, where several VPN servers can be connected, and clients can be allocated to various tunnels.
Apart from this, it enables clients who do not natively support VPN to join a VPN network, such as IoT users.
2.5Gbps Port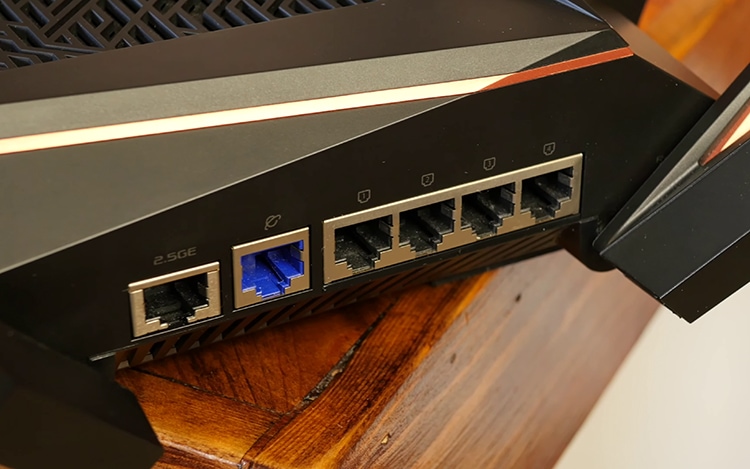 The router has a 2.5Gbps port to run either as a LAN port or a WAN port, aside from the standard four Gigabit LAN ports and one Gigabit WAN port. It's a bit surprising, though, as, in the Netgear RAX120, there is no faster (5Gbps) LAN port.
Dual-WAN
When you want to use two Internet connections, you can transform one of the LAN ports into a second WAN port.
Link Aggregation
For supported devices, such as a NAS server, you can merge the first two LAN ports into a single 2Gbps link.
Wi-Fi Radar
A full collection of Wi-Fi diagnosis resources for users, including site polls, channel statistics, and more, are also available.
Additional Features for Gamers
The ROG Rapture GT-AX11000 is managed by the ROG (Republic of Gamers) Gaming Center, which means it comes with gaming-specific features not found on other, non-ROG ASUS routers.
Easy Operation through App
The ROG Rapture GT-AX11000 has the most powerful and full-featured router app that you can utilize to control and regulate just about every aspect of the device. You can also utilize the application for conveniently sharing the Wi-Fi passwords, change parental control limits, remotely change QoS settings, etc.
Dynamic Frequency Selection
Tri-band type of networking allows you to devote only a 5GHz band only to gaming, so you need not compete with other users on your house's network for bandwidth.
ROG Rapture GT-AX11000 also activates fifteen channels in the 5GHz bands with minimum congestions with dynamic frequency selection (DFS), offering more bandwidth for all your wireless devices.
Triple-level Game Acceleration
A stable connection to your game server is crucial when it comes to ranking. To boost game traffic every step of the way, the GT-AX11000 provides triple-level acceleration. This lowers the ping rate and decreases game latency.
GameFirst V
The router supports GameFirst V that optimizes ROG devices. Gaming packets on these devices are given top priority, so your gaming packets are usually at the head of the internet queue.
Its Game Boost feature does this by consistently analyzing traffic, giving games an acceleration at the second level for the best possible performance with just a single click.
Game Radar
One prime gaming feature, the Game Radar, allows you to choose a game and spot the real-time server locations of that game along with their ping values. This information allows you to select the best server available for use.
Port Forwarding
Port forwarding is crucial for gamers. This is basically for avoiding the weird situation where you can't team up with your friends. Opening NAT on GT-AX11000 cannot be simpler; it barely takes a few simple steps.
It allows port forwarding to be conveniently set up for as many as 32 clients on one network, depending on the game and the kind of console.
Gamers Private Network
It also includes built-in support for the Gamers Private Network, powered by WTFast. This network provides optimized and private internet connections to game servers.
Some of the games it supports are League of Legends, Overwatch, Dota 2, Hero of the Storm, World of Warcraft, StarCraft II, World of Tanks, and World of Warplanes.
Voice Control
You can also add voice control by connecting it to Alexa as the router is built to work with other SmartHome devices.
Some of the settings it allows you to control with your voice include enabling Game Boost, switching the guest network on and off, updating the firmware, and rebooting the router.
Pros and Cons
Pros
High-speed tri-band WiFi-6                        
Reduces ping and latency
In-depth network controls
Excellent range and coverage
5Gbps wired connector
Multi-Gig network port, Dual-WAN, Link Aggregation
Cons
Big and bulky
Expensive
Not wall-mountable
Who should buy ASUS AX11000?
Still doubtful if the Asus AX11000 is indeed the right fit for you? Here are some pointers that will help you make a choice.
Are you serious about gaming?
Apart from generally useful features, like support for the new WiFi-6 standard and remarkable speed, this Rapture router provides several specialized features aimed at gaming. If you are a hard-core gamer, you might find this more useful and worth the money than regular home users.
Are your other devices up to date?
Rapture, being a Wi-Fi 6 router, is still backward-compatible with existing devices that use 802.11ac WiFi. However, to get the 11Gbps speed offered, you need up-to-date devices that use Wi-Fi 6.
Are you on a budget?
The high-end pricing of the Rapture makes it one of the costliest routers presently available. Even for avid gamers, there is a range of less pricey routers out there. Apart from gamers, it can be a worthwhile investment for people who need to run servers or have a house full of smart gadgets.
Final Verdict
The Asus Rapture GT-AX11000 gaming router sure is costly, and its interface could probably be made more user-friendly. Still, there's no doubt that it provides impressive leading-edge WiFi performance for hard-core gamers.
However, it will take some time before more WiFi-6 clients are readily available, and the new standard achieves the current popularity of Wi-Fi 5. Nevertheless, this tri-band Wi-Fi 6 support brings you a unique combination of remarkable speed and useful networking controls to help gamers minimize lag and enhance efficiency for their favorite online games.
Thus, for hard-core gamers, this is the router to go for, without a doubt. You just need to be ready to patiently get through the long manual and familiarise yourself with its web browser interface.