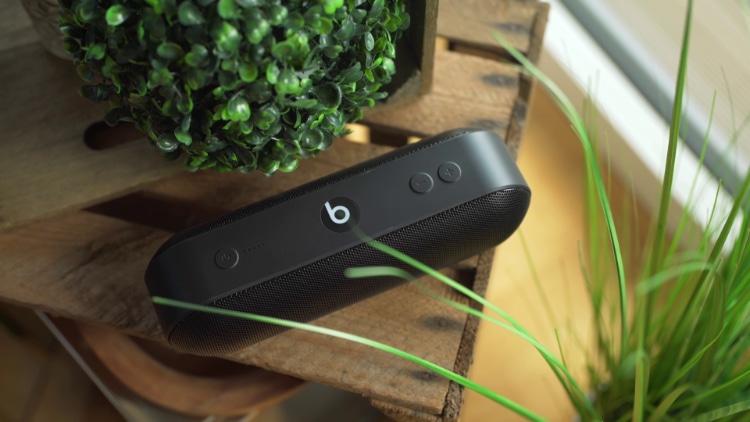 If you love music, a good wireless speaker is a gadget that you can't do without. It allows you to play music whenever you want, wherever you want it.
Even though portable speakers are a dime a dozen today, Beats Pill+ is one of the standout speakers. Built by Beats, it comes from a successful line of speakers, headphones, and other audio equipment.
The Beats Pill+ comes with quite a few great features and specs. However, is this wireless speaker the correct choice for your needs? Beats products are famously expensive, so we can understand if you want to be sure before buying the Beats Pill+.
Where to Buy?
What is the Beats Pill+?
Beats Pill+ is a unique portable wireless speaker that combines performance with stylish looks. It is the smallest portable speaker manufactured by Beats. The Pill+ doesn't compromise on sound quality, even with its portable frame. It is distinctively stylish, just like other Beats products as well.
The speaker is the first portable speaker produced by Beats after being bought by Apple. So, it is compatible with all iOS and Android devices. This includes Mac products, Apple Watches, and even Apple TV.
You can also use Siri, Apple's Voice Assistant software, on the Beats Pill+. It even comes with a built-in microphone so that you can use Siri without any issues.
Setting it up with other devices is hassle-free and easy as well. Just pair and play using Bluetooth connections with other devices.
You can see Apple's minimalist style in Beats Pill+ as well. It has a sleek, oblong design. It is about 0.68 ft in length and weighs around 1.28 lbs. Most of the audio controls are performed by the single "b" button on its top.
Using the Pill+ App for iOS or the Beats App for Android, you can use two Pill+ together. You can use two of these speakers in either stereo mode or amplify mode to provide different sound profiles.
This speaker's sound is a big improvement from the previous portable speakers from Beats. It has two treble drivers and two woofer drivers to deliver the best quality sound possible. The sound quality is clear and loud.
The Beats Pill+ is a great choice for anyone looking to carry their music with them and doing so in style. It matches sound quality with some great features for a cool immersive listening experience.
Design, Features, and Build
To give you a better idea of what kind of a product the Beats Pill+ is, let's talk about its design, features, and build.
The new portable speaker has many changes and improvements over the older wireless speakers by Beats before being taken over by Apple.
Design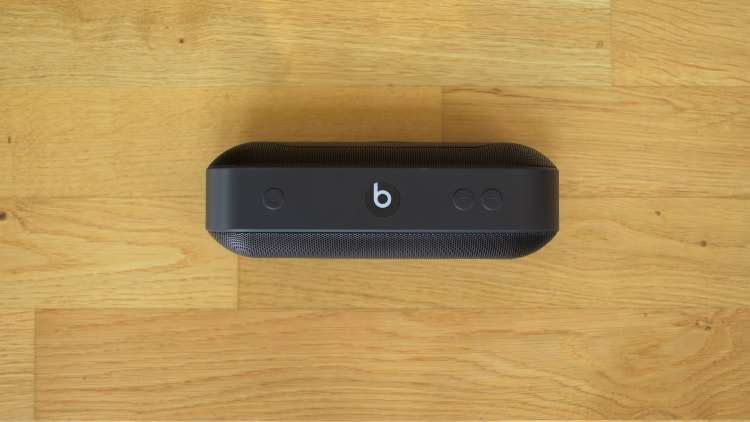 The design was always a strong suit of Beats products. That has only gotten stronger after Apple purchased Beats. The Pill+ is an extremely sleek product that doesn't rely on flashy looks but minimalist design principles.
The speaker has a rectangular shape with rounded edges on the bottom and top, a stadium shape if we are getting technical. The Beats Pill+ is named so because it does indeed resemble a pill.
The charging jacks and 3.5mm port have been moved to the new speakers' backside and are now covered with a rubber cover. The control buttons have also been shifted to the top of the speaker. There is a convenient battery level monitor right beside the power button as well.
Its length is around 0.68 ft. This makes it small enough to carry in most bags and purses but not quite small enough to be carried in pants or jeans pockets. So, you'll probably need something like a pouch or a fanny pack if you want to carry it around. Though, it does come with a flannel case out of the box.
It is also surprisingly heavy for its size. It weighs around 1.28 lbs, which isn't massive but just higher than what you would expect from a speaker of its size.
The speaker is available in three classic colors. You can get the Beats Pill+ in red, black, and white. All of the colors look great. None of the colors look cheap or plastic-like. Apple and Beats have a reputation for good looks, and this speaker keeps it as well.
It certainly is one of the best-looking portable speakers out there. Even though the lack of color options might set it back, the quality and simplicity set it apart from the rest.
Features
One of the most important features that everyone wants to know about in a portable speaker is its battery life. The battery life on the Beats Pill+ is 12 hours of playback. That's not bad, but it's not that great either compared to some of its competition.
So, it is great for a party or two, but not so much if you are looking at an overnight road trip on just a single charge.
Another Apple influence is on its charging jack. Instead of the usual USB-A or USB-C charging port, the Beats Pill+ uses a Lightning Cable to charge itself. It does come with a lightning to USB-A cable when purchased.
One cool feature of the Beats Pill+ is that it has a charge out port. It has a USB port that can charge other phones and smaller devices, technically doubling the speaker up as a battery pack when needed. Though obviously, this will drain the speaker's battery life quicker.
In the Pill+, all the audio controls are now controlled by the single "b" button. Not only does this accentuate the minimalist style, but it also gives ease of use. You can press the button multiple times depending on what you want to do. You can even use Siri using the "b" button.
Charging is relatively quick as well. It takes just about 3 hours to take the Pill+ from zero to full charge.
Pair and Play
Just like the previous Pill model, you can still pair up two of the speakers together. You can do this by using the appropriate app for Android or iOS. Not all Android devices are compatible with the app, however.
By pairing up two speakers, you can either use them in amplify mode or stereo mode. In amplify mode, two speakers would play the same music at the same time. This lets you set up multi-room audio or increase the volume even further. In stereo mode, you can convert the two speakers to left and right audio speakers, which gives a true stereo experience.
Sound Performance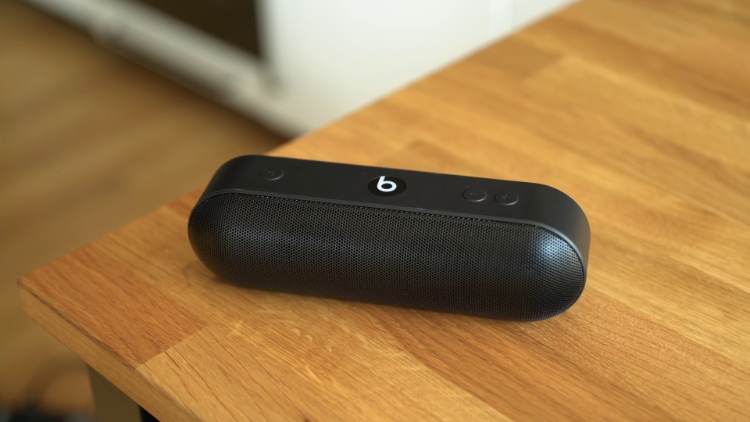 All the speaker features are great, but the sound quality is the greatest judge of the performance of a speaker. Thankfully, Apple has upgraded Beats sound quality in the Pill+. The speaker comes with two tweeters and two woofers for a more dynamic, fuller sound. There is a decent improvement in midrange sound as well.
Firstly, volume. The Pill+ has an impressive volume for its size. It can easily be loud enough at maximum volume to play over a small gathering. However, the sound starts to worsen at its max volume noticeably.
If you play it at the maximum volume possible before it starts to worsen in quality, then it's still enough to fill a large room. It probably would not be loud enough for a raucous party, though.
The Beats Pill+ shines at lower and middle volumes. The louder sounds start losing their clarity even with the digital signal processing trying to prevent poor sound at higher volumes.
At not-maximum volume, the Pill+ can deliver dynamic range and performance. Although, the sound can lose a bit of crispness depending on your relative position to the speaker itself. The reason for this is the tweeters are positioned off-angle to give a more dynamic sound.
There's the drawback of sound clarity if you aren't in line with the drivers after being more than 7 ft away.
Of course, the sound quality is rich, dynamic, and balanced. However, this only holds true when it is at reasonable volumes (which is fair for a portable speaker). The sound is good when you're close enough or within line of the tweeter drivers in the speaker as well.
Pros and Cons
Pros
Sleek and stylish design
Good sound quality
Speaker-pairing feature
Backup power bank
Cons
Sound suffers at max volume and distance
Relatively heavy
Final Verdict
The Beats Pill+ is a great stylish speaker with a host of cool features. It has impressive low and midrange performance and decent volume as well. The Beats Pill+ is also easy to carry. The best features about the speakers are their ability to work together and with other Apple products.
Even though there are other speakers with better sound performance, the Beats Pill+ is an impressive speaker altogether. The Beats Pill+ is a great choice for you if you love style and sound equally.