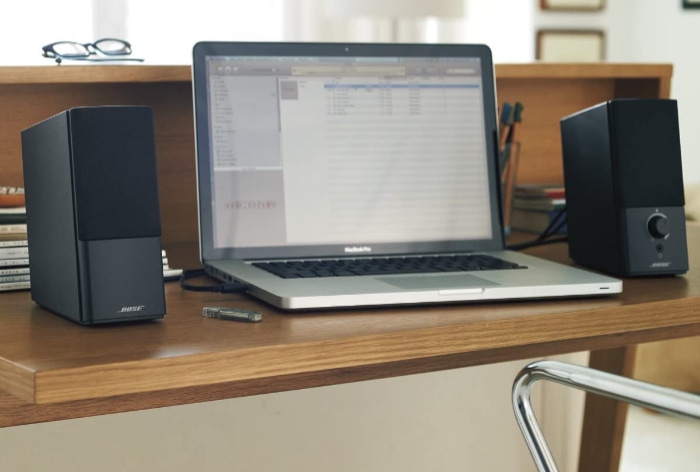 Speakers have undergone significant evolution in the last few years. Having a good quality sound system can elevate your audio experience in a grand manner. If you're planning to purchase a new sound system for your PC, chances are you're overwhelmed by the options available at your disposal.
One name that you would most likely have popped up while discussing speakers is Bose. It is one of the most popular brands for speakers. They offer a wide range of products catering to an array of needs.
The Bose Companion 2 Series III is an excellent choice for a speaker. It has various exciting features and comes at a great price.
Where to Buy?
About The Bose Companion 2 Series III
Computers do not come with a great sound quality built-in. However, that is understandable. It is not their area of specialization. As a consequence, the demand for PC speakers is on the rise.
The Bose Companion 2 Series III is a stellar sound system for personal computers. It promises a full and clear sound at any volume. It is the perfect solution for gaming, online classes, or video conferencing.
These speakers work fine with tablets and smartphones as well. They provide not just a good audio experience but also great value for money. It works well on Windows PCs as well as Apple Macbooks.
The Bose Companion 2 Series III offers high-quality audio performance. The sound seems to extend far beyond the speakers.
Within the box, you will find an accessory speaker, a powered speaker, an audio input cable with a speaker cable, a mini-plug, and an AC power pack. Oh, and of course, the manual for the product.
The product is straightforward to set up and can be put together in a matter of minutes. It comes with a two-year warranty.
Design And Features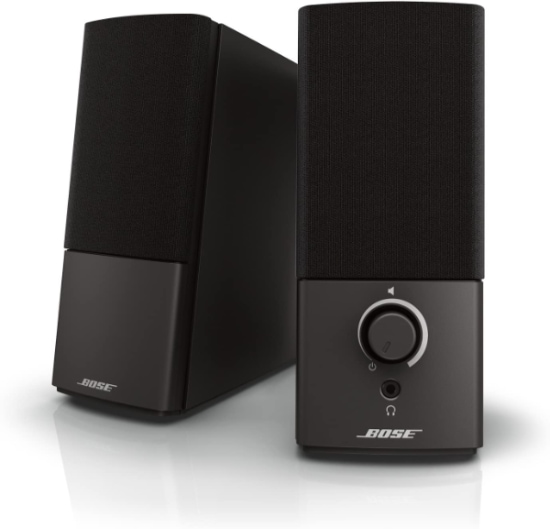 The Companion 2 Series III speakers are a set of two speaker devices. They are rectangular box-shaped speakers, and their dimensions are 7.5 by 3.2 by 5.8 inches. They are both lightweight, with a slight difference of only 0.5 pounds between them.
The design is sleek and fits in well with modern decor. The total weight of the product is 3.97 pounds.
Each speaker boasts of a 2.5-inch full-range driver and is covered with a non-removable mesh grill. On the right speaker, you will find the headphone jack, volume control, and RCA inputs. Of the two RCA inputs, one is designated for the computer, and the other is meant for aunty external media sources.
These speakers are only available in one color – black. They require 1 Lithium-ion battery to work. They do not have a memory card slot.
They do not come with a remote control or wireless connectivity options. These speakers only work when wired. This may lead to cluttering where you set them up. However, even though they are wired, they are effortless to set up.
There is a primary input for your computer and a second auxiliary input for other devices. It is especially advantageous if you plan on using it to play audio from your mobile phone, iPod, music player, or any other source.
These speakers have a ported enclosure that allows an extended bass response. The right speaker is the primary unit as it has the power port and the port for connection to the left speaker.
Performance
The sound quality is truly satisfying. It appears as if the sound is coming from a larger sound stage than the two speaker devices, thanks to the TrueSpace Stereo Signal Processing Circuitry. The sound is engaging and dynamic, making it perfect for all kinds of music.
For a speaker of its dimensions, the Bose Companion 2 Series III packs a pretty hard punch. The sound is powerful without distortion. Like most Bose speakers, these too can go very loud.
The product lacks an external subwoofer. The small speaker drivers have to handle low-frequency, mid-frequency, and high-frequency responses, which suffer distortion at higher volumes. This weakens the bass response to some extent. But it performs much better than most speakers of the same size and is undoubtedly an upgrade from the built-in speakers of the personal computer.
Overall, the sound is pretty pleasing and comfortable. For its price, this product is a very high-quality option.
Connectivity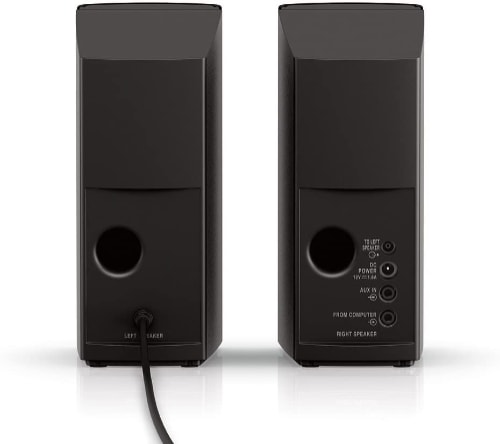 To power up and use the speakers, you will need to understand the connectivity system and wire them up. This will not take long but may clutter your desk a bit.
On the back of the right speaker, there are four different ports. The top-most port is the left speaker input port. It connects the two speakers together. The one below the left speaker input port is a DC power port.
Below that, there are two auxiliary input ports. The first one is the "auxiliary in" port, and the second one is the "from computer" port.
Setting Up
Setting up these speakers is not very complicated. Simply follow the given steps, and you will be all set in no time.
Take the audio cable and connect it to the right speaker and to the computer.
Connect the left speaker to the connector on the right speaker.
Attach your AC power adapter to the AC power supply.
Connect the AC power supply to an electrical outlet.
Turn your speakers on using the volume knob.
If you wish to listen to audio from a different audio device, plug the evicted into the "AUX IN" connector on the right speaker.
The speakers should only be cleaned with a soft and dry cloth. Spraying liquids will ruin the system.
Gaming Experience
Gaming requires a good quality sound system. Every gamer wants crystal clear sounds so that they can catch hold of their opposite players even by the slightest sound.
If you are planning to use these speakers for gaming, you are in for a treat. The stereo effect passes all expectations. The Bose Companion 2 Series III is a delight for single-player games.
Pros and Cons
Pros
Most affordable Bose speaker
Powerful sound
Lightweight and compact
Convenient headphone jack
Wide soundstage
Cons
Final Verdict
The Bose Companion 2 Series III comes with some cons, but its multiple benefits outweigh them. For a sound system of its size and price, the Bose Companion 2 Series III is too good to be true. Other products in this range do not match up to its level. The product is pretty simple to set up. The sound is crisp and clear. All in all, this product truly is a delight for the ears.