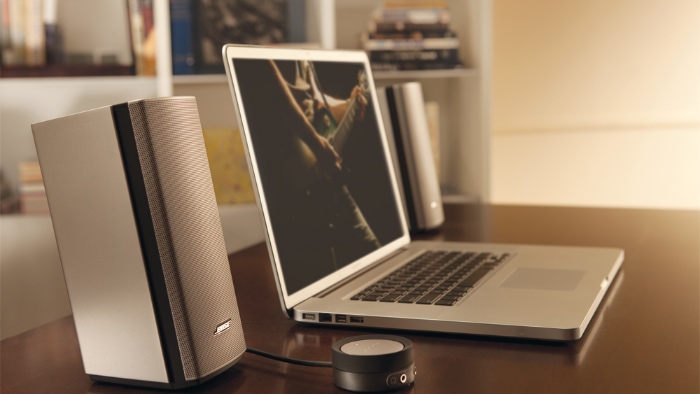 Your computer needs high-quality speakers to improve the sound quality of the system. And when it comes to speaker systems, Bose is the best brand you can find in the market.
With almost 60 years in the industry, the company has been making home audio systems, speakers, headphones, and automobile sound systems.
One of its superior quality speakers is the Bose Companion 20 Multimedia Speaker System. These bookshelf speakers are the perfect stereo set for your PC that works without any subwoofers. The Bose Companion 20 is easy to set up and comes with many extraordinary features.
Where to Buy?
What is Bose Companion 20 Multimedia Speaker System?
The Bose Companion 20 is a set of two bookshelf speakers designed especially for computers and laptops. This multimedia speaker system enhances the audio quality of your computer, offering the best listening experience every time you turn them on.
The set comes with a convenient control Pad that allows you to adjust its volume, add other devices, and connect your headphones. Its sleek and compact design saves enough space on your computer desk for you to keep other essentials as well.
These speakers eliminate the need for a bass module and let you enjoy the natural sound on your computer. Bose's TrueSpace technology is the reason behind these two speakers' wide and natural sound.
The active electronic equalization maintains the right balance between low, mid, and high-level frequencies to provide a clearer and natural tone. Also, the advanced port design and driver offer powerful performance with clear sound that fills the entire room.
With just two speakers, Bose Companion 20 provides better sound quality than many high-end music systems. Moreover, it creates a two-channel soundstage with its proprietary TrueSpace technology designed mainly for listening on PCs and laptops.
Design and Features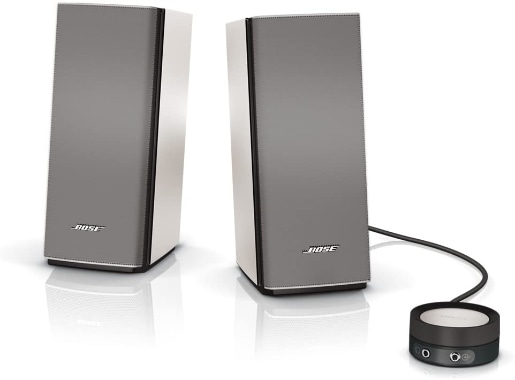 The Bose Companion 20 speakers are compact and can fit anywhere on your computer desk. With a sleek design and excellent sound quality, this pair has everything you need in bookshelf speakers.
The easy-to-use controls allow you to adjust the volume of these speakers as per your needs.
Design
As mentioned above, the Bose Companion 20 speakers are compact in size. The speakers only measure 219 mm x 119 mm x 89 mm and weigh about 1.13 kg each, allowing you to move them from one place to another easily.
There are no adjustment controls for bass or treble, which could be a disadvantage, but it makes other controls simpler. Moreover, the versatile control pad features a touch-sensitive mute button that turns down the volume to zero with a gentle push. It also has a headphone jack and an auxiliary input to connect an extra audio source.
Even though these speakers are small, they can fill an entire floor, let alone a room, even before it hits maximum volume. The companion 20 speakers look smart, functional and give your computer setup a stylish appearance.
Sound Quality
With the two speakers placed on either side of your PC, play your favorite songs and witness the smooth, natural sound produced by the system. Keep the control pad within reach to adjust the volume to an optimal level.
The speakers produce a powerful, precise sound, unlike other small-sized music systems. The Bose Companion 20 speaker system is powerful enough to fill the entire room – whether large or small – with its natural, smooth sound.
The authentic audio produced by these Bose speakers sounds better than pretty much every other system in this range. Moreover, these 2.1 computer speakers offer a better sound quality than some 5.1 speakers too.
Control Pad
The Bose Companion 20 Multimedia Speaker System comes with a control pad that enables you to adjust the volume of your system. This pad features an input port where you can plug in your headphones and listen to music privately without removing the speakers from the PC.
Moreover, the pad allows you to add another audio source to the speaker using the auxiliary input port on its side. If you use another source, the Bose Companion 20 Multimedia Speaker System is powerful enough to balance sound coming from the speaker and the external source.
You can use the mute button on the side to turn the volume down to zero with a single touch.
Performance
The Bose Companion 20 Multimedia Speaker System can fill up your room with its natural tone. Turn up the volume and listen to its dynamic, powerful sound as long as you want.
These speakers are heavy on bass that might damage the speakers over time and cause them to lose their sound quality.
The Companion 20 speakers produce a low-note performance because of the advanced port design that leads to a full, natural audio output.
Should You Buy Bose Companion 20?
The Bose Companion 20 speakers are an excellent audio system for your computer – whether you want to listen to music or watch a movie. These speakers will surely enhance your experience with their smooth audio output.
Usability
These speakers are compatible with almost every PC or laptop. To use the speakers, you have to plug them into your PC using a standard stereo mini-jack. The left speaker connects to the right one through a wire that carries power as well as the audio.
Moreover, there is another wire that connects one speaker to the desktop control puck. This puck also has stereo mini-jack ports for headphones and microphones. It could come in handy if you want to monitor your voice while speaking.
Aesthetics
New manufacturers try to make speakers of different and unique shapes that usually don't go well with your setup. However, Bose keeps it simple with the Companion 20 speakers. This pair has a sleek, compact design that can fit anywhere in your room and can be shifted anytime you want.
The speakers are gray in color with a metallic silver grill on the front and slightly lean backward. For a 2.1 speaker system, they are the perfect size speakers that do not require a subwoofer for the base. With a well-built structure, they give your set up a unique, attractive appearance.
Installation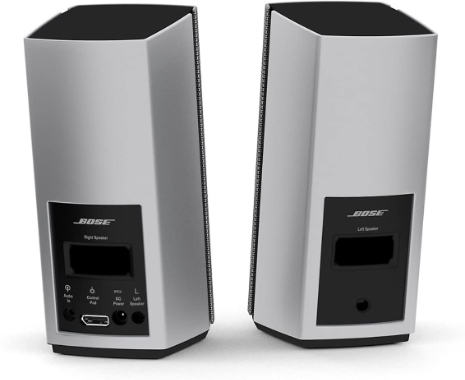 Like most Bose products, the Companion 20 bookshelf speaker system is easy to set up and install. You can install these speakers in a few minutes without even using the instruction manual.
The set comes with a cable that connects the two speakers and another cable that connects the right one with the stereo mini-jack port on your desktop.
Then, you have to connect the right speaker with the circular control pad using a USB cable. Once you have connected all the wires, just tell your PC to provide audio to its stereo mini-jack ports.
With no wireless connectivity or any hidden features, these speakers are easy to install on your laptop or PC within a matter of minutes.
Pros and Cons
Pros
It allows you to connect additional audio sources via the auxiliary input port
The easy-to-use, versatile control Pad helps to adjust the volume of the speakers.
It balances the sound produced from multiple audio sources and projects both of them simultaneously.
The speakers feature a single-touch mute button to mute the system with ease.
Its control Pad also has a headphone jack to listen to music privately.
These speakers are easy to install and use on any computer or laptop.
The company offers a two-year warranty on the Bose Companion 20 speakers.
Cons
The chord between the two speakers is short
It is more expensive than many high-end speakers
You cannot control the treble or the bass on this multimedia speaker system
Final Verdict
Bose keeps surpassing its customers' expectations with new and innovative products, and the Companion 20 speakers are the best example to prove it. These speakers are an excellent option for your desktop as they produce high-quality sound no matter what type of music you listen to.
The best thing about this multimedia speaker system is that it does not need a subwoofer for the bass. The speakers are enough to produce the required bass that fills an entire room. They won't even take much of your desk space, leaving enough room for other essentials.
So, if you want to buy a 2.0 computer speaker system, the Bose Companion 20 speakers are the ideal choice.