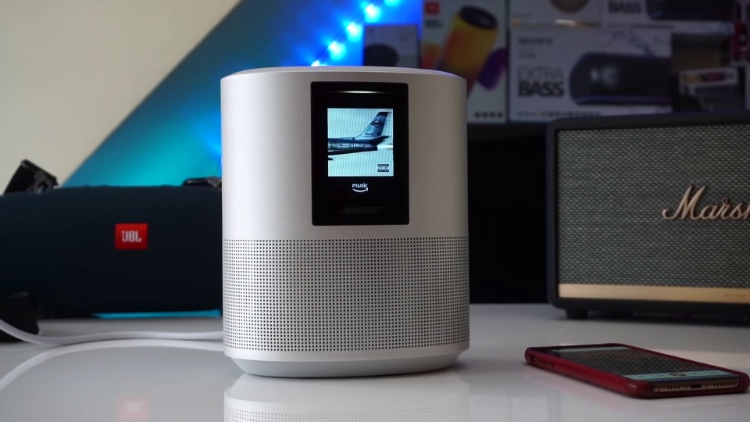 We want the best of everything – the best of applications, the best of video quality, and the best audio quality.
When it comes to audio quality, an increasing number of people want the best speakers right in their homes.
The new age smart speakers are the way to go, which have artificial intelligence and amazing quality speakers built into one device. They make tasks much easier than things used to be earlier.
Where to Buy?
What Is A Home Speaker?
To have a multimedia speaker system in your own home means that you can enjoy a luxury system at home. It will enhance the whole experience of you watching a movie at home. Not just a movie, but it will also enhance just listening to some good music.
People often choose different kinds of home speakers.
There are mainly 4 kinds of speakers that people install at home. These include the traditional loudspeakers, ceiling or in-wall speakers, subwoofers, as well as soundbars.
If you are new to a home audio system, these words might seem alien to you, but once you start investing in one piece of equipment, you will begin enjoying the quality of sound you hear.
What Is A Smart Speaker?
In olden times, having a regular speaker was a big deal. However, with the advancement of technology, things are changing.
A smart speaker is a kind of speaker that also alternates as a voice command device. It contains a virtual assistant that can offer you interactive actions and hands-free activation using specific words.
A few of the smart speakers also double up as a smart device. It uses Wi-fi, the Bluetooth feature, and many other protocol standards for extending usage more than just audio playback.
It can also be used for controlling automation devices at your home. This includes being compatible across many services and platforms, using mesh networking for peer-to-peer connections, virtual assistants, and so many others.
They can be controlled with the help of home automation software or applications. Each of them may have a different interface as well as features.
If your smart speaker features a touch screen, it is called a smart display.
Overview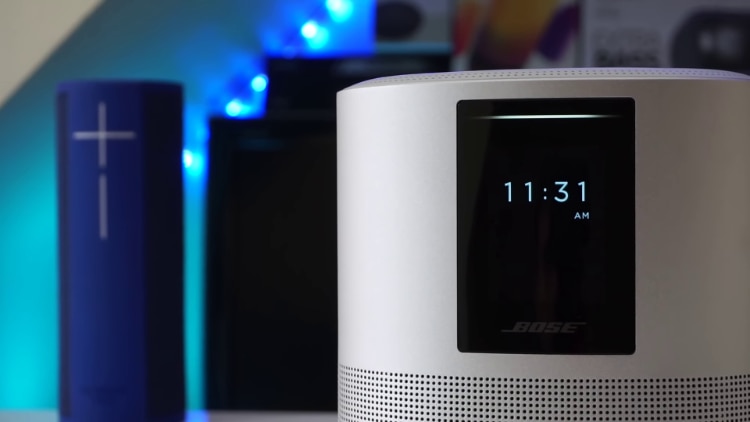 The Bose Home Speaker 500 can fill any room with great sound quality. Within the speaker, there are a total of 2 custom drivers that face opposite directions. This is useful in bouncing sound from the walls.
It helps create a soundstage that is very wide, much more than other smart speakers.
There are voice assistants that are built-in such as Alexa as well as Google Assistant. You can enjoy many songs of various genres and types with their help. You can listen to various radio stations on the internet, many playlists, and so much more, hands-free.
All you need to do is utter the words out loud, and your wishes will be listened to. Even if a musician is strumming their guitar loudly, you will be heard by your Bose speaker 500. There is a designed array with 8 microphones for a superior quality voice pickup just below the top.
However, your voice is not the only way to control it. You also get to start or stop your favorite songs with the help of the top controls. You also have another option to install the Bose application for music and control it from there using your mobile device.
You can choose anything you want to listen to. The options are endless. You can play your favorite music from any music service such as Spotify or Apple music. If your device is compatible with Bluetooth, Wi-Fi, and Apple AirPlay 2, you can play anything using your tablet or phone.
You can set many presets for internet radio stations, playlists, and so much more. There is also a color LCD screen that will display to you the song that is playing.
Product Information
This speaker from Bose has plenty of features to help you listen to world-class music from the comfort of your home.
The weight of the product is 4.65 pounds. The battery that this product will require is 1 Lithium-based ion battery only. The power output is 50 watts. It has an integrated kind of power supply.
This speaker looks very dashing in a jet-black color. The speaker is built-in.
The kind of sound performance you get from this home speaker is amazing. You will get the wildest kind of stereo sound.
This product's dimensions are a height of 8 inches, a width of 6.7 inches, and a depth of 4.3 inches.
Pros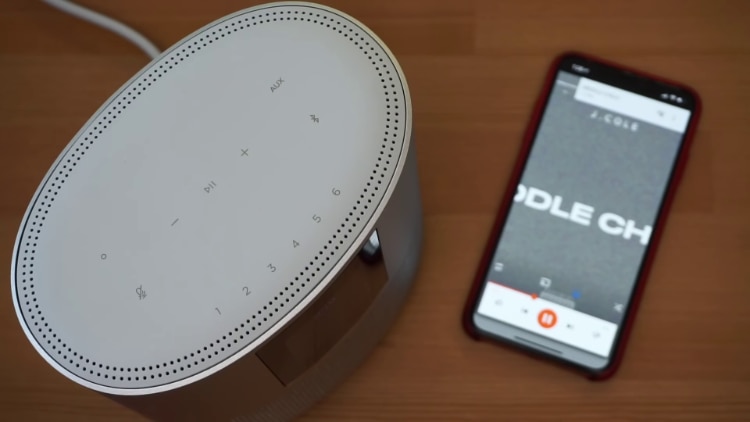 You can control the music that plays on your Bose Home speaker 500 in many ways.
You can start and stop and control the music using your voice or the buttons present on your Bose speaker.
You can also utilize the Bose music application, Spotify connects through the Spotify application, or Airplay 2 using an Apple device.
The Bose Home speaker 500 can be used for taking and making calls.
Using Alexa, you can call or receive calls to Bose smart products, Amazon Echo products, as well as anyone who is on your contact list. If you want to call products, both the parties need to be using Wi-fi, and this particular feature should be set up on their devices.
Cons
The Bose Home Speaker 500 is not compatible with all kinds of speakers and devices.
For Multi-room listening, the Bose Home speaker 500 is only compatible with speakers of the Bose family. If you are interested in synchronized music playback, you can utilize Bose simple sync technology. You can pair it to a Bose sound link speaker and enjoy the sync.
What are the benefits of smart speakers for my business?
Smart speakers have converted from a tool to just listen to music to your very own personal assistant. There are many benefits of having a smart speaker at home.
Start your new day smoothly and save time.
Many people multitask regularly and can take help from a smart speaker and use it as a personal assistant. You can easily read emails drinking your morning tea or coffee. You could even check the prices of shares getting dressed up. A smart speaker is similar to having extra hands.
Manage your meetings
You can easily manage your daily meetings with voice commands without having to scroll through your laptop manually.
Plan your projects easily
Since most projects require collaboration with many people, it requires many tools to arrange for a meeting and explain things over it. Smart speakers can be used in meeting rooms for connecting with the existing technology once can use in conferences. You can also book meeting rooms or use it to extend meeting timings with just voice commands.
Travel
You can simply ask your smart speaker for the latest train timings and get it booked also! This is the quickest way to book your travel without having to do it manually.
Less stress
Smart speakers can help you meditate through applications that are made for stress release. Since people nowadays don many hats, stress is something that is on the rise. A smart speaker can help you maintain structured rest periods throughout your day.
There are many more ways smart speakers help us and help make our lives easier. Technology can be used to create stress or even reduce it!
Frequently Asked Questions
When you are purchasing a new item for your home, it is natural to have many kinds of questions on your mind. Here is a list of some frequently asked questions and their respective answers to make things easier for you.
What kind of sources am I allowed to play my songs from?
You can utilize either the Bose music application or Alexa to play your favorite songs directly using music services. You can use Bluetooth, Wi-Fi, or the aux jack of 3.5 mm. You can also choose to stream using Spotify connect or Airplay 2 using an Apple device.
Can I be controlling the Spotify App through just voice?
Yes, you can!
If you are someone who has a Spotify premium account, you can control as well as play Spotify through Alexa using commands such as "Alexa, play Avril Lavigne on Spotify," Alexa, next track," Alexa, play Today's Top Hits on Spotify."
Final Verdict
Smart speakers have pros and cons just like any other product you would buy from the market.
If smart speakers are configured without authentication, a smart speaker can be used by people other than the owner. This can be a concern for security and privacy.
However, a lot many people use the smart speaker and are very happy with them. The fact that it is voice-controlled makes it very convenient for people who use it. Artificial intelligence is growing rapidly and we might witness many more aspects added to smart speakers in the future.
People always want maximum work to be done with minimum effort and smart speakers do just that. However, many companies offer smart speakers and you need to choose the best one for good sound and music quality.