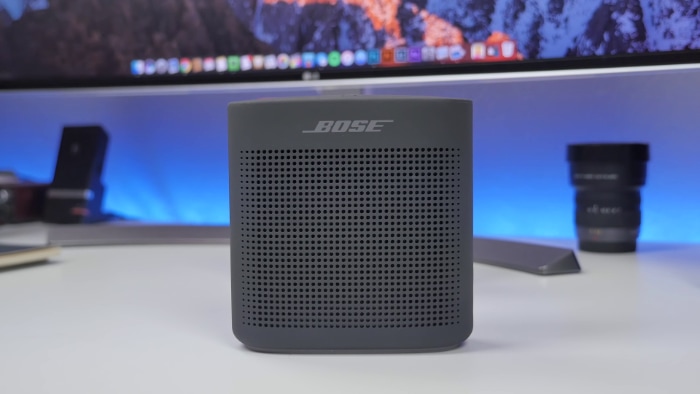 Bose, the company famous for its fantastic noise-canceling headphones, offers yet another affordable sound device. It is the Bose SoundLink Color II.
Bose SoundLink Color II is a portable Bluetooth with excellent sound quality. This square-shaped speaker can produce lead instruments and vocals amazingly.
These speakers are excellently crafted outdoor speaker that is waterproof with reliable battery life. However, there are several limitations when it comes to performance. Nonetheless, it can be the perfect choice for you if you need an outdoor speaker.
So, is Bose SoundLink Color II actually good? Can I really use it on a hike or at the beach?
Where to Buy?
Overview
Bose SoundLink Color II is a water-resistant, compact speaker. It is designed especially for outdoor and on-the-go usage. It has a built-in mic for speakerphone to take calls.
This speaker is popular for its rugged and sturdy construction. It supports wireless Bluetooth paring to help you use it in your house, backyard, beach, and anywhere.
Moreover, the pricing of Bose SoundLink Color II falls under the affordable range. Designing a speaker for the outdoors requires the designers to balance various factors. It includes battery life, size, and weatherproofing.
Furthermore, Bose has made this affordable as well. However, Bose has pulled off the balance and manufactured these high-rated outdoor speakers.
Bose SoundLink Color II also has an impressive design. However, it looks very similar to the SoundLink Color speaker but has several upgrades. Also, this portable speaker is available in various cool colors.
These speakers stand out with their numerous innovative features. It includes several modes you can use it in. The modes are party mode or stereo mode.
Design, Features, and Build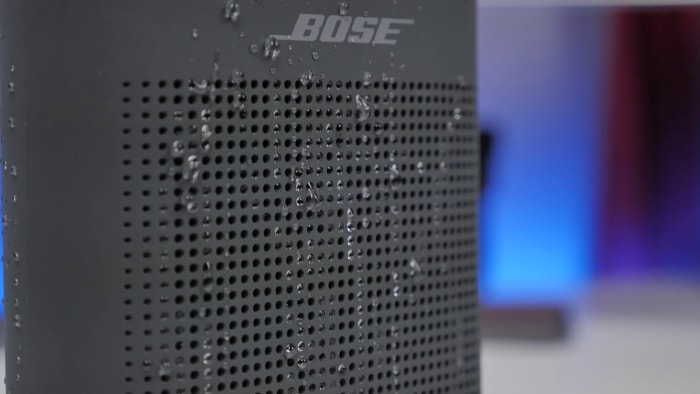 Design
The Bose SoundLink Color II has various improvements to the original Bose SoundLink Color. One of the important updates is these speakers are IPX4 rated. This rating means the electronic device is resistant to water splashing from all directions.
Therefore, it is a waterproof and weatherproof design that makes it perfect for use outdoors. However, the IPX4 rating only means the design is safe for splashing water and dunking it in water. Therefore, you must be careful not to put it into a pool or other water source.
These speakers also look much similar to the original design. However, it is a soft touch fiber that replaces the old hard plastic. This feature makes it more comfortable to hold it in hands.
Controls
All of the speaker buttons are on the top of the box speaker. It includes the power button, volume increase, and volume decrease button. Also, it includes buttons for aux-in and Bluetooth pairing.
Moreover, it has a headphone jack of 3.5 mm present next to the micro-USB charging port. It also has buttons to control the microphone. It will allow you to use voice assistants and make calls.
All you have to do to activate the microphone is to press and hold the multifunction button at the top. It will activate your microphone. You can use your Google Assistant or Siri to make calls or look up things.
These speakers also have built-in NFC for easy and quick flawless pairing. It also pairs at once with multiple devices. Hence you do not have to switch between your devices.
Style
The design is extremely chic and cute, which resembles a small teapot. The product takes up lesser space; hence you can keep it anywhere. It has a silicone pairing, so the speaker is soft on your hands.
It is available in five different colors. The colors are Soft black, polar white, coral red, citron, and aqua blue. You can pick whichever color suits your style.
All the colors are bright, interesting, and beautiful. Soft black, citron, and aqua blue are the best sellers among the colors.
The simple design, weightlessness, and waterproof features make it easier to carry around. The chic shape and the bright colors can add to your outfit when you go to the beach or a pool party.
Connectivity
These wireless speakers offer excellent connectivity. The speaker will stay connected to your devices such as smartphones or tablets for as long as you want. It offers Bluetooth pairing and a 3.5 mm headphone jack at the bottom of the build.
The connectivity range is also great since it will stay connected to your device for about 9 meters. Therefore, it can be a perfect Bluetooth speaker for outdoor activities.
Moreover, it can support multipoint connectivity. It means you pair with more than two devices at once if needed. It makes it easy to multitask, like answering calls while listening to music.
Audio Quality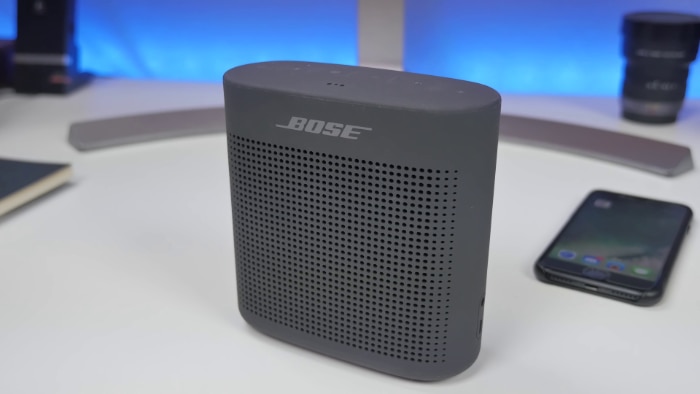 Sound Profile
The sound profile of most of Bose's wireless speakers is excellent. The case is the same when it comes to Bose SoundLink Color II. It offers a unique dynamic for a speaker so small.
The impact of the sound is also great. It is outstanding in amplifying the mid. Also, the highs are lush even though, at times, it seems to be rolled off. It can be to prevent the speakers from preventing from being fatigued.
The sound profile quality of these speakers dominates many speakers of similar price ranges. However, Bose SoundLink Color II is larger than speakers of a similar price range.
Bass Accuracy
Although high notes and mid notes are excellently highlighted, the bass accuracy could have been better. These speakers do not reproduce the bass of numerous songs as they should. It offers a sub-base with amplified mid notes, which is quite disappointing for an outdoor speaker.
However, the midrange notes do not affect the bass, even though the bass is quite inaccurate. It offers a subtle change when the notes go from high to low or mid to low. The subtle change offers quite an improvement in bass accuracy.
Should You Buy the Bose SoundLink Color II?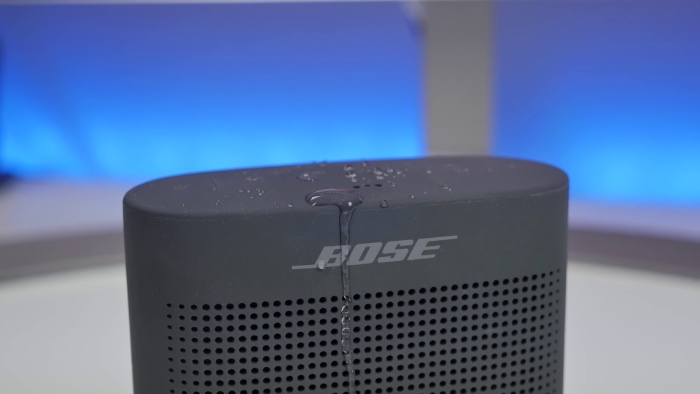 Bose SoundLink Color II is a great choice if you are already part of the Base ecosystem. It offers an excellent feature where it can sync up with two speakers.
This feature makes it a perfect speaker for small to medium-sized gatherings or parties. Also, this feature will provide you with the flexibility to place the sound source at different points.
Moreover, it is quite affordable, which makes it easier to buy two speakers as well. The speakers offer numerous features found inexpensive speakers. It also offers free app and firmware update via an app.
So, in short, yes, you can buy the Bose SoundLink Color II if you are looking for a chic and affordable outdoor speaker.
Pros and Cons
Pros
Excellent sound quality
Good battery life
Multipoint Bluetooth
Works with Google Assistant, Siri, and other voice assistants
Splash-proof with IPX4 certification
Standard USB-C Charging case
Cons
Bass accuracy is not decent
Final Verdict
Bose SoundLink Color II offers various impressive features packed into a small and bright box. It may not give the best bass that people prefer; still, the sound quality is excellent.
Also, you can customize various things that meet your requirements. Moreover, the price is also quite affordable.
Hence, these speakers can be the perfect outdoor speakers for you at the price range. Besides, you can update the firmware every time with the app. It should resolve any issues that you may face when using the speakers.