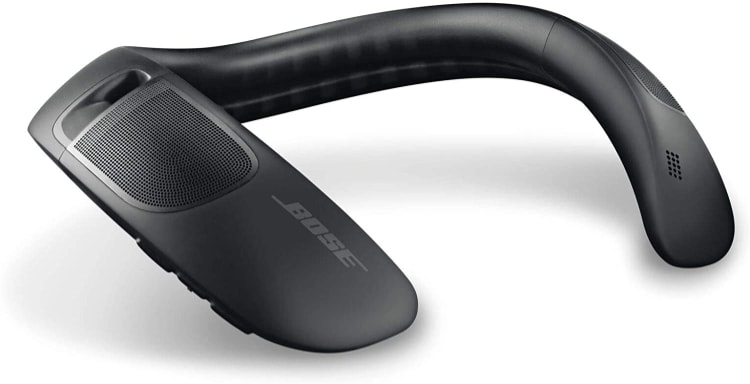 What is the perfect moment to wear a neck speaker? What is the use of this speaker, which comes in the shape of a horseshoe? This gadget is definitely a great companion. You will have fun using this speaker. Also, it can have a great impact on your lives.
Obviously, you can't wear this speaker in your office. But in some contexts, it can provide much entertainment and recreation. Maybe you have a walk-in in some quiet place. This speaker can serve as a good companion.
Where to Buy?
What is Bose SoundWear Companion?
This gadget is basically a warbled speaker. You can put this around your neck. You can consider this speaker as a category between headphones and traditional Bluetooth speakers.
The SoundWear Companion comes with two speakers. You can use it to listen to audio and music. Sometimes, the speaker also serves as a speakerphone. The speaker offers a long battery life, that is, approximately 12 hours. The gadget is priced at about $300 and is easily available online.
Designs and Features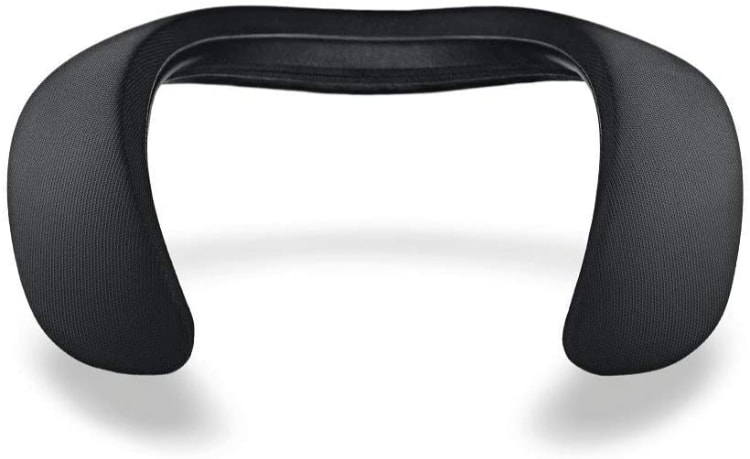 Look and Style
The Bose SoundWear Companion Neck Speaker comes in a shape of a horseshoe. It is actually of the shape of the neck pillows you find people using, especially during journeys.
The body is made of silicone. There is wire made of steel inside. This wire allows it to be flexible.
The device can be twisted without many difficulties. The steel wire makes sure that the device gets back to its shape.
The gadget measures 7.5 by 7 by 1.8 inches. The color available is black. Bose also offers some amazing covers for the device, which makes it more attractive. These covers are sold separately. It usually comes in a blue or grey cover.
The covers are designed in such a way that it improves grip. A black cover comes with the device. If you want, you can spend a few bucks to get a cover of any other color.
Don't stress too much about removing the cover. It is very simple and easy. There is also an instruction booklet which will help you out.
Resistance
The plus point is that The Bose SoundWear Companion Neck Speaker is completely water-resistance. It is resistant to sweat. Do not worry; splashes of water will not damage your speaker. Even heavy rain is okay for the gadget for a short amount of time.
Comfortable
As per the reviews of the customers, this neck speaker will not make you feel uncomfortable. It is not heavy, which makes it easy to put over your neck. You will obviously be aware of something around your neck, but it will not make your feel uneasy.
There always remains enough space between the endpoints of the speaker and the clavicles. This feature will ensure that you don't feel suffocated.
Also, the speaker being flexible makes these things easy. It will adjust itself with your neck and will never make you feel uncomfortable or uneasy.
However, you can find it difficult to wear this speaker while doing exercise. It can fall easily if you lean. Walking or running with this device is fine.
Buttons
Buttons are placed on both sides of the neck speaker. The buttons are physical, which makes using them easier. The power button is on the left side. The Bluetooth pairing button is also on the left side.
The right side has the volume buttons. It also has a multi-function button by which you can connect with the Google Assistant on your phone.
It also comes with LEDs which indicates the battery life.
Battery life
Bose SoundWear Companion Speaker is claimed to come with long-lasting battery life. The battery has a life-span of almost 12 hours.
However, the battery life may sometimes depend upon your volume levels. As you zip-off the cover, you will find a USB port. A USB charging cable is included for the charging.
If you want to use the speaker without a cover, you can do so. You can use it with its natural color. There are also markings to tell you about the functions of the buttons.
Mic
The mic of the Bose SoundWear Companion is of top-quality. You can use it to do recordings in a very much perfect manner. The mic is actually intelligent. It will record all the words correctly. All the recordings are crisp.
The Bose Connect App
It is not always necessary to use the Bose Connect App to control the neck speaker's functions. But this application surely comes with some extra useful features. It can allow you to regulate the bass levels. This app also lets you have access to the manual.
It keeps you connected with the surroundings
One of the advantages of using the Bose SoundWear Companion speaker is it helps you to stay connected. You can enjoy the music and also say aware of your surroundings.
The speaker enables you to listen to the doorbell while enjoying music. This feature actually helps you enjoy music without worrying too much about missing important sounds like a doorbell or a ringing telephone.
It is also useful when you have a walk on the streets. You will be able to hear the sound of vehicles. You can hear important signals or sounds. This feature allows users to have peace of mind while enjoying music.
Performance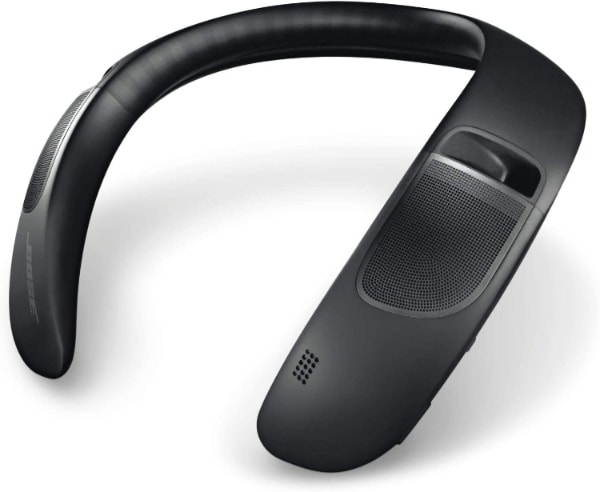 The Bose SoundWear Companion Neck Speaker will offer a completely new experience to you. The experience is way different than something you experience with headphones or traditional speakers.
Sound
When you use this speaker, the sound will keep you enclosed. There are two waveguides present inside the device. Each waveguide is of 28 cm. It is these guides that work on channeling the sound received from each speaker. This enables widening the sound stage.
The soundstage of this speaker is always wide and open. This, in turn, increases the bass response.
When using this speaker, you will feel the vibrations around your neck. Many enjoy this experience. At the same time, some find this feeling a bit irritating.
The tracks' bass may not feel like coming from a subwoofer, but the sound is not too thin. The speaker works best when producing low to mid frequencies.
The track with less deep bass will let you get the proper idea of the sound of Bose SoundWare. Whereas on regular headphones, the sound of headphones can sound too thin. However, on SoundWare Companion, drums' sound is more proper, but it does not offer anything powerful.
On some tracks, the vocals are vibrant. It receives much crisp high-mid heft and presence. This keeps all the other things properly maintained. The guitar tracks also receive benefits from this feature. There remains a proper balance. It consists of low, which sounds rich, and highs sound brighter.
Usually, the bass remains under control. This makes the sound crisper. The highs are always very clear. Also, when using this speaker, the mids are always the best.
However, you need to keep in mind that you can't use the Bose SoundWare companion to play any wireless audio with codecs like LDAC or aptX. The high-resolution codecs improve the quality.
There are often found issue while playing, even when the source device is placed within the required range. This thing irritates the users and often spoils the mood. This drawback can ruin the pleasant atmosphere.
The Bose SoundWare Companion comes with microphones on both sides. This is done to enable clarity over calls. Sometimes, connectivity becomes an issue in calls as well. However, steps were taken to improve this, but it was not solved entirely. Similar issues still appear now.
Battery
The Bose SoundWare Companion comes with many innovative features. As soon as you turn on the device, you will find a voice of a robotic female. Her job is to inform you about the percentage of battery life left.
The battery of the speaker performs well, but it is nothing extraordinary. Bose offered a battery life of 12 hours. However, it can function up to 11 hours with a one-time charge if the volume is set at 80.
The device takes two hours to be fully charged. If you are in a hurry, you can quickly charge it for only 15 minutes. In such cases, the speaker can perform well up to about 2 hours.
Pros and Cons
Pros
Rich bass and bright highs
You can use it as a speakerphone
Bass levels can be easily adjusted
The device is water-resistant
Offers a wide and open soundstage
Cons
You can't use it while doing exercises
Final Verdict
The Bose SoundWare Companion Speaker is indeed an expensive device. So, it is available only to a certain group of audiences. It is uniquely designed to have a wide and open soundstage. This feature enables the production of clear and crisp sound.
However, not everyone can afford the Bose SoundWare speaker. Also, it can be used in minimal scenarios. Also, the device has some issues with connectivity. It is not an option to play high-resolution audio with codec support. These are some drawbacks that push away many people.
If you are someone who always remains excited about trying new technology and devices, you can go for the Bose SoundWare Companion Neck speaker. Also, if you need a wearable speaker, this one can be a good option.