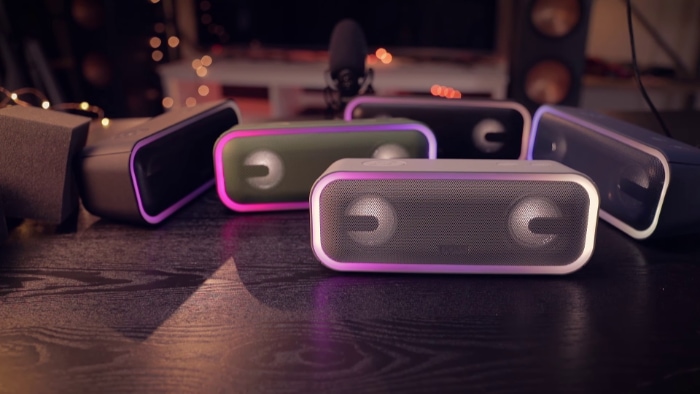 With so many options in the market, it becomes challenging to choose a single speaker.
In fact, just the SoundBox thread of DOSS is enough to confuse you. With multiple options and updates, all the models seem worth it.
Beginning with the SoundBox, DOSS has introduced several other models today, like SoundBox Plus, SoundBox Pro, and Soundbox Pro+. In addition to being budget-friendly, they all provide a good audio experience.
SoundBox Pro+ has the edge over other products due to its extra features. Overall, it is quite similar to its predecessor, SoundBox Pro. Although it does have some considerable drawbacks, its market size is enough to prove that it fulfills its worth.
Where to Buy?
Specifications
| | |
| --- | --- |
| Size | 8.9 X 3.3 X 3.5 |
| Weight | 1.8 lbs |
| Driver | 2 X 12W drivers |
| Bluetooth Version | V4.2 + EDR |
| Waterproof | IPX5 |
| Extra Bass | Yes |
| LED Lights | Multi-colored |
| Play Hours | 15 hours |
Design, Features, and Build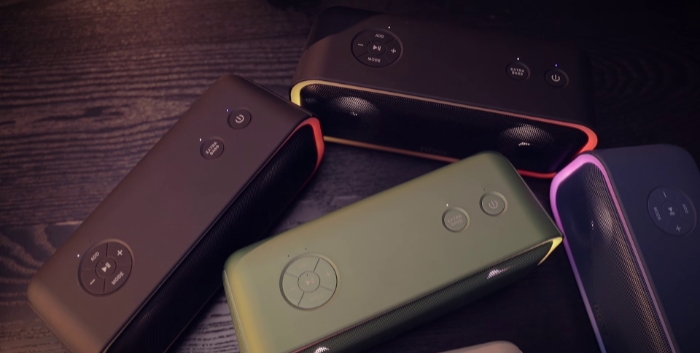 The DOSS SoundBox Pro+ is bigger in size than its original Soundbox Pro version. It measures 8.9 X 3.5 X 3.3 inches and weighs 1.5 lbs. So, you can carry this compact speaker around easily using one hand.
The Soundbox Pro+ features a matte plastic finish on the top and back with a wide shape. It will make your shelf cooler.
While the sides have a textured finish with ridges and lumps as leather offers. Although the upper surface is soft, it can get stains and fingerprints.
Then the outer covering is made from ABS plastic and has internal aluminum support. Additionally, an aluminum grill is present on the front side, which offers protection against any serious damage.
Finally, the buttons are present on the top side of the Soundbox.
This amazing set of features packed in DOSS Soundbox Pro+ are available in four colors, including black, green, gray, and blue.
Connectivity
There are three different connectivity options available in the Soundbox.
Firstly, you can connect your smartphone using Bluetooth. The product uses Bluetooth v4.2 and has a range of 66 feet. As a result, you can move around without facing any disconnectivity problems.
Additionally, you can use it while on a phone call too. The speakerphone of the Soundbox Pro+ works great in a range of 2 to 3 feet. However, as you beyond this range, the sound may start echoing and breaking.
Secondly, you can connect with the use of an auxiliary cable. The speaker has the facility to connect using a 3.5 mm AUX cable. Due to this, you can connect to old devices which don't support Bluetooth connectivity.
Lastly, you will find a Micro SD card slot behind a rubber cover. Through it, you can listen to your offline, saved music files.
Moreover, another feature worth mentioning is that you can pair two Soundbox Pro+ units together. It will allow you to control both devices together. So, it means double sound and double enjoyment.
Battery
SoundBox Pro+ incorporates a 2600 mAh battery. It can work up to 15 hours provided that the volume is around 50% and the lights are off. Besides, the bass boost also drains the speaker's battery.
The speakers can function up to five hours on full volume with lights and bass boost on.
Then the battery takes around an hour to get fully charged again. So, if your speaker's battery is low, wait for only an hour to use it again. Though, the speakers charge only through wall power and not via USB.
Design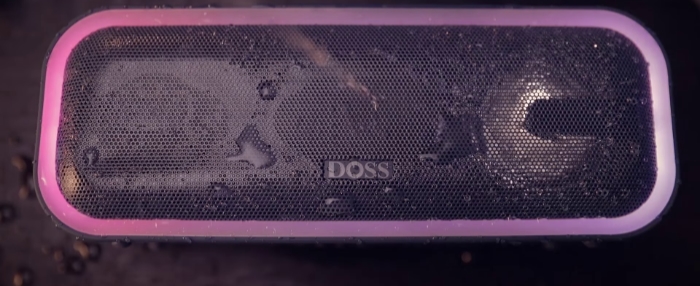 The speakers are above average when it comes to their design.
The main reason why SoundBox Pro+ looks cool while playing music is because of the LEDs lights. You can turn on the lights when the speaker turns on. Although it is not a new design, it appeals a lot when you are hosting a party.
Then the lights change color and intensity with the music beats making it more interesting.
The LED lights are available in three modes. These are normal monochrome, two-color lighter shades color change, and intense shades color change.
Another striking feature of the speaker is its IPX5 rating. It means that the speakers are water-resistant. However, that doesn't mean you throw your speakers in water as they are not water immune.
Voice assistant
A good voice assistant with the speaker eases your daily tasks. You don't have to worry about using your smartphone to listen to the news or change your music playlist. SoundBox Pro+ also has a voice assistant facility.
The speakers get connected to Siri or Google Assistant, both, easily via your smartphone. You can also connect to Alexa via the Amazon Echo Dot speaker, but this requires an additional purchase. Independently, SoundBox Pro+ does not have Alexa compatibility.
Although, the speakers don't do well with a voice assistant in a noisy environment.
Further, voice activation is not available. This feature allows you to give the command to your smartphone without actually touching the voice assistant button.
Furthermore, there is no option available to mute the microphone.
Audio Quality
To begin with, SoundBox Pro+ has two 12-watt sound drives. They are powerful enough to give you a booming start here and also when you play any song on it. Additionally, they are full-range speakers, so imagine the audio experience this small speaker would provide.
Then it has passive radiators in between the two full-spectrum drivers. These further amplify the sound and push it in all directions. As a result, this makes the speaker well equipped to fill a standard-sized room with sound.
Also, a very clear and sharp sound can be heard. Even at a high volume, it doesn't break, and you can feel the beats very well.
The one drawback you'll find here is the lack of a subwoofer. Yet, there is an extra bass feature available in the speaker. Generally, this feature without a subwoofer doesn't work well, but with SoundBox Pro+, you'll definitely feel the difference.
Still being of the SoundBox series, Pro+ has its drivers positioned upwards. So, it pushes and amplifies the sound in an upward direction, similar to the previous model of the series.
Selling Points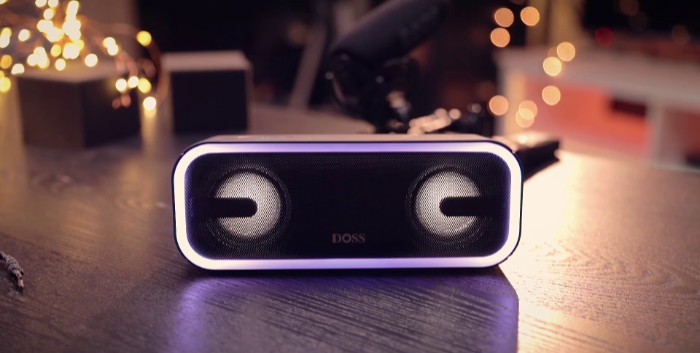 1. DJ In A Box
With superb audio quality, SoundBox Pro+ is no less than a DJ due to its powerful drivers. It is a mini-DJ, enough to thrill up your room. Although subwoofers would have made it much better, it is no less with the extra bass feature.
Then, turn on the LED Lights, and voila, there you have the club experience. It has colorful LED Lights, which themselves groove on the beats. So, they'll force you to jump on the floor.
Also, it has a long Bluetooth range of almost 66 ft. it enables you to play the music from the other end of the room without disturbing the mood.
2. Easy To Operate
All the models in the SoundBox series are straightforward to operate. So, SoundBox Pro+ also turns out to be quite handy, even with the good audio.
It has some standard control buttons which you'll recognize even from your TV remote. Then there is no separate remote control, so you don't have to worry about losing it.
As it is quite small and light, you can carry it anywhere. It will fit right into your backpack, and you have your moving DJ.
Pros and Cons
Pros
IPX5 rating: This ensures protection against low-pressure water damage.
Audio quality: Stereo sound quality available with enhanced bass boost.
Bluetooth: Wireless connection range is available up to 66 feet.
LED Lights: The LED light offers a mix of six colors and three illuminations.
Cons
No equalizer: At high volume with bass boost, the sound may distort.
No subwoofer: There is no additional subwoofer to give the bass boost.
Final Verdict
We have established why SoundBox Pro+ is the fanciest in all of the SoundBox series through this discussion. The LED lights add an aesthetic charm to the speakers making it an exceptional product to use while partying.
Further, it stands equal with its competitors when it comes to audio quality. These are one of the best speakers available at a reasonable price with a great design and quality.
If you plan to listen to audio on average volume, this product is highly recommendable. With a tough outer cover and splash-resistant quality, it becomes even more attractive.