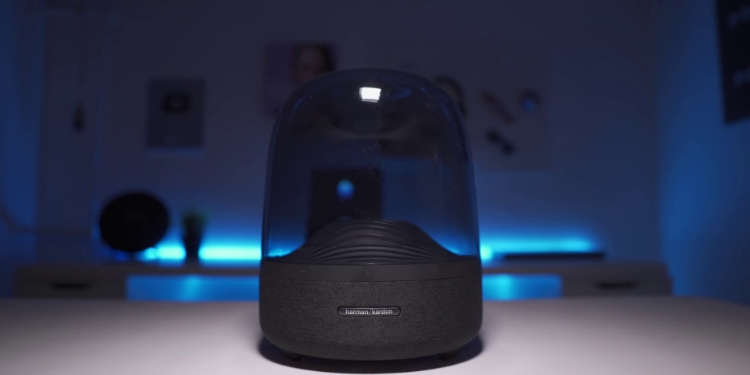 Having a good quality speaker in your house makes a lot of difference in a lifestyle upgrade. If you're a fan of good audio equipment, you will appreciate a good speaker with the ability to lighten up the mood in your house.
There is a large variety of speakers in the market you can choose from. Many companies such as Bose, Sony, Sennheiser, and Harman provide top-quality products for your everyday use. However, if you're looking for a mid-range, well-engineered speaker, you will appreciate the Harman Kardon Aura Studio 3 speaker.
Packed with supreme sound quality, modern design, and engaging audio, the Harman Kardon Aura Studio 3 speaker, is a wonderful buy.
Where to Buy?
What is Harman Kardon Aura Studio 3?
The Harman Kardon Aura Studio 3 is the company's latest addition to its mid-range line of speakers. It is a 360-degree Bluetooth speaker that is completely wireless. With a total of six mid-treble drivers, the speaker has good widespread audio. That is especially so because the drivers are spread around the speaker's perimeter.
The Harman Kardon Aura Studio 3 speaker also has a 130mm woofer drive. This woofer drive can take audio inputs up to 100W of power, allowing the speaker to handle supreme bass even without extra bass ports.
This speaker is an effective cabinet sound system paired with beautiful ambient lights. The speaker's overall design and build make it stand out among its competitors as a well-rounded speaker system.
Design and Construction
One of the Harman Kardon Aura Studio 3 speakers' unique things is its unique design and construction. It has an unusual and modern design allowing it to stand out from its competition.
Most traditional speaker designs include a faceplate featuring grills to filter the sound made through the drivers. Even if you look at 360-degree speakers, they are generally shaped like soft drink cans. However, the Harman Kardon Aura Studio 3 looks more like a humidifier or an octopus' head than a speaker.
The speaker is huge and has the capability to disrupt a minimalist lifestyle look in the room. However, the modernist design also makes it an interesting addition to a living space, especially if it is dim-lit.
Basic Design
The bottom quarter of the Harman Kardon Aura Studio 3 speaker looks like any other product in the market with a faceplate and speaker grills on the top. The front almost looks like an Alexa speaker.
The front bottom features the power button along with volume control buttons. The backside features the Bluetooth pairing button. You will also find a rubber-covered USB port at the back of the speaker. The 2-prong AC power port, along with a 3.5mm aux jack, is also present here.
The best thing about these controls and ports is that they do not interfere with the overall speaker aesthetics. They work the way they need to without making a statement of their own. However, they are placed ergonomically, allowing them to be in quick access positions.
Dimensions
The Harman Kardon Aura Studio 3 speaker has a medium-size profile at 9.1-inch wide and 11.2-inch high. The speaker weighs only seven pounds, which is exceptionally low for its size profile.
The speaker is built to be exclusively bottom-heavy, with 90% of the speaker's weight being concentrated at the bottom. Therefore, along with the three anti-skid legs, it is next to impossible to knock off the speaker by accident.
The dimensions and basic construction design allow the speaker to sit on any flat surface. Place it on a table, shelf, or even the floor, and you're good to go.
Bubble Lid
The speaker features a solid black base with the traditional faceplate and grills. However, what sets this speaker apart is the fact that it is covered with a bubble lid. It is in this bubble lid that the speaker creates beautiful ambient lights.
The bubble lid works perfectly with the speaker's in-built LED lights. These LED lights are designed to fill the empty space and illuminate rippling patterns coinciding with the speaker's music.
LED Lights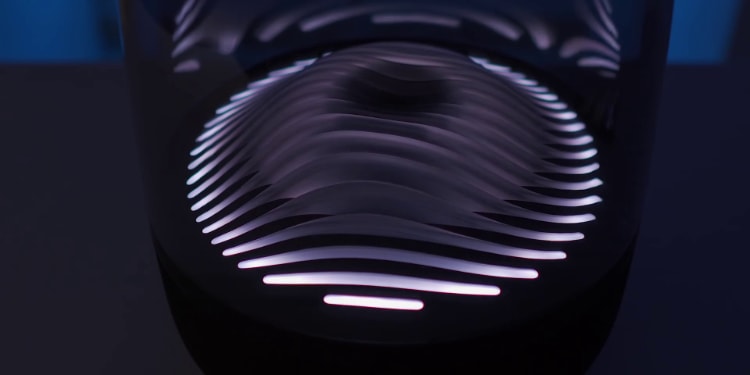 The bottom of the speaker features three grooves in a wavy pattern. This pattern is present for designing purposes and allows the LED lights to illuminate the bubble lid inner dome. The speaker has colored lights and a dedicated backlit Ambient Light system allowing the lights to dance to your music.
The LED lights are not sharp enough to make a considerable difference in a well-lit room. However, if the speaker is playing in a dim room, the lights can work the magic of their own to create the best music experience in their surroundings.
Power and Portability
Most small to medium Bluetooth speakers work on a battery-powered system. These speakers need to be recharged and work as independent units for as long as they have juice. However, the Harman Kardon Aura Studio 3 is not like most Bluetooth speakers.
The Harman Kardon Aura Studio 3 is powered only through a power cable. Therefore, you cannot take it to places with you unless your destination has a dedicated power source. However, that is not exactly a negative point in the speaker's account since it was never meant to be a portable device.
With the bottom-heavy design, the speaker is meant to be an aesthetic centerpiece in your living room. While this is a positive for some users, if you're looking for a portable speaker, it is best to look for a lightweight and compact speaker.
Connectivity
The Harman Kardon Aura Studio 3 is not built like other speakers in the market. While its unusualness makes it stand out positively in some aspects, such as its design, some unusualness function as a drawback. The fact that the Harman Kardon Aura Studio 3 does not have many connectivity options is one of those unusual negative elements of the speaker.
Most speakers come with several input options such as SD cards, a USB drive, and some RCA inputs, along with the usual aux jack and Bluetooth connectivity. However, the Harman Kardon Aura Studio 3 only has a 3.5mm aux and a Bluetooth 4.2 connection option.
Even though the primary connection method of most Bluetooth speakers is Bluetooth itself, having some additional options never hurts. Most modern users use streaming apps such as Spotify or Amazon music to play music. However, the speaker's versatility is deeply hurt when the old-school music listeners want to play music from their dedicated removable storage.
Using Bluetooth 4.2 connectivity, the speaker has high bitrates and low latency. Therefore, you can stream movies or watch videos without issues. The 33 feet connectivity range seems ideal for everyday in-room usage.
Sound Performance
Even though the Harman Kardon Aura Studio 3 has very few connectivity options, that doesn't stand in the way of the speaker's audio performance. The speaker is as good as two JBL Xtreme 2 paired together.
360-Degree Surround Sound
Since the Harman Kardon Aura Studio 3 is a true 360-degree speaker, the sound it produces projects throughout the room. You don't have to worry about the speaker not producing sound at one specific corner since the sound projection is even and thorough. However, you might not utilize the speaker's exceptional power if you simply place it in a corner in your room.
If you place the speaker in the middle of a room, you can be assured to enjoy the speaker to its fullest.
Volume
The Harman Kardon Aura Studio 3 has the capability to produce distortion-free sound at high volumes. As we mentioned, the volume is as good as two JBL Xtreme 2 paired together. For most rooms, you will hardly ever use even 50% of the speaker's sound capacity.
Different Frequencies
One of the major reasons where the Harman Kardon Aura Studio 3 steals the market is its ability to produce clean sound at just about any frequency. The speaker produces clean highs allowing you to listen to any sound in detail. You can hear the strings, cymbals, synths, and even the minute percussion from a triangle clearly.
When you concentrate at the mids, you will hear the same clarity as to the highs. You will not hear any distortion and will be able to differentiate between each sound seamlessly. Each sound is prominent and well-equalized. Whether you look at the highs or the mass, the mids will not merge into them.
The bass is also well-balanced. The speaker has the ability to produce every punch possible without distorting sounds. Whether you like heavy bass or light bass, you can find the perfect balance in this speaker's sound.
Music Compatibility
We like how the Harman Kardon Aura Studio 3 has versatile music capability. Whether you are a fan of bass or treble, you'll like the speaker. You can listen to just about any music, be it pop, rock, or even metal.
If you like acoustic music, the mids are perfect for the serene sound. However, if you're a fan of dance music, you will be able to feel the bass thumb without disturbances.
The bubble lid looks like a hindrance to some. However, it adds to the speaker's sound quality, keeping it from sounding hollow. The wide soundstage is perfect for frequency separation, allowing for smooth crossover between genres.
Should You Buy Harman Kardon Aura Studio 3?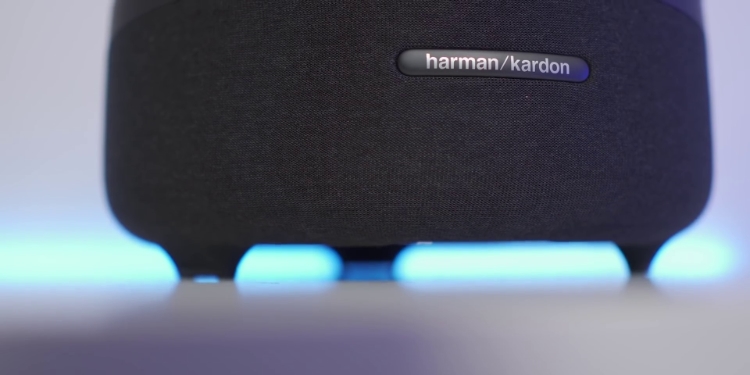 Whether you should buy the Harman Kardon Aura Studio 3 depends on a few things.
Design
Not everyone is a fan of huge bubble-head speakers. If you like to keep your surroundings to a minimum, you would probably not like the Harman Kardon Aura Studio 3. However, if you're looking for a dedicated-room party speaker, you should surely give this product a try.
Portability
Are you looking for a dedicated speaker for your room or a portable speaker for house parties? The Harman Kardon Aura Studio 3 is the perfect speaker for you if you're looking for a dedicated speaker delivering superior quality sound in your room. However, if you're looking for a speaker you can take anywhere with you, this is not the right choice for you.
Connectivity
For most users, the aux connectivity along with the Bluetooth 4.2 connectivity should be more than enough. However, when you're looking to buy the speaker for your parents or if you yourself are a fan of traditional input sources, you will deter from the Harman Kardon Aura Studio 3 speaker.
Sound and Size
Sound quality is where the Harman Kardon Aura Studio 3 sweeps the floor of its competition. However, that is subjective as well. If you're looking forward to using the speaker in a small room, you will probably not want to use this speaker since you'll hardly use it to its full potential.
If you're a fan of loud music and the room you're planning to place the speaker in is huge, you should surely invest in the Harman Kardon Aura Studio 3 speaker.
Pros and Cons
Pros
Superior sound quality
Unique and gorgeous design
Great mids and highs along with balanced bass
Small footprint with low weight
Beautiful built-in LED lights
Easy to use with the plug and play format
Low latency due to Bluetooth 4.2
Cons
No sound customization options
The LED lights are unnoticeable in a lit room.
Final Verdict
The Harman Kardon Aura Studio 3 is a uniquely-built speaker with several advantages and disadvantages of its own. While the bluetooth speaker has low connectivity options and zero portability, we like how the product has a well-balanced and equalized sound. However, the addition of sound customizability would have been great.
The sound quality matters the most in speakers, and that is the Harman Kardon Aura Studio 3's strong suit. If you want a dedicated speaker for your room with wonderful party lights and do not have issues with only Bluetooth connectivity, this might be the speaker for you. However, in any other case, we suggest you compare it with a few more products.