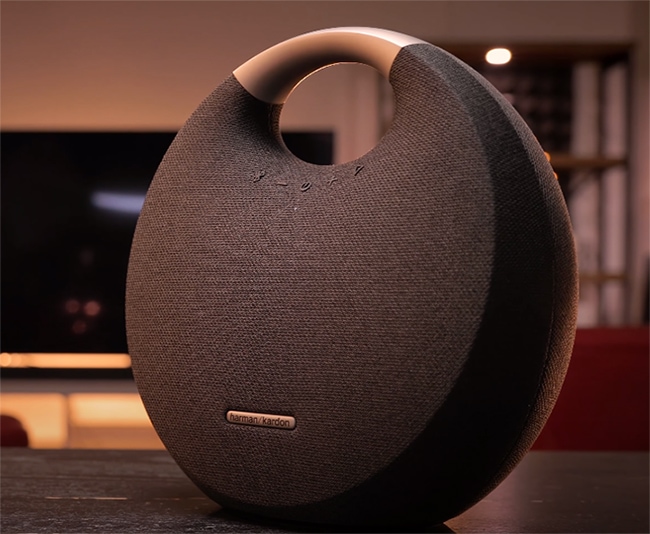 Buying some great speakers is always tricky because you need to study the market as much as you can and figure out what options work for you. The Harman Kardon Onyx Studio 5 is very appealing, although its quite a different type of speaker you see nowadays. They maintained the circular design, and honestly, it works for them pretty well. They removed the undetachable legs they had on the rear panel.
This time around, you have a wider unit and a rubberized bottom. The main focus is on stability and on offering a great environment for the unit that will stick properly and dependably. While keeping some of the design aspects, they did make some changes too.
Where to Buy?
Improved driver configuration
What you will like about the Harman Kardon Onyx Studio 5 is that they changed the driver configuration and made things better in this regard. The Harman Kardon Onyx Studio 4 had 4 drivers and 2 passive radiators.
This new version, however, has a single 5-inch woofer, a tweeter, and two passive radiators. This idea is a good one because it brings in some creative elements into the mix while still eliminating some of the challenges that can arise. The entire thing works smoothly, and it will provide you with some fantastic results.
Design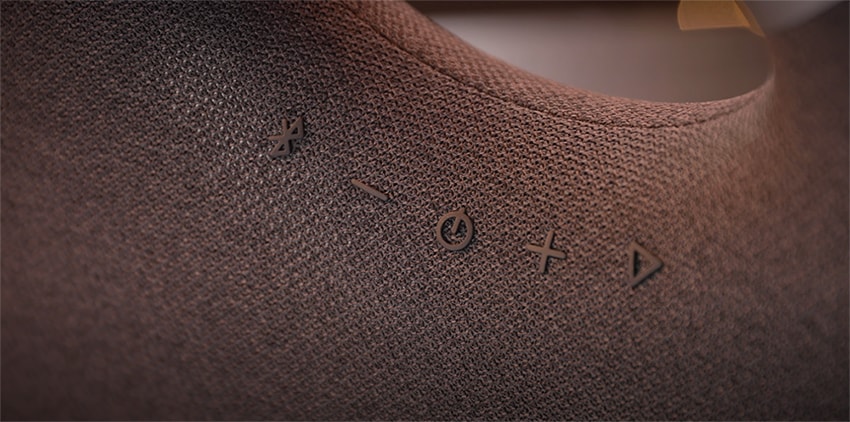 Aside from the fact that there is a rubberized bottom and the feet are removed, you do have the amazing premium fabric that offers a high quality feel to the product. This is not an outdoor speaker; it's clear that you need to use this one indoor, which is something to take into account. Having the grill created from plastic rather than metal makes the unit better and more rugged for a lot of people.
It certainly delivers all the quality and value you want, and the attention to detail is impressive too. One of the challenges that can arise is the fact that you're not receiving any kind of waterproofing, at least when it comes to the fabric. That's why this is an indoor unit and not an outdoor one, which is something to keep in mind.
Waterproofing
As we mentioned above, the fact that they went with a premium fabric is excellent from a design standpoint. But it's terrible when it comes to waterproofing. There's no shock or waterproofing here. The previous models had this problem too, but we need either this or upcoming versions to improve on it.
Hopefully, they do, and that's exactly what we want to receive in the long run. It's a bit large when it comes to the speaker's size so that it can be splashed with some water by mistake. That's why it makes sense to have some sort of protection against water. What this means is you need to pay attention to it and ensure that you keep water away from the speaker. If you do that properly, it will help you immensely.
Pairing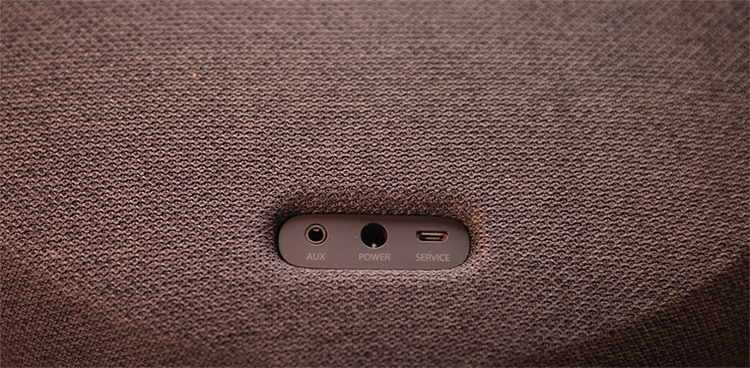 Harman Kardon Onyx Studio 5 comes with an exciting feature that helps you pair this unit with some other speakers. However, it will only pair with other speakers in this series, which is something to keep in mind. You can't pair this with previous versions, such as 3 or 4. That's a shame because when you pair two Harman Kardon Onyx Studio 5 speakers, this will fill the room with the amazing sound and great quality. It's a great idea to implement this Dual Sound system to work with older models.
Thankfully, it's not the end of the world without this, but considering the price of such a unit, they should allow previous version owners access to this kind of feature too. If you have the Harman Kardon Onyx Studio 4 or older, you don't get any backward compatibility. You just have to sell the older unit and upgrade it to the new one.
Battery life
The battery capacity for this unit is 3280 mAh. It's similar to what you would get on an iPhone. That being said, the Harman Kardon Onyx Studio 5 is just used for music playback, you're not keeping it on all the time, and it's not a power-hungry unit either.
Based on our tests, we noticed that the Harman Kardon Onyx Studio 5 could last for 8 hours of playback at 50% volume. Of course, if you choose to play it back at higher volumes, then the battery life will take a bit of a hit. Nevertheless, it's not as much as you would expect, so you have to keep that in mind and make the most out of the entire process. The charging time is around 5 hours, so the good idea is to charge it during the night if you want to.
Weight
When you see this unit, it seems very bulky, so the immediate thing you want to know is how much it weighs. The 6.5 lbs are quite a lot for a speaker, even if this unit is very portable on its own. As we mentioned earlier, this is not something you can take with you during a hiking trip or exploring the outdoor regions. It's more of an indoor unit, and yes, it has great performance.
Should you buy the Harman Kardon Onyx Studio 5?
There are some great benefits that come with purchasing this unit. It has a bass-heavy sound as well as balanced highs and mids. It has a carrying handle, and it's battery operated, which provide some portability. You also have AUX and Bluetooth connectivity, dual sound, and multi-host features.
The downside is that you don't have water or shock proofing, backward compatibility, or stereo separation. Despite that, it's a solid speaker with great performance and incredible value for money. You should give it a shot if you want a large yet portable speaker to use at home or at the office!