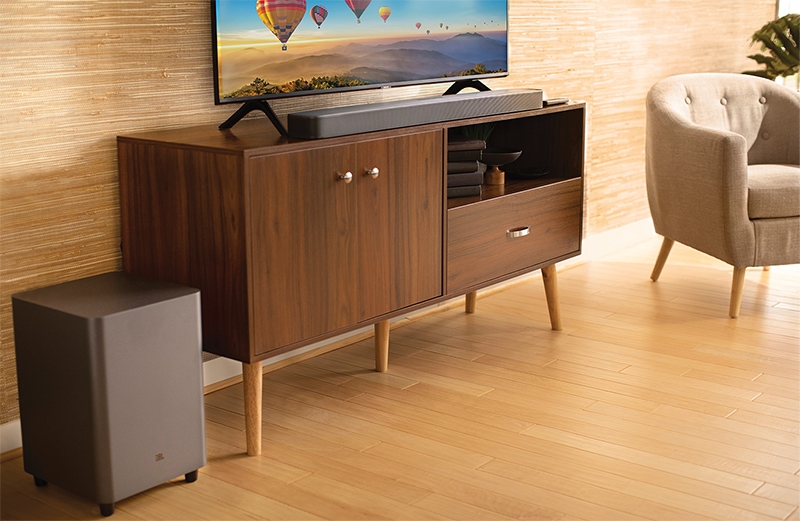 JBL Bar 5.1, a soundbar that takes no time and very conveniently transforms into a wireless home theater system for a remarkable movie night. This bar is great for movie lovers who lack space to accommodate a whole movie theater at their place. With impressive sound performance and capabilities to surround sound equally, JBL Bar 5.1 is one of the best wireless surround systems. The JBL Bar 5.1 Surround is not too expensive and, at the same time, not too cheap. It sits in the middle for the prices of 'similar-looking" soundbars available in the market.
This soundbar isn't similar to non-surround JBL Bar 5.1, so confusion should be made. This soundbar utilizes 'multibeam' technology, which fills a space with a theater-like, clear, and loud sound. There are so many great features of this soundbar that we will discuss in detail below.
Where to Buy?
Design
JBL Bar 5.1 Surround is all dark grey with a matte finish. Its main body is wrapped up in mesh. The main body of the soundbar measures 2.3 by 40.0 by 3.9 inches. It weighs almost 6.2 pounds. The soundbar comes with a wireless subwoofer that measures 17.3 by 12 by 12 inches, and the total weight of the subwoofer is equal to almost 23.4 pounds. When the soundbar is powered up, the main body and subwoofer link up automatically on their own.
The soundbar's design is such that it can sit flat on its own on a table, and if required, it can be mounted on a wall using the screws and brackets provided by the manufacturer. The soundbar is almost 58mm tall, which implies that it can also fit in front of a TV.
The LED readout on the soundbar's front face tells you the name of the source you are connected to. Speakers covered by a metallic grille are considered as the front face of the bar.
Power Structure and Accessories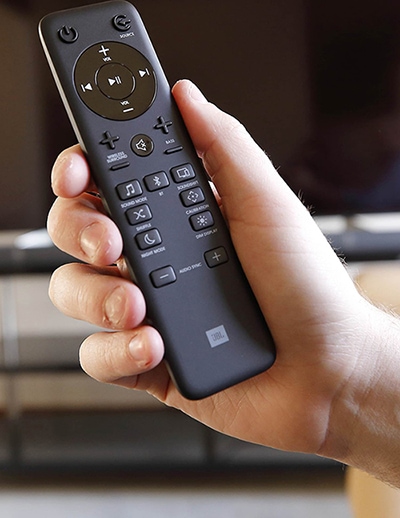 There are five drivers, similar to a racetrack, and two tweeters, 1.25 inches long, that deliver a total of 5 channels. Each channel is 50 watts. This soundbar delivers almost 550 watts of electricity and 40Hz-20 kHz of frequency.
The bar's back panel has connections for HDMI, USB, HDMI ARC, TV, and a power cable included for the subwoofer. The USB port at the back panel supports MP3 playback and WAV files. The power cable is attached to the subwoofer through a power button on the woofer's panel. There is also an HDMI cable with this soundbar set.
The remote control comes with this soundbar. This remote takes power from two AAA batteries that are very much included with the remote. The remote control has a Power button, Bluetooth button, a button to control bass level, a volume button, and a mute button. This system's volume range is from 1 to 31, and at 31, it's quite loud. The only drawback the remote control has that there is no button for selecting different audio modes. This button is ubiquitous among other soundbars because 5.1 lacks this feature. A soundbar should have good EQ controls rather than just a button to control bass levels.
Sound Quality
The wireless surrounding sound feature is indeed a unique selling point of JBL Bar 5.1. This soundbar is incredibly convenient to set up. The setting process starts from unplugging the speakers on satellite, followed by plugging a small microphone into this soundbar's main body. After the plugging and unplugging is done, auto-calibration is switched on to run the device, which results in filling your space with an unpleasant and loud noise that stays for a short period of time. The cable that comes with this sound device is pretty long to adjust in any living space.
The sound system of this soundbar is great. While testing it on movies that made use of surround sound systems in their making, this soundbar proved to produce a quite great sound. The sound produced through this bar is clear, and the balance of sound waves is exactly what you expect from a good sound device. The distribution of sound throughout the space is very much equal, so it doesn't matter if you sit at the end of the hall or right in the middle. The sound pitch and quality you will get to hear will be similar.
The JBL Bar 5.1 can easily be connected to Bluetooth as well. It can be paired with another device such as a phone or a laptop over Bluetooth. A source button on this bar's remote helps to swap from a wired connection to a Bluetooth connection and then back to wire one if required. The connection over Bluetooth provides another way to play music on JBL Bar 5.1 wirelessly.
Overall Performance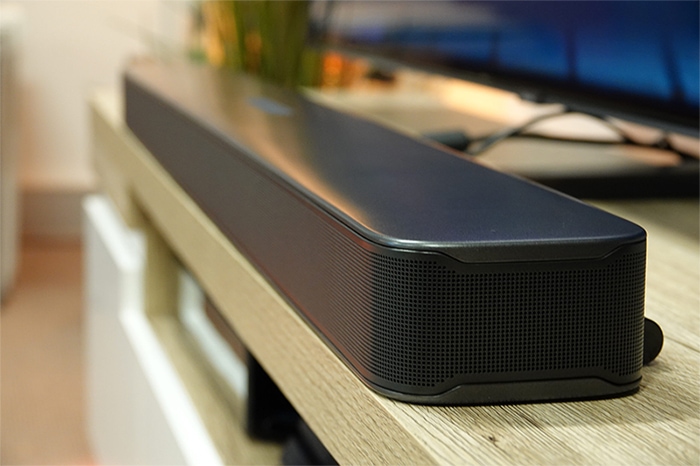 The performance of JBL Bar 5.1 can be divided into two categories that are movie Performance and Music Performance. This soundbar is clearly designed for people who are fond of room-rattling sound and clear whispers while watching content. When it comes to sound, this soundbar doesn't hold back. When you put the bass level to high with its room-shattering sound, a sound experience of another level is formed. The bass features help deliver "crystal-clear" movie dialogues and lyrics of a song from any genre. With great bass, being the strength of this soundbar, this sound device plays on movie nights and house parties.
But with strong bass comes weak mids, and this gap does become noticeable by the user. The mids are related to the sound frequency of the bar when music is played. The weak mids lead to loud, bassy, and clear music that unfortunately lacks warmth and comfort. The clear loud music works great for some music genres, but with songs that rely purely on warm mids, loud music doesn't sit well.
JBL 5.1 is great with loud sounds, but it fails to produce a balanced sound with a lower volume. With a drop in volume, as a user, you will feel it hard to understand voices. This does end up becoming a problem for users who aren't fond of loud sounds.
Let's look into both categories of performance to summarize the overall performance of the JBL 5.1 bar.
Movie Performance
Movies that feature explosions sound quite modest at low and mid-bass levels. Through this soundbar but with a high bass level, the explosions feel powerful.
The output of subwoofers needs to be maximized when playing movies that feature lots of gunshots and explosions.
Movies with thunderstorms and loud natural sounds only sound great when played on maximum bass.
Movies that can get away with low bass might prove to be unclear because of weak Mids.
Music Performance
With music that has intense sub-bass, the bar 5.1 surround delivers sound with a low-frequency that most bass lovers like.
At volume levels set at maximum, the sound doesn't break irrespective of this soundbar's setting.
Tracks with an orchestra sound crisp and clear if the bass is set up accordingly.
With 5.1 Surround in place, the user must adjust bass levels actively to get balanced and dynamic sound through this bar.
There are no separate Movie and Music modes on this soundbar, so you will have to choose personalized settings to create the most appropriate sound with every movie and music.
Most movies require more volume and mid-bass, while most music demands a modest volume and bass. Adjusting sound manually isn't a big issue, but with just three EQ settings on JBL 5.1 Surround, it becomes a task and might disappoint its users.
Rundown of Features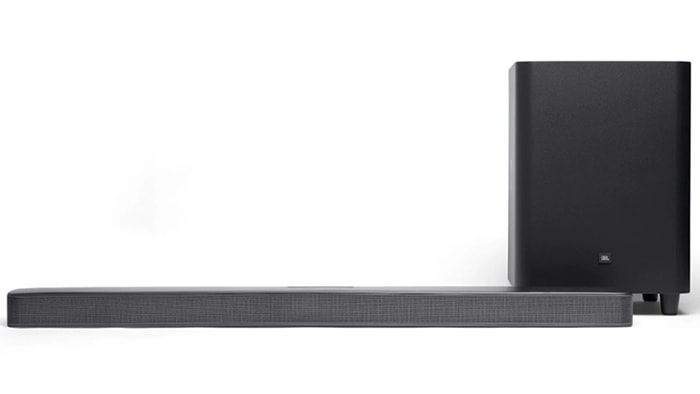 Come with two detachable batteries
Wireless surround speakers are powered to play for 10-hours straight
total system power equals 510 watts
LED readout to highlight the name of the connected source
wireless subwoofer of 10-inch height
three HDMI inputs are used to connect devices
Dolby Digital, Dolby Pro Logic II, and DTS technology for an incredible sound experience
Compact design allows for convenient placement without the issue of adjusting wires
Bluetooth connectivity provides options for various devices to connect with
Pros and Cons
Pros
Highly convenient to use and place wherever the user feels like
The setup procedure is effortless and requires just a few plugins and un-plugins​
The design of this soundbar is quite compact and durable
Vocal clarity that this soundbar offers is pretty commendable
Bass levels are quite powerful, and the crisp sound aspect makes it a great purchase
The bass of the sound can be easily adjusted using the remote controller
This sound device is great for both movie and music lovers
Cons
Lacks performance on low sounds
Lacks audio modes and sufficient EQ controls
Final Verdict
The JBL Bar 5.1 is a wireless soundbar that can convert into a sound system within minutes. It is a great device, but like every technology, this soundbar also has its positive and negative aspects.
If you're someone who wants a soundbar only to immerse in the world of films without fussing about the size, wires, and complicated setups, JBL Bar 5.1 is exactly what you should spend your money on. It has the ability to bring out the best sound from any movie dialogues, irrespective of the kind of film you are watching, and is quite capable of its surround sound feature. A minimalistic soundbar but with a quality of being a surround soundbar and a Bluetooth speaker, JBL Bar 5.1 is a great sound system for those who want all of the above.
We have brought out a whole picture of what the JBL 5.1 surround system looks like. Now, it is up to you to decide whether this soundbar is sufficient enough to meet your entertainment needs or you should look for something more appropriate.