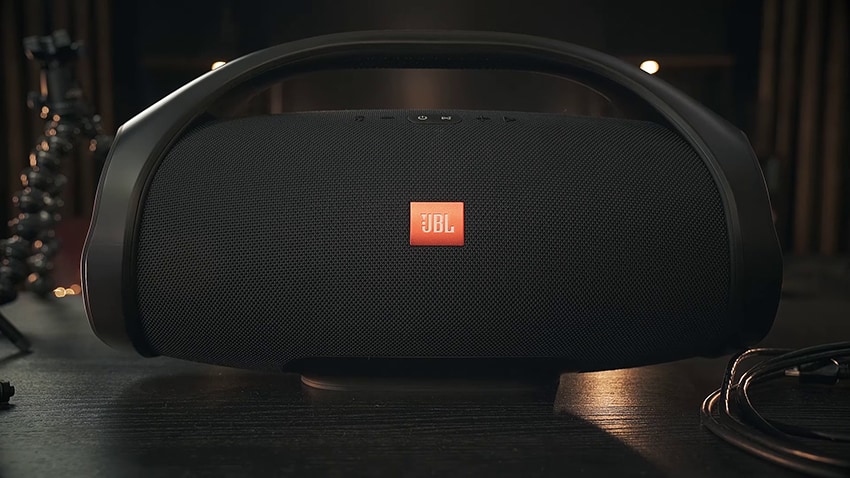 Bluetooth speakers are amongst the most popular gadgets these days, and when it comes to picking out the right one, JBL Boombox is a name that appears frequently. Are you wondering if it is the right choice for you? Purchasing the Boombox can bring the right sound to every event, big or small. The speaker has some of the hardest-hitting basses and leaves a sound strong enough to be reckoned with.
With this Boombox, you will be able to enjoy some good music for 24 hours at a stretch. Despite its popularity, weighing this JBL Boombox features is necessary before you go ahead and purchase it.
We have reviewed the JBL Boombox so that you can make an informed purchase. Check out more on the design, build, specifications, pros, and cons of JBL Boombox here.
Where to Buy?
Quick features
Here are a few general features of the JBL Boombox.
Battery life: It comes with a 20,000 mAh battery to enable the power that it emanates. You can also expect a battery life of 24 hours of playback when the Boombox is playing at normal volume.
Dual charge: The dual charge feature allows you to charge any external devices you have any time you like. The goal is to keep devices charged as they play music. You can wirelessly connect two smartphones at a time with this speaker.
Waterproof: It is IPX7 waterproof, which means that it can remain submerged in clear water for up to 30 minutes. It means that a few splashes of water at a pool party are not going to harm this Boombox.
Connect+: You can further amplify the music by connecting the speaker to additional Connect+ enabled JBL speakers.
Bass: It has four active transducers incorporated, in addition to two JBL bass radiators. It can play very low frequencies for great bass and pick up some interesting details in the music you play.
Doubles as a soundbar: It is a large speaker that can even be used as a soundbar. Hence, you can use it to amplify your television's sound as you watch movies and shows.
Built-in-Mic: If you want to make any voice calls on the speaker, there is a built-in mic enabling this.
Design aspects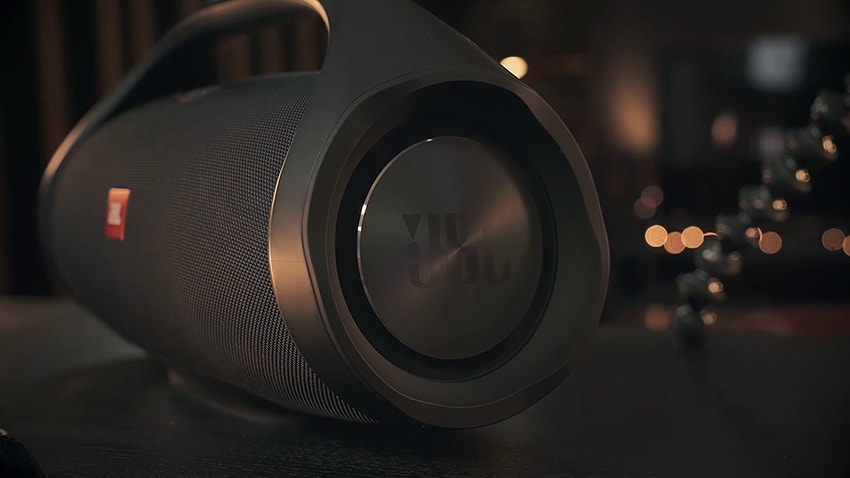 The JBL Boombox comes in a big black body that will grab attention at any party where it is used to play music. This Boombox is made to stick to all of the basic design fundamentals of JBL. Like other products, it uses plastic and fabric in dual-tone to create a water-resistant speaker.
It looks very similar to other JBL products but in a larger variation. It comes with a sturdy handle that supports a cylinder weighing 11.6 pounds. The dimensions of 10 x 19.5 x 7.7 explain its weight and make it appear formidable.
It is hence designed for heavy-duty use and can handle being played in the wildest parties around you.
JBL Boombox build
The speaker comes with two passive radiators that add some variation and contrast to the JBL Boombox aesthetic. The finishing on the tube is great and aesthetically pleasing.
The build is also durable. It was originally designed to be placed horizontally. You can also place it vertically if you like. However, this can be quite inconvenient and should only be used if necessary.
This is because vertical placement will block one of the woofers and give a fainter audio output overall.
Controls on the device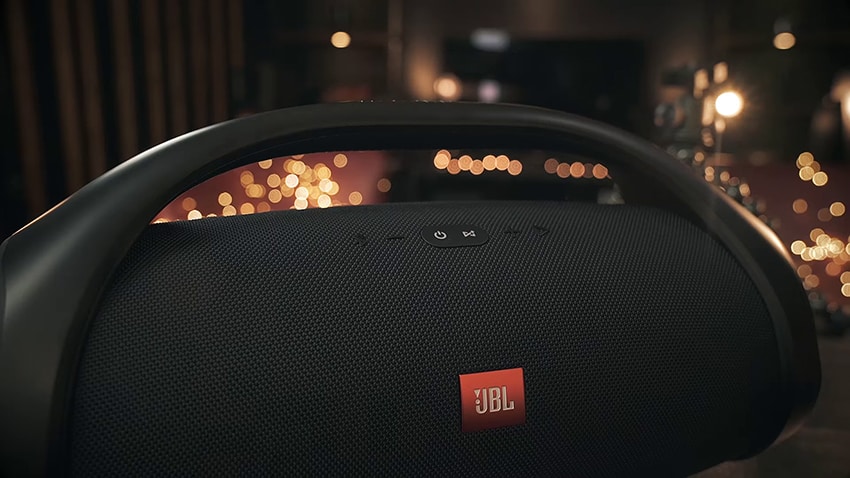 On the front side, there are volume buttons as well as the Play and Pause buttons. To move a track forward when you play your music, you will have to double-tap the play and pause buttons. As discussed above, there is a feature that will let you connect the Boombox with other JBL speakers. To do this, use the Connect+ button.
Ports
The ports on a device help connect it to other devices. At the speaker's back are a power adapter, 2 USB ports used for charging batteries, and a micro-USB port. This port is used for any firmware upgrades.
There is also a 3.5mm Aux-In at the back. However, JBL does not provide any accompanying cord for these. There is, however, a power adapter that comes with the Boombox.
Audio quality
The JBL Boombox has a signal to noise ratio of 80dB. It suggests that the JBL Boombox can emit clean and clear sounds. Further, the frequency response is 50Hz to 20KHz. It means that the device can reproduce almost the whole range of sounds audible to the human ear.
It has two modes that define its sound quality. These are the indoor and outdoor modes on the speaker. Here is a detailed look at the sound quality of this speaker.
Bass range
For mid-bass, you will have to switch to the outdoor mode. This makes the low-frequency part of the audio spectrum in the Boombox shine. The speaker is perfect at turning up the sub-bass to the mid-bass range as well.
The bass response is raw such that the sound waves will vibrate and leave a noticeable thump in your chest. It is especially true when the volume is turned up high. If you are hosting an outdoor gathering and love your bass, this is the loudspeaker to pick.
Treble
When coupled with treble, the overall sound quality may prove somewhat inconsistent. It is because the dominating bass can recess the mids in the music. The treble is faint in this JBL Boombox, while other speakers can make it sound much more vibrant.
This speaker also does not emphasize the vocals on a song as much. These will be somewhat lost and lack the detailing they deserve. Because of the loss of focus on the treble, some challenging tracks may lack precision.
Soundstage
The sound on the Boombox is due to its forward-firing drivers alone. Hence, you won't be able to enjoy the 360-degree sound that other speakers may have. The soundstage is not the best you can hope for.
Further, other than the indoor and outdoor EQ levels, you don't have any other pre-set sound options. Hence, it can be narrow and restricting at times.
Should I opt for the JBL Boombox?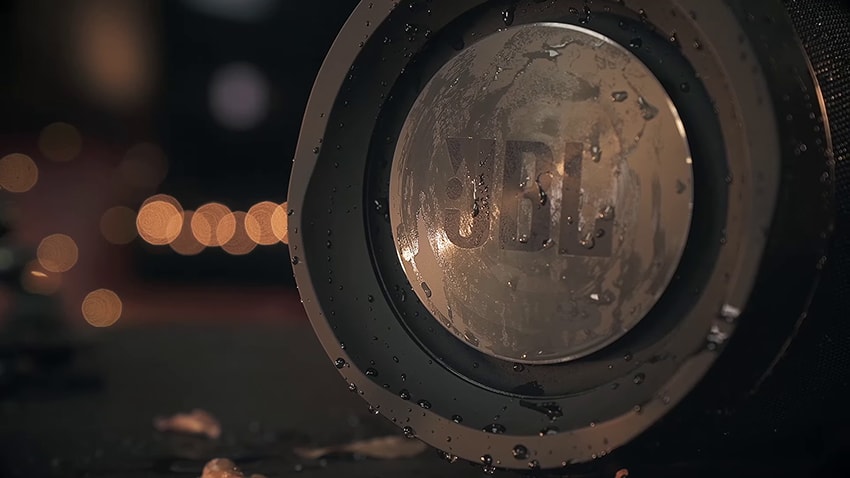 We have discussed some of the features that make the JBL Boombox stand out from the rest. Read ahead as we discuss the working of this speaker in-depth. It will give you an idea as to whether you should go ahead and purchase it.
Easy set up with the JBL Connect App
The JBL Boombox is easy to set up. You can do this using the JBL Connect app for iOS and Android to set up a speedy process. However, this is not its only use of the app.
The app will let you switch between the indoor and outdoor modes on the speaker with ease. You can also switch between the Party and Stereo mode using the same. This mode is applicable only when you are using the JBL Boombox with other JBL speakers.
The buttons on the Boombox allow this as well. However, the app can make the switch rather convenient.
Good bass performance and loudness
The speaker performs well enough to leave bass lovers extremely satisfied. Further, you won't find any distortion at higher volume levels. The sounds are enveloping and loud even though there is no physical stereo separation on the Boombox.
Hence, you can expect some crisp and clear bass sounds. Even the mids and highs on the speaker will be balanced so that the overall sound is pristine.
Try playing a bass-heavy ballad on the system. You will see the music soar and impress. At 60% volume, the Boombox can accommodate a range of versatile music very well.
Versatile use
The speaker's use is not limited to playing music at gatherings and parties. For multi-purpose use, connect it to your TV with the Aux-In connection. The speaker ensures that every action scene you watch in a movie will be crisp and filled with punch.
You can also use it with video games that come with action-packed scenes, fights, explosions, and the like. It will give you the best results when used with these.
Battery performance
According to JBL, the Boombox is poised to last for 24 hours of playback for every charge. The claim stands true, especially if the volume is turned halfway up, played through a wired connection, or Bluetooth.
However, be careful not to let the battery on this JBL Boombox get below 20%. At this stage, you will notice a buzzing sound that can get annoying. There is nothing particular to explain the sound. Given the price tag on this speaker, the sound comes as a deterrence.
It can get you to reconsider purchasing the JBL Boombox. However, you may want to note that this issue is prominent only when the battery is below 20%. For any other level, it works very well and at a good volume.
Battery backup for other devices
The USB ports on the Boombox are excellent support for any smartphones and devices that are running low on battery around you. By simply connecting your device to the Boombox, you can let the battery charge even as it plays the music.
Do note that the backup system does not ensure a fast-charging process. However, it can be beneficial in keeping a playing device alive at a busy party.
Battery charging time
It will take about 5 to 6 hours to charge the JBL Boombox completely. Remember that this speaker can hold its charge for as many as 24 hours. For this reason, it takes quite some time to charge as well.
The prolonged battery life that it provides is well worth the long hours of charging.
Using the JBL Boombox
The Boombox is great for any party that has up to 50 people in it. This is true even for outdoor spaces. When it plays on maximum volume, it becomes difficult to have audible conversations within a 20-feet radius of the speaker.
Price
The JBL Boombox does not come cheap. It is one of the pricier Bluetooth speakers on the market. However, its loudness and waterproof feature explain the price. Most other popular speakers within this range lack these two features.
Further, this Boombox is surely worth the amount you will pay for it with its modern look and noticeable physical presence.
Lacks in personalization
This is one of the issues with this JBL Boombox. It has no equalizer on it. You also won't find any custom audio profiles. Both these features help personalize the music and sound on your speaker.
There are other speakers on the market that will offer these personalization features for a similar price. Hence, if personalization is crucial to you, it is better not to purchase this speaker.
Pros and Cons
Pros
Extremely loud sound
Good battery life
It can be used to charge other devices
Excellent bass
Water-proof
Cons
On the expensive side
Leaves a buzzing sound at low battery
Final verdict
The key to appreciating the JBL Boombox is to admire its modern aesthetic and exciting bass. If you are a bass lover, it will keep you satisfied by turning up the right details in your music. Further, it is water-proof, and you won't have to worry about splashing water at a party damaging your speaker.
With its commendable battery life and compatibility with your TV and other Connect+ speakers, the JBL Boombox is an excellent purchase. Do note that it may not be the best option for you if you like the vocals and treble in your music emphasized.