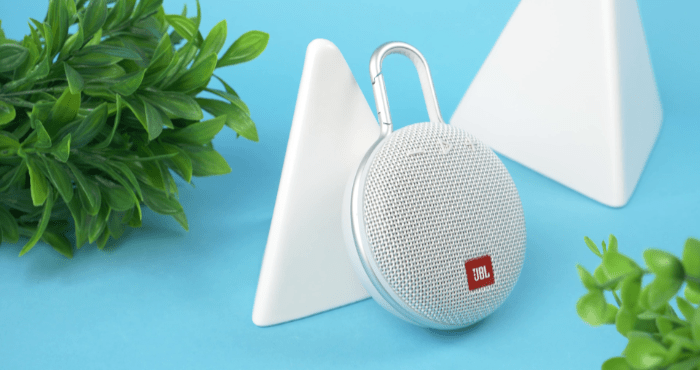 A few years ago, buying wireless and portable speakers was something one could not have imagined. However, now portable, compact, and wireless speakers are a thing.
If you are looking to buy a speaker that you can take to beaches or your bathroom, JBL Clip 3 may be the best option you can get.
You will get to know all the necessary details, the pros, and the cons. So, buckle down, and let's get started.
Where to Buy?
An Overview
JBL Clip 3 is a portable and practically wearable Bluetooth speaker. You can just use the clip to hang it on your pant's loop or your handbag, and you are good to go.
It is one of the most powerful speakers that you will find at this price and size. Nevertheless, other things play a significant role while making a choice.
Design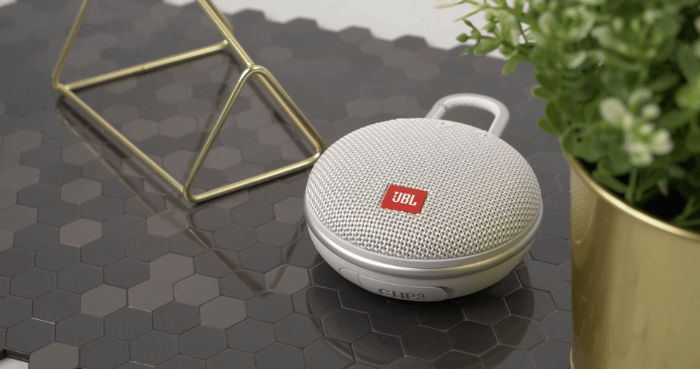 The built quality and design of this speaker are breathtaking. You are going to love the way it is made. It is both aesthetically appealing and powerful.
The best about it is the number of colors it is available in; you get whopping 12 hue options.
The speaker is circular in shape, giving it a pleasant appearance. The sound outlet is exclusively dedicated to the front.
The JBL logo is on the bottom of the front grille, and three buttons are on the top. A center button controls playing, call management, voice help, and track navigation with repeated taps, while plus/minus buttons control volume.
Moreover, the speaker may be clipped to several items using the built-in carabiner on the top panel, or it can lie flat on its back and transmit audio upward.
Sound Quality
Compared to Clip 2, this one appears to be a little superior in output quality. It produces a rich sound as well as immersive audio that is entertaining. It contains 3.3-Watt speakers and only a few acoustic enhancements.
There is one 40mm transducer, as indicated by the single circular design, that appears to be comparable to those seen on a pair of over-ear studio headphones. JBL's decision to go with a single speaker is quite logical, although it does mean they lose the ability to transfer any bass.
The Clip 3 covers frequencies as low as 120Hz and as high as 20kHz, which is another trade-off. That essentially implies you're giving up a hundred hertz of bass on the bottom end.
However, the sound levels you get are absolutely ideal for the objectives you might want to use it for.
However, if you want a big bass sound, you'll have to spend more money on a bigger speaker. This speaker emphasizes the highs and mids, so vocals are crisp and clear, but anyone looking for true bass presence should seek elsewhere.
Set-up and Connectivity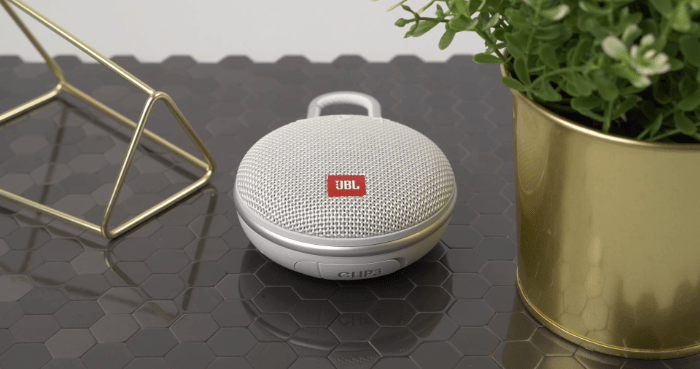 The set-up and pairing are pretty simple. All you got to do is to turn on Clip 3. It will enter the Bluetooth pairing mode, select Clip 3 on your device for pairing. Voila! Your speaker is now connected to Bluetooth.
Bluetooth 4.1 is the protocol that this device uses. It is perfect for this speaker, considering that Bluetooth 4.1 lets you connect from quite a good distance.
It also includes an automated connection option, which means you won't have to repeat the pairing process because it will automatically pair the last connection when you turn it on.
Overall, this speaker is compatible with almost all the devices that a customer might be using. So, you won't have any connectivity issues.
Battery Life
The Clip 3's battery life is estimated to be around 10 hours of continuous play, according to JBL. It is more than enough time to keep you entertained. Also, it takes up to 3 hours for charging.
In our tests, though, this little speaker lasted more than 10 hours, which is simply incredible.
It's pretty astounding what JBL has done with the footprint with a 1,000 mAh on-board.
Moreover, when it comes to charging the speaker, you can use a Micro USB cable. However, the adaptor is not included, so you will need to buy your own.
Durability
JBL speakers are pretty popular for a reason. These speakers are made to last a long time.
The strong plastic back, covered in soft-touch rubber, gives lots of durabilities and some shock absorption.
The thick-knit speaker grille allows to push the sound out without leaving too many holes, exposing things. The carabiner clip, too, has the sense of a sturdy aluminum trekking tool.
Waterproof
It is one of the most useful features, as it can handle any type of water, including those with harsh water conditions.
You should not be concerned about getting wet and damaging the speakers at all. This speaker is a perfect choice for you if you want to take it to the beach or shower.
Thanks to its IPX7 grade, it may be submerged in water up to 1 meter. You will be amazed to know that it will float rather than be drowned if you simply throw it into the water.
Portability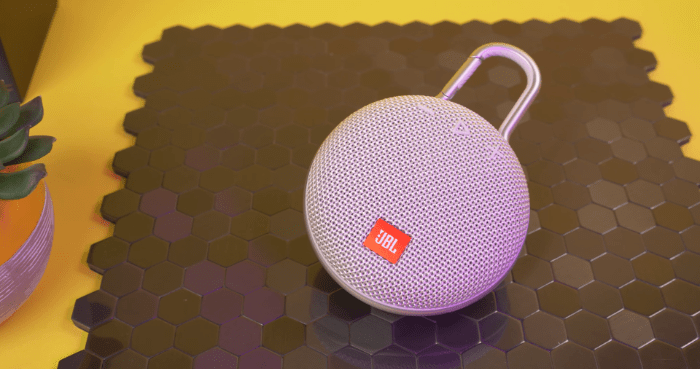 It is one of the tiniest Bluetooth speakers on the market, but it delivers JBL's legendary sound quality. Although this speaker isn't particularly large, it is crucial to remember that it is a couple of inches thick. Due to the strong, waterproof construction and the long-lasting metal clasp also weighs half a pound.
Furthermore, when clipped to a backpack strap, it rests comfortably, but it stands out in a way that demonstrates its size.
Pros and Cons
Pros
As we have mentioned earlier, the design and build quality of this product are highly superior. You will not have to worry about the water spillage or any shocks at all.
The sound quality is quite commendable, considering the size of the speaker.
It is customizable due to the availability of multiple colors.
The metal clip you get in this version is better than previous ones and is quite sturdy.
Cons
You will miss out on the bass in JBL Clip 3
The price might be a little too high for few customers
Final Verdict
JBL Clip 3 is one of the most portable and powerful speakers available on the market. You can practically slide it in your pocket.
Moreover, the price to value ratio that you are getting with this device is quite commendable. You are getting a waterproof and wireless speaker that this range, what else can you possibly ask for?