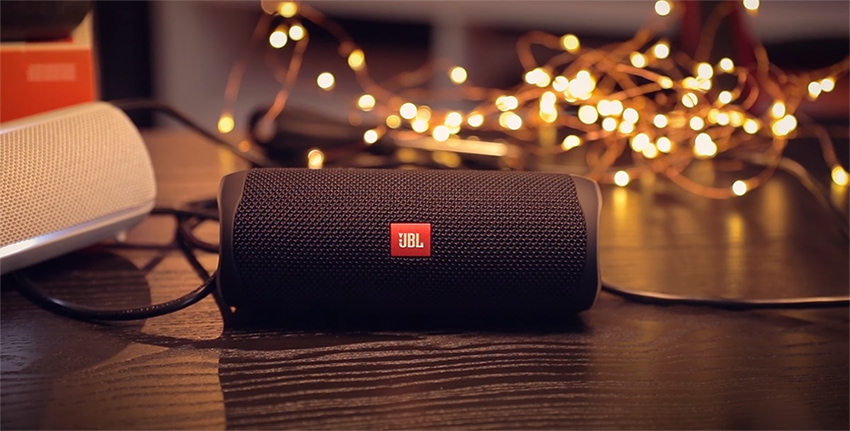 When you see the JBL Flip 5, the first thing that comes to mind is quality. The overall visual appeal is there. The best part is that this unit is designed with portability in mind. Sure, portable speakers are usually small, but this is a rather bit product, and it does the job even better than the smaller counterparts in many ways.
Where to Buy?
Design
The previous model was very well received on the market, and people liked it a lot. It's one of those products that stand out from the crowd, and you will be incredibly impressed with the efficiency and clarity.
JBL Flip 5 has a rubberized strip and edging, and the main front is made out of clad. They do have a USB type C port, so the charging process is good. The charge port is not under a flap, so you can access it without a problem.
It's important to note that despite having some ports without any protection, the unit still offers IPX 7 waterproof. It can provide protection against water for up to 30 minutes, which is good. The Bluetooth pairing is a perfect option, and based on our experience, it doesn't come with any issues. It does take a little bit of time to get used to it, and overall you will find that it works nicely when compared to other products on the market.
JBL Flip 5 also has its own set of buttons that offer a party mode, volume down, up, pause, and play. The addition of these buttons in the material section is a great idea, and it works seamlessly.
Sound performance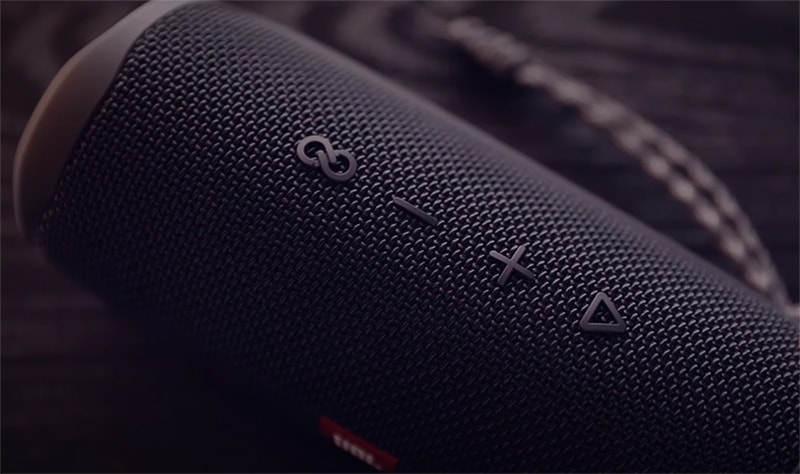 When you buy a Bluetooth speaker like the JBL Flip 5, sound performance is crucial. That being said, the product does an outstanding job of delivering a frequency response from 65 Hz and up to 20 kHz. However, some people might feel the lack of a 360-degree approach here. That's unfortunate, because a lot of competitors have it, so it would be a perfect addition. With that in mind, you will enjoy the fact that the driver works seamlessly for what it is, and it will provide you with the type of quality that a lot of people want. It's a speaker with tremendous value and clarity.
JBL Flip 5 can be very loud, and that mostly comes from the fact that it has the chamber interior and the side driver cones having lots of movement. The sound quality benefits a lot from that. Keep in mind that this is not the cleanest sound in the world, but it gets the job done. As long as you are ok with a few concessions here and there, this will help, and it will deliver a great experience.
Battery life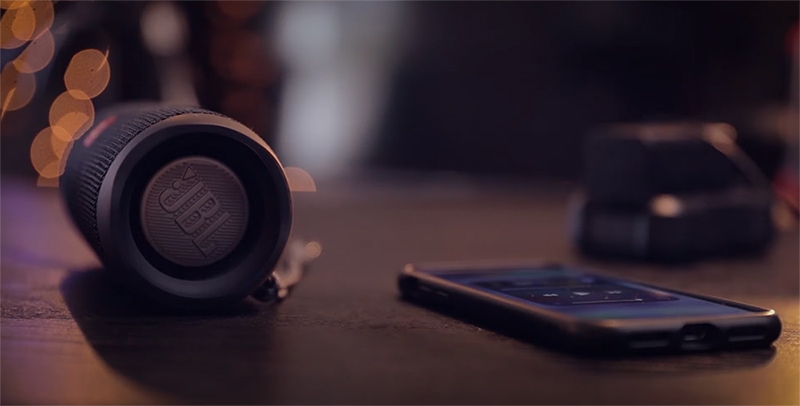 Everyone that buys a portable Bluetooth speaker like this is interested in the overall battery life. It doesn't matter if you get the ultimate sound quality if the battery life is terrible. In the case of the JBL Flip 5, the overall battery life is more than ok. It has a 4800 mAh battery life, which is helping quite a lot. JBL states that the battery life will be up to 12 hours or more.
This is up to debate, but it's important to note that you can get around 10 hours even if the volume is on the higher side. Thanks to the USB type C port, you can make the charging process very simple and fast. It will take around 2 hours and a half, up to 3 hours for a full charge. It's a pretty good concession, considering the amount of listening time that you are getting here.
Pros and Cons
Pros
Waterproof
Great sound and battery life
USB type C support
Cons
Final Verdict
The JBL Flip 5 is a perfect option if you want a Bluetooth speaker that's portable, dependable, and large enough to deliver excellent sound quality. It's an improvement over the predecessor since you have a port that's very easy to access, waterproof, USB type C support, improved sound, and all kinds of surprising benefits.
It has that visual appeal and performance that you want from a Bluetooth speaker. It's not overly expensive either. Sure, there are less costly options, but if you want a good speaker from a reputable company, you can't go wrong with this one.