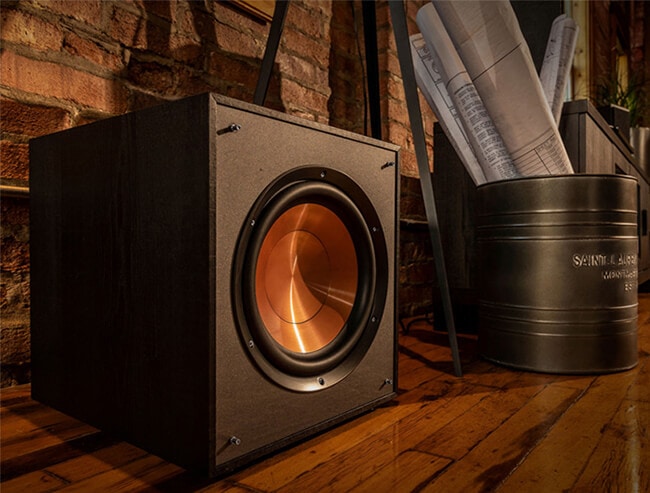 To blast through the roof when partying at night, you need a decent woofer. Sound quality and volume are the foremost parameters that separate mediocre subwoofers from high-quality models. This article will discuss one such high-quality sound option that excels not only in performance but also in looks and durability.
Where to Buy?
Design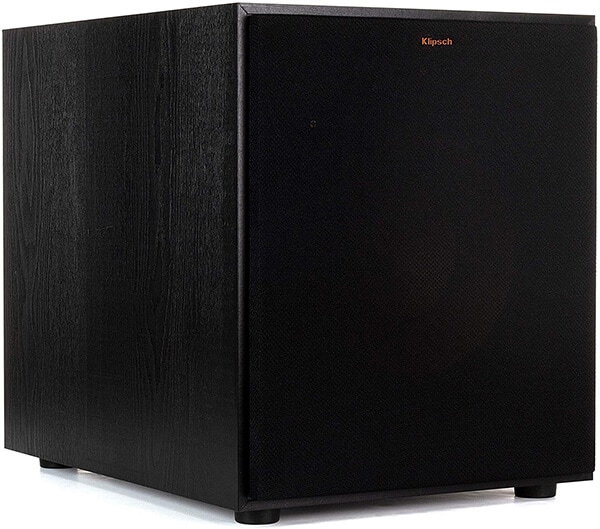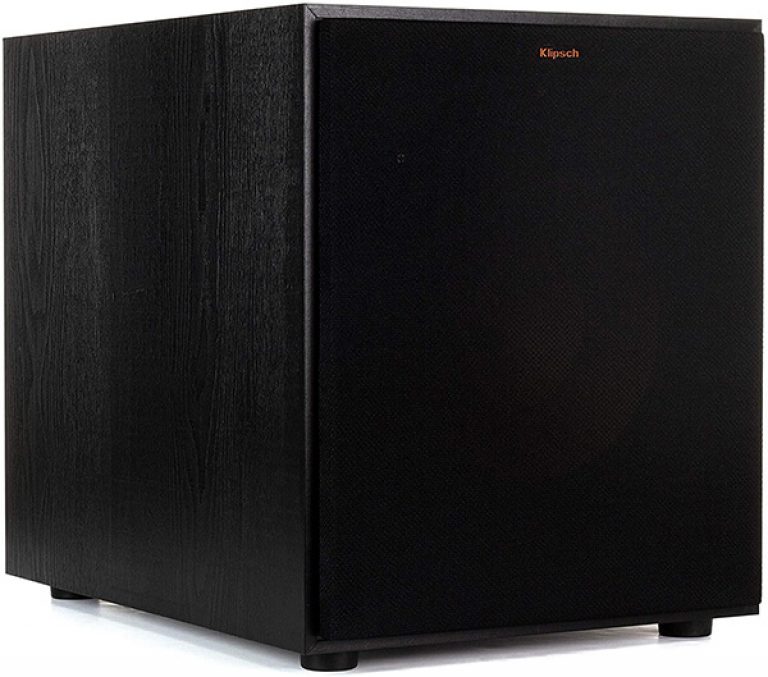 Though one may be tempted to dive straight into performance, and we will surely do that here too, but this model's design deserves some attention beforehand. It is an understatement to call Klipsch R-120SW a beautiful model, it is so much more than that. The design is both practical and aesthetically impressive, as shall become apparent in the following headers:
Textured Vinyl
On top of the MDF cabinet, you can notice the striking and elegant black textured vinyl. You can see this beauty even with the grille set in place, and it becomes more apparent when you take it off. This imparts an excellent look to the unit, far superior to that of a smooth finishing. The textured surface also deflects light differently, giving it an elegant shine, not too bright. This allows the unit to perfectly blend in with the ambiance of your room.
Smudge-Proof
Moreover, the textured surface also has an edge over a smooth one regarding smudges. A smooth surface is more likely to get tainted with smudges and fingerprints when handling it. But this is not the case with a textured surface, since the surface does not come into full contact with the depressions of your finger-skin, it will not be spoiled.
This may not seem like much, but you can't appreciate smudge resistance enough. Knowing all too well how such units can get tainted so easily and how punishing it is to wipe those smudges off their surface, I say good riddance. However, the unit is not completely immune to smudges, so you will have to wipe them lightly from time to time but not as often.
Scratch Resistant
You've just bought an elegant unit. You're in love and want it to last forever, hate to break it you, ain't gonna happen. Over time, and in some cases, in just a few months (if it is a cheap model), the unit will lose its looks. While the Klipsch R-120SW did not drink the Lazarus water, it does fare much better than other units in terms of look preservation, why? It is scratch-resistant, that's why. This is a nice additive to the mixture, especially when the design is indeed worth preserving.
Grille & Components Lying Underneath
There is nothing extraordinary about the grille per se, it has a simple design, but perhaps that's part of its charm. This goes nicely in contrast with the cool Klipsch logo, a metallic insignia, placed on top of it. You can decide to keep the grille on or off, and this duality itself is another way this unit gives you independence with design.
When you take off the grille, you will be met with eight rivets, colored the same, and placed around a central copper-made woofer. A truly gorgeous sight indeed. With the grille on or off, the unit emanates an aura of splendor and beauty, you can choose to set it up either way.
Aesthetics & Sturdiness
This is a matter of personal preference, but the Klipsch R-120SW is a truly remarkable piece of beauty. The pictures and even these vivid descriptions seem to fail in describing the excellence of its design. The unit is not shiny yet not too dull either, it is this balance of aesthetics that sets it apart, visually.
However, looks are not all. The design may be intricate, but it is by no means delicate. Klipsch R-120SW is one sturdy subwoofer. It is durable and will last for a while, meaning that your room will have a corner reserved for this sound system for some time. Fret not, it will look great in your room.
Features & Specifications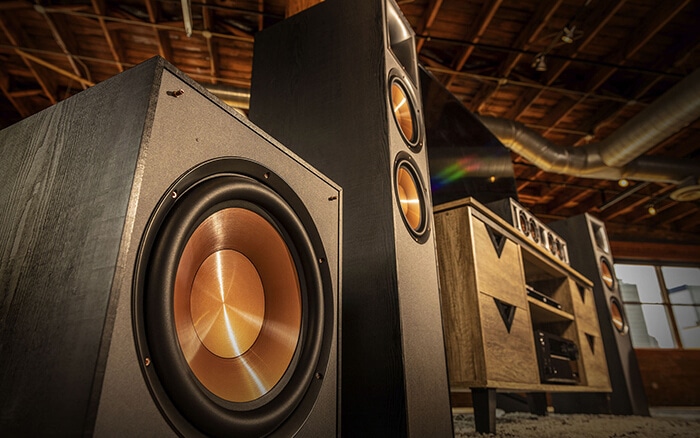 There are a ton of things to talk about when discussing the features and specifications of Klipsch R-120SW. Its excellence is reflected by a set of unique features which set it apart from the crowd. They are discussed in detail under the following headers:
High Excursion IMG Woofer
The first and foremost thing you'd hear about this unit is its High Excursion IMG woofer. In case you don't know, IMG stands for 'injection molded graphite,' and the excursion is a measure of the speaker cone's resilience.
When operating, the cone will displace from its primary location. Excursion represents the maximum displacement it can take during vibrations without damaging itself. The more the excursion, the better. The sound can be amplified more and more without sacrificing sound quality. This also allows you to keep the bass at a substantial level.
Copper Material
Another excellent feature of the woofer is the material. This copper-spun woofer enjoys much of its success owing to the nature of its material alone. Copper is a lightweight yet highly sturdy and rigid substance, allowing your woofer to produce high-quality sounds, even at higher volumes (there are no warps).
Built-in Digital Amplifier
If things weren't already impressive enough, be ready to be amazed but the all-digital amp unit built into this subwoofer. This not only allows you to control the power input but also does not alter the sound quality. Many amplifiers have a slight effect on the sound quality, and you can rest at ease, this is not the case here. Sound will not be sacrificed with Klipsch R-120SW.
Other Features To Consider
Here is a comprehensive rundown of other features to consider:
The unit produces sounds between 29 Hz to 120 Hz, and you will hear every instrument, especially the bass.
It can produce a maximum acoustic output of 116 dB.
The power input alters between 200 and 400 watts.
Gain, phase, and low Passover controls allow you to take complete control over every element of the sound, including the bass.
It offers a broad spectrum compatibility with instruments owing to its RCA LFE input options.
The bass reflex feature allows you to minimize distortion with low-end sounds, like bass, especially at higher volumes.
It is a compact unit, measuring in at 19.2 x 14 x 16.5 inches (L x W x H).
The subwoofer weighs in at 31 pounds, feels sturdy, and is highly durable too.
Setting It Up
The setup process is not complicated, and if you have prior experience with subwoofers, then it should be a breeze. Make sure that everything is turned off before you proceed. Safety first. Search for the 'gain knob' at the back of the unit, turn this dial just past the 12 o'clock position, as if you were adjusting a wall clock. Move onto the 'low pass filter knob,' move it to the extreme right position.
Then connect the RCA cable to the input insert of your receiver on one end and extend the other to meet the LFE input insert on the back of your unit. This is it, and you're all done. Just turn it on and play something to see if everything is working fine. The simple set up also makes it a worth-buying model. However, this is not unique to Klipsch R-120SW.
Sound Quality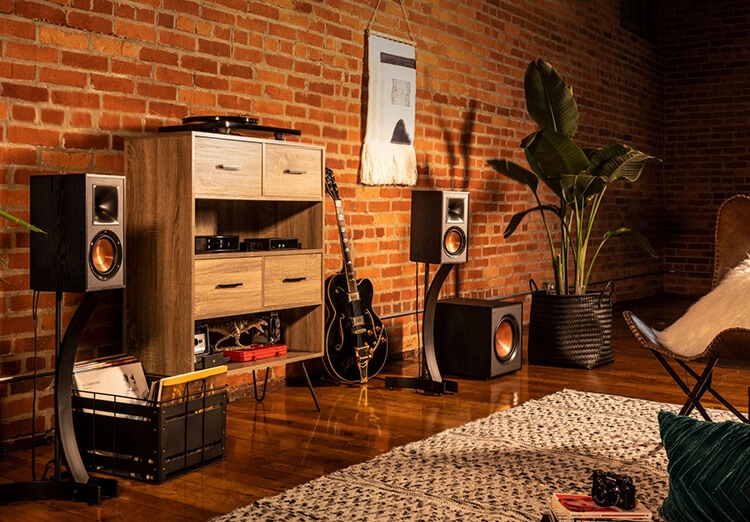 Sound is the one thing that you want perfect from a woofer. People may be willing to compromise on some other features, but there can be no settling with sounds, they have to be perfect. Klipsch R-120SW shines bright in this area; the sound is just immaculate. It does not lose its consistency even at higher volumes, and the punchiness makes it all the better.
Bass
One of the strongest areas for this subwoofer is its bass quality. It is perfectly tuned and seems to be delivered like a thud rather than a pale sound. However, the quality is never sacrificed. It is not boomy but simply stands out.
To any music aficionado, the importance of a well detailed and elaborate bass is the same as the role of fragrance in flower. The unit does not let it get muddy; neither does it allow the bass to overshadow other sounds of the music. It creates a normal and optimal mixture where every sound is represented proportionally, and the bass is noticeable, which is very nice.
High & Low-Frequency Notes
The Klipsch R-120SW subwoofer has a decent frequency range; however, not the best. Don't get me wrong, it is still pretty impressive, but it could've been a bit better. High notes play fine, rock music will indeed blow the roof off the party, but it's the low notes that could've used some work.
Notes below 29 Hz, which is the lowest frequency input/output possible, tend to be a bit problematic. Not that many sounds fall beneath this limit, but those that do are barely playable. With a powerful receiver, you may be able to get notes as low as 27 Hz, but normally that's not the case.
This is not a deal-breaker; the overall frequency range is pretty decent; however, the lower notes can use some work. You can use a loud receiver, like I do, to improve the performance with lower notes, but generally, this is an area wanting improvement. However, overall, things are great, especially the bass.
Music
Whether it's rock, pop, new wave, metal, jazz, or the Blues, this unit will never let you down with music. Not only is the sound perfectly balanced, but the unit also offers an excellent output in the 45 to 60 Hz sweet spot that most songs cherish. It can, of course, go way beyond this range, as covered in the previous section.
The best element is its focus on bass, which appears to be an elaborate part of the mixture without drowning any of the other elements. Klipsch R-120SW will put a new life into your parties and jam sessions because it is meant to.
All-in-one Entertainment Sound Unit
Although it shines the brightest when dealing with music, and why wouldn't it, with such great detailing afforded to bass, it is an all-in-one sound master. Want to spice up your movie experience? Or do you want to make sure that your favorite sitcom is audible to all of your guests? This subwoofer can help.
With its ostentatious yet perfectly balanced sound quality, this unit can perform excellently as the all-in-one sound master. It delivers excellently on all fronts and is sure to kick your entertainment routine up a notch, that is to say, as long as you don't violate any social laws regarding noise.
Assessing The Pros & Cons
As with any other product, the Klipsch R-120SW has its pros and cons, and in this section, we will brush through those as well:
Pros
The bass quality is immaculate even at higher volumes, which cannot be accomplished with cheap units
The sound quality is never compromised. There is no distortion whatsoever
You can use it for jam sessions, parties (music), or for movies
The looks and design are breathtaking
It is highly durable and will preserve its looks against scratches and smudges
Cons
Low pitched notes, placed under 29 Hz (minimum frequency) will be hard to hear
The unit is quite heavy, weighing in at 31 pounds
Final Verdict
Klipsch R-120SW is not only an impressively designed unit, it performs just as well. The subwoofer excels at all standards, as must be apparent by now. What it lacks in portability, being a heavy model and all, it more than makes up for in performance and durability. I would highly recommend this unit not simply because of its specifications but also its versatility, just a fair warning though, don't use it with horror movies – especially if you have to sleep afterward.