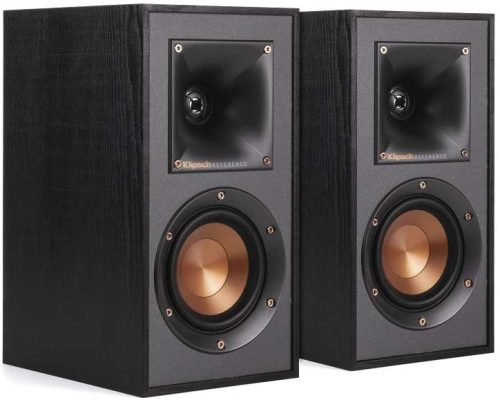 In the world of audio, what you are paying for is what you get. That's why it can be hard to get affordable speakers for living spaces that don't sound terrible. Especially so when it comes to larger pieces like bookshelf speakers.
There are exceptions to that rule, however.
The Klipsch R-41M is one of the most affordable sound systems in the market. It doesn't compromise on sound quality either. Klipsch has been around for more than 70 years, innovating the use of horn-loaded speakers to deliver better sound quality.
Where to Buy?
What is Klipsch R-41M?
The Klipsch R-41M are powerful and versatile bookshelf speakers. The R-41M comes in a pair, so you get two of these speakers together. They are small yet stylish speakers designed for use in living spaces. They are also great for use as reference speakers for any type of home theatre system.
These speakers are manufactured by Klipsch, a famous audio brand that has been in the business for over 7 decades. Klipsch is known for its loud and dynamic sound, which some audiophiles claim to be unrefined. The R-41M is no exception in the loud and dynamic sound department either.
The R-41M has a straightforward yet elegant design in terms of its looks. Its wood grain vinyl, cooper woofers, and exposed fasteners all contribute to its modern but timeless appeal. The speakers are also relatively quite small in size.
Just like other Klipsch speakers, the R-41M is a horn-loaded speaker. It uses 90×90° Tractrix horn technology to reduce any artificial reverb. This way, the R-41M improves sound quality.
The R-41M also uses the Klipsch proprietary LTS tweeter driver, which minimizes sound distortion and increases sound quality. The tweeters consist of 1-inch aluminum.
On the other hand, the woofers in the R-41M are made using injection-molded graphite. This method of making a woofer makes it less prone to distortion and enhances speaker efficiency and clarity.
Why choose the Klipsch R-41M?
The R-41M can handle up to 200W of power but can give potent sound without draining all the power out.
Its technical specifications show that it is an incredibly powerful pair of speakers that can perform amazingly in any compact living space. They also perform efficiently as a part of a 5.1 surround sound system as reference speakers.
The R-41M is an excellent choice for people looking to add some amazing quality music and sound into their life and living spaces without breaking the bank.
Design, Features, and Performance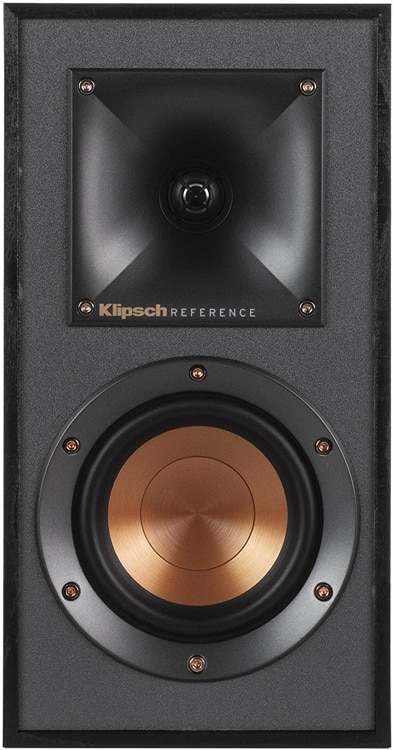 Design
While many speaker manufacturers have shifted to more modern speaker design styles, the Klipsch has stayed with what is classic.
It uses simple black color effectively well. Accentuating the black color are its cooper woofers and fasteners, which add some visual spice to its front. The wood vinyl finish also prevents the speakers from looking too drab or dull.
The back panel looks decent and tidy, unlike many other speakers. There's not a lot of space for dust or grime to accrue either. Even though you are not likely to see the back panel often while the speaker is in use, it shows that Klipsch cares about their product looks.
Cabinet Design
The paneling on all sides is made out of MDF covers. MDF looks good and helps in reducing any excess vibrations that might bleed out from the speakers. It is also scratch-resistant.
A magnetic grille covers the front of the speaker. The grille is flexible and removable. It is also strong, so you don't need to worry about its durability too much.
The speakers are of a perfect size for mounting on walls or bookshelves, and other surfaces. Standing just under a foot tall, their dimensions are as follows, 11.3 inches tall, 5.75 inches wide, and 7.9 inches deep.
They don't weigh a ton either. The pair of speakers only weighs in at 7 lbs each. This is relatively light when compared to other bookshelf speakers of the same power and performance level.
However, you might need to think twice about mounting them on a wall or other enclosed surface. The Klipsch R-41M have rear fire ports. These rear fire ports have bass reflexes on them as well.
This means that putting the speakers too close to any wall or similar object will seriously hamper the bass's quality that the speaker is putting out.
The speakers also come with 8 silicon pads. Place these silicon pads under your speakers wherever you are going to put them in your house. The pads provide stability by preventing slippage and any movement. They also reduce the effect of any bass vibrations, which has bled out, on the sound.
Features
Don't forget that the Klipsch R-41M are wired speakers. There is no model with Bluetooth connectivity or anything similar. They are also passive speakers. This means that you will need an amplifier or receiver to connect to the speakers before they can play music.
The peak power rating of the R-41M is 200W. This is great because the Klipsch proprietary LTS horn-loaded tweeter and the image-molded graphite woofer can only use about 50W of continuous power.
This implies that even with high power, your speakers aren't going to suffer from damage or distortion. This is especially useful when it comes to preventing damage to speakers from electrical surges and outages.
The Klipsch R-41M does have a sensitivity of 90 dB at 1 watt, however. These speakers don't need a ton of power to give you powerful, deep sound. This is mostly due to Klipsch making the speakers as efficient as possible through design and material choices.
Since you are going to connect these speakers to an amplifier or a receiver, keep in mind that their impedance is 8 ohms compatible. Be sure to select a compatible amplifier to get the best and safest results.
Sound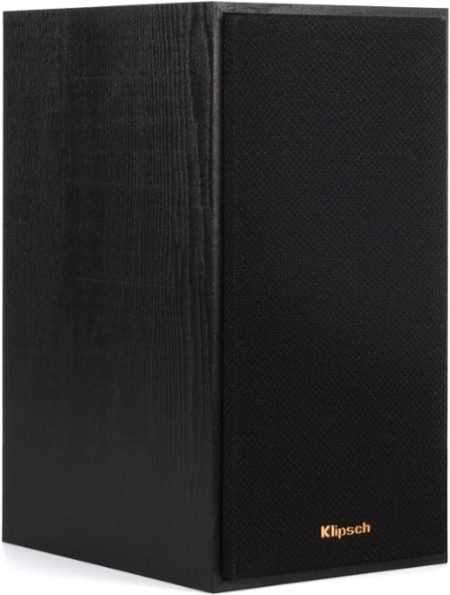 Even though they are small, the Klipsch R-41M can produce amazing high and midrange tones. While the speakers are touted as reference speakers, they do not produce a reference-grade sound quality. This is not to say that they are bad, just that they aren't as neutral.
You will notice one thing immediately with the Klipsch R-41M. They are loud, incredibly so for their size. The 4-inch woofer made out of IMG and the 1-inch tweeter made of aluminum use their power to deliver some truly powerful sound.
The sound the speakers produce is very crisp and clear. This is because of the signature horn-loaded design that the company uses. The 90×90° Tractrix Square that houses the tweeter does a lot to minimize any audio distortion that can compromise the sound's quality.
The tweeter drive also uses the Linear Travel Suspension system designed by Klipsch. This system also works in conjunction with the Tractrix square to minimize audio distortion.
Of course, all of this is aided by the material and design choices as well.
All in all, this results in incredible mid and high-range sounds that are crisp and clear even at high volumes. The high tones don't drown out the mid-tones, and they balance each other well.
There is one major drawback though, all of this focus on preventing distortion means that the bass depth is compromised on the speakers.
You can complement the speakers with a subwoofer to make up for their lack of bass in deep tones. Still, it means that the speakers are more suitable for home theatre and surround sound set-ups than just listening to music.
You should also note that the speakers are designed for listening in line with the drivers.
Pros and Cons
Pros
Timeless design
Great quality audio performance
Loud for their size
Great for home theatre or 5.1 surround sound systems
Relatively budget-friendly
Cons
Final Verdict
The Klipsch R-41M is a solid pair of speakers that can deliver incredible, powerful sound without distorting or cracking the sound. Even though the speakers' bass performance isn't the greatest, it is still one of the best choices for a home theatre or 5.1 sound system.
There are several bigger and more expensive speakers that do a slightly better job than this pair of speakers. They're not the perfect option when it comes to filling out a room with sound.
Nonetheless, the R-41M are definitely more than worth their price when it comes to their performance.