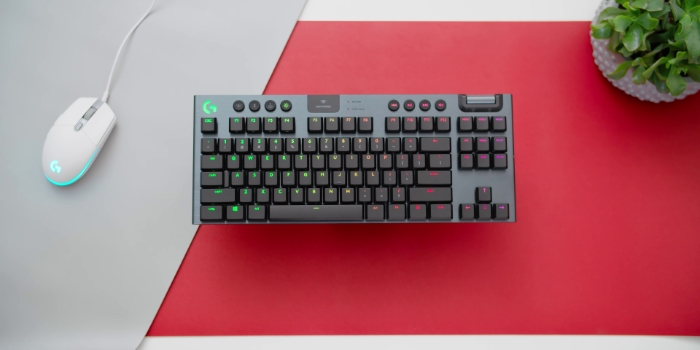 Logitech boasts a sleek line of mechanical gaming keyboards that incorporate key features which gamers demand and love. While their wireless keyboards are some of the best in the industry, with the Logitech G915 TKL, they take their cutting-edge technology one step further and bring their best yet.
A wireless gaming keyboard with the TKL form factor vastly reduces the travel distance. It also becomes the best compact fit for your desk. It's attractive, robust, extremely low profile, super comfortable to use, and even includes a built-in USB compartment.
While it's arguably one of the best, if not the best mechanical keyboard out there, the decision to buy one for yourself shouldn't be made lightly.
Where to Buy?
What Is The Logitech G915 TKL Mechanical Gaming Keyboard?
Logitech's G915 TKL gaming keyboard is not only tenkeyless but also extremely low profile, compact, and highly ergonomic. It's versatile and adverse as it features not only Logitech's successful LIGHTSPEED wireless but also regular Bluetooth connectivity as well.
Like the other wireless mechanical gaming keyboards from Logitech, you get the same sleek design and frame, round rubber media keys, and the G Hub software for various customizations.
It's a tenkeyless and a more compact version of the earlier and original Logitech G915 LIGHTSPEED wireless keyboard.
It's a perfect keyboard for gamers who wish to have more desk space for better mouse use or keeping snacks or more. With the number pad's removal, there is surprisingly a lot of space freed up, giving the keyboard its highly compact form.
It also perfectly complements the compact footprint when using it on your desk. So, for gamers looking for TKL keyboards, there's no getting better than this.
All three of the clicky, linear, and tactile options are available to choose from as well. It features low-profile comfortable switches and is free from any latency or lag.
With the separate compartment for USB storage and up to 40 hours of battery life, even at full RGB light brightness, this keyboard has it all.
Truly a breakthrough in its engineering and design, Logitech G915 TKL will not disappoint if you can look past the price tag.
Design, Features, and Build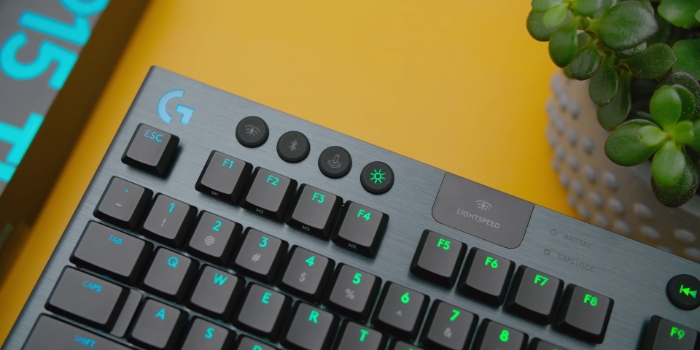 The Logitech G915 TKL is a smaller cousin of the original full-sized and gigantic G915 LIGHTSPEED. It comes with all the older versions' features but with a few upgrades in design, build, and performance. It is also cheaper.
It proves to be very comfortable to use when gaming and even when you're typing. The shorter travel distance and the ease of use due to the low-profile build make this keyboard an ergonomic masterpiece.
However, it doesn't feature a wrist rest but includes bottom dual-angle adjustments to position the keyboard for better ergonomics.
Incredibly Slim Design
As a slender and compact gaming keyboard, the Logitech G915 measures 15.2 x 5.9 x 0.9 inches. It's designed similarly to many other TKL keyboards, with all the regular keys included adequately sized enter, backspace, and delete keys.
The lack of the number pad and the macro buttons compacts it and makes it ideal due to its smaller footprint. A convenient metal volume wheel makes adjusting volume even easier.
It features attractive media control keys at the upper right of the keyboard, which are soft-touch buttons. There are eight buttons evenly distributed on either corner. The right one is primarily for media controls, the two on the left are for the wireless connection and Bluetooth connective switch controls.
The remaining two are game mode buttons and RGB brightness control buttons, respectively. Its keys are smooth and robust, so pristine that they feel metallic to the touch. The raised switches give it the gaming keyboard look.
Study And Compact Build
The Logitech G915 TKL has an ultra-thin and slender build but is surprisingly heavy despite its looks. You quickly understand why. It has a dense frame with a steel-reinforced plastic base, which is topped by top plates made from aluminum alloy.
Overall, the keyboard is more metal than plastic as there has been a whopping 88% reduction in plastic use. The low profile brings it very close to the surface, negating the need for a wrist pad.
However, two angle adjustments are provided at the bottom to give slight elevation for better comfort and convenience.
Wireless And Bluetooth Connectivity
The Logitech G915 TKL features both LIGHTSPEED wireless and Bluetooth connectivity, and users can switch between them as they like. The connectivity experiences no latency or lag, so the gaming and typing experience is flawless and highly satisfying.
With the connectivity options, you can also easily swap between your devices, which comes in handy when you're gaming and live streaming. It makes multitasking effortless and distraction-free, so you don't have to break your concentration at all.
G Hub Software
For your Logitech products, you get offered a wider user experience for your customization and control needs using the G Hub software.
It enhances your gaming experience. It also gives you the freedom to control key functions, the RGB lighting, commands, macro keys settings, and assigning desired profiles to the F keys.
You can build keyboard configuration to your liking and sync the settings across other peripherals in the Logitech G range.
Macro Key Storage
Macro recording or the FN row is another function of the Logitech G915 TKL. With the easy macro recording, you get up to three customizable profiles.
The storage and recording are not just confined to combinations or shortcuts. They can also be used to paste commands or launch applications and even activate your live streaming using the keys.
Performance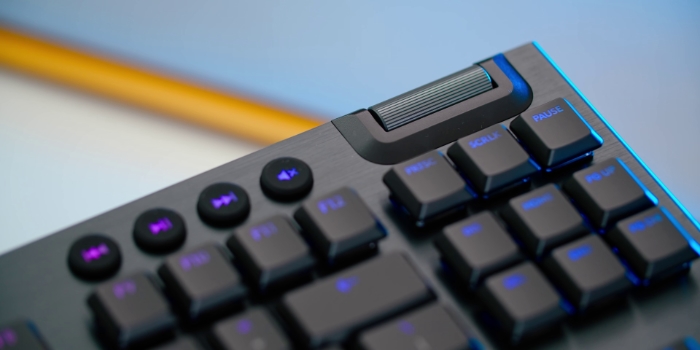 Logitech G915 TKL proves to be one of the best mechanical, wireless gaming keyboards, made to suit all your gaming needs. Its performance is superior and incredibly comfortable not only when playing games but also when typing regularly.
Gaming Performance
Logitech believes that the tactical G915 TKL keyboard is the best for first-person shooter and competitive gaming. On the other hand, the linear keyboard is a perfect fit for a multiplayer online video gaming experience and playing action games.
The tactile switches' low profile is also very sensitive and responsive, which makes playing high-end FPS effortless. The short travel distance also makes it easier to do speedy moves and carry out actions in rapid succession while making inputs easy.
The LIGHTSPEED dongle technology makes it easy to play and type without experiencing any dropout.
Typing Performance
You can choose your favorite between the linear, tactical, and clicky key switches, with all of them providing a smooth and pleasing metallic-like finish. The tactile keys are noise-free and, in comparison, retire half of the actuation force than others.
The linear switches are also silent but require actuation force in full, while the GL clicky version has a satisfying sound with lesser actuation force. They provide high-end typing performance and feel, and you can easily get between 120-140 wpm with an accuracy rate of more than 98%.
Should You Buy The Logitech G915 TKL?
As you've seen so far, the Logitech G915 boasts all the bigger G915 LIGHTSPEED version's premium features but is a more affordable and compacted option.
Even with the price reduction, it's still an expensive keyboard that'll require serious consideration before you can invest in it. Consider these aspects before you decide.
Battery Life
It features long-lasting battery life that can function non-stop for 40 hours with your RGB brightness at full. If you balance it at 50%, you can use it for more than 55 hours.
It charges fast and takes around 2-3 hours to charge at full capacity. You can continue using your keyboard even while charging as well.
RGB Lighting
The Logitech G915 features RGB lighting that can be customized to your favorite shades using the software. You can adjust the brightness of the RGB lighting to your needs, and it provides an attractive look to the keyboards.
USB Pocket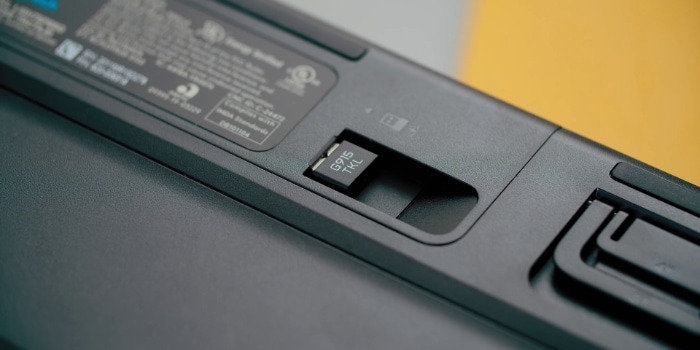 A handy USB Pocket is also included at the bottom of the keyboard for storing your receiver. This makes it easier to keep your recovery or dongle in place and comes in handy while traveling as well.
Pros and Cons
Pros
Vibrant and customizable RGB lighting
Efficient metallic volume wheel
Wireless USB and dongle storage compartment
Compact TKL design with the slimmest build
Ergonomic low profile key switches
Shorter travel distance rivaling higher profile keyboards
Cons
It uses a micro USB cable for charging
Expensive
Final Verdict
The Logitech G915 includes all the top-tier features you can need for an elevated gaming experience. It also frees up considerable desk space and is highly ergonomic in its functionality.
You can heighten your gaming and typing experience to a level on par with a higher profile premium keyboard.
However, it's expensive and may not be very affordable, but it's a keyboard that's the best in its line. So, if you invest in it, you'll be impressed by this high-quality product built for a high-quality experience.