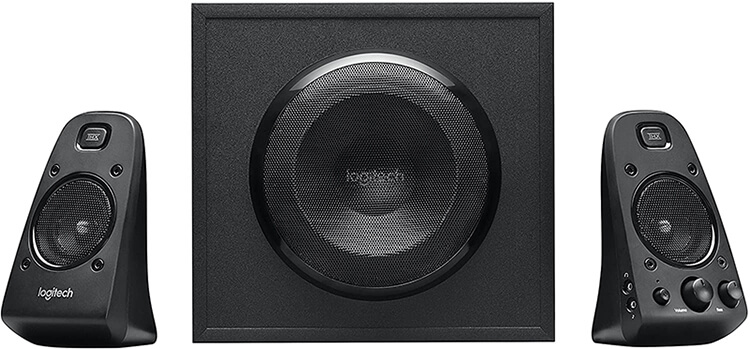 Electronic gadgets are evolving day by day and also very fast. As the need for electronic devices and technology increases, producers and manufacturers are making more innovative and creative gadgets. And as we proceed in the world of technology, all the gadgets will become handy to carry them wherever we go. Speakers are used so that we can listen to the sounds.
These are the most needed devices in every house nowadays. Having a good quality speaker is a must by watching movies at home or listening to songs. As you choose a speaker, it should be a good design and offer good audio output, which can be heard by the listener. Most speakers are compatible with computers, TV, music players, DVD players, or gaming consoles.
The electronics industry is busy innovating and creating products with a better facility and easy handling features in this fast-growing world full of technology. And all of these at a reasonable price so that it is of high demand in the market. Logitech is one of the best brands for speakers and home theatre sets. In this article, we will tell you about the features of Logitech Z623 and give you an honest review of the product.
Where to Buy?
Description of Logitech Z623
Logitech Z623, a wired speaker system, is a very trendy speaker. The speakers are jet black with two satellite setups and one subwoofer, which gives a clear sound. The THX-certified 2.1 speaker makes you feel like you are in the gaming field while playing games. It gives you the perfect sound for music, games, and movies. You can control the bass up and down on the speaker itself.
Its 200 W lets you listen to music as loud as you want to. The music will be clear enough in a large room as well. The 3.5 mm input makes it possible to connect a maximum of 3 devices at a time. It is compatible with computers, iPods, gaming consoles, DVD players, music players, and other devices. It has an auxiliary jack on the right satellite speaker.
Logitech itself manufactures this product. Sound in frequencies less than 30 Hz will be good to listen to effortlessly; you don't feel fatigued, which means you can hear music for a longer time. Only good audio systems can deliver this type of bass. In Logitech Z-623 2.1, you get intense bass, which is below 35 Hz.
Features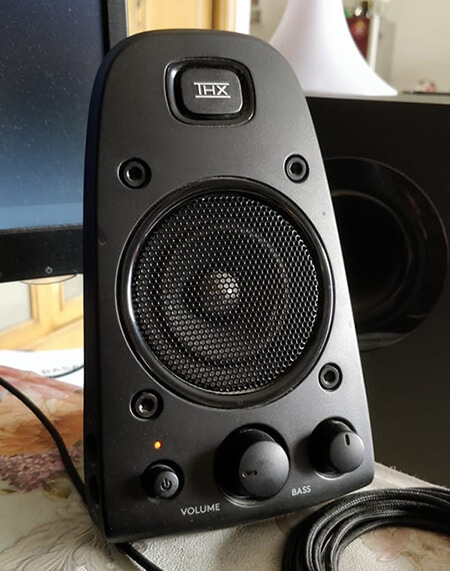 Logitech Z623 is a 2.1 speaker with extraordinary sound.
It has a THX certificate that gives proof of its good quality and 200 Watt and a subwoofer of 130 Watt.
It has a 400 Watt peak power.
It has 3.5 mm inputs, which can be of multiple uses.
The speakers have convenient RCA input and are durable.
It has a built-in headphone jack, which will give you privacy to listen to what you want.
On the right speaker, there are buttons that make it easier to operate.
The power button, volume, and bass control buttons help to change the settings quickly and easily.
Its system gives a response of 35 Hz to 20 kHz.
It gives 200 W RMS power.
The speakers have a limited warranty of 2 years.
Review
Logitech Z623 is an excellent speaker at an affordable price. It is a must-buy for all audiophiles. It gives the perfect value for money, and its quality and features are worth the price. The bass is outstanding. We can hear the subwoofer vibrating while we play loud music, so yes, it is one of the best speakers available in the market. At this rate, this is one of the best home theatres. It just not only can beat the soundbar & also the Bose of the same price range. There are several types of speakers in the market you can find, like Sony, Philips, JBL, etc. It is really different from the other speakers in price and its features, and the audio quality is also too good. It is an honest Logitech Z623 review. So for all the purposes, you can easily have this speaker to have a perfect bass and audio quality.
Pros and Cons
Pros
Comes with attractive speakers
Good bass
Can be connected with three audio devices
Affordable
Good clarity
Durable
On-speaker controls
THX-certified
Built-in headphone jack
Cons
The subwoofer is of big size
Buying Guide
If you want to buy a new set of speakers, Logitech Z623 is the best for your home. Bring home the best speakers, which will give you a clear sound. You can order Logitech Z623 online from any shopping site; you can also see the product info on Logitech's official website. This speaker will also be available in your nearest electronic store. So you can go to the shop and also check the features yourself before buying it.
Final Words
While watching movies, listening to music, or playing games, it is very important to listen to the dialogues, lyrics, or instructions respectively very carefully and, thus, the use of speakers. When you buy speakers, do not forget to check the sound quality and bass. It should not be huge and should give you quality worth the price.