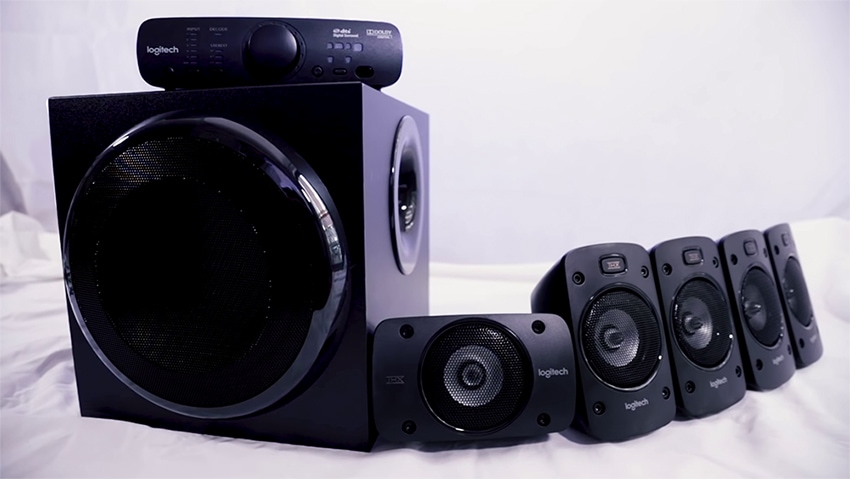 The successor to the highly acclaimed and well-received Z-5500 model, the Logitech Z906 is as versatile and powerful as its mighty predecessor. As with the previous model, it can handle all sorts of entertainment, games, videos, music, and pretty much anything with a vital sound component to it. With the Z906, your entertainment experience will never be the same monotonous kind it used to be.
All flattery aside, and trust me, I am not exaggerating, the system outperforms competitors on several fronts. I'm not saying that it is the best out there. However, it certainly offers a pretty decent deal for what it's worth (a very affordable price). Any top ten list would be incomplete without it. I also tested it with some of my favorite videogames, a few songs, and a movie (read on to find out which one).
If you thought that Logitech's territory was limited to building high-quality PC speakers and that they could not go beyond that, think again. In this meticulously detailed yet extremely fair review, I will explore how this model remains true to its successor's glory and discuss the few things that have changed. So hang tight till the end; you will be amazed.
Where to Buy?
Design & Build Quality
The design is predictable in some aspects, while in other areas, it is pretty innovative. I would describe it with the word 'hybrid.' It works out for the best, though. As expected, the Z906 looks more like a PC speaker set than a home entertainment system, although it can work excellently in both capacities. This much I expected; after all, its Logitech, the brand I grew up with, playing Battlefield Vietnam, 2, and then 3.
However, Logitech has introduced some significant changes to the design. Most notably, the unit now features regular speaker wire compatibility rather than formerly used proprietary links. This allows you to place your speakers anywhere you want. You don't need to worry about the cable length as you can always buy a longer one. The frame is wall-mountable, and I found that quite convenient for my gaming/entertainment ensemble as I didn't have to sacrifice any tablespace.
It features a single subwoofer and five speakers surrounding it like planets orbiting the sun, expect that they are stationary. The meticulous design is also perfect for preventing or at least mitigating dust buildup. Hence, you won't have to wipe it clean every day. The last part I did not test, neither do I intend to, but by the feel of it, I can tell that this model will survive a fall or two. Overall, it looks very sleek and stylish, but it is just as sturdy too.
Input Options
All of the input ports are on the rear end (more on that in the next section). These include ports for speaker wires. There is one problem, though – no HDMI. Okay, let me be straightforward here; HDMI is the one thing I wish wasn't missing, but it is. I mean, how can you do without it when dealing with a home cinema system? But here we are.
It's not a deal-breaker. The unit does offer some pretty decent features, but things would've been much better if HDMI was present too. If you hook it up with a Blu-ray player, and your player doesn't have preset decoding of DTS-HD Master Audio plus 5.1 and Dolby TrueHD, you won't get to enjoy these formats. And just to clarify, only a handful of players can offer you this privilege.
You could try hooking up the unit with your player using an S/PDIF, but there is a limitation to this method. You see, S/PDIF limits the playback to DTS sound formats and Dolby Digital to the same level as if you were using a DVD. This compression will leave the sound to a subpar level; it won't sound as good as it should with a Blu-ray. This is the biggest limitation for this unit, but it performs quite well on other fronts.
Rear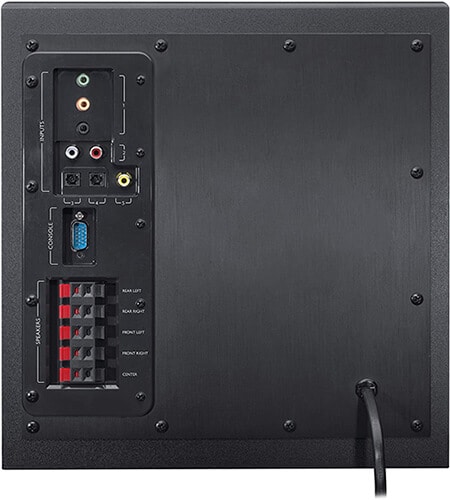 The rear side of the system allows you to connect with gaming consoles, DVD and Blu-ray players, and even with your PC. This is by virtue of the S/PDIF inputs, both coaxial and optical (one and two, respectively). You can also connect with a set-top box and give your television 5.1 surround sound compatibility.
Other than these ports, you also have the option to use two analog input ports. One of these is on the stereo phono sockets, and the other is available among the 3.5 mm minijack sockets, of which three are present. They can provide compatibility for the 5.1 surround sound system and add a new spark to your gaming experience. I, for one, found it very exhilarating.
Sound quality
I may have scared you a bit with the no HDMI part, and I am not going to take my words back; things could've been better with it. But things are pretty good as of yet. Although DTS-HD and Dolby TrueHD are out of the question, the sound quality with movies was still very impressive.
The scare jumps in 'The Thing' were pretty realistic and immersive. I found the movie to have reached a new level of realism with this sound system. And even with the ambient sounds and background music score added into the mixture, the dialogues never drowned. For this, we can thank the central speaker.
For the best results, though, I found that turning on the rear satellite speakers made a significant difference. And unless you turn down the subwoofer a little bit, you may find the sound to be bass-heavy. This is especially true for music (more on that later), but even with movie background scores, it can be a bit distracting.
The sound volume and quality were both superb. If you were to host a party, this unit would be perfect for hosting a movie marathon. But if you like something that fell off from Mount Olympus and shakes the ground with the rumble of intense action scores, you should look elsewhere.
Dual Mounting Options
With the Logitech Z906, you can avail either of the two mounting options available. You can place it on a pedestal or mount it on a wall. I found the latter to be the most prudent because of two reasons. Firstly, it saves precious table space, and secondly, when mounted on a wall, it provides a better surround sound feeling.
Changes Made To the Layout

The Z906 layout has seen several significant changes to make it what it is now. It is the successor to an ultra-successful model and does a pretty fine job at one itself. I can't say that any of the chances disappointed me (except that I wished they had added an HDMI port). So, here's a brief rundown of what has been shaking.
LEDs Instead of an LCD Interface
The previous model had an LCD screen interface for controlling all aspects of the system. The Logitech Z906 does not sport such a feature. Instead, orange LEDs light the control interface. For some, it works well, while others prefer the LCD. For me, both work well, although when gaming in the dark, the flashy orange LEDs can be a bit distracting. You also have the option to use a remote control to operate the unit.
Speaker Wires Instead of Proprietary Connections
Logitech fans will know that their speakers prefer proprietary connections, and while I have no objection against those, I am glad that this one decided to get over with those. Why? Simple, conventional speaker cables are far more convenient.
The unit supports two variants of these cables: the 4.6m front and 7.6m rear variants. The best part about speaker wire compatibility is that you can place the unit anywhere to your liking. If the wire falls short, you can buy a longer one from any nearby store.
Overall Performance Review
When tuning up the audio settings for the first time using the console, things can get complicated. You have the option of adjusting the master volume or individually tweaking the speakers. For an audiophile, there is no doubt that to get the best out of any audio system; you have to tweak every detail. If you manage to ace this part, the 5.1 surround sound mechanics will work like a beauty.
As for actual performance, I went through a few songs like Ordinary World, a classic from Duran Duran, Calm Down by Taylor Swift (yeah, I listen to Taylor Swift, big deal), and Give Your Heart a Break by Demi Lovato. In all cases, I found that the bass component remained intact without drowning out any of the other sounds, especially the vocals.
I've already discussed my movie experience, so now I'll hop on to games. I played Call of Duty 2 with a fan-made Realism mod installed. The surround sound mechanics added a new dimension to my gameplay right from the moment I landed on the D-Day scenario. It almost felt like bullets were flying all around me. Perfect realism, that's all I can say.
Rundown of Features
Logitech Z906 features satellite type speakers.
The system delivers a maximum output power of 1,000 watts, although, on average, this rating is 500 watts.
You can mount it either on a pedestal or a wall.
The 5.1 sound surround functionality allows you to immerse yourself in the movie, music, or videogame as you are exposed to sound effects from all sides.
The sub-woofer has a power input of 165 watts.
The system is THX certified, meaning that it will deliver cinema-like sound effects in your household movie sessions.
The bass effects are highly pronounced, and it offers some shaking effects too, although not too much.
It provides connectivity with a host of devices, including set-top boxes, PCs, music players, televisions, gaming consoles, and so on.
It is compatible with infrared remote controls.
You can adjust every aspect of the sound with ease, either through the console or remote control.
Pros and Cons
Pros
The speakers have plenty of power, so much so that they can fill the entire room with immersive, highly-detailed, and pretty loud sound-effects
You can control the systems either directly via the console or an infrared remote control
You have the option to control master volume or individual volumes
If you use digital inputs, you can create a surround sound effect that is basically like being immersed in a movie or videogame
The unit uses conventional speaker wires for connectivity. This is better than proprietary connections as you can buy them in variable lengths to suit your needs
Since they are THX certified, they significantly improve the level of thrill and excitement of your gaming sessions
Cons
The unit does not offer support for HDMI, which is a big disappointment
The flashy orange LED lights of the console can be distracting, especially when you're gaming in the dark
First-time audio tuning of individual speakers is a major drag
Final Verdict
The thing with this model is that the bar was already too high. Z-5500 was an excellent system; it excelled in all areas that a sound system ought to cover. When I tested the Z906, it didn't let me down; it fulfilled all expectations excellently. I was lucky to get it on a discount via Amazon, and perhaps you may be able to redeem the offer, too, if it remains applicable by the time you read this review.
For such an affordable rate, Logitech Z906 offers pretty decent features. It introduces new components like the LEDs and revamps the cable input system. What more could you want? My gaming experience felt alive with these plugged in, although I do think that the movies could've done better (although they did perform well).
After such arduous testing and comparing, I can say with absolute certainty that this home entertainment system can ruin you for competing models available at similar prices.