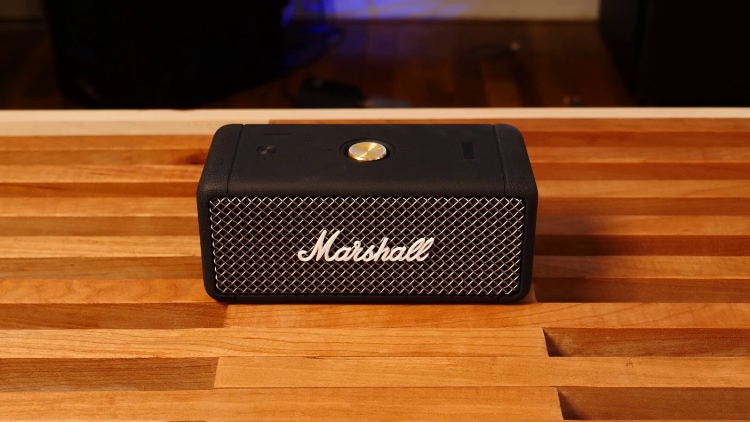 Having a Bluetooth speaker seems like a common thing to own. People like having a small portable device that lets them enjoy some breezy music whenever and wherever they want. Bluetooth speakers have also become a great gift choice that can never go wrong.
The market is flooded with a gazillion options when it comes to a basic Bluetooth speaker; knowing which is worth the purchase might be a herculean task. But there is one model that you can choose without the fear of opting for the wrong thing; the Marshall Emberton Bluetooth speaker.
Where to Buy?
What is Marshall Emberton?
Marshall Emberton Bluetooth speaker is a part of the trusted line of products manufactured by Marshall. It looks like the miniaturized version of the Marshall guitar amplifier. This gives this tiny speaker quite a stylish and handsome look.
This speaker is not just about fancy looks. Beneath the fancy exterior is a classic and durable Bluetooth speaker that will not disappoint you. The small size of the speaker does not justify how great it is in delivering its performance. It might lose a bit of its efficiency when cranked up to the highest volume limit, but that can be expected from a speaker of its capacity.
Otherwise, this speaker is straightforward, simple, durable, and performs amazingly well. You won't regret putting your money into buying this one.
Design and Control
Design
If we were to tell about the Marshall Emberton speaker's design in brevity, it would be a mini Marshall amp with a stylish look and rugged features. Isn't that all we need in a good quality Bluetooth speaker!
If you are a fan of how great the Marshall guitar amp looks, you will be immediately attracted by the looks of this speaker. It is the shrunken version of the amp giving it an endearing appearance, especially to those who have a fondness for rock music and the famous marshall sound gear.
This Bluetooth speaker is a perfect size, making it a suitable travel companion in every way possible. It weighs only 1.5 pounds, which makes its weight unnoticeable to the one who is carrying it. The small size that fits right in your palm allows you to keep the speaker in your backpack without consuming a lot of space.
Don't get deceived by its small look. This speaker is rugged in the true sense. It will not give up in just a few knocks. It has the durability and longevity that is guaranteed with all Marshall gear. Talking about color, this speaker just comes in the basic black, a common color with the Marshall gear. If you are looking for some pop colors, then this speaker might disappoint you.
It also comes with an IPX7 water-resistance system. This means you are not just restricted to use it in the four corners of your room. Fire it up on the poolside or the beach, or while taking a long calming bath, this speaker will not disappoint by its performance.
This speaker is, indeed, not just style and looks. It will deliver the performance as promised by the manufacturers. And you will be left surprised by how stubborn this tiny yet handsome music box is.
Control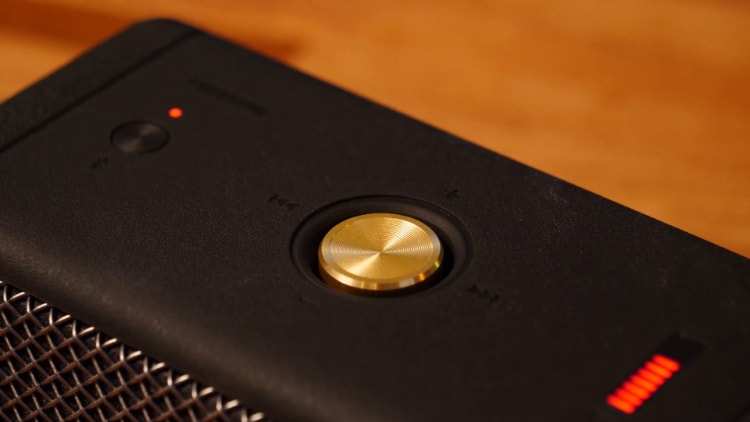 When it comes to the controls of this amazing speaker, you don't have to worry about a lot of rocket science being involved. It is pretty straightforward in its functioning, and anyone can get the hang of it.
It has a button that lets you pair the device with any device. Alongside this button is fancy looking golden color joystick that operates in four directions. It helps you control the power, volume adjustments, and skip tracks while you are playing music. This joystick feature is quite unique to the Marshall speaker that will give a retro feel when you use it.
One might be a bit surprised by the company's approach towards using a button and joystick in the era of touch sensitivity. But Marshall understands the reliability that comes with the button and its efficiency in the longer run. Another advantage of using buttons is you are free from the trouble of memorizing some complex gestures just to skip a track.
Next to the joystick, you will find a glowing red light that indicates battery life. This is yet another great feature that lets you estimate the remaining battery instead of checking your phone for the same.
Audio Performance
Coming to the most crucial feature of a speaker; the audio performance. As mentioned earlier, this speaker's small size is not enough to justify the performance it delivers. It uses two 10-watt drivers and two class D amplifiers. It offers a wide soundstage that is capable of delivering nearly 360-degree sound.
The speaker delivers smooth mids with consistency. Be it a heavily instrumental track or some light jazz, the notes will reach your ears just how they are delivered by the singer. It even adds some crispness to the trebles when you play some funky music on it. Whatever your music type, maybe, this speaker will deliver the notes with perfection, filling your ears with melodies.
You might get a little disappointed when you crank up the volume. There is no compromise on the sound quality; it is delivered in the same way with clarity. However, the powerful bass that you feel at lower volumes will get lost. But that does not make this speaker a reject by any chance. The bass quality is pretty impressive, and you can still enjoy it without flaring up your speaker.
The volume will only be a problem if you are using the speaker for a large social gathering. That will definitely be an ambitious thing to expect from such a tiny speaker.
Battery Life and Ease Of Connectivity
Battery life is quite a relative matter. It always depends on how high or low you keep the volume while using your speaker. The company promises a good 20 hours of speaker performance in one charge. The same is delivered at a typical volume. But you can expect this mileage to go lower in case you choose to tune it at a higher volume.
Even though not quite the bummer, the low battery life is easily compensated by its amazing ability to charge quickly. The USB-C connectivity allows you to charge the speaker within 20 mins of plugging in for a five-hour playtime. Even if you are at a zero station, you can get an amazing duration of five hours in a short recharge boost. This feature works perfectly when you are in a rush and need things immediately.
For connectivity, Marshall Emberton uses Bluetooth 5, which functions smoothly without any issues. It connects with devices without any hassles and provides you with great area coverage. So, you can sit across a huge ground and still plug in your favorite music on this great speaker.
Should You Buy The Marshall Emberton Speaker?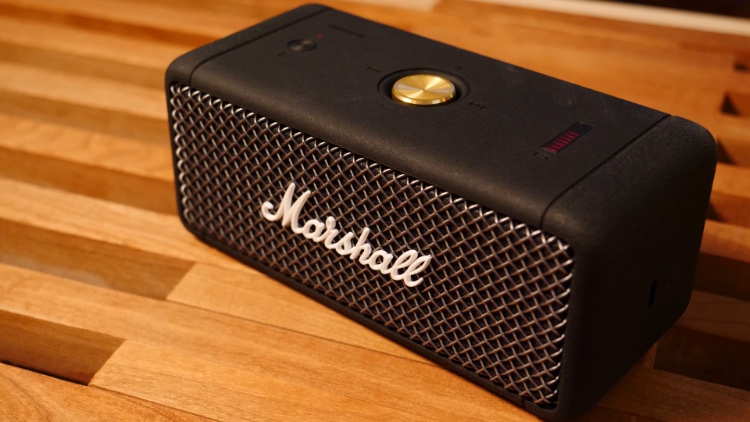 If you are looking for a small size speaker with appealing looks, then you should buy Marshall Emberton in a blink. There is no other Bluetooth speaker that can beat the rustic and rugged looks of Marshall Emberton. It will definitely the highlight of your evenings and will also look great with your room décor.
Apart from style, it performs quite well. It delivers a quality grade performance with efficiency. You don't need to be a tech-head to know how to use it. It is pretty simple to use, and you can figure out the controls with ease. People deeply into music might miss the added touch of an equalizer, but it offers a musical treat for others.
Everything else topped with crazy-fast charging gives you yet another reason why you should buy this speaker immediately. Especially when you always forget to charge overnight and have to do it last minute, you can totally rely on this one.
However, even though quite simple and easy to work with, you can get many smart speakers at the same price. If you like technology taking the front seat are amazed by the idea of new techy features in your speaker, then you can get a much better option at the same price.
Pros and Cons
Pros
Long battery life
Fast charging
Rugged and durable design
Water-resistant
Simple controls
Cons
Loss of bass at higher volumes
No voice assistance
Final Verdict
The Marshall Emberton Bluetooth speaker is a perfect combination of aesthetics and quality performance. With all the features dressed up in its tiny size, this is a great purchase for the music lover in you. It is worth the price you pay if all you need is a great music box with good sound and simple controls.