We all love taking pictures, don't we? Especially in times like these, when we are all made to sit at home and stay away from families and friends. We find ways of reaching out and staying connected.
Social media has played a great role in keeping families updated through pictures, captions, and stories. However, you will understand that most people don't have a social media account or a phone, even in this age and time. Sharing pictures with them does become an impossible task at times. Obviously, visiting these people and showing them those pictures of a new baby or a recent graduation event isn't possible, thanks to strict quarantine rules. Not making them part of your happiness is a thing you do not even want to think about.
To overcome this issue, we suggest you get your hands on a Nixplay 10.1-Inch Smart Digital Picture Frame. We recommend this frame for so many reasons. Read this review below to know why we want you to buy this frame.
What is Nixplay 10.1-Inch Frame?
Nixplay is a famous company known for making digital picture frames enabled through Wi-Fi. To make things clear, these frames are different from old traditional digital frames. Nixplay frames are straightforward to update. The user is supposed to download the Nixplay app, and through the app, you can send any picture or video to any Nixplay frame. The frame needs to be connected to an internet connection to receive that sent photo and video. This technology is one of its kind as it keeps even those people connected who are not as active on the internet as their other family members.
What do you get when you buy a Nixplay 10.1-Inch Frame for the first time?
When you purchase a Nixplay frame, you get a box that has the following things:
A photo frame with a flexible arm
Remote control
Power supply
User manual
Template
The photo frame comes with the following specs:
Width: 7.36 inch
Height: 10.1 inch
Weight: 20.8 oz.
Depth: 1.22 inch
Screen resolution: 1280×800
Brightness: 400 cd/m2
Photo format: JPEG / JPG
Memory size: 8GB
How to set up the Nixplay 10.1-Inch Frame?
Start with connecting your frame with a power supply. Then, switch it on. Make sure the frame is connected to an internet connection.
How does the Nixplay Frame work?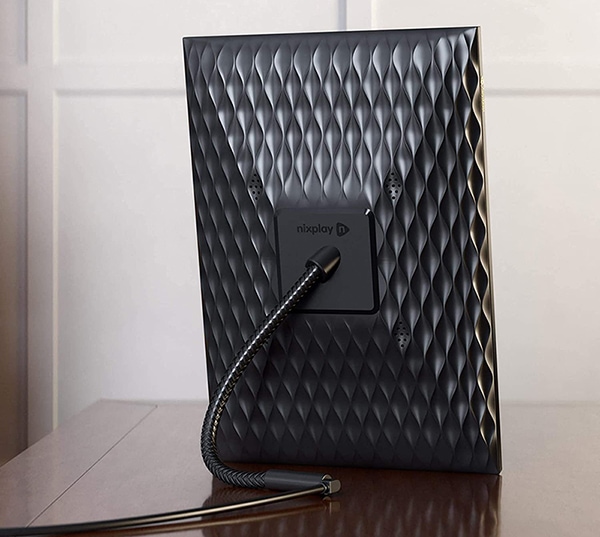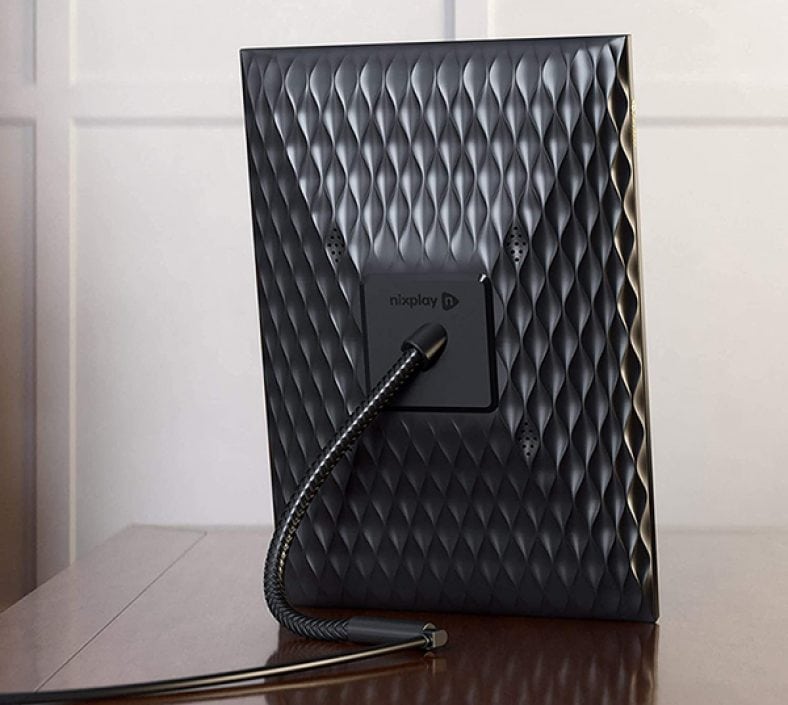 You can use the Nixplay frame to add, delete, and rearrange photos. Once you connect your Nixplay frame to an internet connection, you must create a Nixplay account to get it up and running. The Nixplay frame doesn't work until and unless you have signed in through a registered Nixplay account.
There are two types of options available for creating a Nixplay account for a certain amount of storage. There is a Nixplay standard package that gives you 10GB of storage for free. The user can share images with a maximum of five different frames. If someone needs more storage and more number of frames to share their data with, they have the option of another package, the Nixplay Plus package. This package isn't free and comes with a monthly subscription.
Once you have decided on the amount of storage you need on your Nixplay account and finally created your account, you can then login and are free to add videos and photos to your frame. You can also upload the Nixplay app on your phone. You can easily add, remove, or rearrange pictures that you have uploaded on your Nixplay account through your smartphone.
Nixplay frame uses cloud technology. Once your photos and videos have been uploaded on the frame, the receivers of your pictures and videos are alerted with a notification that pops up on the screen of their frames. This is a great feature to surprise the people waiting for the images and videos for so long.
For family members and friends who wish to upload photos and videos on your Nixplay frame, they can also do it without any hassle. They will have to start by creating their personal Nixplay accounts and then send a request to your Nixplay account to connect them to specific Nixplay frames. Once the admin Nixplay account accepts their friend request, they can upload images and videos on the particular Nixplay frame. Through a Nixplay frame, staying connected with family and friends is as easy as you find reading about it.
The Nixplay 10.1-inch frame has some exciting special features that need a description and mention of their own.
You can remove the frame's support at its back very easily. This provides access to the power socket and makes it convenient to connect with a power supply.
The power cable is pretty large, and it requires a big electrical enclosure. If you plan to fit the frame on the wall, you need an extension cable to connect the frame to an electrical socket.
The Nixplay frame doesn't start until and unless it is connected to an internet connection. After it powers up, the user has to link it to a Wi-Fi connection. It takes some time to update.
The Nixplay app is straightforward to load, and even the registration is very convenient. The many easy-to-use features of the Nixplay app make the functioning of this frame less complicated.
The App Connects Automatically
The best feature of the Nixplay app is that it connects with the connected frame on its own. You do not have to add any manual passwords or serial numbers.
The user can take photos and videos from his Google account or phone and make a playlist on the Nixplay frame conveniently. The user also has the choice to make a cloud album of his choice with photos he had previously uploaded on his Nixplay account.
In a Nixplay frame, the user can upload up to 100 pictures at a time. Uploading these pictures is uninterrupted and quick, provided you have a strong internet connection. Furthermore, this frame has a healthy memory to store as many as 500 photos at a time.
You can also customize the frame settings. Moreover, you can choose from landscape and portrait format. This frame has many customization options available for the display of the frame. You can customize the 'pan and scan' feature or change motion sensors according to your preference.
You can use the display as a clock
The display of this frame has all the features of a clock. You can configure the display to set the right time, date, and day. The configured time and dates appear on the corner of the frame in small font size when it's on and when the display is in sleep mode, they appear in a large font.
The frame clips all kinds of videos to 15 seconds. The sound produced by the 2-watt speakers located on the frame is also pretty low but enough to understand.
This frame comes with an infrared remote. The infrared remote has a single battery that uses a button cell to give power to the remote. Hence, you can use this button to control all the frame functions except for uploading pictures and videos.
The magnetic storage of the remote is a great feature. This remote has a strong back with a magnetic build. This allows you to store the remote at the back of the frame, where it magnetically attaches. You can also place the remote on the door of a refrigerator or a magnetic whiteboard in your room. This way, the remote doesn't get lost. This is a very unique and handy feature.
Nixplay has already installed Fuji Prints on its app. You can get your favorite photos printed on mugs and wall frames for an additional cost.
Amazon Alexa Compatibility
Nixplay is compatible with Amazon Alexa. The compatibility isn't solid yet, and Alexa picks up just a few commands such as 'Command my frame to show me an XYZ photo playlist.'
What we liked about the Nixplay 10.1-Inch Digital Frame
It is a nice size frame with a simple-looking design and a durable structure.
This Nixplay frame has a post on the back that is very bendable. This allows the frame to sit in an upright position on different kinds of surfaces.
All Nixplay frames are designed, taking into account a good user experience. This frame from Nixplay can be mounted on the wall and can also be placed on a surface. This is what most other frames miss.
You can use the remote control for different settings on the Nixplay frame.
There are so many setting options available on the frame that can help you decide the pictures that you need to display and the pattern in which the images should play. You can also set whether the frame should display only the recently uploaded photos and the time duration between the display of one picture and the next one.
The screen and display of the Nixplay 10.1-inch Smart Photo Frame are of great quality.
You can also apply different filters to your screen to give your display an aesthetic touch.
You can also control this frame through Amazon Alexa. The technical people would love this control.
This frame has a sleep scheduling feature and also a motion sensor. When you activate either of the two options, this frame shuts down on its own. The shutting down either happens at a specific time or when the sensor isn't triggered. This allows you to select a sample of pictures rather than getting tired of a single photo in just a few days. It also saves you from a sudden heart attack if you hear a video playing at the oddest hour of the day or night.
If the relative you are considering buying the frame for doesn't have an internet connection, you can always connect the Nixplay frame with a public hotspot. There are tons of security options that you can activate when connecting the frame with a public Wi-Fi network. These settings will make this connection private and secure.
This 10.1-inch frame is very affordable, and you can easily purchase it through Amazon.
What we didn't like about the Nixplay 10.1-Inch Digital Frame
When adding photos from a smartphone, the Nixplay account takes a lot of time as it doesn't allow you to upload images in bulk.
For iPhone users, uploading photos on the account might be tiresome. That is because most iPhone photos have a HEIC format. Nixplay, however, only accepts pictures in a JPEG format.
Nixplay only displays photos that are on the playlist. It doesn't show pictures from other albums.
The Nixplay frame displays photos in both portrait and landscape orientation. It doesn't care about how you have positioned the frame. For better visuals, format all your pictures in the same orientation as the frame's positioning. This will then save the images from being shrunk by Nixplay to fit in the frame.
Nixplay 10.1-Inch Smart Photo Frame, in simple words, is a great invention. This frame is undoubtedly a great gift from Nixplay to cherish some memories together and to keep connected with family and friends who have no other ways to update themselves with pictures and videos.
With a straightforward setup and installation procedure, you can share special moments with your loved ones within a few minutes. It also has many extraordinary features, and the tiny details in its design make this frame a lot more special. Furthermore, it is not even expensive and can be an excellent gift for your elderly family members. If you think you are someone or you know someone who needs this frame right now, go ahead and purchase it right away.