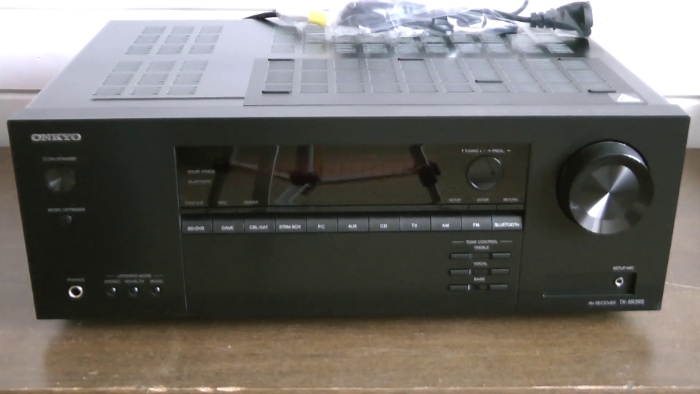 No home entertainment system is complete without an amplifier since most televisions don't quite catch the audio quality as the content intends to. The movie or show you're watching might have the best audio directors, but the immersion they intend for you starts withering as the in-built sound of the TV starts withering.
That's where an A/V receiver comes in. An A/V receiver acts as a sort of hub for all your entertainment. You can connect all your entertainment to it, and it amplifies and improves the sound and visual output. From consoles to mobile phones, DVD players to streaming devices, an amplifier handles everything!
Onkyo is one of the best manufacturers of sound technology and has been in this business for over 75 years. And this review covers one of their recent additions to the amplifier selection, the Onkyo TX-SR393.
The Onkyo TX-SR393 is designed to be a beginner-level amplifier but packs a punch for its price tag.
Where to Buy?
Build and Design
The Onkyo TX-SR393 has an exact rectangular shape with a black brushed finish. The device looks smart, with a futuristic-looking interface that has a button for almost everything you can imagine.
The device looks premium and is light enough if you want to change its position on the TV console. It weighs around 8-8.5kg and has four individual feet for easy placement.
The Interface
The front has a large display that is easily readable from 2-3 feet, and the front has an interface with the following controls:
There's a power button, a music optimizer, and three presets between stereo, movie, and music.
Another button on display lets you change the tuning and presets, and a long-range of buttons below that help in browsing between:
Blu-Ray/DVD
Game
Cable/Satellite
Streaming box
PC
Aux
CD
TV
AM/FM
Bluetooth
Tone control buttons let you control treble, vocals, and bass individually, and a large knob on the right enables you to control the master volume. There are also two jacks on the front for the setup mic and any devices you might want to connect to the amplifier.
The device has support for the following formats:
HDCP 2.2
4K/60 FPS
HDR
Dolby Vision
3D video
ARC
DeepColor
1080p to 4K scaling.
Setting up the Onkyo TX-SR393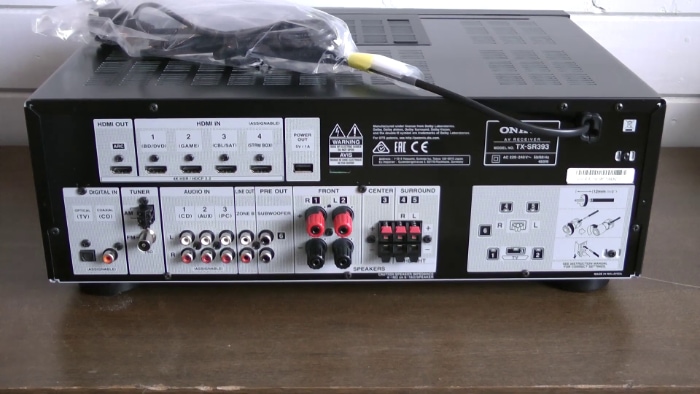 Setting up the Onkyo TX-SR393 isn't that hard. All you have to do is connect all your source devices, speakers and power it up.
After you've powered up the machine, a setup menu will pop up on the screen. Although the interface may seem a little outdated, it does the job. The device will then conduct tests to see whether you've paired everything correctly and give you a small tutorial on calibrating your system with the AccuEQ room correction software.
The room correction software isn't that hard to master, and pretty soon, all your devices will be perfectly calibrated. If you want even more accuracy, you can use an SPL meter to check if anything's off the mark.
Sound Quality
For the price tag, the Onkyo TX-SR393 doesn't disappoint. After watching a few movies and playing some games, we concluded that the little amplifier gives excellent value for money.
The bass has proper weight to it, and the depths were very notable. The dialogue was also extremely clear, and we didn't have to alter anything for the amplifier to deliver. The device is designed to provide a home theatre experience, and it does great.
The soundstage was also great, and the amplifier uses everything it can to make sure the experience is as immersive as it can get. Sure, the higher your budget is, the better you can get. Of course, some devices are better than the Onkyo TX-SR393, but this device outshines the competition in its price range.
The Onkyo TX-SR393 might even be better than some mid-range amps, and it would've been a sure buy if it had a few more features.
Connectivity
You can easily connect your source devices to the back of the Onkyo TX-SR393, which has 4 HDMI inputs, 1 HDMI output, 5 audio inputs, which are for the different speakers you'll place around your room for the home theatre experience.
Connecting your devices like laptops, PC, tablets, and phones to the Onkyo TX-SR393 is also easy. The on-board Bluetooth pairs your device flawlessly and will remember your device and start playback automatically when it detects an incoming stream.
You can easily stream anything you want on this device once you have Bluetooth connected. A collection of different apps like Spotify, Pandora, Apple Music, and others can easily be streamed on this once you have your device connected.
The Remote
The remote comes with the Onkyo TX-SR393 and can be used to change sources remotely, control volume, adjust between bass, treble, and vocals. The remote control seems standard, though it would've been better if Onkyo tried to give it a more premium feel as well. Instead, it's entirely made out of plastic and feels a little cheap.
Should You Get The Onkyo TX-SR393?
The Onkyo TX-SR393 performs more than well for an entry-level amp or even a midrange one. The device packs a punch, delivering great bass and vocal clarity. The device is more than enough for smaller and mid-sized rooms, turning it into a whole new experience for users who only listened to the TV's inbuilt speakers previously.
Even for larger rooms, pairing this device with a good surround sound speaker system will give you a great immersive experience since the device is capable of Dolby Atmos 5.2.
All in all, you'll be more than satisfied with getting this device for your room or lounge.